Prominent personalities gathered to celebrate Team RED's mission of promoting community development. The Award ceremony highlights Team RED's unwavering commitment to social welfare in the region
By KS News Desk
Team RED, a prominent Non-Government Organisation (NGO), hosted a grand Core Group Award Ceremony on Sunday in Srinagar, to honour the commendable efforts of its team members who have worked tirelessly in serving the people across the Kashmir Valley.
The event was attended by several prominent personalities and dignitaries from various fields, who joined hands in applauding the organization's mission and vision of working for the welfare of people. The ceremony was a celebration of Team RED's relentless efforts in bringing about positive change in society and promoting community development.
Team RED has been actively involved in numerous initiatives aimed at helping the poor and needy people in the valley. The organization has made substantial contributions to the education, healthcare, and economic well-being of the people, and has been a key player in uplifting the socio-economic conditions of the region.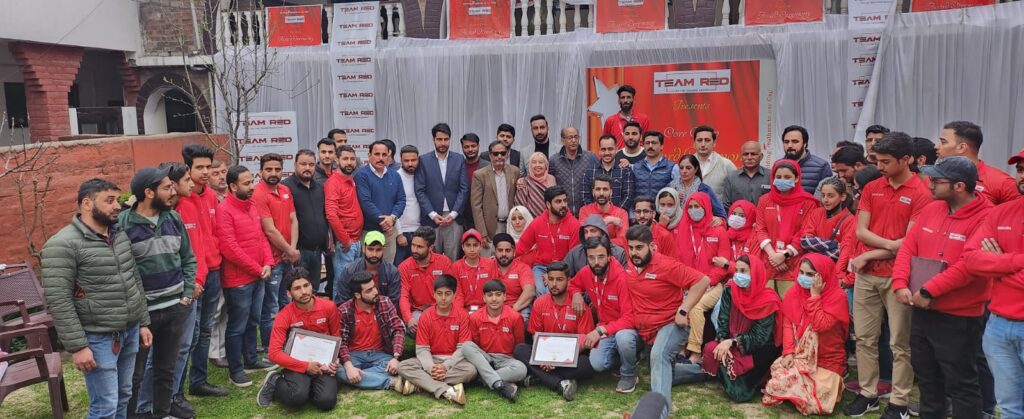 The award ceremony was a fitting tribute to the dedicated team members who have worked selflessly to bring about a positive impact on the lives of people in the region. The organization aims to continue its noble work and serve as a beacon of hope for the people of Kashmir, especially those in need.
The award function was graced by the presence of the chief guest Nasir Aslam Wani Sogami, Patron  TeamRed NGO, Saadat Nasir Wani, Team Chairman TeamRED, Salman Ali Sagar, Waqar Khan, Roma Wani, Chasfeeda Shah, Sabiya Qadri, Ashraf Nisar, Advocate Jahangir Wani, and other guests were present on the occasion who praised the efforts of the Team Red Foundation in bringing about a positive change in society.
Saadat Wani, congratulated the awardees and appreciated their efforts towards making a positive impact on society. The awardees include, Mohammad Humaan Bhat, Mohammad Maqsood Rather, Nissar Hussain, Dr. Ashiq Rashid, Taahir Wani, Ubaid Syeed, Zubair Azad Wani, Isra Wani, Shakir Shafi, Aaliya Amin Wani, Anwar Ali, Basit Khan, Farhat Latif Wani, Misbah Rather, Iqbal Samad Wani, Aaliya Hameed, Ayaan Wani, Wariq Wani, Aijaz Hassan, Sofi Mushtaq, Syed Faraaz Qadri, and Sajid Wani.
The event was a grand success and served as a testament to Team RED's unwavering commitment to the cause of social welfare and community development. It was a proud moment for the team members, who were overwhelmed with gratitude and pride, and motivated to continue their noble work with even greater zeal and passion.