At a young age, a girl from Srinagar translated the poetry of Habba Khatoon into English which earned her praise in Kashmir's literary circles.

Khazran Khan

profiles the writer.
Reviving Habba Khatoon's Poetry
"Laale gati manz tsong zaajaanai, Baale roodus na hosh
Tsu chhaham shama, bu chhas parvaanai, Chhaav myaany daanai posh)
(Lost in her world of dreams, Laila, Lit her lamp in the dark!
I am the moth and you, my lamp! Enjoy my pomegranate blossoms)
Soliha Shabir, 23, from Dalgate, has become a renowned figure in Kashmir's literary circles after she became the first Indian writer to recreate the poetry of Habba Khatoon in English. ZOON is one of her most significant accomplishments, and the book has touched the heights of success in a short period.
Soliha started writing in 9th class with the aim to share her feelings with paper as she also believes that 'paper has more patience than people. Having no companion to share her feelings with, she thought of giving her concealed emotions a shape in the form of words. Soliha did her schooling at Minto Circle and graduated from Islamia College of Science and Commerce.
"Currently, I'm pursuing my Master's in English Literature from IGNOU. I switched from Science to Arts to improve my writings and eradicate the errors in my write-ups," she said.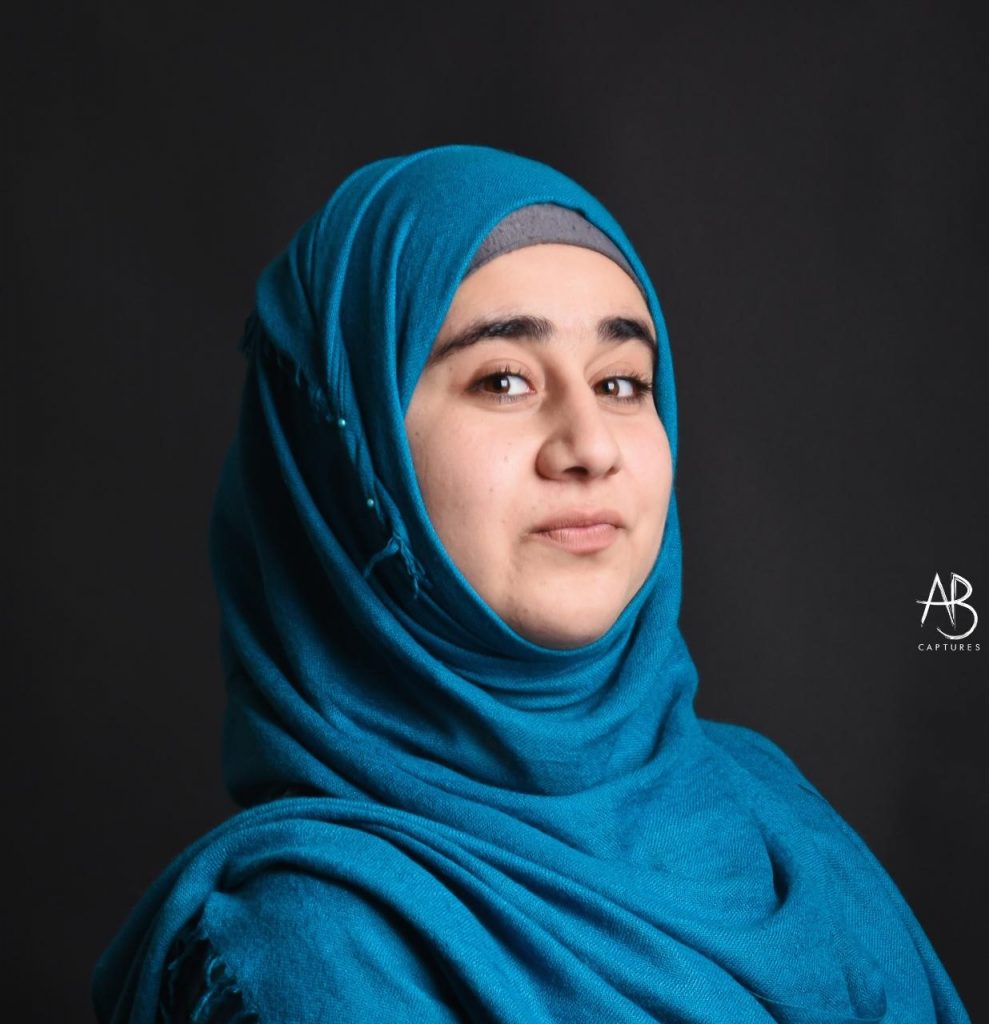 With medical stream as her professional background, Soliha bid farewell to her writings after being pressurized by her parents. As she was a diligent student, they didn't want her to get distracted by writing. Despite that, destiny created pathways for her to join writing again and relive the legendary words of Habba Khatoon – one of Kashmir's most influential poets.
On leaving her passion, she said: "I got selected in a college outside Kashmir, but my parents didn't allow me. This disturbed me emotionally, and I got disheartened and depressed because I had to leave my passion for my professional career. It was tough for me to handle myself."
Soliha is an ardent lover of Habba, and she considers ZOON as her most significant achievement. Though ZOON is a small book with 200 pages, it took her a lot of effort to complete it.
Since she didn't find any contentment and motivation in her professional field, Soliha decided to follow her passion again. Back in her elements, she authored two books – 'In the Lawn Of Dark and 'Obsolete.' As a writer, she always emphasises how to contribute to the development of Kashmir's culture. With a vision of uplifting her culture, she came up with the concept of ZOON.
"I have read about Habba Khatoon, did many skits and plays on her, and could easily relate to her life as I strongly believe that we were cast in the same mould. For me, her poetry was so resembling and captivating that I made up my mind to put extra effort into uplifting her poetry through my words. Many situations that prevailed in my life were relevant to Habba Khatoon's agony," she said.
Soliha is an ardent lover of Habba, and she considers ZOON as her biggest achievement. Though ZOON is a small book with 200 pages, it took her a lot of effort to complete it. She struggled a lot while gathering the content of Habba Khatoon and translating them into English. There was non-availability of sources related to Habba Khatoon and no guidance from the learned cohort.
Except Zareef Ahmad Zareef, who is himself an adept Kashmiri poet, no one came forward for her guidance while she was revising ZOON. Soliha brought to light the saddest yet most miserable part of teachers that she approached by saying :
"I approached a majority of professors working at Kashmir University for proofreading my work. I mentioned to them about its completion, but all of them gave a cold shoulder to my request. None of them helped me. To complete ZOON was like biting the bullet with negligible material and no guidance."
Soliha recalls how she decoded Habba's poetry by listening to her folk songs repeatedly while consulting art academics. At this point, she made acquaintance with Shah Mohsin, admin of Adorable Faces Of Kashmir – one of the top-notch platforms on social media that promotes young talent. Mohsin introduced her to Saba Bhat, CEO of Guide Professionals, who launched her book ZOON and provided immense support to her.
"I was lucky that I got to meet the three most important people in my life who always were supportive and encouraging throughout my journey. I want to express my gratitude to my dear friends Davar, Mohsin, and Saba for always being there for me," she said.
Soliha received a lot of appreciation for ZOON, while few also criticised the work. She feels blessed to receive admiration from people around her. Appreciation and criticism have been core factors in keeping her motivated.
"Life is always full of hurdles, and we can't avoid them. Everything is already destined. And nothing goes smoothly. I strongly believe that to shine like gold, we have to pass the test of fire," she said.
Soliha pointed out that she wants people to remember her as one of the contributors to promoting Kashmiri culture through her words.
One of the couplets from Soliha's ZOON goes like this.
"I am resting in grave, counting breaths,
searching and seeking you, every path closed,
Like an unbaked clay, I melt with tears,
Ablaze my nights with your shadows.
Bid me bye before your forever,
Quench my heart, you satisfied never.
Come, O companion, let's smell the dandelions,
Let's write once again the messages of love.
See how restless I'm in the oppressed world,
Take me like you have touched a child.
Because I'm no girl of the homes here,
All I had was your heart to live."
The author can be reached at [email protected]