The passion for social work came to me through the genes': Saadat Wani
Saadat Nasir Wani, 28, is basically from Lolab Kupwara and is currently residing in Rajbagh, Srinagar. He has done MBA from Amity Noida, after which he started his NGO by the name of Team Red. 
Q: Tell us about Team Red. What did you conceptualise the idea?
Team Red was a dream which came into being in 2018, right after I completed my master's degree. I always had a philanthropic approach towards things. I used to share even my 3 rupee samosa right from school time. I happened to remain deep-seated and dug in me the need to take charity and social work to new platforms.
Q: What inspired you to be a founder of an NGO in an age where youngsters gravitate towards for-profit ventures?
I always had a nerve towards doing social work, which, of course, came to me through the genes. Seeing people in my family do similar things from the beginning was somehow very magnetic in taking me towards it now and always.
Q: What is the mission and vision behind Team Red?
Our mission is to drive a social change in Jammu and Kashmir, where youth will take up social work at basic levels.
And we have a vision to:
•To make J&K drug free through our various initiatives
• To inspire youth for taking up social work at basic levels
• To promote sports among potential youth and children
• The provision of basic facilities like clothes, blankets, ration etc., to the needy ones
• To help orphans, widows, aged persons, victims of calamities and poor people
• Environmental concerns
• To work for the social and economic upliftment of women and children
• To provide health awareness programs including medical and blood donation camps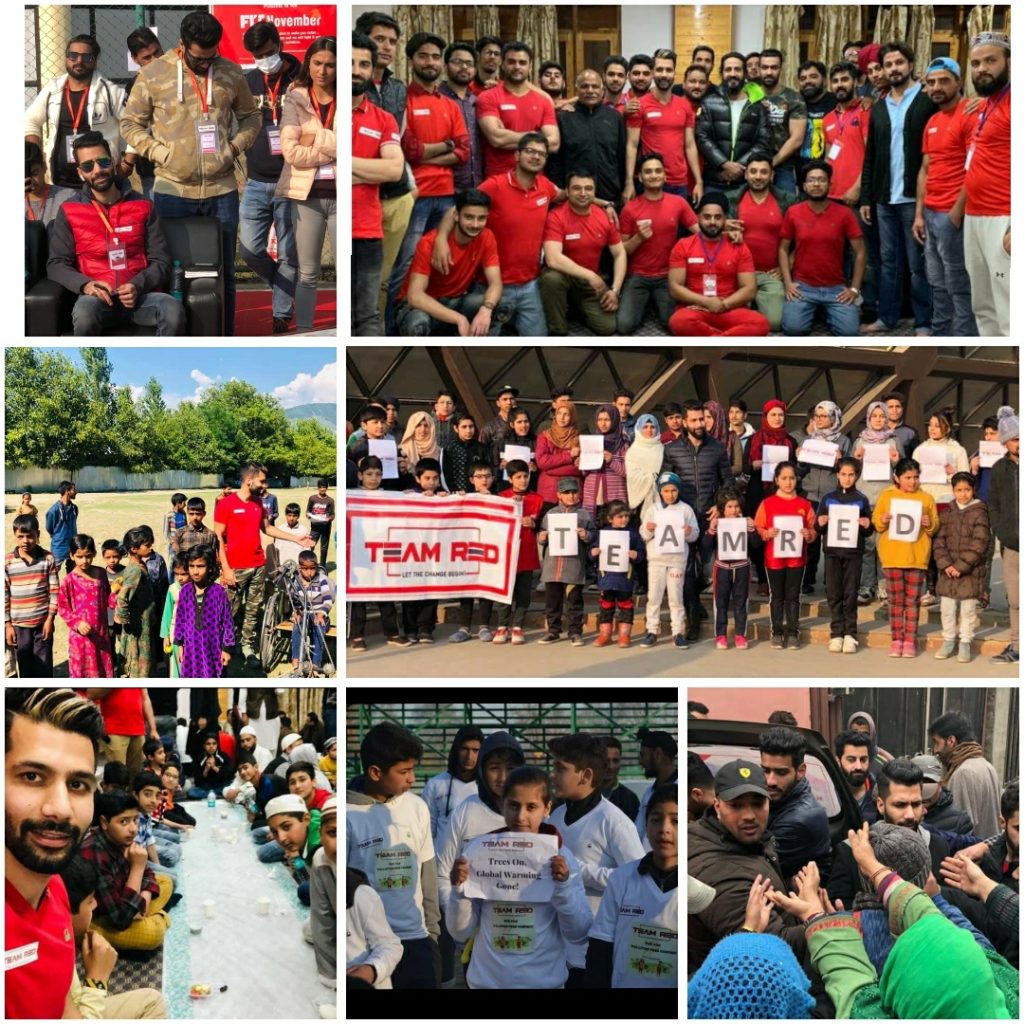 Q: What do you envision for Team Red ten years down the line?
I have always dreamt of taking my dream to a very fine level, where my daily work brings in me the containment which I have been looking for since the start of Team Red. Someone going to bed peacefully, food on someone plate or a smile on someone's face is what I see team red doing with a huge volunteer base. Inshallah.
Q: What was the most challenging problem you have faced in the leadership and management of your NGO?
Challenges are many, but Alhamdulillah they have never deterred us from reaching out our goals. Proud to say that we at RED. We never take sponsorships or donations to run our events or drives. Everything we do is by stroking our own pockets and our esteemed team members, who voluntarily come up with small monthly donations, which makes us up to do things for the needy. Each volunteer we have is not just a worker at RED but the key person who has kept it running.
The biggest challenge is identifying someone really in need and actually doing sufficient things for them.
Q: What has been the most rewarding aspect of your job? 
You roam in a desert for a long, and when you finally see water, what is the feeling like? That water, for me, is the little smile I see coming on the faces of people when they get to benefit from us. There is no better endorphin release than 'Making Someone Smile'.
Q: How do you manage the people/volunteers? Do you have in-built processes that take care of it?
We have created a corporate-like system for the management and work of our members. We have different wings, and each wing acts about the tasks given. The governing body for volunteers is core, a self-taught and magnificent body that handles everything well and off.
Q: What are the creative and innovative things that Team Red has facilitated so far?
Team Red started with its first campaign, 'Drug-Free Kashmir', which was an awareness campaign on the drug menace. In 2018, we sent relief to the flood-hit Kerala. We have been hosting many successful sports and games events multiple times a year to promote Health and Fitness.
And finally, our most worked upon initiative – A blanket donation drive themed – 'make someone smile this winter' which we continue to organise every winter. Moreover, during the COVID -19 pandemic, we at RED made sure that no needy go to bed hungry in our sight of view, for which our – Ration donation drives won many hearts.
Q: What message do you have for the youth?
My message to our fellow youth is that you do not need a big platform to do social work. As they rightly say, "Charity begins at home ", so just make the right intention and see God sending miracles of help. Also, youth is power – If you are in this phase of life – Utilise every moment you get, serve your people, and don't let any hand asking for help go unattended. I would like to quote our Motto – #LetTheChangeBegin.