A Srinagar girl embodies the universal lesson that an individual can scale new heights in life with hard work and perseverance, and it is never late to start afresh.
By Syed Uzma
Hailing from Srinagar, Iram Mehraj had to quit her job as a senior research fellow at Sher-e-Kashmir University of Agriculture Science and Technology after marriage due to a medical condition.
With a degree in biotechnology and a wealth of work experience, including as a clinical researcher in Max Health and research fellow in SKUAST, the mother of two daughters tried hard to find a job again
"Unfortunately, I couldn't find anything where I could really fit in," she said.
Iram always believed in the idea of women being independent. She wanted to put herself back on track of financial independence. One fine day, she got a business idea from her shopaholic nature.
"It was an unplanned thing which turned out to be a venture. Being a shopaholic, I used to shop in bulk, and many of my friends and relatives used to give me money to buy or stitch together. That's how I got the idea to start my own label, "Shreen Libaas," in 2014 through an online medium," she told Kashmir Scan.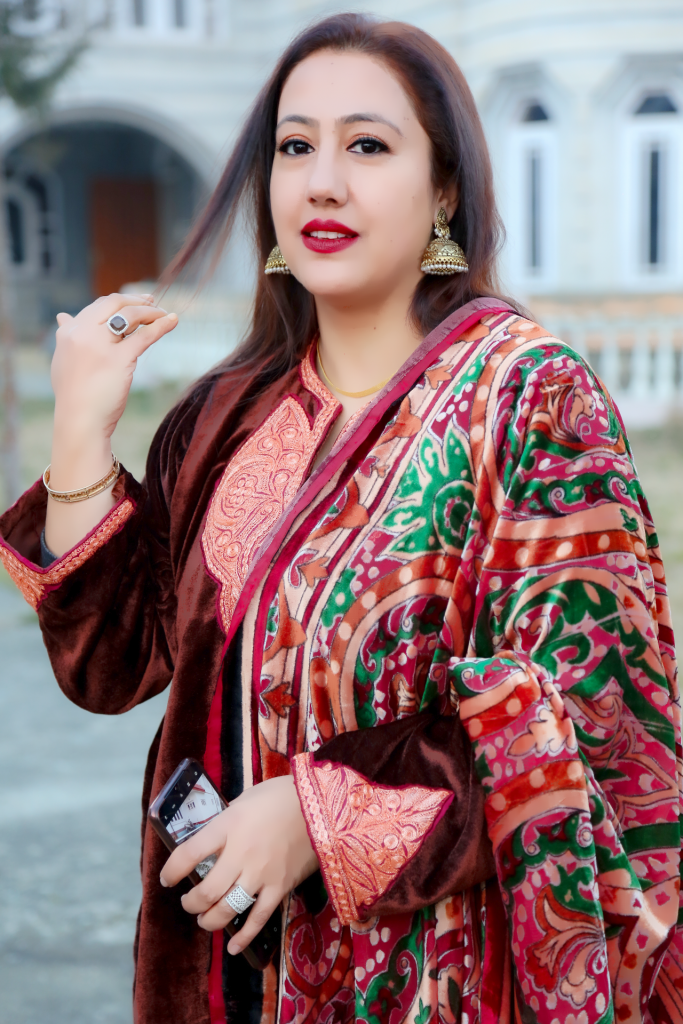 Having worked in office culture and having no business experience, she recalls her initial challenges "It wasn't easy as I had no business knowledge. Initially, it was more difficult because, within months, the 2014 flood happened. Then all the connectivity was lost, and people were dealing with huge trauma. I had invested a good amount of money and energy, which made it very depressing at that time," she recalled.
In Kashmir, the fusion of fashion with tradition is reaching heights with every passing day as a number of local designers keep sizzling the market with their new lines. Iram takes it as a healthy competition.
"It helps me grow and get better. I am happy to be the first one to have started an online business. Now, with the growth of traditional designing and online businesses, I feel more determined to work hard and deliver the best," she said.
"In Kashmir, the fusion of fashion with tradition is reaching heights with a number of local designers sizzling the market. Iram sees it as healthy competition."
As the online market keeps growing, Iram keeps her clothing different from others by using good quality clothing at a minimum price so that people from different economic backgrounds can afford it.
" My brand is different because of the best quality of material which I try to provide at the lowest price possible. I try to make it affordable for everyone," she said.
Fashion for Iram is self-expression and being comfortable at the same time. She believes it should never be related to price tags.
Iram's decision to go with the fusion of traditional work with fashion came from her love for Kashmir art, "I always felt that traditional things make you feel as if it is in your genes. Being in Kashmir, I had fair knowledge about Kashmir artwork and was fascinated by it. Also, from my own experience, I realised what hinders us from wearing traditional outfits is that the fashion in it is missing. So that's how I made up my mind to make outfits that are fashionable with a touch of Kashmiri artwork," she said.
The business growth has now created a huge chain of customers for Iram of all age groups, "Thanks to social media, from little girls to married women, Kashmiri people don't want to miss any opportunity to wear clothes with different artwork like Tilla, Aari or Dabka. I have expertise in all of them, which is why I have a huge client list," she adds.
Iram is very proud of her staff, who are helping her to run the business smoothly. She hopes to open a physical store in the future, "I am hoping and planning to open a physical store soon as now I have gained a name online and have my clients who love my service and more importantly a great staff because of whom things are working systematically. I feel this is the push my business needs now."
Iram believes that focus is necessary for a business to turn successful. "I want to tell every entrepreneur to be focused and keep your vision clear. Nothing is going to be easy initially, but eventually, with hard work and determination, you will surely see new heights."
Iram is a true example that it is never late to start new things in life, and one can reach success if we are willing to give yourself a chance.