By Dr Ubaida Shahid
Cervix cancer, also known as cervical cancer, is a type of cancer that starts in the cervix, which is the lower, narrow part of the uterus. Cervical cancer is the second leading cause of cancer-related death in women worldwide and is often caused by HPV infection.
What is the cervix?
The cervix is the lower, narrow part of the uterus. The cervix connects the main body of the uterus to the vagina (birth canal).
Structure of cervix?
The cervix measures 3 to 4 cm in length. Muscle and connective tissue make up the majority of it.
There are two primary sections:
The endocervix is the portion of the cervix that lines the canal leading to the uterus on the inside.
The outer layer of the cervix is known as the ectocervix or exocervix. It protrudes into the vagina in a lip-like, rounded shape.
The endocervical canal connects the inside of the uterus with the vagina.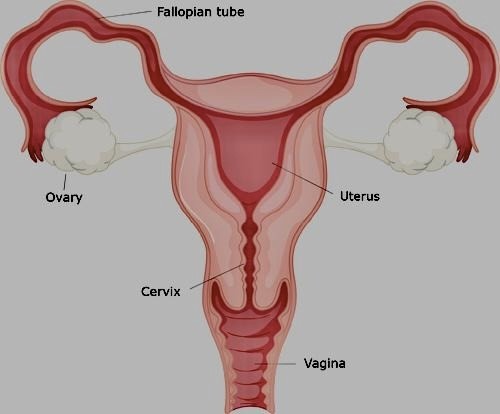 What exactly is cervix cancer?
The cells of the cervix are where cervical cancer begins. Before cancer develops in the cervix, the cervical tissue undergoes a process called dysplasia, during which aberrant cells start to emerge in the tissue. The abnormal cells may eventually develop into cancer cells, expand deeper into the cervix, and spread to nearby areas if they are not removed or eliminated.
The majority of cases involve women between the ages of 35 and 44. On the other hand, women over the age of 65 accounts for more than 15% of new cases, particularly those who have not been subjected to routine examination.
Types of cervical cancer?
There are two main kinds of cervical cancer, each named after the type of cell where cancer started. Cervical cancer in other forms is uncommon.
•  Squamous cell carcinoma: Most cervical malignancies (between 80% and 90%) are squamous cell carcinomas. The cells that make up the cervix's outer surface are where these tumours develop.
•  Adenocarcinoma10% to 20% of all cases of cervical cancers are caused by adenocarcinoma. These tumours develop in the internal cervix's glandular cells that line the lower birth canal.
The squamocolumnar junction, where the squamous and glandular cells converge, is where most cervical malignancies begin, and it is located at the opening of the cervix.
Stages of cancer?
The FIGO system, developed by the International Federation of Gynaecology and Obstetrics, is used to stage cervical cancer. Some substages account for various cervical cancer characteristics within the four main stages.
Staging of cervical cancer is mostly based on three factors:
• how much of the cervix has been affected by the cancer
• If adjacent tissues or lymph nodes have been affected
• If cancer has reached the other organs or lymph nodes
THERE ARE FOUR STAGES:
• STAGE 1:The cancer is limited to the cervix and has not spread elsewhere.
• STAGE 2:The cancer has not yet progressed to the lymph nodes or other distant places. Only to the tissue around the uterus or the upper portion of the vagina is involved.
• STAGE 3:The malignancy has spread to the muscles surrounding the pelvic area or the bottom portion of the vagina (pelvic walls). The tumour may be large enough to cause kidney issues (the ureters) by obstructing the tubes that carry urine from the kidneys to the bladder. Perhaps it got to the lymph nodes close by.
• STAGE 4:The rectum, bladder, or other distant regions of the body have all been affected by cancer's metastasis.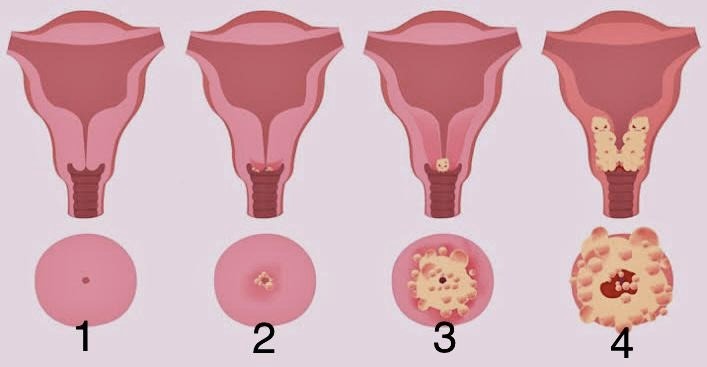 Epidemiology:
Cervical cancer is the second-leading cause of cancer-related death in women worldwide.
75% of the 500,000 new cases that emerge each year are in developing nations.
In nations where it is widely accessible, cervical cytologic testing has lowered the incidence of cervical cancer by 70%.
The prevalence of cervical cancer worldwide and in India:
In 2020, there were 3,41,831 fatalities worldwide from cervical cancer and an estimated 6,04,127 new cases. According to the data, India recorded about 21% of all cervical cases. Every year in India, 122,844 women are diagnosed with cervical cancer, and 67,477 die from the disease.
Risk factors:
• HPV (HUMAN PAPILLOMAVIRUS ) INFECTION: The HPV virus, a sexually transmitted infection, is the main cause of cervical cancer. Cancer can result from HPV, which spreads through anal, oral, or vaginal sex. The majority of people will contract HPV at some point in their lives without even being aware of it because their bodies will battle the illness. However, if your body doesn't fight the infection, it may transform the cells in your cervix into malignant cells.
• SEXUAL HISTORY: young onset of sexual activity or Multiple sexual partners or having a high-risk partner (someone with HPV infection or who has many sexual partners).
• Smoking or tobacco use in any form: Cervical cancer is nearly two times more likely to affect women who smoke than non-smokers. Women who smoke have had tobacco byproducts discovered in their cervical mucous. According to researchers, these compounds may harm cervix cells' DNA, which could lead to cervical cancer. Smoking also reduces the immune system's capability to combat HPV infections.
• compromised immune system: The immune system plays a crucial role in eradicating cancer cells and reducing their growth and dissemination. A cervical pre-cancer may progress more quickly than usual in women with HIV to an invasive malignancy.
• Chlamydia infection: A somewhat frequent type of bacteria that can affect the reproductive system is chlamydia. Sexual contact is how it spreads. Women with chlamydia frequently exhibit no symptoms and are unaware that they are infected. According to research, the Chlamydia bacteria may aid HPV in developing and persisting in the cervix, increasing the risk of cervical cancer.
• Use of Oral contraceptives AND birth control tablets: Whena woman uses OCs for a longer period, her risk of developing cervical cancer increases.
• MULTIPLE PREGNANCIES: Cervical cancer risk is higher in women who have had three or more full-term pregnancies. This is believed to be caused by an elevated risk of HPV infection through sexual activity. Another hypothesis is that the immune systems of expectant women may be weakened, allowing for HPV infection and cancer formation.
• EARLY PREGNANCY: Cervical cancer is more likely to affect women who were under 20 when they had their first full-term pregnancy.
• ECONOMIC STATUS: Several low-income women lack simple access to comprehensive medical care, including Pap and HPV testing for cervical cancer screening. As a result, individuals might not undergo screening or treatment for cervical pre-cancers.
• MALNUTRITION:
Women who don't consume enough fruits and vegetables in their diets may have a higher risk of developing cervical cancer.
SIGNS AND SYMPTOMS:
• Spots of blood or minor bleeding before or after periods
• longer and thicker than usual menstrual bleeding
• bleeding following sexual activity, douching, or a pelvic exam
• increased vulvar leaking
• having a painful sexual experience
• following menopause, bleeding
• persistent, irrational back and pelvic discomfort
• Swelling of the legs
• Problems urinating or having a bowel movement
• Blood in the urine
Screening tests :
• Visual inspection with acetic acid (VIA): Cervical cancer screening aims to identify cellular alterations before they progress to malignancy. With a few simple tools, one may perform the VIA screening test. A solution of white vinegar is administered to the cervix during VIA. The medical professional then check the cervix, which turns white when exposed to vinegar, for any anomalies. In regions with limited access to medical care, this screening test is highly helpful.
• Pap test: This test finds irregular or abnormal cervix cells.
• HPV test: This test finds high-risk HPV infections, which are the ones most likely to result in cervical cancer.
A Pap test and HPV test may be recommended by your doctor.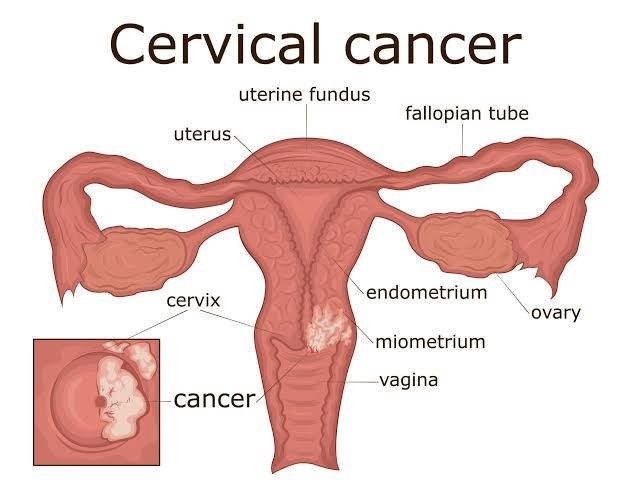 Diagnosis of Cervical Cancer:
Cervical cancer is diagnosed using a variety of tests. Only some tests listed here will be applied to some individuals. When selecting a diagnostic test, your doctor may take these things into account:
• the probable cancer kind
• your symptoms and signs
• age and general health of you
• the findings of previous medical testing
Cervical cancer may be diagnosed using the following tests:
1. Bimanual Pelvic Examination and Sterile Speculum Examination.
2. Pap Test.
3. Human Papillomavirus (HPV)
4. Colposcopy.
5. Biopsy.
•Endocervical curettage (ECC).
•Loop electrosurgical excision procedure (LEEP)
•Conization (a cone biopsy)
6. Pelvic examination under anesthesia.
7. X-ray.
8. Computed tomography (CT or CAT) scan
9. Magnetic resonance imaging (MRI).
10. Positron emission tomography (PET) or PET-CT scan.
11. Biomarker testing of the tumor.
12. Cystoscopy.
13. Sigmoidoscopy (also called a proctoscopy).
Treatment of cervical cancer:
Usually, the patient undergoes surgery or a chemotherapy and radiotherapy regimen (chemoradiotherapy).
The illness mostly influences the choice of treatment and stage of cancer at the time of diagnosis. Depending on age, general health, unique circumstances, and preferences may also have an impact or change the line of treatment.
Your care may also involve a wide range of other specialists, gynaecologists, and oncologists, including nurses, psychologists, social workers, rehabilitation experts, and other health workers.
Prevention of cervical cancer:
People can also do the following additional things to help avoid cervical cancer:
• Can be prevented by regular screening for the human papillomavirus (HPV) and Pap tests.
• by receiving the HPV vaccine.
• putting off having a first date till your late teens or later
• limiting the number of partners in sexual activity
• use dental dams and condoms to engage in safer sex
• avoiding having sex with someone who has had many relationships
• avoiding sexual activity with those who have genital warts or exhibit other signs
• Quit smoking