Citizen participation leads to successful outcomes for 'Awam Ki Awaaz' that promotes accountable and inclusive governance
By KS News Desk
Srinagar, March 17: The 'Awam Ki Awaaz' radio programme, which aims to foster grassroots participation and establish a system of governance that is accountable, transparent, responsive, effective, efficient, equitable, and inclusive, has completed two highly successful years. This achievement is the result of the active participation of citizens who have contributed in a variety of ways.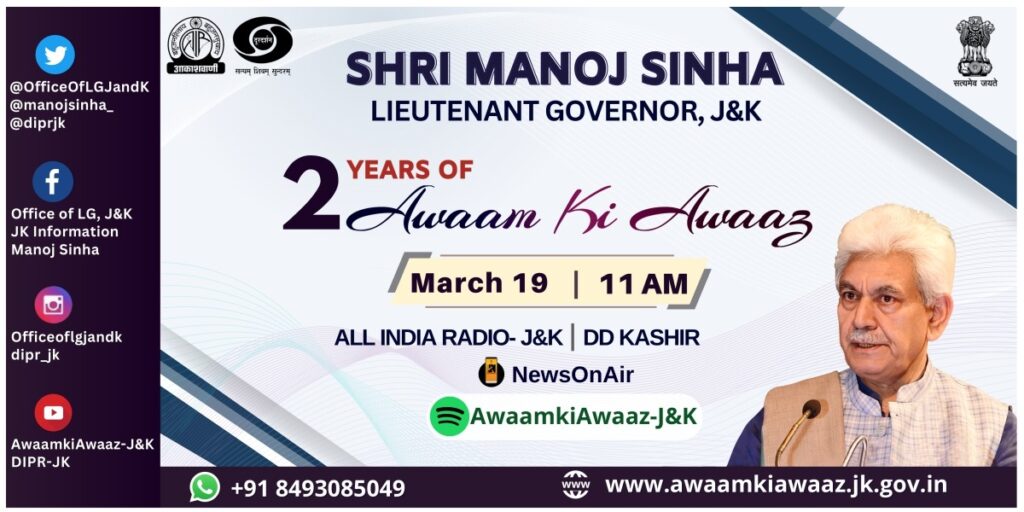 The programme has been broadcasting on All India Radio and Doordarshan, and it has been instrumental in receiving a multitude of suggestions for reforms in various sectors such as Health, Education, Rural-Urban Development, Cultural Rejuvenation, and Balanced Regional Development. The government of the Union Territory of Jammu and Kashmir has received a wealth of valuable feedback from listeners during the past two years.
The LG Administration has taken concrete steps to address the needs of the community and establish accountability to the public, based on the feedback received through 'Awam Ki Awaaz'. As a result, the programme has been successful in achieving its goal of strengthening 'Jan Bhagidari' at the grassroots level, which is a testament to the program's success.