Anyone can develop a sinus infection. However, sinusitis is more likely to affect persons with nasal allergies, nasal polyps, asthma, or atypical nose structures.
By Dr Ubaida Shahid
A sinus infection, known as sinusitis, can result in fluid build-up and sinus blockage. Colds or allergies are the usual culprits, and the obstruction could lead to an infection. 
Inflammation or swelling of the tissue lining the sinuses is known as sinusitis. The four pairs of sinuses in the skull are cavities or spaces, and tiny channels link them. Thin mucus is produced by the sinuses and is expelled through the nasal passages. This drainage assists in keeping the nose germ-free and clean. The sinuses, usually filled with air, can become clogged and filled with fluid. Bacteria may then develop. As a result, leading to an illness (bacterial
sinusitis).
With "rhino," meaning "nose," this condition is also known as Rhinosinusitis. The nasal tissue is almost always swollen if the sinus tissue is inflamed.
WHAT KINDS OF SINUSES CAN BE FOUND CLOSE TO THE NOSE AND EYES?
Your head's paranasal sinuses are close to your nose and eyes and are named after the skeletons supporting them.
Between your eyes are the ethmoidal sinuses.
Below your eyes are the maxillary sinuses.
Behind your eyes are the sphenoidal sinuses.
Above your eyes are the frontal sinuses.
The maxillary cavity, the largest sinus cavity, is also one that becomes infected the most frequently.
SINUSITIS CAN TAKE MANY DISTINCT FORMS:
Acute bacterial sinusitis: This condition is characterised by the sudden onset of cold symptoms like runny nose, stuffy nose, and facial pain that does not go away after 10 days or by symptoms that appear to get better but then come back and are worse than the original symptoms (known as "double sickening"). Antibiotics and decongestants have good results on it.
The illness known as chronic sinusitis is characterised by nasal obstruction, drainage, facial pain or pressure, and a diminished sense of smell lasting at least 12 weeks. A sinus infection is referred to as subacute when the symptoms persist for four to twelve weeks.
Recurrent acute sinusitis refers to sinusitis that returns four or more times a year and lasts for less than two weeks.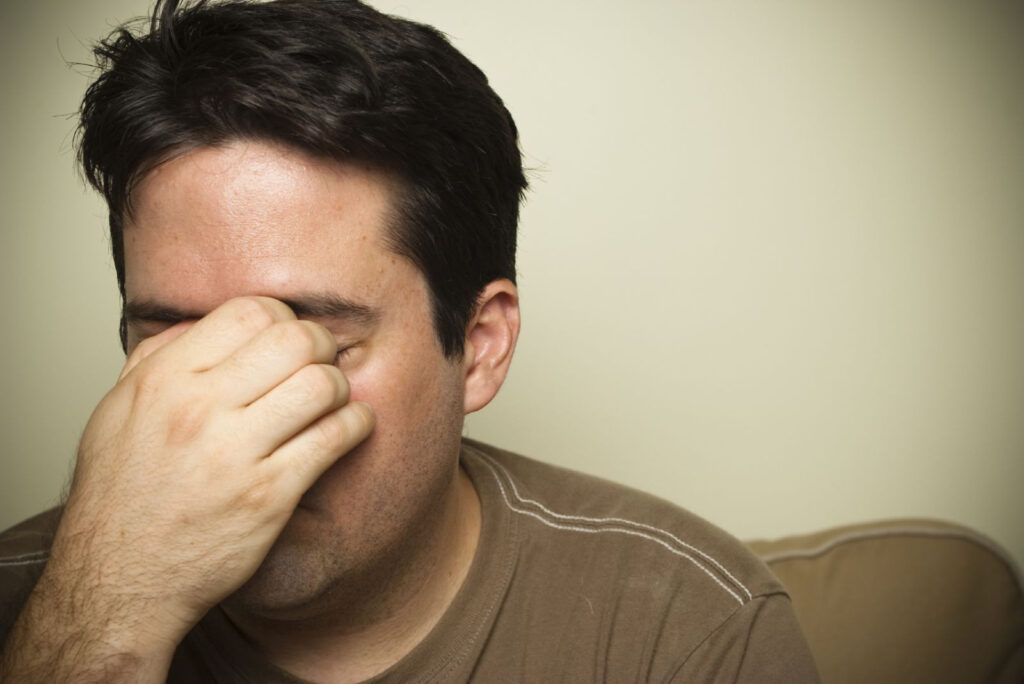 WHAT CAUSES SINUSITIS?
Anyone can develop a sinus infection. However, sinusitis is more likely to affect persons with nasal allergies, nasal polyps, asthma, or atypical nose structures. Additionally, smoking can increase the frequency of sinus infections.
HOW CAN I TELL IF I HAVE A SINUS INFECTION, COLD, OR NASAL ALLERGY?
Differentiating between a cold, allergies, and a sinus infection can be challenging. The normal cold progresses, peaks, and then gradually subsides. From a few days to a week, it lasts. A sinus infection can develop from a cold. Inflammation of the nose caused by irritating particles is known as a nasal allergy (dust, pollen, and dander). Sneezing, itchy eyes and nose, congestion, runny nose, and post-nasal drip are all signs of a nasal allergy (mucus in the throat). Common cold symptoms might coexist with sinusitis and allergy symptoms.
Consult your doctor if you are treating a cold and experience signs of a sinus infection or nasal allergy.
WHY DOES SINUSITIS OCCUR?
A virus, bacteria, or fungus that inflames and obstructs the sinuses can result in sinusitis. Several particular causes include:
• The typical cold.
• Seasonal allergies, nasal allergies, and mould allergies.
• Polyps (growths).
• An altered septum. Your nose is divided by a line of cartilage called the
septum. The nasal channel on one side of your nose is closer to the septum
because it isn't straight, which results in obstruction.
• Immune system that is compromised by disease or drugs.
Infants and young children may be more susceptible to sinusitis if they spend time in daycares, use pacifiers, or drink from bottles while lying down.
Adult smokers are more likely to have sinus infections. If you smoke, give it up. Smoking is hazardous to both the smoker and others around them.
IS SINUSITIS SPREADABLE?
While viruses that cause sinusitis can spread, but bacterial sinusitis cannot. Keep in mind to wash your hands frequently, to stay away from people if you are ill, and to sneeze or cough into your elbow if necessary.
DO'S AND DON'T'S
Do's
• Be diligent about drinking water to stay hydrated. In order for your body to recover from a sinus infection, it must be completely hydrated. Additionally, consuming hot beverages like tea or soup can aid in reducing nasal congestion and mucous.
• Use a humidifier. The cold mist it produces will make you feel less stuffy and can help some of the pressure and mucus that has been building up to be released. To prevent future infection, make sure you constantly use clean water and regularly clean your humidifier.
• Use a warm compress: When you have a sinus infection, placing a warm compress on your face, such as a washcloth, and letting it remain there for 10 to 15 minutes will also help break up the mucus and reduce the pressure.
• When you are battling sinusitis, make sure you are getting enough sleep. You must get enough sleep for your body to battle the infection and heal effectively.
• Rinse your sinuses: You can relieve pressure build-up and clean out your nasal cavities by using a neti pot or nasal spray. Always remember to rinse your sinuses with distilled, sterile, or boiling water.
• Over-the-counter medications: If you have slight pain or pressure, over-the-counter medications can assist. For pain, we advise ibuprofen or acetaminophen.
• Exercise carefully; if you feel like it, wonderful! Exercise might also assist in breaking up certain mucus. However, exercise with caution if you have an infection because sinusitis may cause you to feel a little lightheaded.
• Attend both work and school; don't miss either because of a sinus infection. We constantly advise patients to carry on with their regular routines.
• Visit a doctor.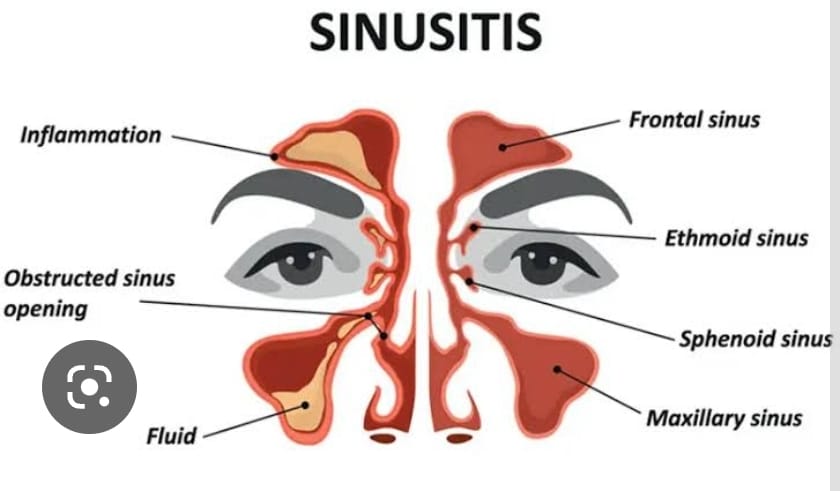 Don't's
• Avoid flying: The pressure inside an airplane can hurt your ears and nasal passages. If at all possible, avoid flying while congested with sinusitis.
• Avoid breathing in dangerous materials or fumes if you have a sinus infection. Avoid breathing irritating materials or smoke. Smoking cigarettes or cigars is not advised. It would help if you also stayed away from polluted locations. Try to inhale some pure, fresh air. The best thing for your sinuses and healing will be this.
• Avoid swimming in pools because chlorine might irritate your nose, especially in larger concentrations. If you have sinusitis, wait until you are free of the infection before returning to the pool.
• Alcohol shouldn't be consumed if you have a sinus infection. Alcohol causes the body to become dehydrated, which in turn makes your nose and nasal canals enlarge and worsens your symptoms.
WHAT SINUSITIS SYMPTOMS AND WARNING SIGNS ARE THERE?
Sinusitis frequently manifests as the following symptoms:
• Post nasal drip
• Nasal discharge (heavy yellow or green snot coming from nose) or stuffy nose
• Headache, tooth or ear pain, or pressure on the face (especially on the forehead, eyes, and nose).
• Halitosis (poor breath) (bad breath)
• Cough.
• Tiredness.
• Fever.
DIAGNOSIS?
In order to compile a thorough medical history and learn about your symptoms, your healthcare professional will ask you many questions. Additionally, a physical examination will be performed. Your healthcare professional will examine your ears, nose, and throat to look for any swelling, drainage, or blockages. Look inside the nose with an endoscope, a tiny lighted/optical equipment. In some circumstances, an ENT specialist may be recommended to you. Your doctor would request a computed tomography (CT) scan if you required an imaging test.
MANAGEMENT AND TREATMENT OF SINUSITIS
Depending on how serious the case of sinusitis is, there are many treatments for sinusitis. Treatment for a basic sinusitis infection includes: 
• Decongestants.
• Cold and allergy remedies are available over the counter.
• Nasal irrigation with saline.
• Consuming liquids (sinusitis is a viral infection, and fluids will help). After
10 days, if sinusitis symptoms have not abated, your doctor may advise:
• Antibiotics (for seven days in adults and 10 days in youngsters) (seven days in adults and 10 days in children).
• Either topical or oral decongestants.
• Intranasal steroid sprays on prescription. (Use over-the-counter sprays or drops for no more than three to five days; they may worsen congestion.)
• Concentrating on the underlying issue may help treat long-term (chronic) sinusitis (typically allergies). Typically, this is handled using the following:
• Intranasal steroid sprays.
• Oral tablets or topical antihistamine sprays.
• Leukotriene antagonists to lessen allergic reactions and edema.
• Rinsing the nose with saline solutions that may also be drug-containing.
WHAT CONSEQUENCES MIGHT A SINUS INFECTION CAUSE?
Untreated sinus infections can become life-threatening, leading to meningitis, invading the brain, eyes, or surrounding bone; however, this does not happen frequently. An infection of the meninges—the membranes that surround the brain and spinal cord—causes meningitis.
DO I ALWAYS NEED TO TAKE ANTIBIOTICS FOR SINUS INFECTIONS? 
The viruses that cause the common cold also cause many sinus infections. Antibiotics are ineffective in treating these infections. Unnecessarily using an antibiotic for a viral infection increases your risk of experiencing antibiotic side effects. Antibiotic resistance can result from overusing antibiotics, which could make treating subsequent illnesses more challenging.
IS THERE A PROPER METHOD TO BLOW YOUR NOSE?
Trying to force yourself to blow your nose when it's congested could worsen it. The best course of action is to softly blow each side of your nose into a tissue one at a time. Before blowing, you might want to use some nasal rinse to remove any debris from your nose. As soon as you've thrown away the tissue, wash your hands with soap and water or an antibacterial hand cleaner.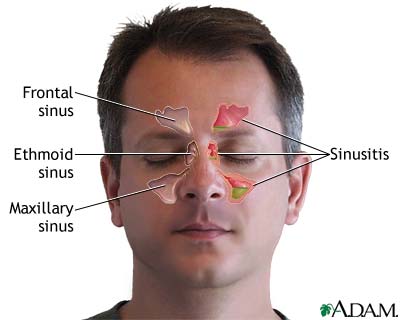 HOW DO I AVOID GETTING SINUSITIS?
Some of the natural therapies for sinusitis symptoms may also help to avoid sinusitis. These include employing remedies your doctor may advise, such as steroid nasal sprays or allergy drugs, and washing your nose with salt water.
Avoiding items you are allergic to, such as dust, pollen, or smoke, as well as sick people, is advised. Wash your hands to lessen your risk of contracting the flu or a cold.
WILL CHANGING MY WAY OF LIVING HELP ME MANAGE SINUS INFECTIONS? 
It is advised that people with indoor allergies avoid triggers—such as animal dander and dust mites—and take treatments. Smoking is never advised, but if you do, really consider enrolling in a programme to assist you in giving up. Smoke can also cause allergies and hinder the nose's ability to expel mucus. No specific diet is necessary, but consuming more fluids thins nasal secretions.