Srinagar, January 11: Fog blanketed parts of Srinagar, Qazigund, and Jammu on Tuesday as the minimum temperature dropped slightly but remained above normal in most places, according to officials.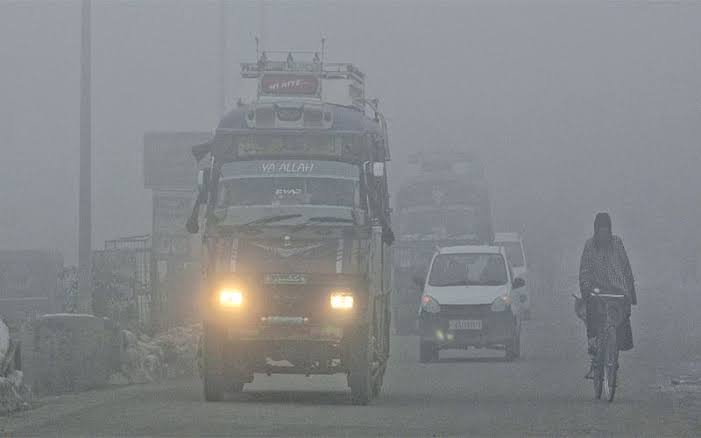 The visibility was greatly reduced due to the fog, but it is expected to improve as the day progresses. In Srinagar, the low was 1.8°C, 3.7°C above normal for the summer capital. In Qazigund, the low was -0.8°C, 2.3°C above normal for the gateway town. Pahalgam saw a low of -3.2°C, 0.8°C above normal. Kokernag recorded a low of -3.6°C, 0.4°C above normal. Gulmarg saw a low of -4.4°C, 3.4°C above normal for the ski resort. In Kupwara, the mercury dropped to 2.9°C, 5.6°C above normal.
Jammu recorded a low of 6.6°C, 0.8°C below normal for the winter capital. Banihal had a low of 0.8°C, above normal by 0.8°C. Batote saw a low of 4.2°C, above normal by 2.7°C. Katra recorded a low of 7.6°C, 1.6°C above normal. Bhadarwah had a low of 4.0°C, 4.0°C above normal.
In Ladakh, Leh and Kargil recorded lows of -7.6°C and -9.4°C, respectively. There is a forecast for light to moderate rain or snow in most parts of Jammu and Kashmir, with heavier snowfall expected in certain areas, particularly on higher elevations.
This weather is expected to continue through the late night of January 11th and gradually decrease thereafter.
The region is currently experiencing the 40-day long Chillai-Kalan, a harsh winter period that began on December 21st and is followed by a 20-day period called Chillai-Khurd from January 30th to February 19th, and a 10-day period called Chillai-Bachha from February 20th to March 1st.