"Sarhane Meer Ke" by Ahmad Nesar
By Rayees Ahmad Kumar 
Mohd Nesar Khan, pen name Ahmad Nesar was born in Awrang Abad Bihar, on 16th of June 1967. His educational qualification is E.Com and business is his profession. He has also tried his luck in poetry, journalism, and art and successfully gained prominence in all three fields. Among the present-day Urdu poets and literary figures whose works are considered the most significant contribution to the extension of the horizons of Urdu poetry and literature, Ahmad Nesar's name is of utmost importance.
Ahmad Nesar has been writing Urdu poetry for the last three and four decades, giving shape to his thoughts, emotions, and life experiences. He is an expert in Urdu Ghazal and poems. In his poetry, one can find the truths of the present, rising social and community evils, and moral degradation with an appeal to raise moral and ethical values. So Ahmad Nesar has compiled four poetry collections, Waliel in 2006, Apne Virud in 2011, and Breg Umeed in 2015. His poetry collection, which is under my review, is his fourth in the series. 
"Sarhane Meer Ke" is his fourth poetry collection( collection of Ghazals) published by Falak Publication. This book is spread over 160 pages of excellent quality. Its cover page is eye-catching. According to Ahmad Nesar, Mir Taqi Mir is the all-time god of Urdu ghazals, so he named his ghazal collection Sarhane Meer Ke. Saleem Ansari from Jabalpur has written some thought-provoking and excellent lines about the author and the beauty of the book on the cover page of the book. Dr Gh Nabi Kumar from Kashmir has also penned some beautiful lines about this book. Its foreword, " ahista bolo" is written by Dr Rouf Khair. Meraj Ahmad Meraj has also written a short paragraph which can be seen on the back side of the book. Ahmad Nesar has dedicated this collection of Ghazals to his spouse Nasreen Rizvi( Ruhi), and lone daughter Afreen Fatima.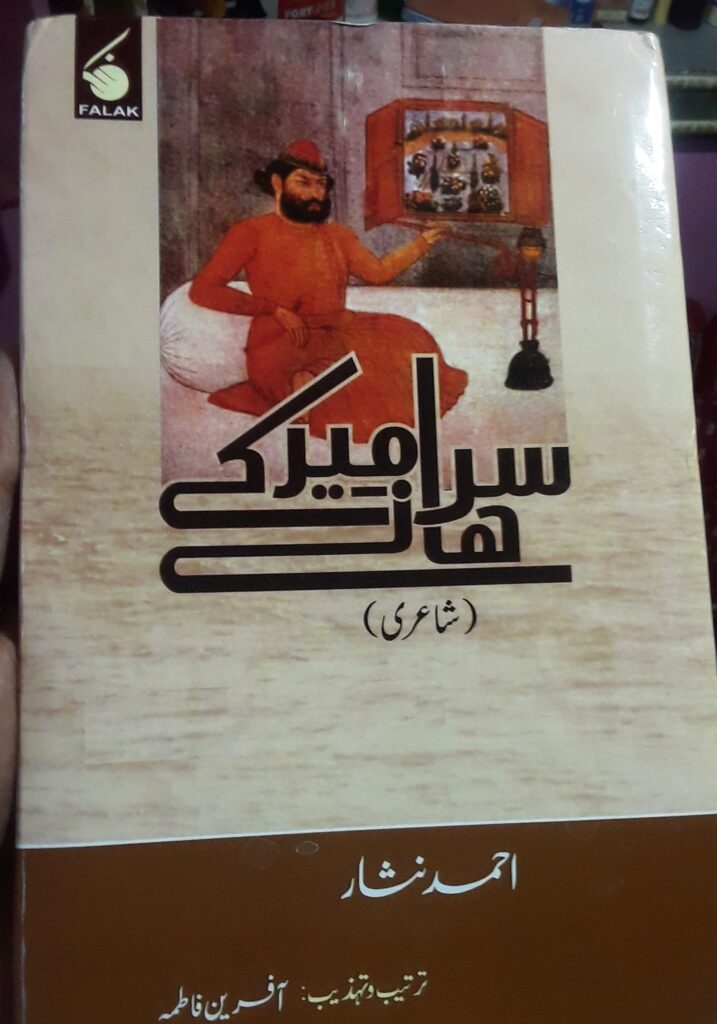 This beautiful book is a collection of 84 Ghazals of varied themes. Almost all the ghazals are written in simple and comprehensive wording, which even a non-Urdu reader can understand. On page number 21, the last couplet of the opening ghazal TAFRI KA MERE LIYE SAMAAN AAGAYA is the excellent one depicting the troubles coming our way while trying to live a pleasing life. " sar sabz manzroon ne muje di thi taazgi,
Phir rah guzar main meri biyan baan aagaya. In it's 3rd ghazal " kaano main kaha aake hawa ne nahi milte" the last couplet "magmoom balaoun se hai shadab alaqa,
Kashmir ko hasne ke bahane nahi milte" depicts the deplorable condition of the people of valley. Ahmad Nesar's unique technique and usage of simple urdu words in his ghazals is infusing life in them as can be felt from the one on its 28th page "zid samander ki ho mitane ki, Khud kinare pa doob jawoun main".
The last couplet of this fantastic ghazal shows the love of the poet for his motherland.
"aarzo bas yehi Nesar meri,
Apni miti main lehlawoun main".
This couplet of the poet depicts his unique style of composing the ghazals.
" sitara todna tha mujko asmano se,
Khade huwe thei magar uqraba chatano se".
Through the simplest words, Ahmad Nesar has successfully managed to load the heavy-weight message in his ghazals. This couplet of a ghazal is its solid proof " musalsal aa rahi hain uski yadein,
Shajar aabad hai chidyoun ke dam se".
About pathetic human life in which people merely pass the time to get a temporary refuge from displeasure, Ahmad Nesar has composed a heart-melting ghazal. One of its couplets is "hamari subha tu sadyoun se hai andhere main, Hamari raat ba fazli khuda guzarti hai".
It is heart wrenching to see the world full of pleasures and excitements when one's dwelling place is in agony. Ahmad Nesar, too has expressed the same thoughts in this couplet of his pleasant ghazal.
"charon taraf Nesar manazir hain khush gawar,
Manzar teri gali ka hamesha udas hai".
On page number 104 of the book, these understandable words are used in this ghazal " muthi bhar haryali thi,
Jangal main diwali thi,
Ghar wapas bi jana tha,
Shaam agar chi kali thi"
have shown how beautifully a poet like Ahmad Nesar can develop poetic temper among first-time readers of Urdu poetry.
" Apni ratoun ke wastei jignu,
Zahan main noor ban ke beitha hai "is another nice couplet of a beautifully composed ghazal by Ahmed Nesar. In almost all the 84 Ghazals of this book, we find a bigger message and wise thoughts engraved in simpler words depicting the poet's expertise. Ahmad Nesar's previous three poetry collections have been well received by readers in general and Urdu lovers in particular. This newer collection will also get big applause from literary circles. Ahmad Nesar got inspiration from Bashir Badar, the distinguished Urdu poet, and he has successfully tried to imitate him in composing poetic pieces. Ahmad Nesar started his literal journey in 1980 and 1990 when his penned creations began to be published in his name. His journalistic journey started in 1987. He is the editor of the quarterly Urdu magazine " Alami Falak." Poet has not just expressed the pain and sufferings one feels in his poetry, but he has also shown the ways to overcome the misfortunes of life. I hope readers will well take this beautiful piece with a poetic temper.
The writer is a columnist and can be reached at [email protected]