Chairman DDMA stresses on use of technology for real-time communication, disaster assessment, rescue & response
DODA, DECEMBER 09: On the second day of two Day awareness programme, 13TH Bn NDRF conducted Mock Drill on Earthquakes, Landslides, and fire incidents under the supervision of District Disaster Management Authority (DDMA), Vishesh Paul Mahajan, today at Sports Stadium.
The Mock Drill was attended by officers of NDRF, SDRF, Police, Civil Administration, Students, Media persons, and members of different NGOs.
The Mock Drill was aimed at sensitising stakeholders about rescue preparedness at the time of an earthquake, landslide, or fire incident.
The expert from NDRF and SDRF gave demonstrations of the rescue operations and precautionary measures while handling the injured. Equipment used during rescue operation were also deployed and demonstrated during the Drill.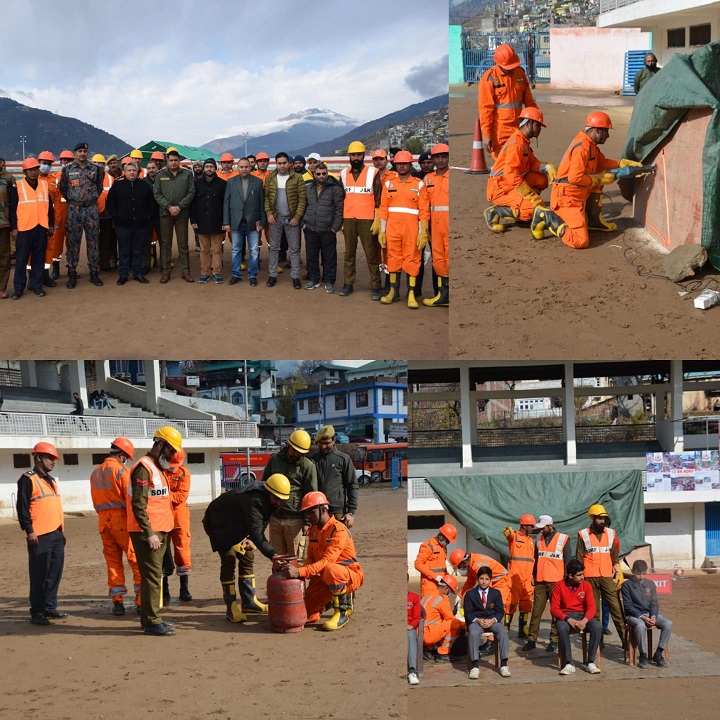 Javed Iqbal, Assistant Commandant NDRF, while speaking on the occasion, stressed the need to maintain coordination among the stakeholders during a disaster to reduce response time for rescue measures as District Doda fall under IV and V earthquake seismic zones.
Chairman DDMA (DC) Doda stressed the authorities to introduce the latest technology for real-time communication, disaster assessment, disaster response, and rescue operation. He asked the concerned to make use of high-tech Drones for assessment and dropping medical and other aid in case of any natural or manmade disaster. He appreciated the team of 13th Bn NDRF for organizing a wonderful and informative mock drill in the district.