By Younus Rashid
Life was fine for Zubair Ahmad Wani, a man from Nussu Badragund hamlet in Qazigund town of south Kashmir's Anantnag district, until he reached the age of five when he started losing his eyesight. Hafiz Zubair: From Darkness to Enlightenment
His family tried hard but couldn't stop it. Gradually, he lost his eyesight but not the zeal to pursue his dream of becoming a Hafiz-e-Quran (a person who memorizes the Holy Qura'an).
At the age of 27 now, Zubair is not just a Hafiz-e-Quran but also a Qari and an inspiring teacher to both normal students and those with visual impairment.
Born in a rural area with a usual upbringing, life was no cakewalk for Zubair. At five years, he suddenly started losing his eyesight.
"As his eyesight started deteriorating, we took him to Srinagar hospital for treatment, but no avail. We took him to Amritsar for specialized eye care, but all hopes were dashed when a doctor said there was less chance for his eyesight to come back. We were also told that he has the least chance and maybe his eyes will forever shed tears if he undergoes surgery," says Zulffar Bashir, Zubair's elder brother.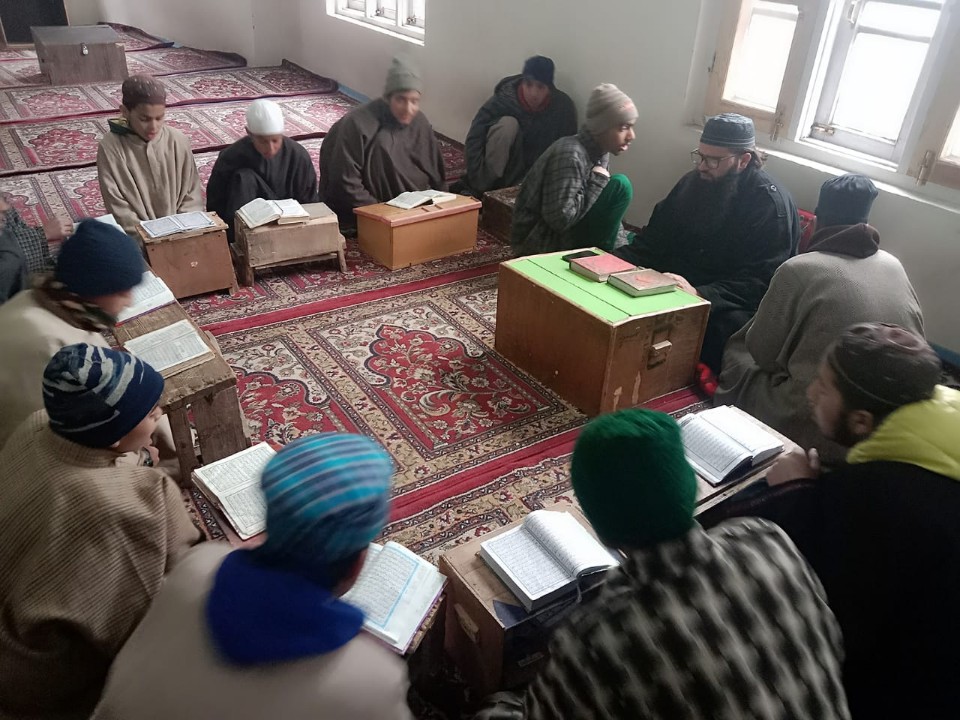 As the hopes of treating him dashed, the family started discussing admitting him to any school, but Zubair had different plans.
"A local preacher (Molvi) used to come to our home to teach the Quran to my sisters, and I got attracted to the Quran. Then I asked my father to admit me to a Dar ul Aloom so that I could become a Hafiz," says Zubair.
At the age of 10 years, he went to Darul Uloom Mehboob ul Alam Fatehpora Anantnag to learn and memorize the Quran by way of hearing.
"Unfortunately, after a few months, when I was at home, I met with an accident and was bedridden for seven months. Later on, I developed an illness in my stomach. All this, however, didn't deter me from following my goal," he said.
Zubair returned to the Darul Uloom and completed Hafiz-e-Quran in the year 2009. Later, he went to pursue Qari/Qirat (reciter) course at Darul Uloom Bilaliya, Srinagar, in November 2011.
"But just after two months there, I suffered from T.B, and it took me another year to recover. The adverse effect of the illness was that I started forgetting the Quran. But as I recovered, I went back to Darul Aloom Qasmia, and within a year, I memorized the holy book and recited the whole Quraan in just 8 hours to my examiner, which is a record," Wani said.
In 2012, I went back to Darul Aloom Bilalya and completed the Qari course under the supervision of Qari Sajad Ahmad Wani. "Being visually impaired is not a stumbling block, say Alhamdulillah (All thanks to Allah), and move on in life," he says.
In 2017, Wani joined Darul Uloom Shah Waliullah, Donipawa Anantnag, as a teacher of Shuba-e-Hifz (Dept of Quran memorization). As of now, 15 students have completed Hafiz-e-Quran under his guidance. He also teaches at his native village Nussu where 15-20 students are doing Hafiz-e-Quran course under his guidance.
The teacher of Zubair terms him a kind and very pious student. "I taught him Qirat (recitation) for two years. So far, I have taught three visually impaired students here. All of them were very good in behaviour and approach, and there was no difficulty teaching them," Qari Sajad Ahmad said.
"You just take them once to the classroom, washroom, or any other place, and they will remember things naturally and perform these acts by themselves later on," said Qari Ahmad.
Zubair is content with his life. He says that the impairment had no effect on his will to follow his dream, "Alhamdulillah, I don't feel like I'm visually impaired. Since the day I started reading the Quran, Allah has blessed me with enormous blessings. The verses of the Almighty illuminate my heart," he says.
BOX
"I don't recall anything from my childhood when I had a clear vision, probably because I wasn't so much into life in the early phase," he said.
"I remember the early stage when the vision began to deteriorate. Initially, I would see the persons and would distinguish between animals and humans whenever I would leave home, but the eyesight wasn't able to figure out the identity of a person," he said.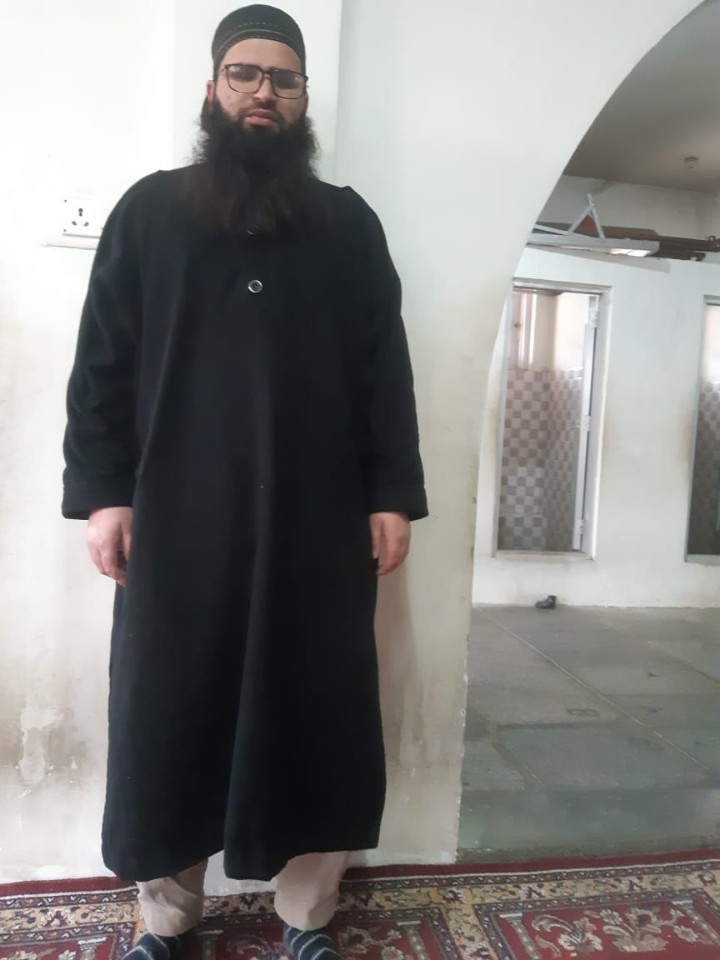 Asked about the differences it has made, he said, "There isn't that much difference, and Allah hasn't made me dependent on others as people may think. The biggest hurdle I felt was when I went to a seminary school and could not memorize the Quran, and it would take a week or longer to memorize a single Surah."
After 2009, he started using a mobile phone to hear the Quran recitation and memorise it without the support of a teacher. Since he was new to technology, it was challenging for him to memorise the Quran without relying on the teacher or another guide.
"This mobile phone made it easy for me to hear and remember. In the past, fellow students sometimes remained busy with their own studies, and my passion for remembering the Quran added to their own burden. At times I couldn't memorise for a week, a misfortune, I would say, but I am grateful to God," he said.
In the last days of his memorizing period, a teacher at an Islamic seminary was kind enough to teach him 15 chapters of the Quran in just three months. And he responded positively by memorising them all.
"The respect I get and the way people come to me for any kind of support is all because of Allah, and there is no point where I felt that Allah has left me with any disability," he said.
The other visually impaired boys with whom he has had conversations narrate their ordeal of difficulties in day-to-day life, "But hardly any such difficulty has come in my way up to this phase of my life," he added.
Quoting a verse of Surah Ibrahim (14:7), which translates as: "If you are grateful, I will add more (favours) unto you; But if you show ingratitude, truly my punishment is terrible indeed." he said.
"Allah has chosen me for this trial, and I am not dependent on anyone else – Alhamdulillah," he added.