The delicious 'Bilose' and other varieties of fish have given Sopore a unique identity other than its apple economy. But the identity of people associated with the fish business is under threat.
By Daanish Bin Nabi.
The historic north Kashmir town of Sopore is known for the diversity in its socio-economic life. Besides being the 'apple town' of Kashmir, Sopore is also famous for its delicious varieties of fish. 
Sopore's fishing trade is one of the most flourishing in Kashmir, with over 5,000 license-holding Mahageers (fishermen), followed by Bandipora district's close to 3,000 license holders. The famous Soporian fish is netted from Wular Lake in the dead of night by fishermen and subsequently taken to markets, sometimes with the help of a fisherwoman. 
According to official estimates, the erstwhile state of Jammu and Kashmir had some 93,000 fishermen, and in 2015 fish production crossed 20,000 tonnes across Jammu and Kashmir, including Ladakh as well. 
Three kinds of fishes popular in Sopore are found in Wular Lake. Kashmiri fish, which is white; Bilose fish, which has a predominantly black appearance and Zob, which is also white. Four more varieties reach the Sopore market from other states, including the golden-tinged Punjabi fish, Ruhu, Pankas, and Marak fish, all of which are white.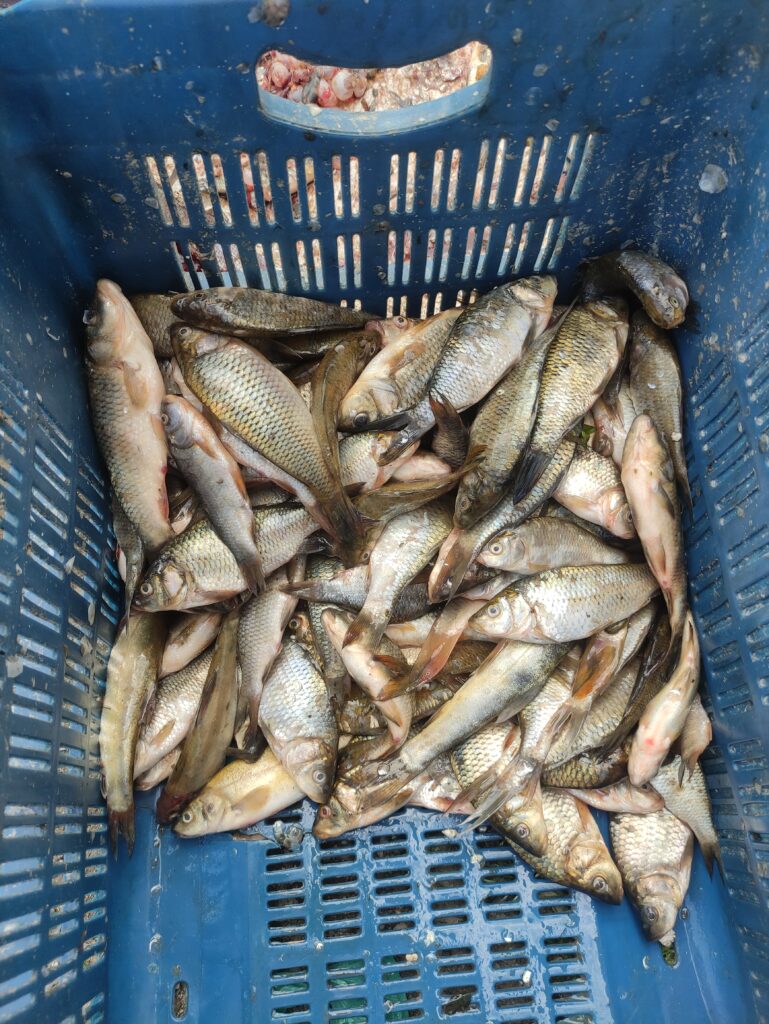 But the famed fish Sopore is particularly famous for Bilose. Small in size, the Bilose fish is specially prepared by mixing flour with vegetables, fried, and sold by local vendors during the evening time in every nook and corner of the town.
Kulsooma Bano, a self-proclaimed expert in preparing the Bilose fish, said that she starts preparing the Bilose fish for their stall after her husband leaves to sell it. Her son runs the stall in the town's Chankhan area.
Three kinds of fishes popular in Sopore are found in Wular Lake. Kashmiri fish, which is white; Bilose fish, which has a predominantly black appearance and Zob, which is also white.
"The young generation does not like to wait to get a dish prepared, and they want it prepared in no time. Preparing the Bilose fish is very easy. Clean it, and mix it with flour, vegetables, and spices. Fry it for a few minutes, and it is ready," Kulsooma said, adding that one plate of Bilsoe fish costs around Rs. 110.
"On a good day, we sell around five to ten kilos of fish in the evening. But on some days we don't sell even a few kilos. As winters are approaching, the sale would go down automatically now," Kulsooma told Kashmir Scan at her home in the Muslimpeer area.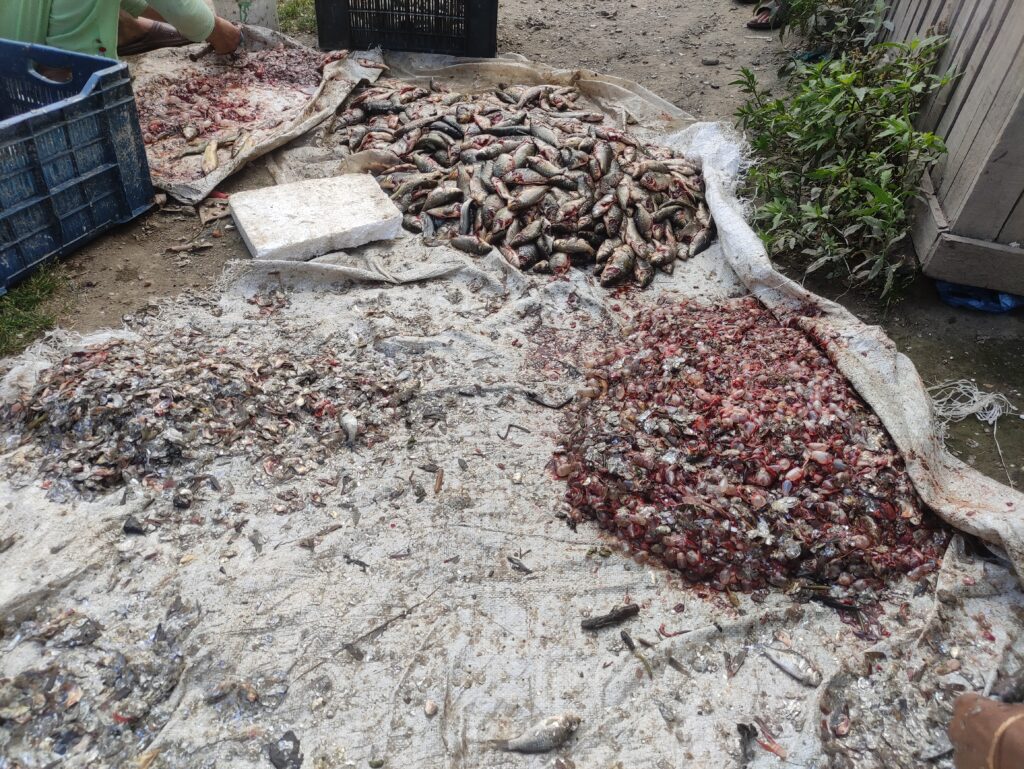 Muslimpeer, Kralteng, Kool Mohalla, and the villages surrounding the famed Wular Lake bordering Sopore are home to most of the people from the tightly knit community involved in the fishing business. However, residents, especially womenfolk, believe that they are not being treated fairly by society.
"Whenever I see any of my relatives, I keep my face covered. Whenever I see any of my neighbours, I hide my face. We are a perfect example of social outcasts, and they don't think we are good people as we don't belong to the upper caste," Mubeena Bano, a fisherwoman, told Kashmir Scan.
Mubeena has two children – a son named Aarif, 11, and a girl named Nadia, 8. "We don't want our fate to touch our children. I have asked them not to even look at the fishes. I only want them to study and get a job somewhere so that society also looks at them with respect. We don't want our children to go through the same oppression that we are suffering at the hands of our society," Mubeena said.
She said that her family is struggling hard to make ends meet. Her husband had to go through four surgeries to help his weakening knees. "A bone transplant was done on him, which cost us Rs. 45,000/-. How we managed the amount, only we know! I hardly earn Rs. 500 to 1000/- per day from cleaning and sale of fishes. Should we eat, submit the school fee of our children, buy medicine, or purchase clothes out of this money," she asked.
Aarefeena Bano, a resident of Sopore, is a fourth-generation child from a Sopore family who has continued the family tradition of the fish business. "I used to help my father. Now I am helping out my husband also. I go from village to village, starting early in the morning, and sell around six to nine kilos of fish," she told Kashmir Scan.
She said that it takes her the entire day to sell the fish, but the earnings are meagre. "For the entire day, I have to clean up the fish. Look at my hands. I am unable to even eat because of the stink," Bano said.
She regretted that the government has not extended any help to their community, forcing them to fall further into poverty or look for alternatives.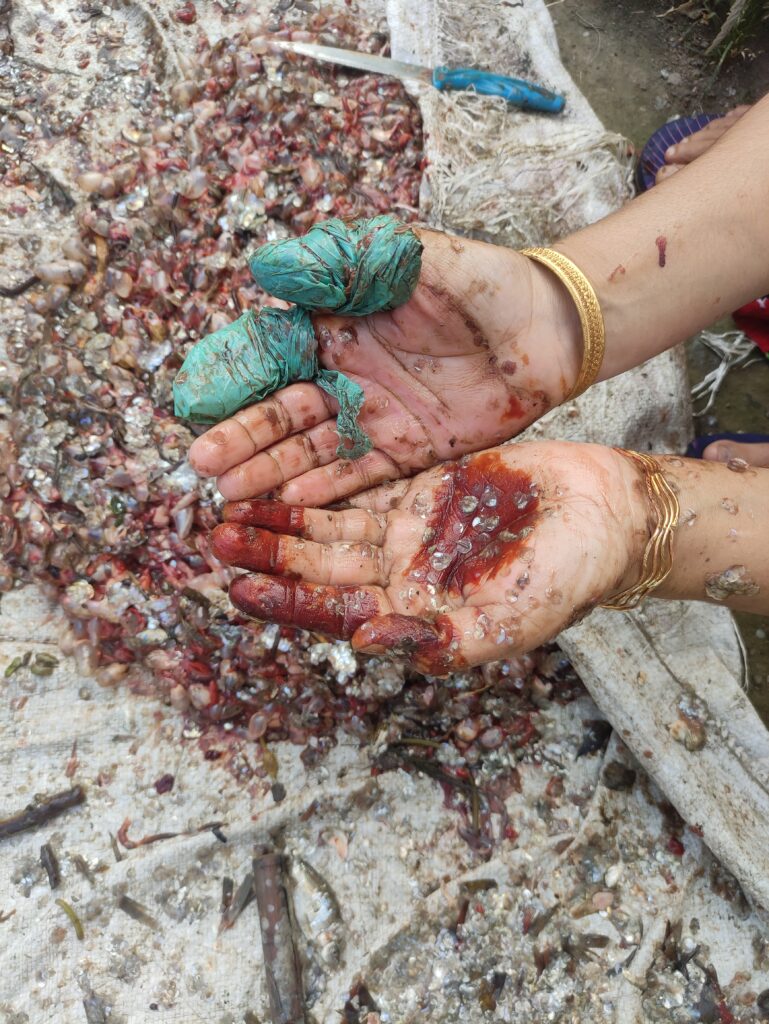 Riyaz Ahmad Mushki, one of the main fish suppliers of Sopore town, also complains about the government's apathy towards the community. "I have been into business for the last 40 years, and in all these 40 years, I haven't seen any help from the government. A few years back, I got some Rs. 3000/- from the fisheries department. But that was it," Mushki told Kashmir Scan.
He said that the people associated with the fish business are somehow managing their day-to-day life, but those families who earn during the day and eat in the evening should not be left at the mercy of fate.
"They live in a miserable condition due to the non-seriousness of the fisheries department and the government," he said.
Mushki said that there are thousands of families associated with the fish business in Sopore. "From the Muslim peer area upto Wular Lake, this entire stretch is directly or indirectly associated with the fish business directly or indirectly. The government has left us to Allah's mercy. No mercy is being shown to thousands of families who are suffering because of our diminishing business. We have approached them end number of times but to no avail," Mushki said.