Dr Asim Farooq Shah is currently the Head of the Department at the Department of Public Dentistry, Government Medical College, Srinagar. Kashmir Scan caught up with the senior doctor for insights into the importance of oral health.
By Syed Uzma
Excerpts of the interview 
KS) What is the importance of dental hygiene?
AF) Oral hygiene is more important than other bodily hygiene. Bad oral health, including bad breath and dirty teeth, lowers our self-confidence. Apart from that, there are various medical conditions associated with our teeth. There are different diseases directly related to our oral hygiene, and if we do not take proper precautions, they can reach our hearts. In various studies, we have seen that people with poor oral hygiene can later suffer from some serious heart diseases connected with oral conditions. So oral health is important not only for fresh breath but also for general well-being.
KS) What precautions shall one take to keep their teeth healthy?
AF) There are not too many precautions to take to keep our teeth clean because it is a natural process. When we take fibrous food, our teeth get clean naturally. Chewing our food also cleans our teeth, which is why the upper layer of our teeth always remains clean because of our chewing process. We should keep the side layers of our teeth clean so that our gums will not be affected.
Accumulating plaque is a natural process in every human being, but cleaning it requires proper brushing with a toothbrush and toothpaste at least twice a day.  You must brush your teeth so that every part of your teeth gets clean. It would be best if you also washed your mouth properly with mouthwash so that the leftover food inside your teeth and harmful bacteria inside your mouth wash away. 
One more important thing is that we should watch our food. More sugary and acidic foods are bad for our teeth. These kinds of food erode the teeth. We should mostly take more fibrous and natural sugary foods.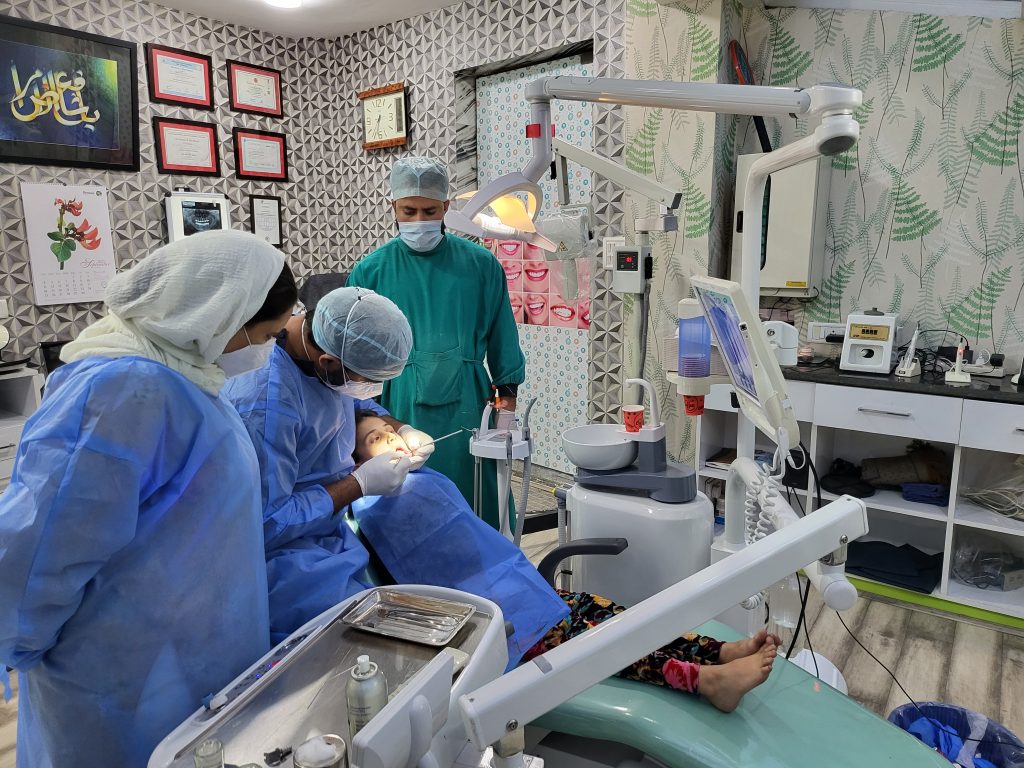 KS) What is the best time for brushing your teeth, and how many times is it advised to brush them?
AF) The best time to brush your teeth is after breakfast and dinner. Brushing before breakfast is not much beneficial because, after breakfast, there remains leftover food inside the gaps of teeth which rots and creates cavities and other oral problems. The same is the case if we don't brush our teeth after dinner. Also, mouthwash after brushing keeps your teeth protected for longer hours.
KS) What kind of toothbrushes and paste are best for teeth and gums?
AF) Toothpaste is a debatable option, but toothbrushes should be simple with soft bristles. The most important thing is to brush with proper brushing motion, and the simple method is circular motion. Also, the top of the toothbrush should be smaller to reach the end of the teeth denture. The toothbrush also depends upon the mouth's size and the fat on the cheeks. Similarly, you can use the toothpaste as per your requirements. For children, we have separate toothpaste with lesser fluoride content. For sensitivity, we have medicated toothpaste and hundreds of best-quality toothpaste available on the market.
"The best time to brush your teeth is after breakfast and dinner. Brushing before breakfast or before dinner is not much beneficial"
KS) Cavity is a big issue among kids. What is the main reason, and how can it be avoided?
AF) We can say that we are far back in maintaining good dental hygiene than the developed countries. In advanced countries, parents properly plan their children's oral health. Teeth have natural dips or grooves, known as pits and fissures. It's groovy in one sense, but when it comes to keeping your children's teeth clean and free of cavities, pits and fissures aren't groovy.
Pits and fissures house bacteria and other substances which can cause tooth decay in children, and these grooves can't always be adequately cleaned with a regular toothbrush. So, dentists have developed pit and fissure sealants that can fill and seal the grooves in children's teeth and prevent bacteria from getting in. They make teeth easier to clean and reduce the risk a child will experience tooth decay.
Even children who brush and floss regularly can be considered high risk, depending, for example, on the amount of fluoride they consume and the shape of their teeth (particularly the groovy parts).
But we have not explored that procedure here. I request the parents visit the dentist for proper oral hygiene for their children. Also, the other causes of cavities among children are improper tooth brushing, more consumption of candies and other sugary items, and that is a bad habit that parents have not the children as they are immature to take care of themselves.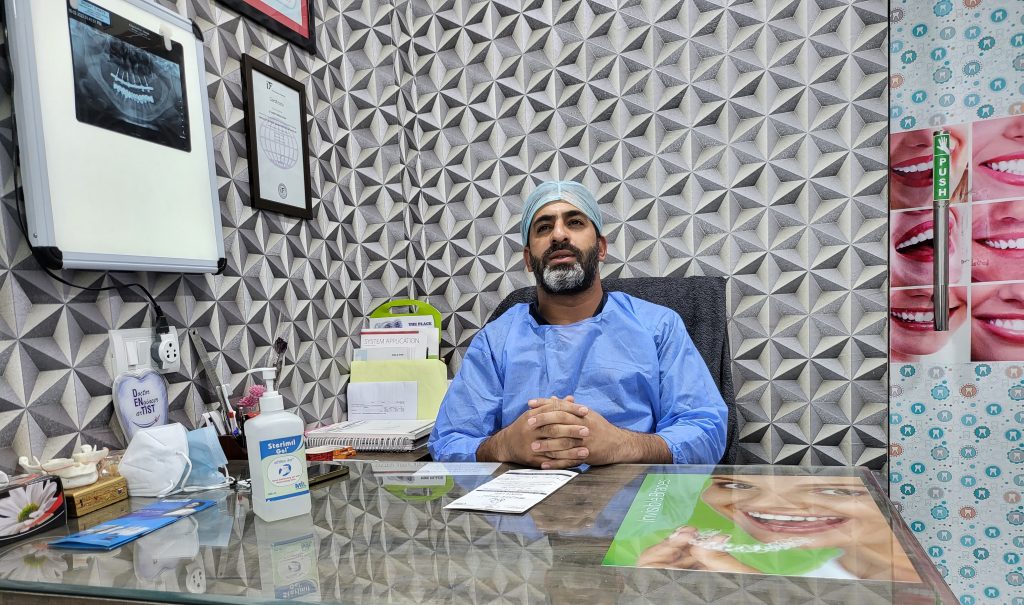 KS) What are the myths related to teeth?
AF) There are not many myths about teeth, but the first and foremost myth I found among the people is that "teeth are not important." I would say that teeth are more important. From aesthetics to digestion to hormones, everything starts with your teeth. There is a myth that you can't have your teeth for a lifetime, but I would say that by following proper oral hygiene, you can keep your teeth for lifelong. As per science, a sufficient teeth denture in your mouth can enhance your life span.
KS) Does the shape of teeth depend on anything?
AF) The shape of the teeth depends upon your genetics, and the shape of the face depends upon the shape of your denture. We usually see that any difference in the development of teeth affects the structure of your face. So, a beautiful facial profile depends very much upon the structure and development of your teeth.
KS) What are the parameters of removing a tooth? And how many types of procedures are there for the same?
AF) I can say that tooth extraction is a failure of treatment. If we need to extract the tooth, that means all treatments have failed. If we can treat it well, then we don't need to remove it. But that depends on when the patient thinks it needs to be treated. Usually, patients come in later stages when the teeth are in bad condition due to abscesses or other diseases; in that case, the tooth needs to be removed. There are some cases during the orthodontic treatments when we remove the teeth to create spaces for the alignment of teeth.
"Miswakh is an old thing that came from the Middle East. It has got a lot of chemical properties, and they prevent the formation of plaque"
KS) What about the traditional methods to keep one's teeth and gums healthy, especially Miswakh
AF) Miswakh is an old thing that has been used and came from the Middle East. It has got a lot of chemical properties, and they prevent the formation of plaque. I can say that Miswakh reduces the level of plaque. But Miswakh cannot remove the leftover food and cleans our teeth properly. We should use the Miswakh, but simultaneously the toothbrush is important.
KS) What are the latest technologies introduced for oral health?
AF) Medical science is constantly getting new technologies. We have a lot of new filling materials and modern diagnostic aids. With a simple scan, we can identify the problems in teeth or gums. We also have many new materials for restorative dentistry, including filling and building prosthetic teeth. We also have laser treatments for cavity and caries removal etc.
KS) What are the symptoms when a patient should visit the dentist?
AF) You don't need any symptoms to visit the dentist. Visiting a dentist should be followed every six months because you cannot diagnose a dental problem yourself. A simple cavity needs to cross the three layers of the tooth. After that, it causes pain. But at that stage, it becomes irreversible to treat the cavity. So I can say that if people face any sensitivity, gum bleeding, mall-aligned teeth, delays in teeth of children, or any other disease, the patient should immediately visit a dentist.
KS) What is your message for the general public regarding oral health?
AF) My message to the general public is that they should always take care of their teeth because it is your support for your body. Everything you eat touches your teeth; without proper teeth, you cannot digest the whole food and its nutrients. So, take care of your teeth, brush properly, and most importantly, you should change your food habits, and we should try to reduce sugary food items.