By Syed Aamir Sharief Qadri 
Pir Panjal: 'Unexplored Beauty of Ramban: Like every district in J&K, Ramban also got its share when God was distributing valuable gifts in the form of picturesque meadows, lakes, rivers and springs. The local people name the hilly terrains of Pir Panjal in different terms. For example, the mountain top is known as Maal. The loft peak is called Daar/ Dhar. The pass that connects one area to another is known as Gali. The plain meadow is named Madaan. The people move their cattle (Mal) to the upper reaches in the summer season for grazing purposes. These grazing lands are called Baas.  
 Some important tourist destinations of district Ramban are;
Zaban Hill Station, Nilpal Lamber and Thandi Chhah
The scenic meadow of Zaban has located about 5 km from the national highway from Nowgam (Banihal). The panoramic view of village Khairkoot in Sanglaab valley from the top of Zaban hill station is marvellous. The Bichleri rivulet in Zaban forms lovely waterfall. Zaban is a part of the Cacaw reserve. Hence a wide variety of wildlife can be seen here. Nilpal Lamber is situated at a distance of about 5 km from Banihal railway station connected with an able motor road. The sloping meadows, waterfall, spring and streams make this place very charming. Thandi-chhah is 10 km away from Banihal town. This scenic spot has two parallel streams flowing on either side of the vast meadows.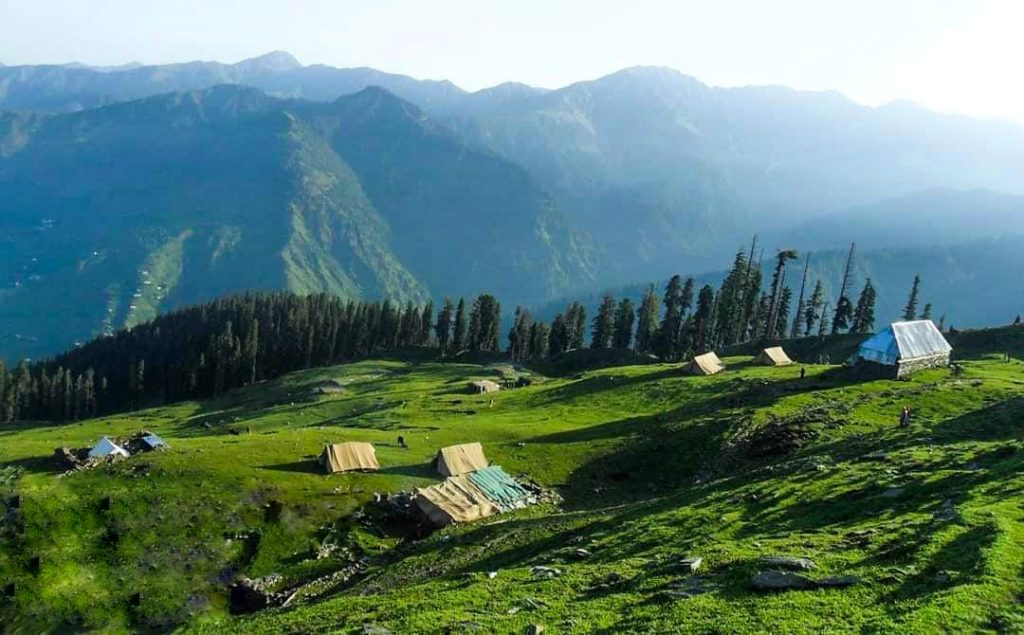 Moh Mangith and Adjoining Areas.
The twin villages of Moh Mangith are located at a distance of about 45 km from Banihal Town. Its tehsil headquarter is Khari, just 5 km from Nachlana, situated on National Highway. The Pahari speaking people of Moh Mangith are culturally closer to Kashmir valley than Jammu region. Though this area is not connected by road with Kashmir, they still prefer to cross just one huge mountain to reach Dandward- Chimer area of district Kulgam. Among the other places of equal importance, adding a few more neighbouring places to the list is necessary. Damantrag, Aramnakh, Pathalan, Gudbeir, Nawan, Mohri, Trajbal, Ratan, etc. are worth mentioning. Damantrag is a beautiful meadow at an altitude of about 3450 meters. The snow cover remains for more than six months.
Neel Top and Pogal Paristan
The impressive Neel Top is located at a distance of 25 km from Banihal town. This place is situated at an elevation of about 2000 meters above mean sea level and can be visited by two routes. One route leads from Chamalwas and another from Magarkote, and both the routes fall in Jammu- Srinagar national highway. The heights of Pir Panjal present a majestic glance. Neel top provides a base for many trekking expeditions such as Wasa Marg, Ejan-tragh, Chang Top, Hals-Dhar, Bari-naal, Zaradi, Devita-Dhar, Wanbara, Hansraj pass, Perhinder, Daganbass, Sargali, Yamul Top, Mayalsar, Nandimarg, etc.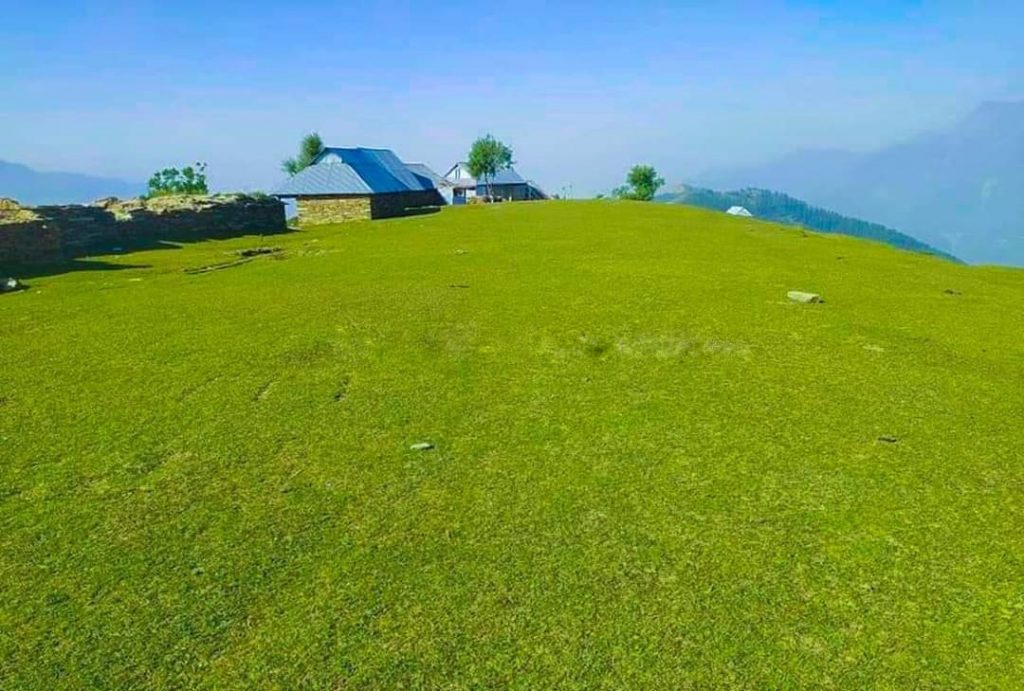 Pogal-Paristan– The land of fairies is situated about 23 km from Banihal. The tehsil headquarter is located at Ukhral, just 8 km from National Highway via Magarkote. Pogli is the main language of the area. They also speak Kashmiri and Gojri. The famous Pogli-geet locally called Chan is sung by both men and women on special occasions. One can enjoy this song while roving freely in the lovely meadows of Pogal Paristan. The two rivers- Pogali nallah (Sundari) and Paristan nallah further add beauty to verdant meadows. Some streams provide comfort by producing burbling and tuneful sounds. The spectacular meadows are spread over a vast area. Some popular spots include Nandimarg, Mayalsar Lake, Yamal Top, Sargali, Gogli Dhar (Sunseri), Devhira, Gagan Top, Sarvadhar, Hansraj peak, etc. Some of these places can be visited from Kapran (Verinag) area of district Anantnag. There is a vast meadow at Sargali, which serves as a playing ground for local youth. One can have a pleasant view of Pogal on one side and Banihal on another side from the top. At Sarvadhar there is a famous 400-year-old temple of Chamunda Mata which can be reached through a village called Senabati. From the beautiful Kharwan plateau, one can have a majestic view of the entire Neel and Paristan areas. During Dogra rule, a Fort was constructed there named Pogal Qilla. But today, you can see only the debris of this ruined fort.
Gool Gulabgad, Dagan Top and Bhatni village.
In the lap of lofty mountains, Gool tehsil is located 55 km from Ramban. Some important tourist attractions of the place are Dagan Top, Hajam Marg, Jabar Sar, Gooda Gali, Ramakunda, Mazamkunda, Tata Pani, Bhatni village, Ladha Dhar, etc. All these places are located in the vicinity of Gool town. 
The cool swirling breeze envelops the meadows of Dagan Top. This place offers a picturesque view of Gool town. At an elevation of about 2000 meters, this place separates Ramban from Reasi. It is situated about 10 kms from Gool on Gool-Mahore road. At a short distance, a trek from Dagan top leads to a forest-covered meadow of Hajam Marg. At a distance of a few km from Gool, Jabar valley is surrounded by green trees and meadows. There is a small marshy lake called Jabar Sar. Gooda Gali is a heritage site famous for stone carved objects. The stones are engraved extensively, and art is depicted in various forms. The hot water of the sulphur spring at Tatapani is believed to possess extraordinary healing power to cure diseases like dermatitis and arthritis. A large number of people from J&K visit this spring every year.
Bhatni village is about 32 km from district headquarter Ramban. At the top of the village, on the fascinating Ladha Dhar range, the famous Shankpal temple is located, which is a famous pilgrimage centre. Bhatnimela is held every year in August, starting from Nag Panchmi. The centuries-old ritual dance Kud is performed in honour of Lok devtas by people on these days.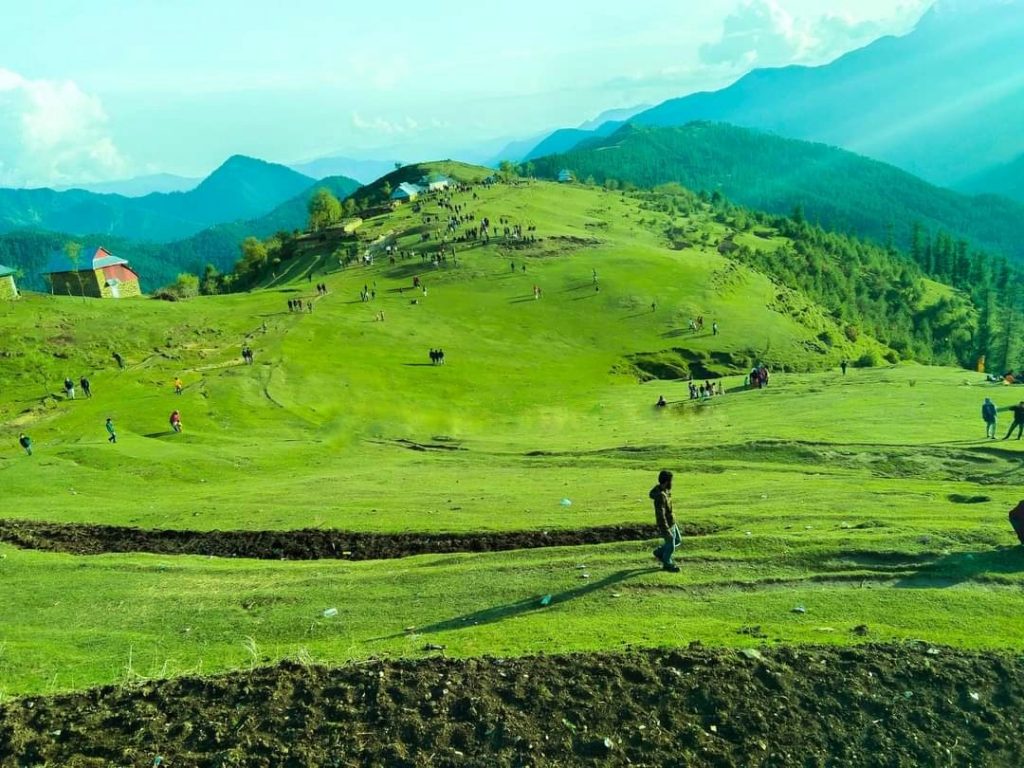 Scope for Adventure Tourism
The promising tourist resorts of Pogal Paristan, Gool Gulabgad, and Moh Mangith have great potential for adventure tourism.
Mountaineering
Due to the wide range of hills and mountains, the local people love to conquer different peaks of the region. Some popular heights of the district include Moh Peak, Reyod Peak, Hansraj Peak, Yamal Top, Gagan Top, etc. At the top of Reyod peak, a concrete pillar was constructed by Britishers for unknown reasons before independence. This pillar is popularly known as Angrez Thumb.
Some appropriate bases for trekking are as follows-
Neel Top, Moh-Mangith, Bhaajkote, Bhatni village,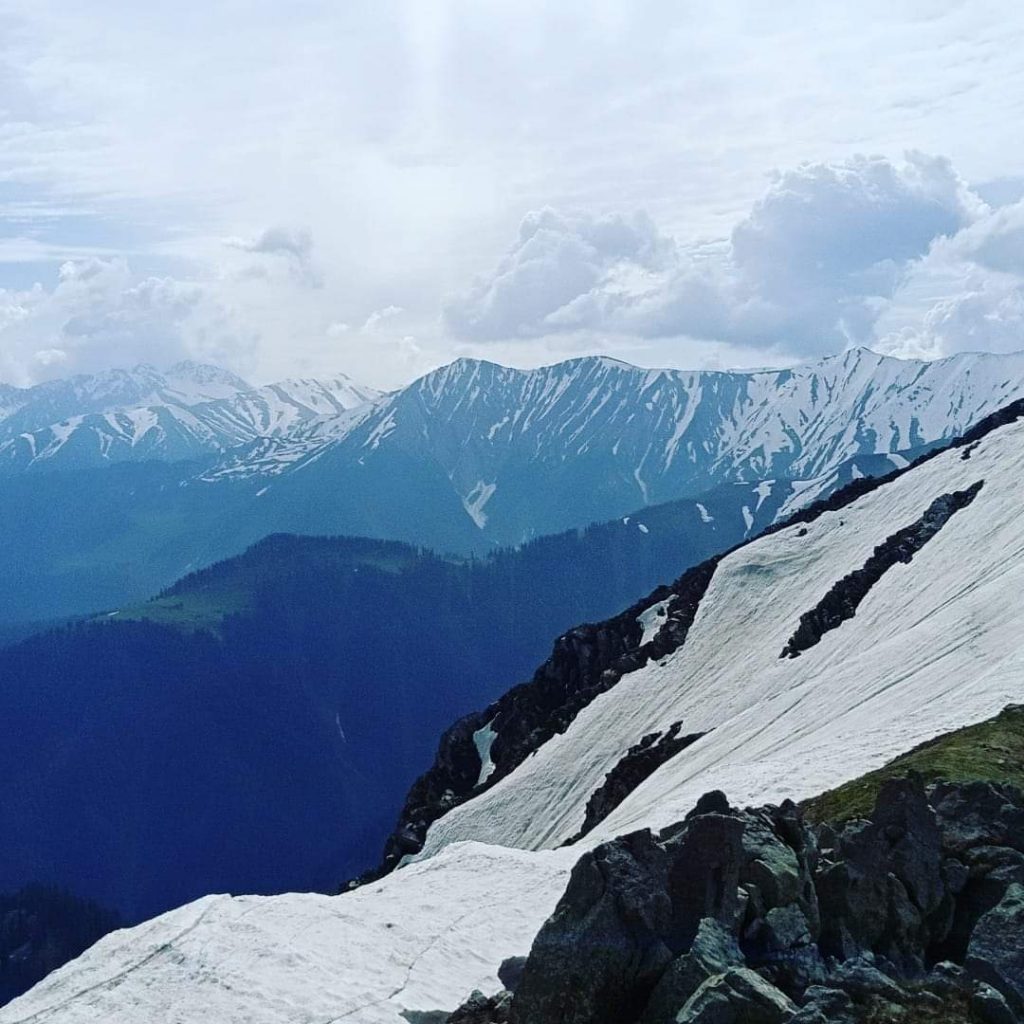 People and Culture
The most beautiful thing about Pahari speaking people is- They are straight forward cooperative people. With simple food and dress, they live a prosperous life. Living in natural environs, they are much dependent on natural resources. People gather necessary products (Jadi Booti) from forests throughout the year that cure some common diseases. With the snow melting in the upper reaches, they shift along with their cattle to settle in Dhokhs, where they live in Kothas for a few months. Mostly they use a wild variety of vegetables that are found in abundance. The popular dish includes various things consumed together, such as take bread made of maize floor known as Makai Chot, along with vegetables and a special type of curd known as Gurus.