A young artist from Srinagar has braved personal fears, societal patriarchy and a life threat to set a mark in the world of graphic designing,
Khazran Khan writes. 
GOOD DESIGN IS GOOD BUSINESS: Since childhood, Afifa Faiz Makhdoomi was fascinated by colours, "I was keen about arts also. Whenever my uncle taught my elder siblings drawing and painting, I was attracted to colours. Then I used to copy artworks like cartoons, sketches and drawings till it became my hobby," she said.
A young graphic designer from Srinagar, Afifa has set an example of achieving anything with hard work and dedication. After completing her schooling, Afifa decided to take her passion seriously and turn it into her profession. 
She got enrolled for a Bachelors degree at the Department of Fine Arts at the University of Kashmir. The degree, which included courses in sculpting, painting, graphic designing, general arts and fine arts, provided her opportunities to learn and create new things. 
"I opted for graphic designing as my specialisation in Fine Arts. Graphic designing is a commercial art like designing billboards and posters or branding, etc. And when it is done on the software, we refer to it as graphic designing," she said.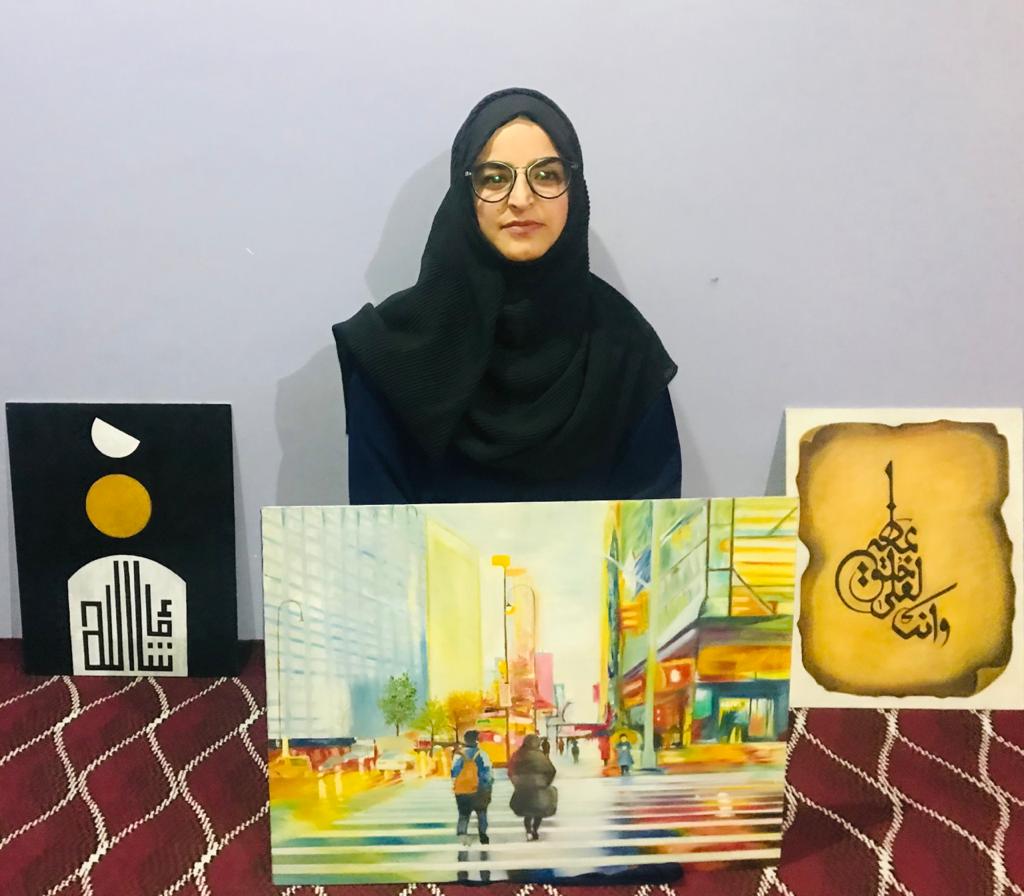 Afifa did very well and went on to complete her Masters from Jamia Milia Islamia, New Delhi. That was the time when Afifa thought of setting up her own company and providing a platform to the younger generation. But even with a clear aim and a lot of struggle, she couldn't convince her family to let her settle in New Delhi. Having faced a lot of hardships and obstacles, Afifa didn't give up and continued to follow her passion in Kashmir.
"When we love something, we don't look for excuses to ignore the problems that may come along the way. Instead, we focus more on finding solutions. Leaving behind the gender-biased mentality of many Kashmiris, I made up my mind to do wonders in the field of graphic designing. I decided to set up my own company to boost this sector," Afifa said.
Although the field has seen rapid advances, graphic designing hasn't changed people's attitudes, especially in J&K. The main reason is the lack of knowledge related to this subject. Call it ignorance; many people confuse "Fine Arts" with "Finance".
GOOD DESIGN IS GOOD BUSINESS
Her outstanding performance in Sonzel Competition after winning back to back seven awards gave her hope that she was going on the right track.
"I saw graphic designing as an opportunity to tell people about this field and make them aware as it is need of the hour in today's digital world. It's never easy to set up something different and something new. Yes, it was a bit different, so people thought it was odd. This didn't interfere in my optimism of setting up my own company," she said.
The scope for graphic designing is not doubtless, but graphic designers earn well even by working from home. It isn't as easy as it seems, "It was an intricate thing for me to keep designing. My father didn't like my profession. During his early days, he was not ready to accept my interest in the fine arts. He used to feel insecure while keeping in view the job opportunities and less knowledge in this field. Even during my second year of graduation, he would insist I leave. But I think that helped me to show people how capable I am by doing something different. After receiving international awards, people recognised me and the work I do."
"My father was convinced when for the first time he saw my photograph mentioned as a Sonzel Competition winner in a newspaper. His eyes were full of tears. I remember back then, every person who looked down at me because of my profession was applauding me later. When you do wonders in life, people will eventually appreciate you, "she said.
Her outstanding performance in Sonzel Competition after winning back to back seven awards gave her hope that she was going on the right track. Her performance made her parents proud, which kept her motivated all through her journey in graphic design. Later, she won many international awards, which added glory to her achievements. 
"I think the way people were refusing to accept my work was what provoked me to do better and prove myself. My work was recognised in an exhibition held internationally. It was the time when my artworks got recognition in many countries like Lebanon, Jordan, Taiwan, UAE, and Iraq. My work was highly appreciated," she said with a contented smile on her face.
Many incidents disturbed her, especially when it came to artworks related to the conflict zone. Some anonymous persons warned her not to display the artwork, and she even got life threats, but it didn't stop her. Afifa stood tough and tall. Since her upbringing was in a conflict zone itself, she decided not to pay heed but remained extra cautious.
Being an optimist, Afifa has a firm belief in hard work and dedication. To reach the top, one has to climb the mountain, and this foray is not always going to be smooth. She recalls how she failed at first in clearing zonal level competitions. But then, in the following year, she devoted all her time to improving her skills which helped her in not only clearing but securing top position in zonal as well as national. She agrees that competition is at its peak these days, but one must cope with it by burning midnight oil. 
Afifa has a special message for youth, "It is only by hard work and perseverance that one can achieve success. Be honest with your work. Don't follow shortcuts. And when you rise to fame, don't look down on others because once upon a time, you were standing at their place. Love your work and be patient when it comes to rewards because success will touch your feet at the right time and the right place."
The author is an engineering student, and she can be reached at [email protected]