Announces discounted GST rates for some products in J&K; inaugurates 'The Chinars' new Aayakar Bhawan and residential complex at Rajbagh
Srinagar: The Union Finance Minister, Nirmala Sitharaman, on Monday, said that the funds for development and projects which have been provided to the people of J&K post the abrogation of article 370 have made all aspirations of the people come true.
As per Kashmir News Service (KNS), Sitharaman, while interacting with the Central Board of Indirect Taxes & Customs in Srinagar, said that the facilities and the development are given to Kashmiri citizens since August 2019 have made all their aspirations come true.
"There is no point if it is kept only for a small population. Some people are holding all the resources and denying the ordinary citizen his right. That is why in today's government, ordinary citizens are seen participating in the electoral process," she said.
She said that ordinary citizens are actively participating in the electoral process in spite of calls that disallow them to do so. "People want to grow; their aspirations are there to be realized. It is this common aspiration for which every citizen should be given space, and that is being given to the people of Jammu and Kashmir post abrogation of article 370," she added.
Meanwhile, FM announced discount rates for some items in J&K and said that concessional rates of GST apply for a few items which are unique to J&K. "Those include carved wood products, art ware, decorative articles of wood barrel, and so on. Wooden frames for paintings, photographs, mirrors etc also have a favourable rate," she said.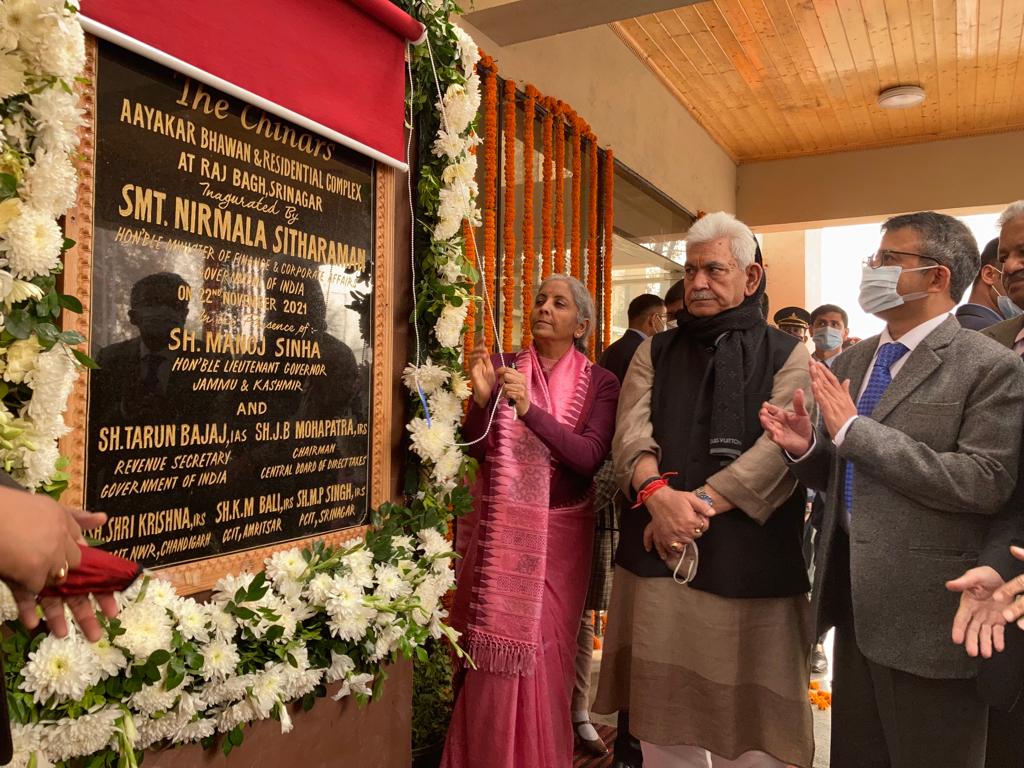 She also said that statues and ornaments of wood and jewellery boxes are given discounted rates. "Articles of paper machie also have a discounted rate of GST. Handmade carpets, textiles, floor coverings also get a concessional rate. Hand paintings, drawings including Bhasoli paintings also get a good GST rate," she said.
Sitharaman also said that the projects which have been completed under Pradhan Mantri Development Programme are about 21 in number. "The Batote-Kishtawar Simthan Pass has been completed under PMDP, Jammu-Udhampur road project, Chenani-Nashri tunnel, inter-subvention scheme, external aided projects(EAP) have also been undertaken. Counterpart funding EAP is also happening, assistance for damaged houses is also given under PMDP, PoK and Chamb displaced people are also given assistance," she informed.
Referring to LG's remarks she said that Bhagyi Dhari means people's participation, so tax collection is not important as engagement of the people to let them know that every penny of tax gets contributed to the development of this region.
She said that she wants to make people aware that every penny they pay as tax is brought to them through development. "The importance of collecting legitimate tax is understood and also through a transparent process which we can explain how the money gets to spend."
She added that there are about 250 principal commissioners of income tax all over the country. "In the northwest region alone, there are about 20 principal commissioners of income tax. Now the principal commissioner of income tax has been allotted to the UT of J&K, which is the 21st in number in the northwest region of India and 251st all over India."
She said that an experienced officer had been brought for J&K who will provide greater information so that tax settlements can be made, facilities can be provided to taxpayers, technology-driven facilities would be given so people don't need to visit the office as they can do it from home now.
Notably, Nirmala Sitharaman today inaugurated "The Chinars", the new Aayakar Bhawan and a residential complex at Rajbagh in the presence of LG Manoj Sinha.