By Namrata Wakhloo
The Nags of Kashmir are revered by both, Pandits and Muslims. While Pandits have their shrines in most of them, where they pay obeisance, their Muslim brethren also hold the utmost respect for these places. Many of these springs have fish in them, which are considered as sacred. Whenever I have visited Mattan Nag, I have seen people from both communities feed these fish with much love and enthusiasm. Nobody harms or even touches these fish. It's also believed that an ancient Nag or serpent resides in each of these springs, the guardian or protector of that village or town. 
 Something very interesting to recount here — a few months back, my friends and I visited the Loduv temple near Pampore, which is in the middle of a beautiful spring. There we met a local Muslim lady who had come to offer the "first milk" of a lactating cow that had just given birth to a calf. She said it's a practice in the village to offer this milk to the sacred Nag every time someone's cow delivers a baby. She felt it was these Pandit and Muslim shrines, which are abundant in the Valley, that watch over the Kashmiris. The same practice was later reconfirmed to us by a priest at Mattan Nag, where too, the villagers from offer the first milk of the cow to the Nag.
The small Nag at the Mamal temple is looked after by a Muslim caretaker these days. He reiterated the strong belief of Kashmiris in these mystic springs. He said this spring, like the rest, doesn't have fish, so they tried putting some on their own into it. Although the spring is pristine and well maintained, the fish didn't survive.
The only unfortunate thing I would like to take everyone's attention towards is that some of these springs in the far-flung areas suffer from severe neglect. They are dying slowly. At Loduv, the spring was overflowing from a broken embankment, there was litter floating in it, and a lot of dirt could be seen settled at its bottom. It could ultimately destroy the spring and the fish in it.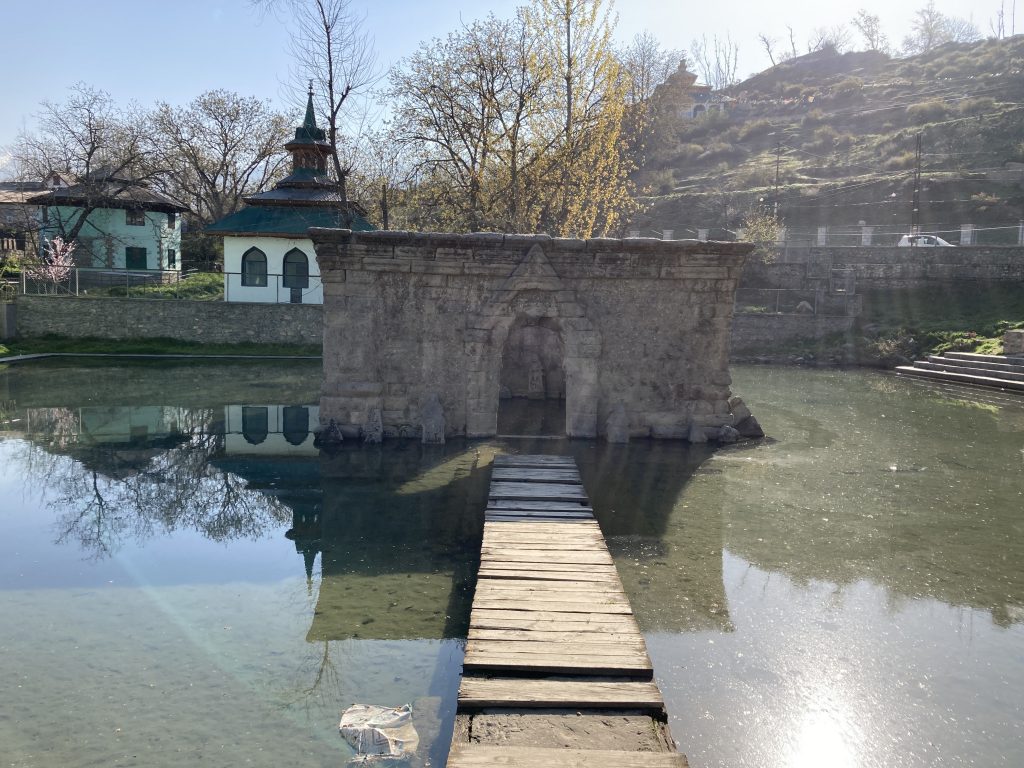 IMPORTANT SPRINGS For Pandits and Muslims
There are innumerable delightful and charming springs at the foot of forests and mountains. The drainage of land surface by these springs which make it fresh and grassy creates a name and fame for the beautiful valley of Kashmir. Some of the kashmiri springs which have been recorded by the earlier kings and travelers for their remarkable features. Most of these springs have vanished, due to our abuse of environment in the last century. The names of these Kashmiri springs are stated as under:
Verinag, Achchabal, Mach Bawan, Anantnag, Lokh Bawan, Kukar Nag, Panzat Nag, Wasak Nag, Pahlu Nag, Ruzlu Nag, Malak Nag, Vuthwatru spring, Kanu spring, Sund Brari, Pavanah Sind, Ludrah Sind, Gangah Brari, Haldar, Heemal Spring, Nagi Arjun Spring, Arpal Spring,Mahapadam Spring, Zeewan Spring, Nilah Nag, Nillah Nag-IInd, Karmeshwar Spring, Narayan Nag, Aynal Ufunat, Tatedan Spring, Gupt Ganga, Vicharnag, Khir Bawani Spring, Wutr Gang, Naran Nag, Sangah Pal, Pachh Nag, Kausar Naag, Papchhan, Chakareeshor, Zileshor, Anantnag, Lachhman Tirat, Harnag, Shiva Nag, Shomah Nag, Zeetee Shah Spring, Manzhar Spring, Naran Nag, Babar Nag, Sayd Ganga, Ram Kund, Sita Kund, Lachhman Kund, Hanumam Kund, Gautam Rishi Nag, Cheshma Shahi, Nilah Nag, Kapal Mochan, Sukh Nag, Kotheer Nag, Shamah Hal Spring, Aynal Ufumat etc.