Discover the remarkable village of Oukhoo, hailed as the 'pencil village of India,' where the residents are fervently engaged in their own business ventures, supplying the nation with the fundamental tool of knowledge
By Younus Rashid
The people of Oukhoo, a relatively calm village located approximately 11 miles away from the bustling town of Pulwama, are fervently engaged in their own business ventures. This village has earned a reputation as a significant supplier of a ubiquitous item in the country, an essential tool for writing and acquiring knowledge—the pencil. In fact, it has garnered the notable title of the "pencil village of India," bestowed upon it by none other than Prime Minister Narendra Modi. Oukhoo: The Pencil Village of India
At the center of the pencil slate business stands a resilient young man in his late forties, who has weathered the highs and lows of life. However, on a momentous Sunday in April, his most cherished wish may have materialized when he had the honor of conversing with India's foremost leader, Prime Minister Narendra Modi.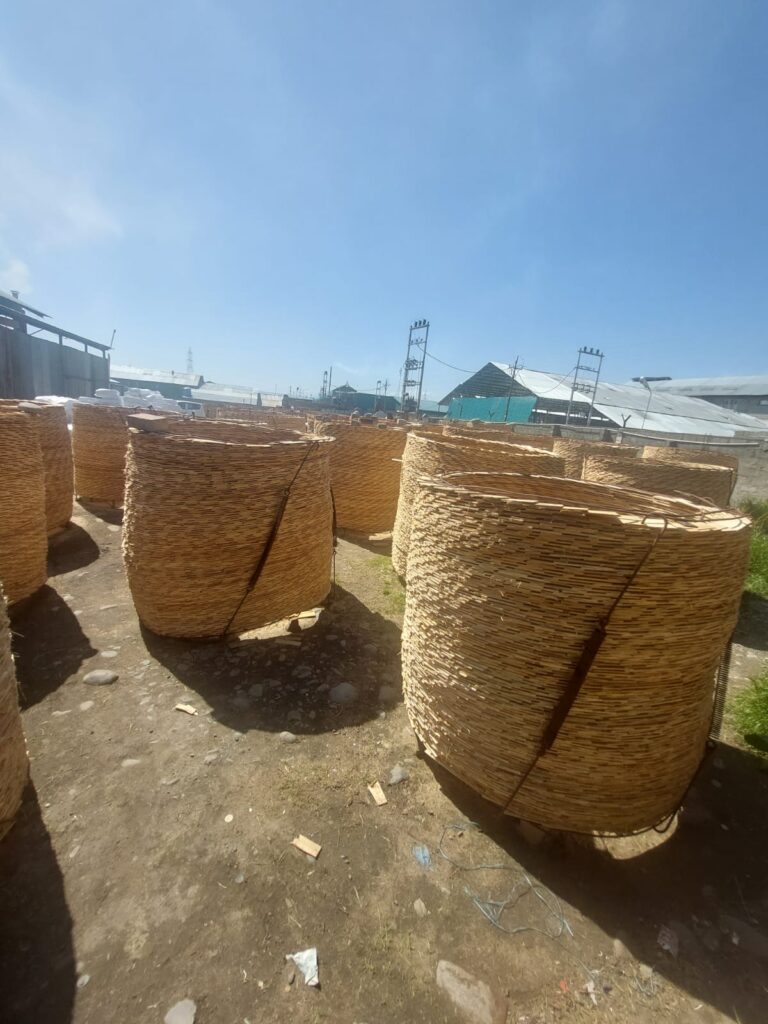 Allow us to introduce Manzoor Ahmad, a local resident hailing from the very heart of Oukhoo village. This small hamlet plays a pivotal role in meeting an astounding 70 percent of the nation's demand for pencil slate wood.
Witness the triumph of local production as Manzoor Ahmad turns his vision into reality, establishing a thriving pencil slate manufacturing unit in Pulwama, generating employment opportunities and exporting high-quality slates.
In recounting his journey, Manzoor Ahmad shared, "I used to toil as a laborer under a contractor. But later, I mustered the courage to embark on my own entrepreneurial path, establishing a band sawmill business and venturing into the production of apple boxes. It was a financially precarious period for me, prompting the sale of my assets to set up the band sawmill."
During one of his expeditions transporting wooden logs for shipment to a pencil factory, Manzoor observed the operations with keen interest. It was then that an idea germinated within him—an idea of local production.
Poplar trees serve as the primary source for pencil slates. Fortunately, the region of Kashmir abounds with these trees, including Kashmiri Poplars and Russian Poplars. According to a knowledgeable pencil slate vendor, the slats predominantly comprise Russian Poplars, known to flourish in moist areas.
"The representatives from the factory quickly recognized the potential and lent their support in establishing a local pencil manufacturing unit in Pulwama. With the invaluable assistance of Hindustan Pencils, a leading manufacturer and exporter of pencils in India, we embarked on the production of pencil slates. However, our progress encountered occasional hindrances, primarily stemming from irregular power supply that played a whimsical game of hide and seek," explained Manzoor. In his pursuit of overcoming this obstacle, he borrowed funds to acquire a generator and reached out to his relatives, beseeching their support. Eventually, they were granted the opportunity to produce pencil slates under the auspices of the same unit in Pulwama, supported by a corporation.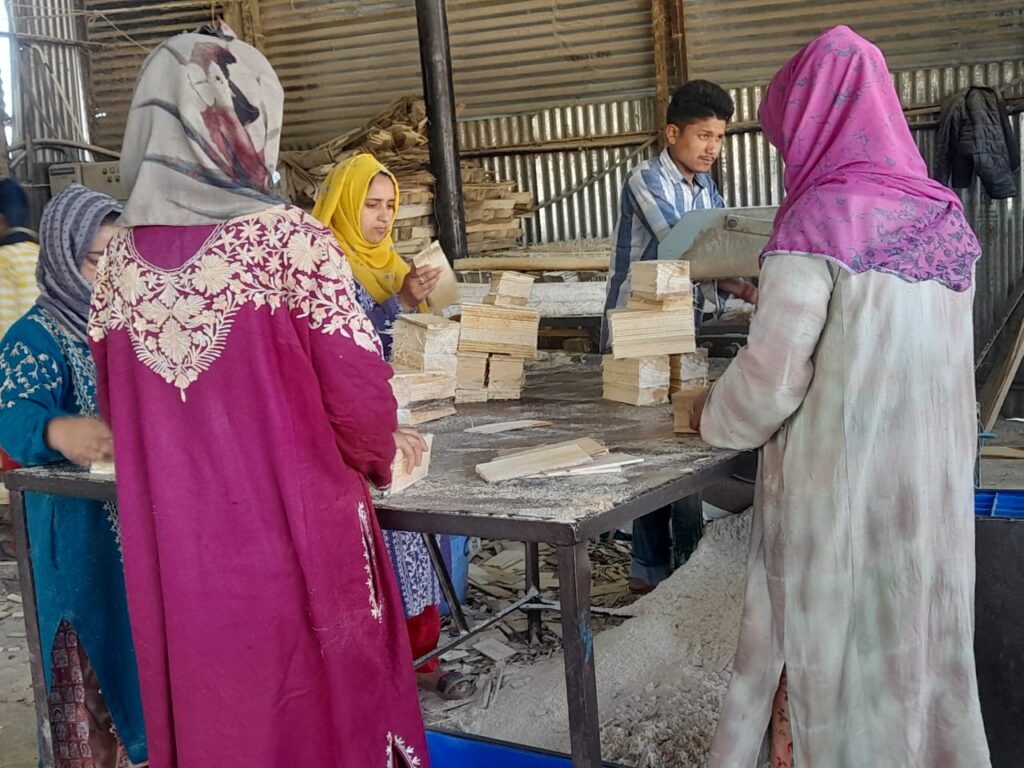 Manzoor Ahmad's foray into pencil slate production in Pulwama began in the years 2011-12. Initially, he procured machinery and employed a modest team of 15 workers. As time went by, his vision flourished, and the unit expanded significantly.
"Today, the pencil slate unit in Pulwama serves as the workplace for more than 200 dedicated men and women. The pencil slates crafted here proudly bear the distinction of being of the highest quality in India. Furthermore, they find their way to international markets, representing our country's excellence," Manzoor remarked with a sense of accomplishment and pride.
Manufacturing of pencil slats:
According to vendors, first, a Poplar tree is cut – usually a tree in a low-lying moist area. The wooden logs are made and then in a band sawmill it is cut into small pieces. Regarding making of slats, he said, we keep the dimensions of these slats at 78×77 mm and around 5.2 mm in thickness.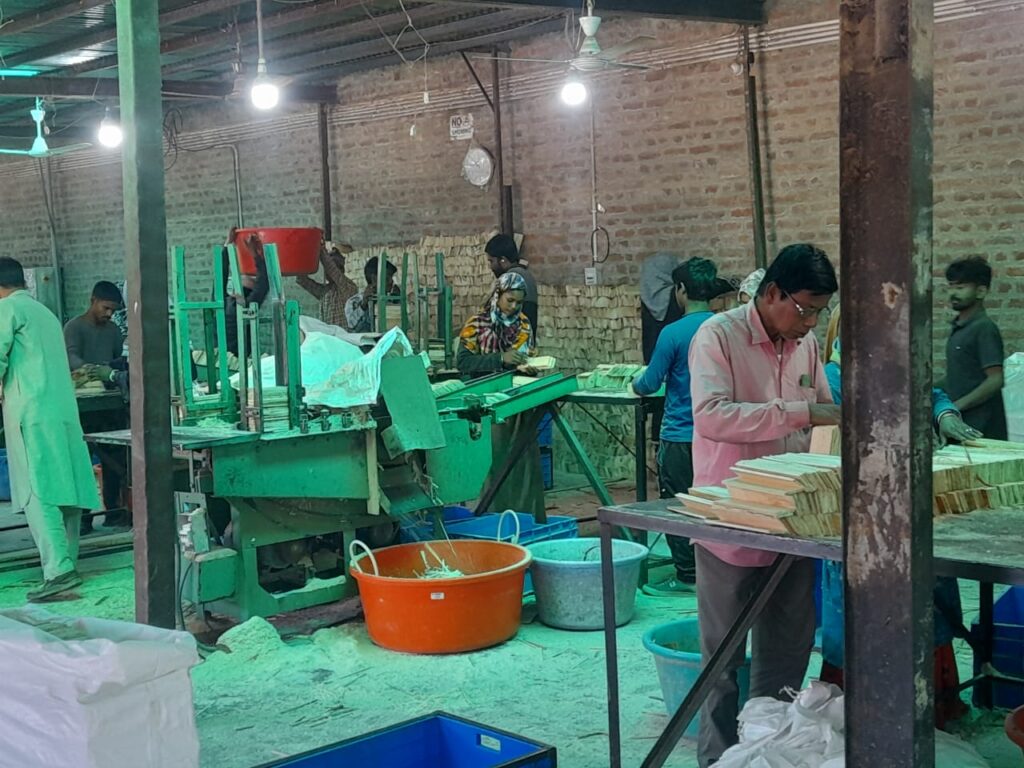 After making these slats at the band saw mill, these slats are put to dry in open areas, or in winter they are dried in machines. And then finally processing and packing is done to send them to Jammu, Chandigarh or elsewhere with whom the vendor is having contracts. And then a company gives them the shape of the pencil.
PM Modi's conversation with Manzoor Ahmad of Pulwama:
"Friends, now there is another gentleman with us on the phone line – his name is Manzoor Ahmad," PM Modi remarked at the start of the call.
PM Modi: "We mentioned Manzoor in the Man Ki Baat while discussing the pencil slates of Kashmir. He initially inquired about Manzoor's health; "Thank you sir, I am very well," he responds.
PM expressed his happiness when speaking to Manzoor on the 100th episode of Man Ki Baat. And inquired about the ongoing work of pencil slate.
"The work is going very well," Manzoor responds, adding that "since you (PM) mentioned my work in Man Ki Baat, the work has increased manifold and others have also gotten employment opportunities through this work."
When PM Modi asks him how many people he employs in his endeavour, Manzoor responds, right now, I employ more than 200 people. "That's fantastic; I'm very pleased," PM remarked.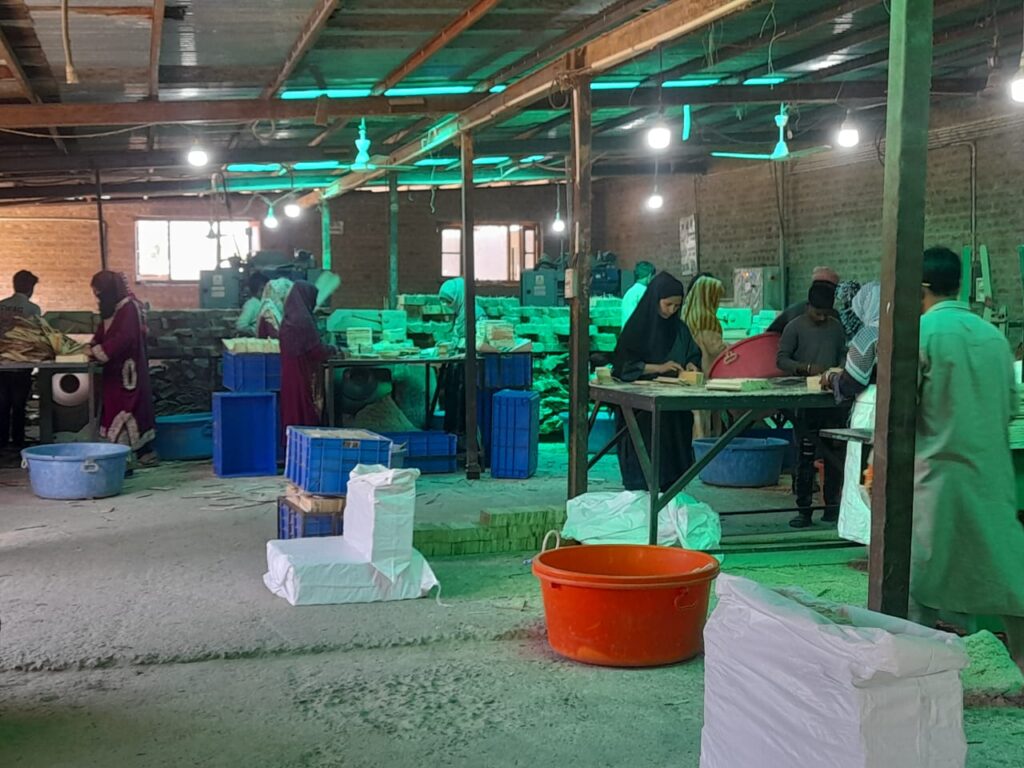 Manzoor says he will expend it in a month or two and hopes that 200 additional people will be hired. PM informs Manzoor that he remembers exactly that day when you (Manzoor) stated there was no acknowledgment of his labour. And, as you mentioned, you were upset by the lack of acknowledgment, and you used to endure significant challenges.
"However, you have gained recognition and employ more than 200 people. And you're expanding and creating 200 new employment, which is fantastic news.
Manzoor informs PM that villagers and farmers are also benefiting from this; they used to sell the tree for the amount of two thousand which has now climbed to a maximum of five thousand. Since then, demand has soared, and there is now recognition as well. I now have a large order; in the next months, I plan to expand further and employ 200-250 boys and girls from adjacent communities, generating income for them as well.
"See, Manzoor ji, you have demonstrated the strength of "Vocal for Local" on the ground," PM Modi said.
PM congratulated Manzoor and all the farmers in his community, as well as his colleagues, the best of luck in this endeavour.
Official assertion:
An officer from District Industries Centre (DIC), Pulwama informed Kashmir Scan that the district has roughly 14 pencil slate factories registered with the DIC.
"The approximate annual turnover from these units up to Rs 220 crore. While the investment in plant and machinery aggregates approximately up to Rs13.80 crore. Besides, the units generate employment to around 1100 persons," he said.
Unofficially, approximately 70% of the raw materials used to make the pencils our children use come from the pencil slates made in Pulwama. These units employ hundreds of men and women, both local and non-local. And they're all making a living," the officer said.