Srinagar: JKEDI hosts Investor Meet and Pitching Session with country's renowned Angel Investor Mahavir Pratap Sharma.
The Jammu and Kashmir Entrepreneurship Development Institute (JKEDI) today organized a successful Investor Meet and Pitching Session, aimed at fostering the growth and development of startups in the UT of J&K. The event, held at Sempora campus of the Institute, brought together Mahavir Pratap Sharma, a renowned Angel investor and a motivational speaker, aspiring entrepreneurs and industry experts to explore innovative business ideas and facilitate meaningful connections.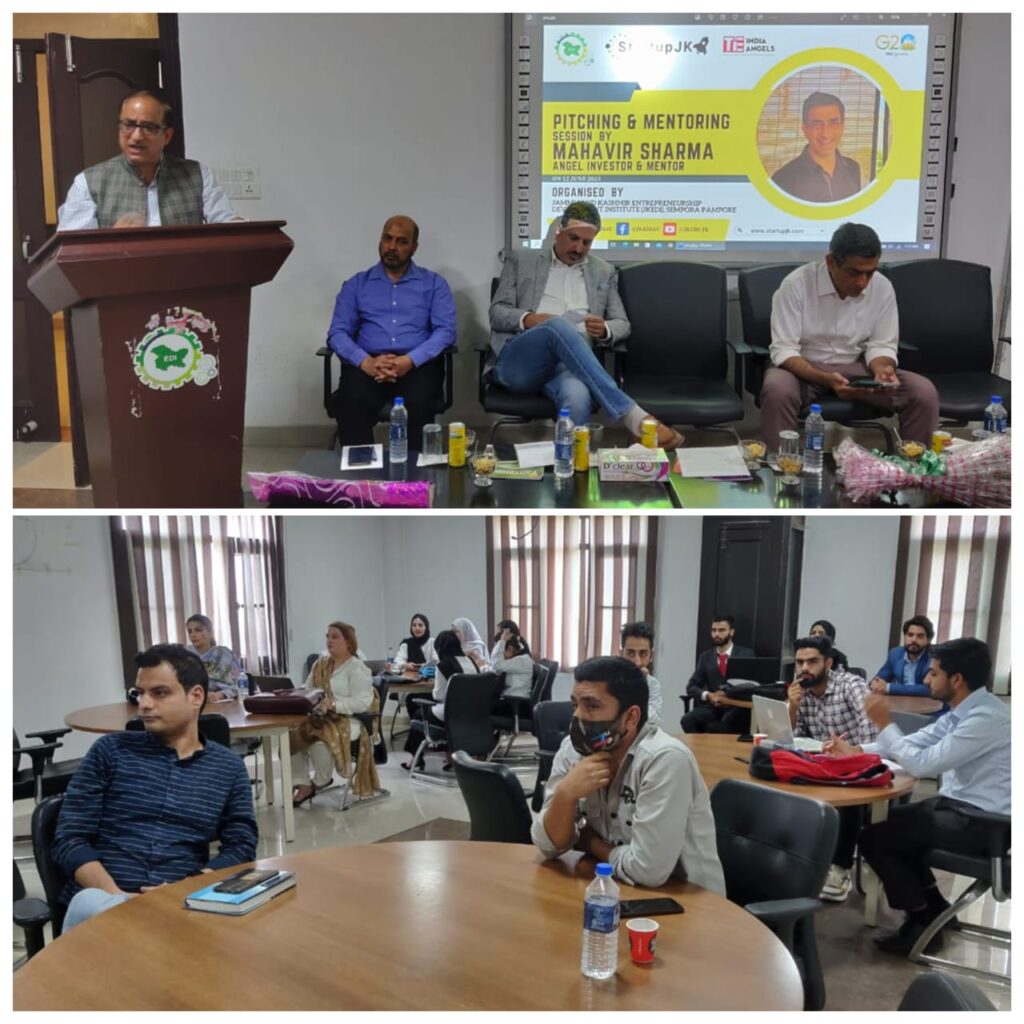 The event was held under the guidance of Ajaz Ahmad Bhat (IAS), Director JKEDI and served as a platform for startups from J&K to showcase their innovative ideas, business models, and growth potential in front of the investor. The event witnessed a meaningful turnout of enthusiastic entrepreneurs, reflecting the growing entrepreneurial spirit in the region. Sheikh Ashiq, a leading entrepreneur of J&K and former President of Kashmir Chamber of Commerce and Industry (KCCI) among other Industry experts was also present on the occasion.

Mahavir Pratap Sharma, a serial entrepreneur who also served as the Chair of TIE Global Angel Investors, brought his vast experience and expertise to the event. As a renowned angel investor and mentor, Sharma shared valuable insights into the startup ecosystem, investment strategies, and the qualities that investors seek in potential ventures. His presence added immense value to the event, inspiring and guiding the participating entrepreneurs.
"There is no dearth of talent here and I want all of you to think of solutions that have a global appeal and can be scalable. I will be available to all the aspiring startups and will share my experience and knowledge. Some of the ideas presented today have immense potential and I will work with them and help them to scale up. Government support and grants are also important," said Mahavir Sharma. "We need to encourage local ownership of funding and make use of latest marketing methods to expand our reach," he added.    
Speaking on the occasion, Ajaz Ahmad Bhat (IAS), Director, JKEDI said that this event gave an exceptional opportunity for startups in J&K to gain exposure and forge valuable connections with potential investors. "We are honored to have Mahavir Pratap Sharma, as our keynote speaker. His presence and guidance has greatly enriched the event, and we are grateful for his support in empowering our local entrepreneurs. I believe that women need to come forward and be a valuable part of the entrepreneurial ecosystem. The Institute is going to organize a workshop for women entrepreneurs on 19th and 20th of June, which can be a wonderful platform for them," he added.

The participants had the opportunity to deliver compelling pitches, highlighting their unique value propositions, market opportunities, and revenue models. The participating startups spanned various sectors including technology, agriculture, healthcare and education among others. The presentations were met with great enthusiasm from the investor, who was impressed by the caliber and creativity of the startup ideas. The event fostered a collaborative environment, encouraging meaningful conversations and knowledge exchange among participants.

In a separate program, Director JKEDI interacted with school children of Government HSS, Chaklipora, Shangus who were on an exposure visit to the Institute under Samagra Shikhsha Abhiyan. The session provided the young minds with a unique opportunity to learn about the world of entrepreneurship and explore the possibilities of turning their innovative ideas into successful ventures in the future.