A Journey of traditional businesswomen into a Successful, progressive enterprise
By Tauhid Ahmad
In the picturesque village of Kangan, tucked away amidst verdant fields in South Kashmir's Pulwama, resides Zamrooda Bano, a determined and passionate 47-year-old woman. With a deep-rooted affection for the dairy industry, Zamrooda embarked on a transformative journey in 2019 to modernize her traditional dairy farming business. Recognizing the potential to merge tradition with innovation, she set out to revolutionize her approach and expand her entrepreneurial pursuits. From Tradition to Innovation
Zamrooda inherited her family's small dairy farm, where they had been practicing traditional methods for generations. However, she recognized that in order to compete in today's market, she needed to embrace modernization. With unwavering determination, she began researching and learning about the latest advancements in dairy farming.
She thanks for the support from JKRLM UMEED for an inclusive dairy livelihoods model, under DEDS.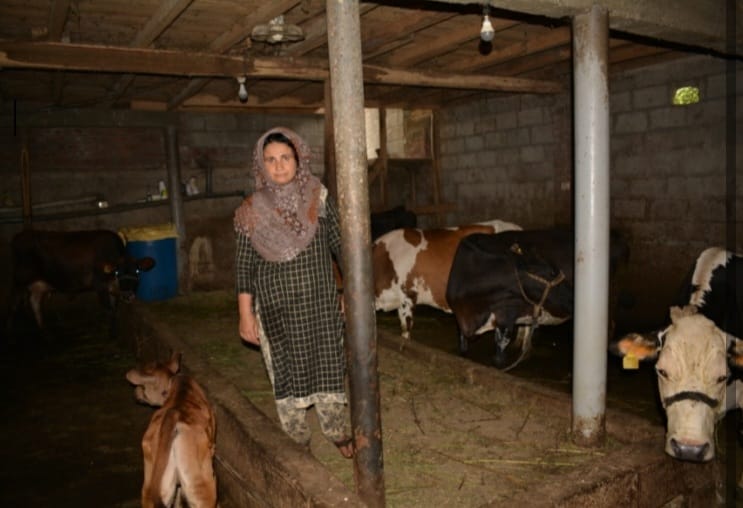 Together with her Husband, Zamrooda owns 4 acres of land,7 Cows and a baby calf. She likes being a dairy farmer: 'I like feeding the cattle, I like when a calf is born and we take care of it and I like it when I get the payment from the AMCs installed by NRLM (Umeed),' she said.
Although, most of our income comes from growing and selling vegetables—like potatoes, tomatoes, and green chillies. But dairy farming provides us an additional regular income of 24000 rupees every month, Bano said.
'It is as important as the fields I own and earn from', armored said.
Selling milk to Automatic Milk Collection Centre (AMCs)/ Dairy Cooperative Society has become quicker, fairer, and more accurate, she said.
Launching my dairy milk business was no small feat. It demanded relentless dedication, long hours, and a willingness to overcome countless hurdles. From securing funding and acquiring equipment to building a team of passionate individuals who shared my vision, each step required unwavering commitment, says Zamrooda.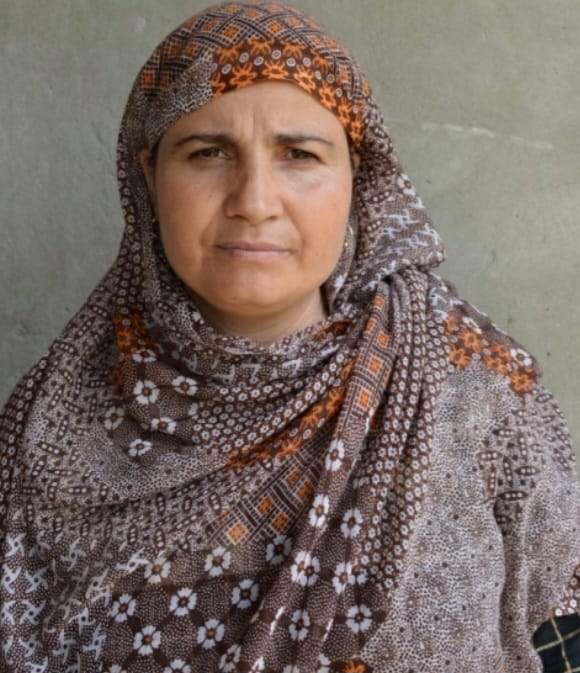 Ensuring a comfortable and hygienic environment for her cows, Zamrooda says 'Firstly, I worked on the up-gradation process of my farm. I renovated the barns and sheds— invested in infrastructure making.
Aiming to yield superior milk production and resilience to diseases, Zamrooda focused on improving her herd's genetics.
'I consulted with experts and carefully selected high-quality breeds, this step required patience, as the results would take time to be realized.
To optimize her herd's nutrition, Zamrooda sought the help of JKRLM in association with Animal Husbandry–the local implementation partner for the inclusive dairy livelihoods model under DEDS–imparted training on the importance of good dairy practices such as a timely feeding routine, hygiene, and quality fodder.
'Earlier we had no time for cattle maintenance, but on the advice of animal nutritionists, I analyzed the local forage options and adjusted feed rations to provide a well-balanced diet for her cows. I also explored innovative feed additives, which enhanced the quality and nutritional value of the milk produced by herd, she mentioned.
Zamrooda has become an inspiration to other women in the community. She is actively sharing her knowledge and experience, empowering others to pursue their dreams in agriculture.
Through her dedication, Zamrooda proved that tradition and modernization can coexist and thrive. Her farm became a symbol of innovation and sustainability, contributing to the community's well-being and economic growth. Zamrooda's story serves as a reminder that with determination, knowledge, and a willingness to adapt, anyone can transform a traditional business into a successful and progressive enterprise.
UMEED: A Path Towards Prosperity
Aimed at empowering rural women, the Jammu Kashmir Rural Livelihood Mission (JKRLM) focuses on wellbeing and stability of rural women living below the poverty line and offers resources, support, and opportunities for their economic advancement.
By nurturing individuals and communities through its programs, JKRLM hopes to help rural communities thrive in a sustainable manner. The mission aims to empower these communities and give them the tools they need for a better future.
Recognizing the need for the technical expertise of SHGs, the UMEED program is empowering individuals to think positively about themselves and their families, harnessing their talents and worth to achieve their full potential–helping them to live a fulfilling life filled with contentment, happiness, and dignity.
Informing about the Financial Literacy of SHGs, Riyaz Ahmad Beigh, Additional Mission Director JKRLM (Kashmir Division) said that UMEED begins by providing rural women with financial literacy and accounting training which includes education on book-keeping, budgeting, saving, investing, and understanding financial products and services.
SHGs are being educated on financing and funding to make informed decisions before starting their business units..
Subsequently, SHGs are provided with financial linkages from local banks to utilize other services such as remittances of Mission and other government funds such as interest subvention and insurance services. Bank linkage also promotes the financial literacy of the members and contributes to the prudent utilization of funds, he added.
'Once they access the grant of Rs 80,000, we act as the bridge linking them with banks. They can take loans up to Rs 20 lakh per SHG. The first tranche is of Rs 1 lakh, followed Rs 2 lakh, Rs 5 lakh, Rs 7 lakh and Rs 10 lakh,' AMD said.
'The capital amount depends upon the area of activities they are choosing. However, the drawing power may be enhanced annually based on the repayment performance of the SHGs, AMD added.
The SHGs do not receive any subsidy under the National Rural Livelihood Mission (NRLM). Instead, what they get is interest subvention by the NRLM against prompt repayments to the bank, AMD said.
To alleviate the living standards of rural women, as on date the mission is running its initiative at block level in all the twenty districts of the J&K UT with over six lakh women grouped into more than seventy-five thousand Self Help Groups (SHGs),' AMD informed.
Likewise, the mission engages people with disabilities in a wide range of activities providing them with valuable skills to enhance their employability and entrepreneurial abilities, he said.
Institutional Building and Capacity Building (IBCB)
Aiming to bring 900,000 households under the umbrella of JKRLM, the instrumental role of IBCBs is to conduct social mobilization rounds in villages. ICBC has an important role to spread the message, besides motivating communities to come under JKRLM's fold.
This involves keeping the stakeholders in the loop, encouraging public discourse, and regular planning for social mobilizations for maximum outreach. IBCB team has to ensure the training of internal community resource persons (iCRPs), internal project resource persons (iPRPs), and community cadre.
It also involves conducting Gram Sabha meetings, highlighting the importance of Panchsutras, and forming Self Help Groups (SHGs), Village Organizations (VOs), and Cluster Level Federations (CLFs).
The mission is currently active in all the blocks of Jammu and Kashmir and is striving to cover at least 67% of rural households in all the blocks. Additionally, the mission will also bring nomadic households under the fold of JKRLM. Through IBCB, the mission is also promoting Model Cluster Level Federations (MCLFs) as demonstration sites with a specific focus on governance,  FNHW, Livelihoods, and Financial inclusion.
Food Nutrition Health And Wash (FNHW)
JKRLM's Food, Nutrition, Health, and WASH Theme aim to promote specific interventions in all SHG households for economic and social development.
The focus is on behavior change for better health outcomes and linking FNHW with livelihoods to tackle issues of malnutrition, anemia, hygiene management, and immunity building. JKRLM mobilizes poor women and undertakes special efforts to reach women in exploitative situations, focusing on building institutions to support women in gaining an identity, solidarity, capacity, access, well-being, freedom, and choices.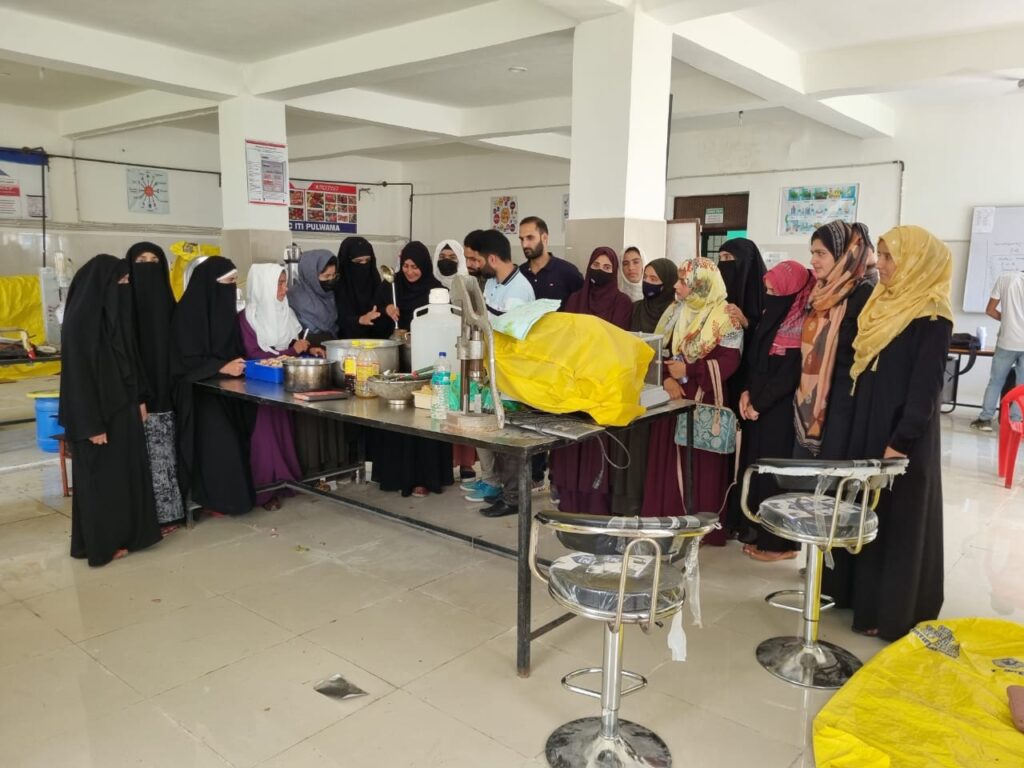 JKRLM is committed to strengthening the institutional mechanism for addressing gender-based violence and developing a resource pool to ensure poor women have access to entitlements. It aims to support rural women in raising the rural economy and becoming social leaders for positive change in Jammu & Kashmir.
Marketing Support
For branding and competitive marketing of products through online platforms, the Mission Directorate is taking steps to promote curated by SHGs through E-commerce platforms. Almost the majority of the products are available on e-commerce platforms, and the recent UMEED marketplace at J&K International Airport started under AVSAR scheme has enabled SHGs sale out their products and the market has attracted a huge rush of customers.
To give boost to grass root retail market, the Mission has adopted a robust convergence plan with other line departments for establishment of Women Haats in every district headquarter, as well as e-marketing of products to ensure success of the program.
Similarly, Umeed Women Haat Exhibition of traditional crafts, and culinary skills was launched on the banks of famous Dal Lake with around twenty stalls wherein women from different areas of Kashmir exhibited their skills and sold out their products.
Realization of Goals
'Beyond the financial gains, SHGs from the J&K UT have won accolades for their work on national level and have brought laurels too, they have done a remarkable job by generating a ripple effect on the entire community, AMD said.
'We have also community-based entrepreneurs who are running their businesses with their own brand and packaging'.
Their story has become an inspiration to other women in the region, thus igniting a wave of entrepreneurship for sustainable economic growth, he added.
The varied products they make — from handicrafts to copper products to agricultural and nonagricultural products are making the program successful. 
In the backdrop of #NationalMilletYear2023, JKRLM's UMEED marketplace, and Millet café were showcased at SKICC during #G20 (Tourism meet) where the cultural, art, and craft exhibition of J&K was highly appreciated by the delegates.
"Our goal is to achieve maximum saturation by bringing more women folk into the culture of entrepreneurship for their economic independence. We try our best to utilize our scope and expertise to achieve this aim," he said
In a bid to bolster microenterprises in J&K, JKRLM has collaborated with the Hotel Management Institute to impart skill development and vocational training to certain groups of girls and they are going to establish food canteens in different districts.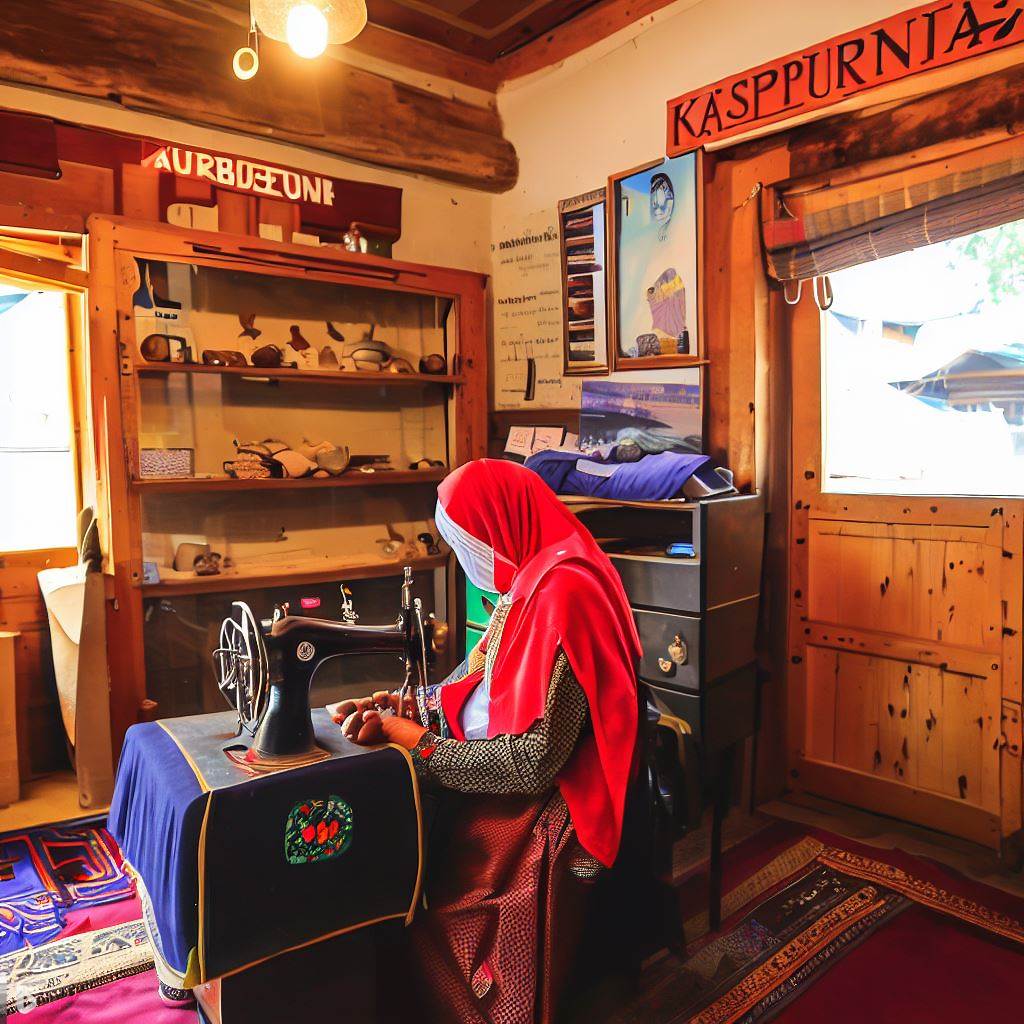 Last year, Jammu and Kashmir government for the first time roped in SHGs to operate the canteen at Kashmir State Taxes Department from its main complex at Excise and Taxation Complex, Solina, the facility was inaugurated by Commissioner Secretary Rural Development Department and Panchayati Raj, Mandeep Kour in presence of Commissioner State Taxes, J&K, Dr Rashmi Singh, AMD informed. Umeed envisions a society where women have equal access to opportunities, resources, and financial independence. By addressing the various aspects of women's financial empowerment, Umeed strives to create a path towards prosperity and a brighter future for women.