By Dr Hiroj Bagde
Ankylosis of the temporomandibular joint (TMJ) is an intra-capsular union of the disc‑condyle complex to the temporal articular surface that restricts mandibular movements, including the fibrous adhesions or bony fusion between condyle, disc, glenoid fossa, and eminence. Temporomandibular Joint (TMJ) Ankylosis
Ankylosis can be defined as the stiffness of a joint due to abnormal adhesion and rigidity in the bones of the joint. In TMJ ankylosis condyle movement is restricted causing a partial or complete inability to mouth opening. Fusion of condyle to the base of the skull either bony or fibrous is formed in most ankylosed TMJ.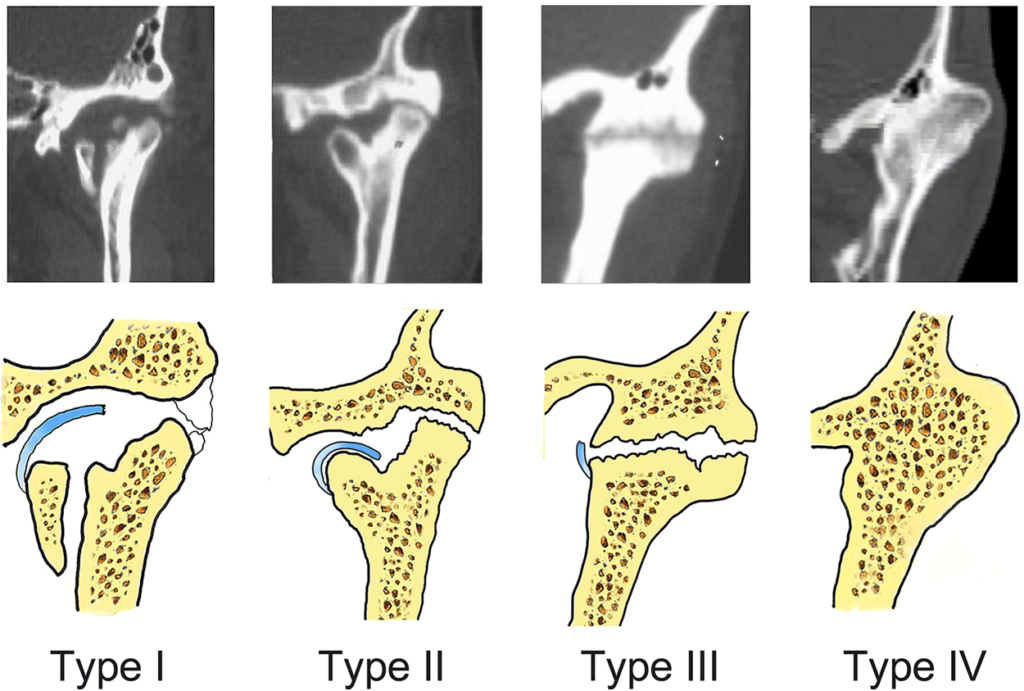 Etiology
Macro trauma (hemarthrosis).
Infections.
Progression of joint adhesions.
Prolonged immobilization following condylar fractures.
Chronic inflammation.
The most frequent cause of bony and fibrous ankylosis is trauma. Scarring and osseous replacement occur after the formation of an intra-articular hematoma. It is thought to be the result of ankylosis after a joint injury. This causes the TMJ space to become smaller. Sometimes extension of fusion to the cranial base, sigmoid notch, zygomatic arch, and the coronoid process is seen in advanced cases.
Types of ankylosis
Ankylosis is of two types:
True ankylosis– In this condylar movement is limited by a mechanical problem in the joint.
False/pseudo ankylosis – This mechanical cause is unrelated to joint components.
True ankylosis is of two types:
Fibrous ankylosis
Bony ankylosis
Fibrous ankylosis
Fibrous ankylosis is common and occurs between the condyle and the disc or between the disc and the fossa.
Bony ankylosis
Bony ankylosis is rare and occurs between the condyle and the fossa.
Children are more prone due to greater osteogenic potential and an incompletely formed disc.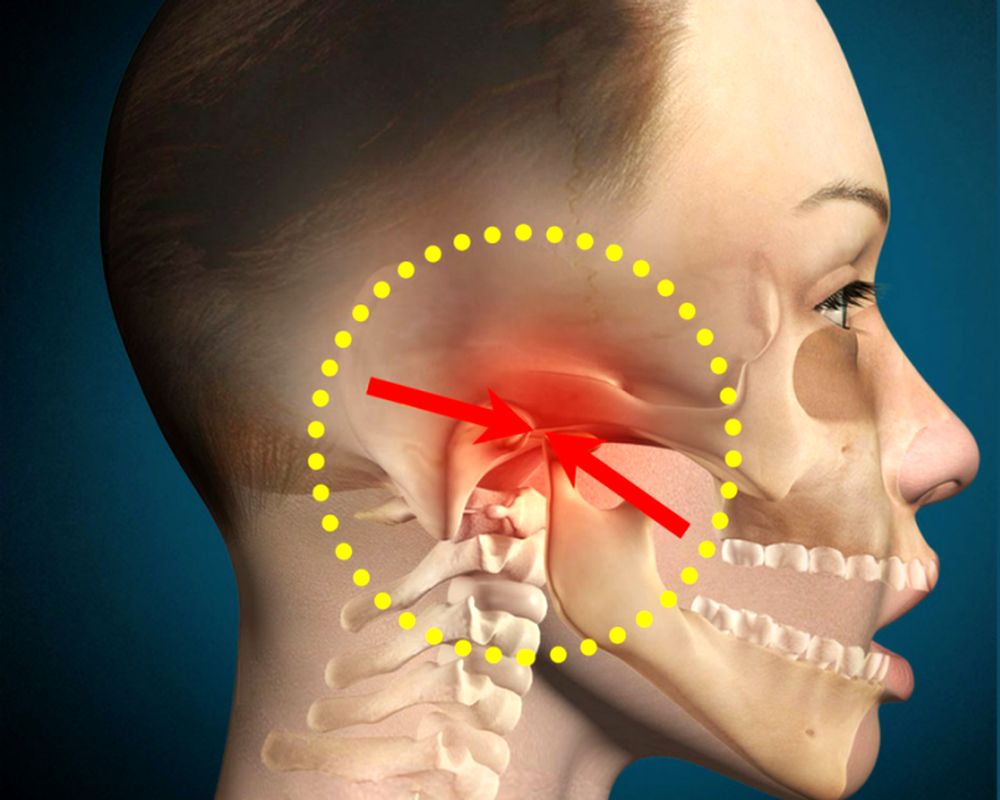 Clinical features of TMJ ankylosis
1- Unilateral ankylosis:
Unilateral hypoplasia of the mandible
Deviation of the chin to the affected side.
2- Bilateral ankylosis:
Severe retrognathia.
Mandibular alveolar protrusion.
Open‑bite deformity.
Bird‑face appearance.
Hypertrophic and thick coronoid process.
Night snoring.
Obstructive sleep apnea
3- In long-standing cases:
Chronic isometric contractions of the masticatory muscles give rise to the shortening of the mandibular ramus/rami (pterygomassetric muscle sling) recession of the chin and its elongation in a cephalocaudal direction.
Development of the antegonial notch owing to the antagonistic actions of the pterygomassetric sling and the depressor muscles.
Radiographic findings of TMJ ankylosis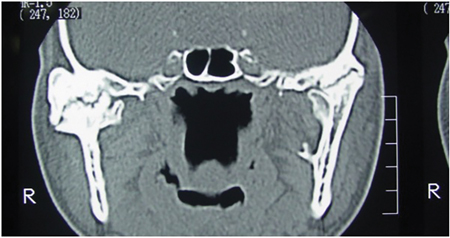 Marked anti-gonial notch.
Enlarged coronoid process.
Reduced vertical ramus height on the affected side.
The ankylosed mandibular condyle can be hyperplastic with irregular contours and absent joint spaces.
Computed Tomography (CT) has recently been experiencing remarkable growth as a result of technological advances and new clinical applications. Aspects including anteroposterior and mediolateral of ankylotic mass with middle cranial fossa will be accessed in very thin sections and in all the 3D planes accurately.
Surgical intervention has shown affirmative results in the treatment of ankylosis.
This option is found to be compromised in every single case. Literature suggests different surgeries which include condylectomy, arthroplasty using temporal muscle, deep temporal fascia, fascia lata, ear cartilage, and construction of joint using costochondral graft, fibula iliac, clavicle crest, metatarsal head or alloplastic material like acrylic or titanium prosthesis.
Dr Hiroj Bagde is MDS, MBA, Ph.D, Post Doc Fellow, FM, FLD, and Associate Professor, Department of Periodontology, Rama Dental College, Kanpur, UP