By KS News Desk
Srinagar, March 09: Continuing its efforts to eradicate the menace of drugs from society, Police in Awantipora have arrested 03 drug peddlers and recovered contraband substances from their possession. 3 drug peddlers in Awantipora
A Police party of Police Post Toll Plaza Chersoo headed by IC PP Toll Plaza Chersoo arrested three drug peddlers on NHW Chersoo while they were travelling in a vehicle bearing registration number JK13E-7020. They have been identified as Shahzad Ahmad Khan son of Gh Mohd Khan, Manzoor Ahmad Bhat son of Gh Ahmad Bhat, Shabir Ahmad Parray son of Mohd Kamal Parray, and all residents of Chersoo Awantipora.
During the search, 05 grams of heroin and 170 grams of charas was recovered from their possession. The vehicle used in the commission of the crime has also been seized.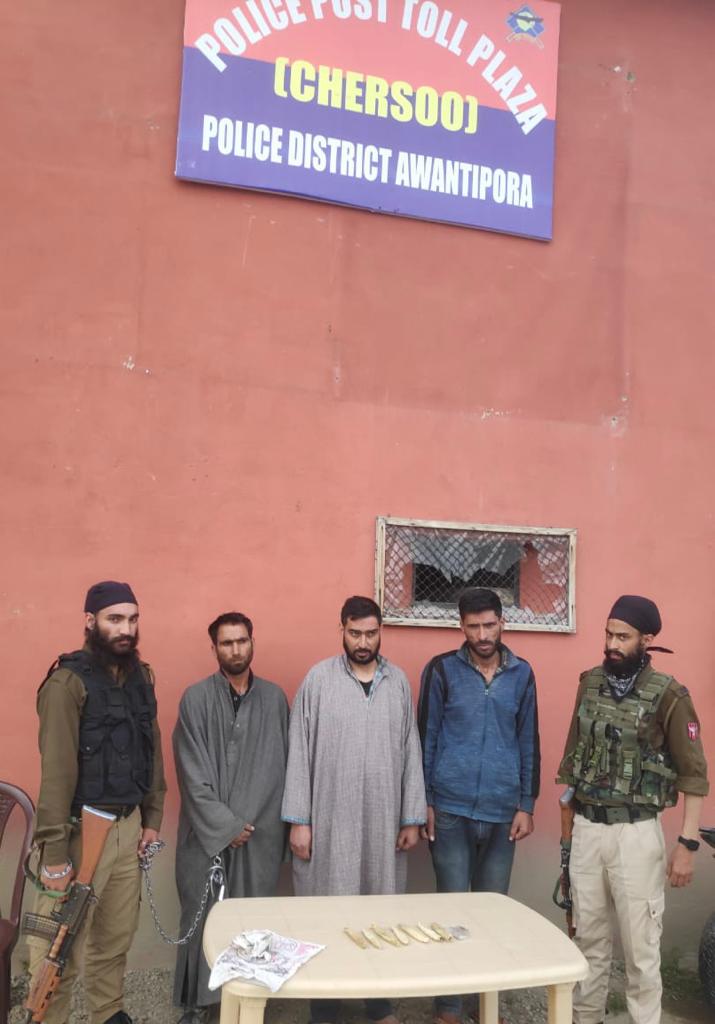 Regarding the incident, a case vide FIR No. 54/2023 under relevant sections of law stands registered at Police Station Awantipora.
We urge the common masses that if you witness drug peddling or any other crime anywhere near you, feel free to contact the nearest police establishment or dial 112.  People are requested to cooperate with the police in curbing the menace of drugs in society. We reassure the community members that police will act tough against the criminals as per law.