New Research Reveals Alarming Rates of Endogenous Tuberculosis Infection Worldwide
By Dr Ubaida Shahid
Tuberculosis (TB) is a bacterial infection caused by Mycobacterium tuberculosis that has been plaguing humanity for centuries. While it is commonly known to affect the lungs, TB can also spread to other parts of the body, including the kidneys, spine, and brain, leading to serious health complications. Interestingly, not everyone who contracts TB bacteria will develop the disease, and in some cases, the bacteria may remain dormant, causing no immediate harm. However, if left untreated, the disease can become life-threatening. In this article, we will explore the differences between latent TB infection and TB disease, and why it is crucial to identify and treat both forms of the disease. The Global Scourge of Tuberculosis
STAGES OF TB
Latent TB: You have tuberculosis, but you have no symptoms because the bacteria are dormant in your body. It's not communicable to have latent TB, commonly known as dormant TB or TB infection. Treatment is crucial because latent TB might develop into active TB.
Active TB: This illness, often known as TB sickness, makes you unwell and, in most situations, can spread to other people. It might happen shortly after a TB bacterial infection or years later.
CAUSE OF DISEASE?
Mycobacterium tuberculosis is the major cause of TB (M. tuberculosis). Infected individuals frequently do not have active TB. They continue to be in the latent (inactive) stage of TB. Nonetheless, TB germs can circumvent the body's defences, proliferate, and result in an active disease in persons with weakened immune systems, particularly those who have HIV (human immunodeficiency virus) or who are taking medications that suppress the immune system.
When an infected person speaks, sings, sneezes, coughs, or laughs, the TB bacterium is released into the air. It is unlikely to spread through private goods like clothing, bedding, drinking glasses, eating utensils, handshakes, toilets, or other things a TB patient has touched. The most crucial step in preventing the spread is good ventilation.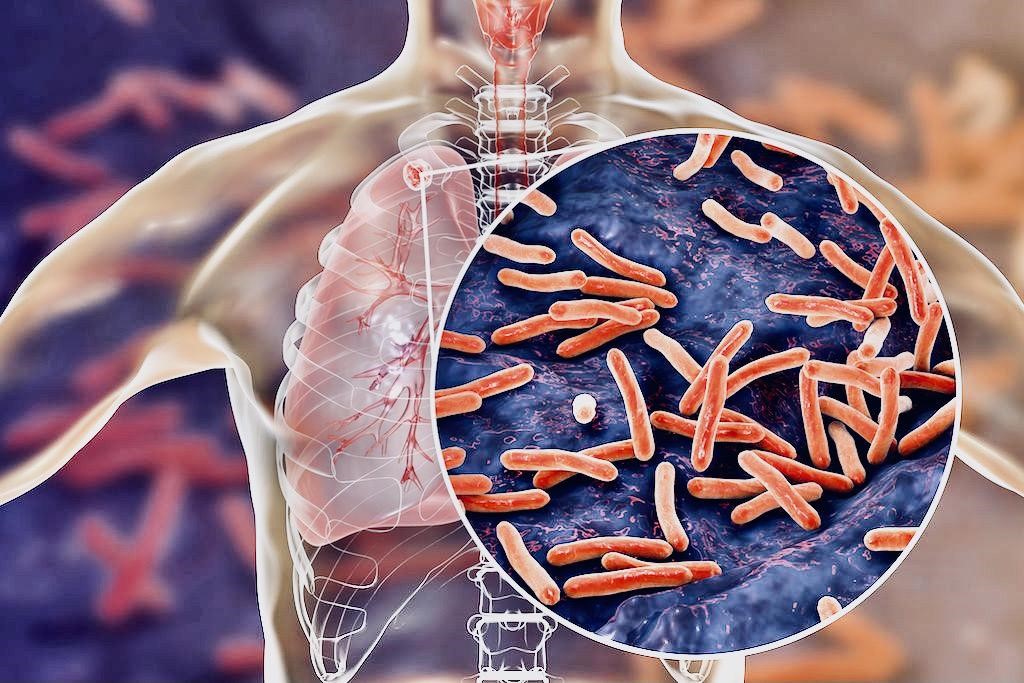 EPIDEMILOGY
According to WHO,1.6 million people worldwide passed away from TB in 2021 (including 187, 000 people with HIV). After COVID-19 (behind HIV/AIDS), TB is the second-leading killer in the world and the 13th-leading cause of death overall. Globally, 10.6 million cases of tuberculosis (TB) were reported in 2021. 6,400,000 males, 3,400,000 women, and 1.2,000,000 kids TB exists in all nations and among all age groups. Nonetheless, TB can be treated and avoided.
Globally, 1.2 million children will have contracted TB in 2021. Health professionals frequently ignore child and adolescent TB, which can be challenging to identify and treat. According to the most recent national TB patient cost survey results, over one in two TB-affected households have costs that exceed 20% of their household income globally. By 2020, the global goal of having no TB patients or their households incur catastrophic costs as a result of the disease was not met. One of the health objectives of the United Nations Sustainable Development Goals is to end the TB epidemic by 2030. (SDGs).
Who is susceptible to TB?
Any age, race, socioeconomic status, or gender is impacted by TB. The following individuals are among those at higher risk:
Those who cohabit with TB patients or work with them
Unable to obtain healthcare
the homeless
Those in group settings, such as nursing homes, or those from countries where TB is common
those who misuse alcohol and/or injectable medications
individuals with weakened immune systems
old people
employees of healthcare organisations who deal with high-risk groups
SYMPTOMS:
These are the most typical signs of active TB. The symptoms, however, may vary from person to person.
three weeks or more of coughing
an ache in the chest
Fatigue
appetite loss
Inadvertent weight loss
children's poor growth
Fever
sputum or blood in the cough
Fever or nocturnal sweats
In addition to the kidneys, spine, and brain, other regions of your body might be impacted by tuberculosis. The symptoms and indicators of tuberculosis (TB) depend on the organs affected. For instance, tuberculosis in the kidneys might result in blood in the urine, while tuberculosis in the spine can result in back pain. The signs of tuberculosis can resemble those of other illnesses or lung diseases. For a diagnosis, consult a medical professional.
DIAGNOSIS OF THE DISEASE:
Your doctor will use a stethoscope to listen to your lungs during the physical examination and will check your lymph nodes for inflammation.
SKIN TESTS:
A BLOOD TEST:
IMAGING TEST:
SPUTUM TEST: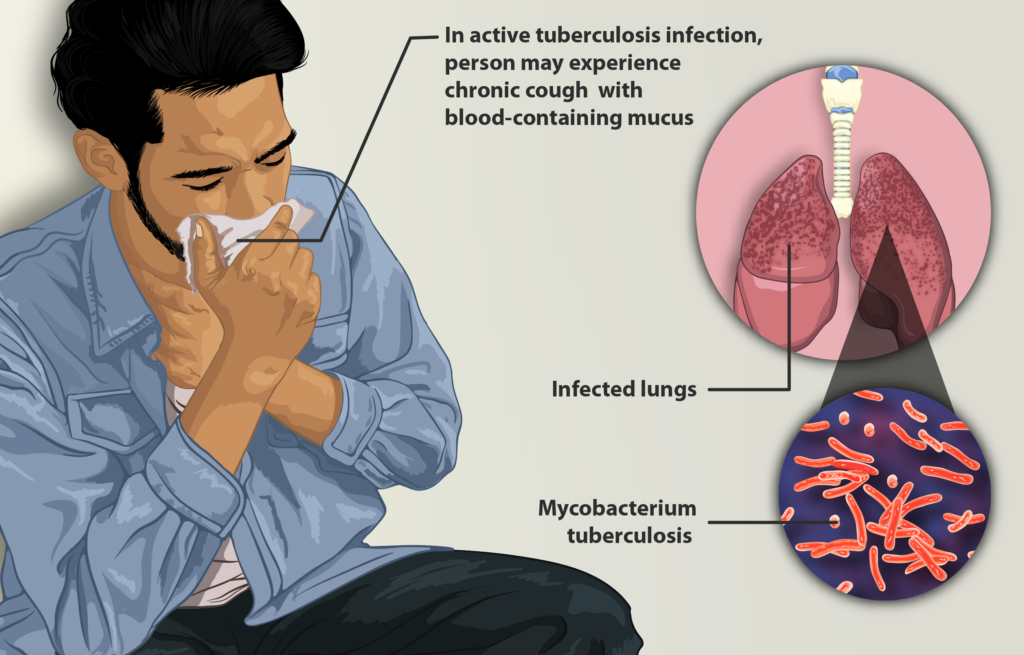 TREATMENT?
If you have latent TB and are at a high risk of developing active TB, your doctor may advise pharmaceutical treatment. You must take antibiotics for at least six to nine months if you have active tuberculosis.
Your age, general health, any potential for drug resistance, and the location of the infection in your body will all determine the specific medications and duration of treatment.
Commonest TB medications:
If you have latent tuberculosis, you may only require one or two TB medications. Several medications must be taken at once to treat active tuberculosis, especially if the strain is drug-resistant. The following are some of the most typical drugs used to treat tuberculosis:
Isoniazid
Rifampin (Rifadin, Rimactane)
Ethambutol (Myambutol)
Pyrazinamide

In order to combat drug resistance, some medications are used, such as:
Bedaquiline (Sirturo)
Linezolid (Zyvox)
SIDE EFFECTS OF TREATMENT?
Isoniazid may harm nerves (peripheral neuropathy). To lessen this risk, you will be given pyridoxine (vitamin B6) tablets to consume in addition to it. A test of your liver's health will be performed before you begin treatment.
In rare instances, the drugs used to treat TB can seriously harm the eyes. Your vision should be evaluated at the beginning of the course of treatment if you're scheduled to get ethambutol.


COMPLICATIONS OF TB?
Lung damage that is irreversible can happen if TB is not treated early or if treatment is not adhered to.
Spinal Pain: Stiffness and back discomfort are frequent side effects of TB.
Joint deterioration.
Swelling of the brain's protective membranes (meningitis).
Difficulties with the kidneys or liver.
Heart problems
VACCINATION
A vaccination for Tuberculosis (TB) is called Bacille Calmette-Guerin (BCG). In nations where TB is widespread, it is frequently given to babies and young children. BCG does not always shield individuals from contracting TB.
PREVENTION OF THE TRANSMISSION OF ILLNESS
You will be infectious if you have pulmonary tuberculosis for up to two to three weeks after starting treatment. While you typically won't need to be separated during this period, it's still crucial to follow a few simple safety measures to prevent the spread of TB to your loved ones.
You ought to:
Stay away from work, school, or college until your TB treatment team says it's okay for you to go back.
Always cover your mouth when you cough, sneeze, or laugh.
Preferably with disposable tissue. Carefully dispose of any used tissues in a sealed plastic bag.
Avoid sleeping in the same room as other people because you might cough or sneeze while you're asleep.
Instead, open windows whenever feasible to provide a good supply of fresh air in the regions where you spend time.