Pilgrims from across India make their way to the annual three-day yatra in honour of deity Vasuki Nag in Bhaderwah, Jammu. The trek to the mystique Kailash Kund lake, situated at 12,887 feet above sea level, is a journey rich in cultural lore and spiritual significance.
By Mool Raj
At 12,887 feet above sea level, the Kailash Kund lake in Bhaderwah, Doda district of Jammu, awaits. Shrouded in mystery and rich with cultural lore, this holy site attracts many seeking spiritual enlightenment."
Pilgrims flock to Bhaderwah town's Kailash Kund for the annual three-day yatra in honor of the deity Vasuki Nag. This spiritual walk, held between August and September, has been observed for thousands of years. The yatra typically falls in the last week of August according to the Hindu calendar, with exact dates varying annually. To participate in this cultural and traditional experience, check local news sources in Jammu for confirmed dates."
Despite its mysterious reputation, the trek to Kailash Kund leads to the stunning base of Mt. Kablas (as referred to by locals). The mile-wide, the grey lake sits amidst a rugged landscape. The journey begins at the Vasuki Nag temple in Gatha village, Bhaderwah, and takes pilgrims through a series of villages to the picturesque Seoj Dhar meadows. Immerse yourself in the local folklore with a story behind every rest stop and temple visited along the way. Ideal for those with a passion for cultural exploration, the pilgrimage, and yatra offer unforgettable experiences. "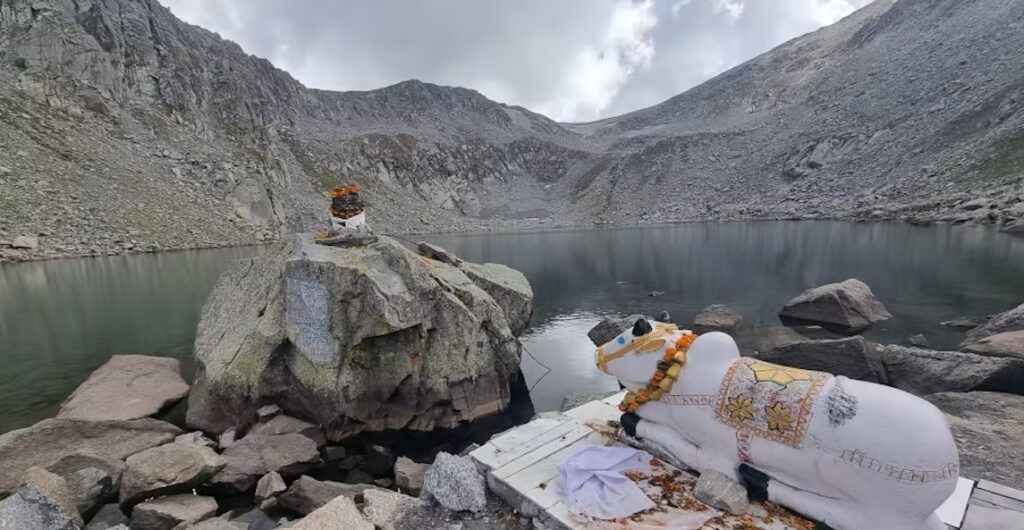 India Hikes takes you on a distinctive journey through Kailash Kund, starting from the scenic road ahead of Chattergala Pass. This secluded trail offers a one-of-a-kind experience, with the chance of being the only trekker before or after the yatra season. Enjoy the untouched beauty of the trek all year round, except for the three days of the yatra. As a bonus, the climb to Kailash Kund offers breathtaking views of Mt Brahma I and Mt Brahma II. Amidst the stunning landscape of Jammu and Kashmir, this trek is a must-see for nature enthusiasts."
The Kailash Kund trail leads you through a scenic path of coniferous forests, dotted with pine, fir, and cedar trees. Navigate through rolling meadows, steep ascents, and rocky terrain before reaching the rugged plains at the base of Mt Kablas. Then, descend through the unique Seoj Dhar meadows, a landscape unlike any other. Don't expect just green fields, as these meadows are speckled with smooth boulders of varying sizes, creating an otherworldly setting."
The Seoj Dhar – Kailash Kund trek offers a unique experience in Jammu and Kashmir, showcasing the region's rich culture and traditions. The UT of J&K boasts stunning natural beauty, from towering snowcapped mountains to lush meadows and bubbling springs, attracting tourists to popular destinations like Gulmarg, Pahalgam, and Srinagar. However, Seoj Dhar remains one of the region's untapped treasures, offering unmatched natural beauty at an elevation of 11,000 ft above sea level. Despite its potential, the area is yet to be developed as a tourist destination and remains inaccessible by road.
"In winter, the Seoj Dhar region is blanketed by snow and isolated from the rest of the area. However, during summer, it comes to life as hundreds of nomads flock there with their sheep, goats, and cattle to escape the heat and enjoy the peaceful surroundings. The meadows offer plenty of grass for the animals to graze on, along with lush blades and large, smooth boulders dotting the landscape. It's a serene escape from the noise and pollution of urban life."
The Seoz Dhar Meadows offers a trekker's paradise, stretching across miles. They can be accessed through two trails that lead through the pine, fir, and cedar forests of the region. Adventure seekers venturing to the meadows must bring their own food and camping supplies as there are no accommodations available outside of the Kailash Kund Yatra when some religious organizations set up communal kitchens. The Seoz Dhar Meadows are one of the largest in Jammu and Kashmir, surrounded by awe-inspiring, snow-capped mountains during the winter season. They are a true oasis for tourists seeking peace and natural beauty.
"The Seoz Dhar meadows, known for their miles of lush green grass, also boast other natural wonders. Surrounded by dense forests and babbling brooks, the meadows are further enhanced by fluffy clouds floating overhead. The sight of flocks of sheep and goats being tended to by nomads in traditional dress, whistling to control their herds, transports visitors to a new world of peace and serenity far from the noise and pollution of urban life. Temperatures can vary greatly between day and night and the open plains are frequently windswept, adding to the chill. On clear days, the sky is a brilliant shade of blue. Trekkers can expect to encounter an array of tiny, colorful flowers along their journey, including shades of violet, blue, red, purple, and white."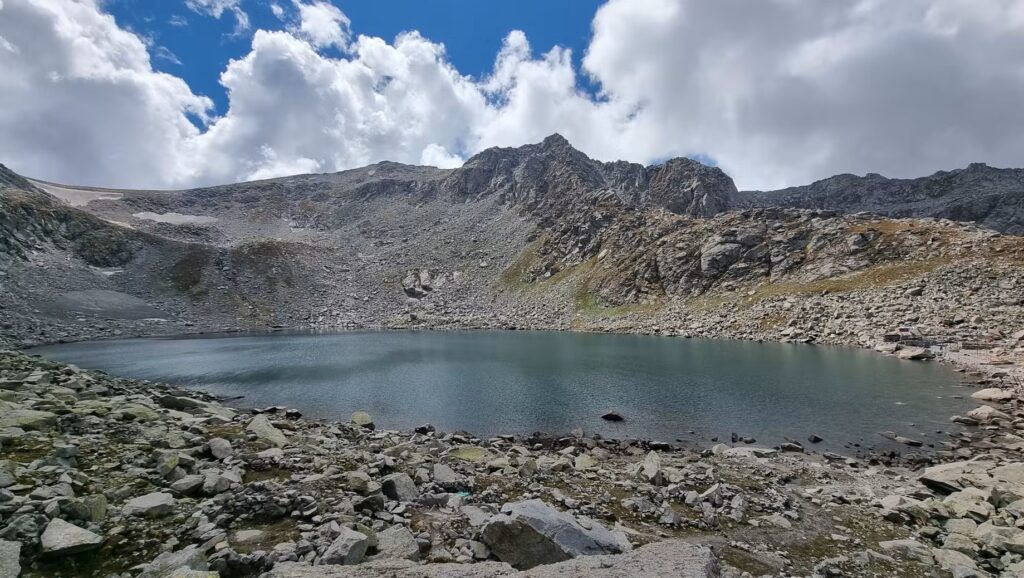 The Kailash Kund trek, which takes place in August and September, is a three-day pilgrimage from the centuries-old Vasuki Nag temple in Bhaderwah and Dudu. Devotees spend their second night in the Seoz Dhar meadows before reaching the 14,700-foot-high Kailash Kund lake to perform traditional prayers and take a dip in the ice-cold water. Before embarking on this strenuous journey, it's important for visitors to be properly equipped, with sturdy shoes, a waterproof backpack, full-sleeved dry-fit shirts, sunglasses, a snow cap, synthetic gloves, warm padded rain jackets, and necessary items such as lip balm, cutlery, and medicine. With steep ascents and big boulders, the trail can be challenging, and visitors must take precautions against sunburn and hypothermia, including wearing sunglasses, particularly on the snowy sections of the meadow, where UV rays can be intense. As the weather can change quickly, it's also recommended to bring plastic sheets to stay dry in case of rain.
"The Seoz Dhar meadows are believed to be rich in valuable herbs, including the rare and sought-after "Sanjeevni Booti." Despite this potential, the area is yet to be fully researched. The nomads who summer in the meadows utilize local herbs to treat their minor ailments, highlighting the wealth of traditional knowledge available in the region. To fully realize its potential as a tourist destination, the region needs improved access via roads and other infrastructure."
The views expressed are the author's own and can be reached at [email protected]