In a move towards 'Green J&K', a Kulgam youth has set up a paper bags unit to eradicate rampant polythene use in his district.
By Younus Rashid
At a time when the polythene mess has choked our society, and environmental pollution has reached catastrophic levels, Naveed Abdullah, a youngster from Kulgam, has set up a paper bag unit to combat the environmental degradation caused by the use of polythene. 
The unit has turned into a source of livelihood for him and others.
Kashmir valley is known for its picturesque landscapes and tranquil water bodies, but plastic pollution has become a growing concern. Plastic bags litter the streets, clog the drainage systems and pollute the environment.
The carry bags (polythene, non-woven, etc.) that silently enter homes every time people go shopping are a major contributor to plastic pollution. Since there are no firm methods of plastic waste collection, segregation, and disposal in J&K, carry bags end up in the streets, drainage, and water bodies, causing unacceptable levels of pollution.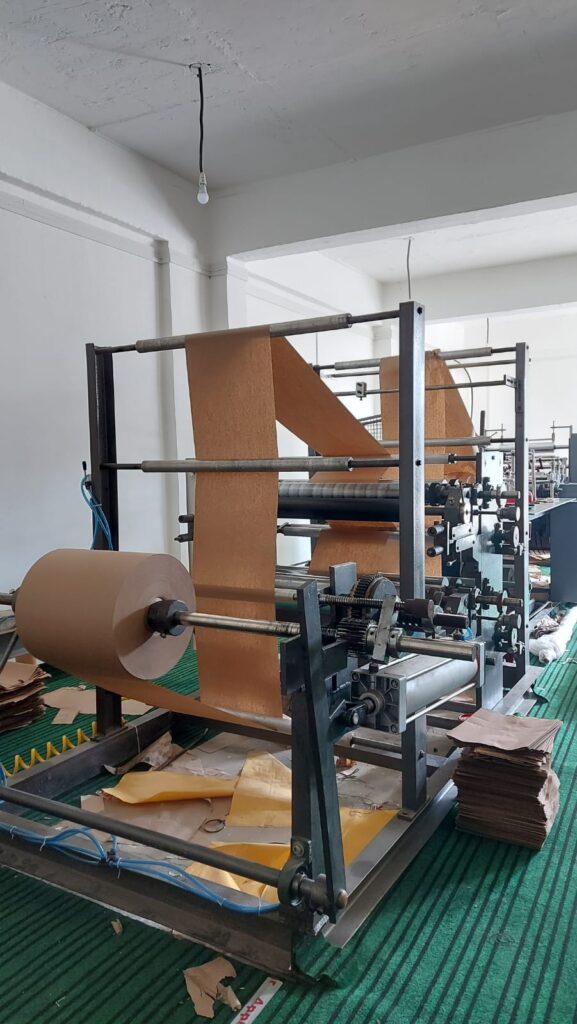 According to a report in October 2019 by the Central Pollution Control Board Delhi, the estimated plastic waste generation in J&K during 2018-19 was approximately 34367.37 tonnes. Sadly, the ban on plastic carry bags is scarcely implemented. Naveed, who is an engineering graduate of NIT Srinagar, felt that something should be done to address the problem.
A resident of Qaimoh in Kulgam, Naveed established a unit of paper bags in Qaimoh Naibasti in Kulgam district by the name of Nishaan. When asked why he chose this name for his unit, he said:
"Nishaan means 'mark' or 'target' in Urdu, and it represents the company's goal of making a long-lasting and positive impact on the environment by providing eco-friendly alternatives to plastic carry bags. It also represents its goal of making a difference in society by providing a solution to plastic pollution," he said.
Naveed said that the bags are manufactured from high-quality, recycled paper, which is sourced from mills, ensuring that the unit not only provides an environmentally friendly solution but also supports the local economy.
These paper bags are not only environmentally friendly but also durable and long-lasting. They can be reused several times and are easily recyclable afterward. They also provide a variety of paper bag sizes and styles to meet the diverse needs of customers. The unit has a paper bag solution for every need, from small pouches for medical stores to large bags for grocery stores, you name it, and Nishaan will have a bag for you.
"By using paper bags, you not only help the local economy and create jobs in the Valley, but you also help the environment. It's a win-win situation for everyone,"
Despite Naveed's efforts to promote the use of eco-friendly paper bags and raise awareness about the importance of reducing plastic pollution, the public response to his products has been less than positive.
"My team is having difficulty because people are hesitant to switch from plastic to paper for a variety of reasons such as habit, convenience, and a lack of proper awareness. Another reason for this is the widespread belief that certain plastic bags are treated. They are referred to as 'cotton bags', and are used confidently and openly without regard for the negative impact they have on the environment," he said.
Naveed said that plastic non-woven bags, also known as "polypropylene bags," are not biodegradable. "These bags can take hundreds of years to degrade and have a significant environmental impact if not disposed of properly," Naveed said, adding the confusion may stem from the fact that non-woven bags are made from a material that looks and feels similar to cotton, but they are not the same. "They are made of environmentally hazardous synthetic fibres and chemicals," he said.
Another challenge Nishaan faced was the lack of infrastructure and resources in J&K for the paper bag industry. He had to transport a large portion of raw materials and required machinery from other states, which increased production costs and made it more difficult for him to compete with other manufacturers.
Given the eco-fragile state of Jammu and Kashmir, Naveed and other environmentally conscious people are making efforts to educate the public about the dangers of non-woven bags and the importance of using biodegradable and eco-friendly alternatives. Naveed could also keep improving his paper bags by making them more affordable and accessible to the public, as well as educating the public about the environmental benefits of paper bags.
Despite these obstacles, Naveed is determined to succeed. He works hard and reaches out to stakeholders in order to persuade them to switch from plastic to paper and thus contribute to society.
He said that the government should strictly implement the ban on polythene by establishing checkpoints to search for and seize illegal polythene bags and imposing heavy fines and penalties on those caught using or selling them.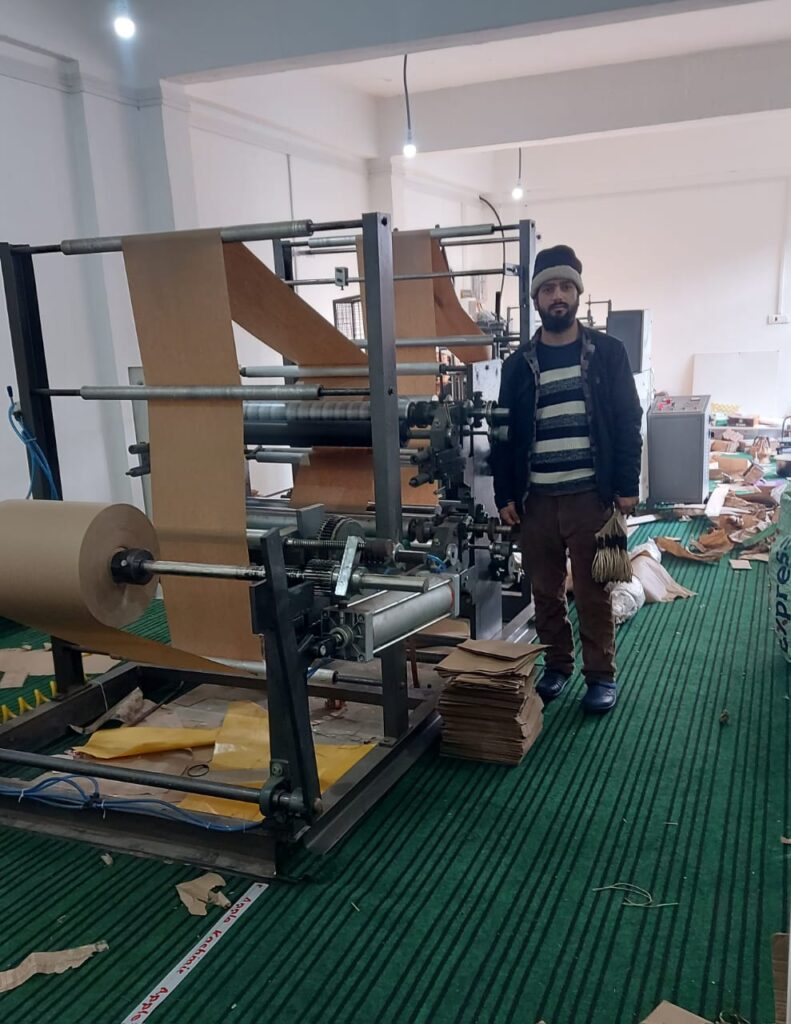 "The government could also collaborate with environmental organisations and businesses to raise awareness about the negative environmental impact of polythene bags and the benefits of using eco-friendly alternatives," he said.
As a socially responsible entrepreneur, Naveed could also play a role. He could collaborate with the government and environmental organisations to educate the public about the dangers of polythene bags and the reasons for the ban, as well as making his paper bags more affordable and accessible to the public. This would make switching to paper bags and complying with the ban more convenient for people.
Naveed's unit exemplifies how a small business can have a big impact on the environment. His efforts to provide an environmentally friendly alternative to plastic bags and promote the use of paper bags are significantly contributing to the reduction of plastic pollution in the area.