By DR. UBAIDA SHAHID
Seasonal Affective Disorder: What is it?
Seasonal affective disorder (SAD) is a type of Depression that develops when the seasons change, usually as fall approaches. A mood illness known as seasonal Depression occurs at the same time each year. This seasonal Depression reaches its height in the late fall or early winter before coming to an end in the warmer spring days. "Summer depression," an uncommon type of seasonal Depression, starts in the late spring or early summer and lasts until the end of the fall. SAD, however, typically begins in the fall or winter and ends in the spring or early summer.
Additionally, a mild type of Seasonal affective disorder (SAD) known as the "winter blues" can strike you. It's normal to have some melancholy throughout the winter, and it gets dark early, and you can be confined.
However, full Seasonal affective disorder (SAD) goes further than this. This kind of Depression affects your daily life, including your emotions and thoughts, as opposed to the winter blues. Fortunately, therapy can help you get through this difficult time. 
Different Forms of Seasonal Affective Disorder (SAD)
Two types of Seasonal affective disorder (SAD) exist:
Fall-onset.
Also known as "winter depression," Depression symptoms start in the late fall or early winter and subside in the summer.
Spring-onset.
Also known as "summer depression," Depression signs first appear in the late spring or early summer, and this kind is far less typical.
Signs and symptoms of Seasonal affective disorder (SAD)?
Among the SAD warning signs and symptoms are:
• Almost every day, you wake up depressed, gloomy, or listless.
• Having little energy and feeling sluggish. Losing interest in activities you used to like
• Excessive sleeping issues wanting carbohydrates, overeating, and weight gain
• Having trouble concentrating
• A sense of worthlessness, worthlessness, or remorse
• Feeling like death is the only option
• Disengagement from society and heightened rejection sensitivity
• Anxiety and irritability
• Guilt and hopelessness feelings
• Low energy or weariness
• Reduced capacity to concentrate or focus
• Difficulty thinking clearly
• A stronger desire for sweets and carbohydrates
• Adding pounds
• Issues with the body, such as headaches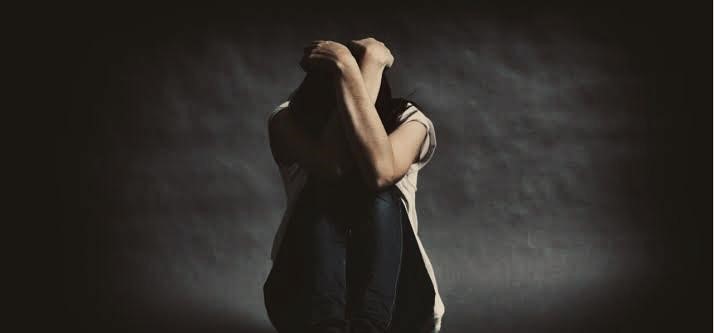 MAJOR DEPRESSION
WINTER PATTERN (SAD)
SUMMER PATTERN (SAD)
Practically every day, feeling down for the majority of the day
feeling helpless or unworthy
Having little vigour.
Anxiousness Violent outburst episodes
Exhausted
Social isolation (feel like "hibernating")
Agitation
Experiencing changes in your appetite or weight, losing interest in activities,
having sleep issues, etc.
Overreacting and hypersomnia
Insomnia
Feeling lethargic or agitated
Hankering after carbs
Having a poor appetite
Finding it difficult to concentrate
having frequent thoughts of suicide or death.
Counting calories
Weight loss
What symptoms of Seasonal Affective Disorder (SAD) should I look out for?
Since many other types of Depression share the same symptoms as SAD, diagnosing SAD can be challenging.
The realisation that your symptoms are developing a regular pattern may take some time for you and your doctor.
SAD can typically be identified and treated if:
• Your depressive episodes last for at least two years, and they are followed by times of happiness.
• Your sadness happens around the same time every year.
After a thorough mental health examination and medical history are completed by a psychiatrist or other mental health practitioner, SAD may be diagnosed.
Seasonal Affective Disorder (SAD): Why does it happen?
• The shorter days and diminished sunlight are thought to trigger a chemical shift in the brain, which may contribute to the development of SAD. It has also been connected to melatonin, a hormone essential to sleep. When it is dark outside, the body naturally produces more melatonin.
• Serotonin levels may drop due to less sunlight, which may lead to Depression. Amounts of melatonin. Seasonal changes can potentially upset the body's melatonin equilibrium, affecting sleep cycles and mood.
Diagnosis?
The following requirements must be met for a SAD diagnosis:
• The depressed episodes must take place for at least two years in a row during particular seasons (for example, only during the winter or summer months). Not everyone who has SAD, however, experiences symptoms every year.
• The episodes need to be significantly more frequent than any previous depressive episodes the patient may have experienced at other times of the year.
Early diagnosis and therapy are essential to recovery for these reasons. Depression frequently coexists with other co-morbidities. Other mental disorders, such as substance abuse or stress, anxiety, may also cause it.
Consult a mental health professional if you believe you may be experiencing SAD. A detailed mental health examination and medical history performed by a mental health practitioner may result in the diagnosis of SAD.
• Lab investigation :(TSH) to check that your thyroid is functioning properly, and a blood test called a complete blood count (CBC) can be advised.
• Psychological assessment: Your doctor or mental health specialist will inquire about your symptoms, thoughts, feelings, and behaviour patterns to look for indications of Depression. To assist in addressing issues, you can complete a questionnaire.
MANAGEMENT AND TREATMENT OF SAD
Depending on your symptoms, treatment may differ from person to person. Treatment for "winter depression" and "summer depression," which frequently differ from one another, may include all of the following alone or in combination:
Exposure to the sun. Getting fresh air or being close to a window can assist with symptoms. It may be advised to make lifestyle modifications like increasing your time outdoors and in natural light and creating a sleep schedule.
Sunlight exposure: Sun exposure boosts serotonin levels and prevents Seasonal Affective Disorder (SAD). It also helps those with anxiety and sadness, especially when used in conjunction with other treatments.
Light treatment: If getting more sunlight is not an option, it might be beneficial to spend a certain amount of time each day in a unique light. An artificial light box can simulate natural light. It's believed that exposure to this kind of light may alter brain chemistry, improving mood and reducing other SAD symptoms, including excessive sleep and fatigue.
Psychotherapy: Interpersonal or cognitive-behavioral therapy can help you alter your erroneous perceptions of who you are and the world around you. It can assist you in developing interpersonal skills, recognising your stress triggers, and learning effective stress management techniques.
Antidepressants: These drugs on prescription can aid in resolving the chemical imbalance that may cause SAD. Bupropion, an antidepressant, comes in an extended-release form (Wellbutrin XL, Aplenzin), which may help individuals with a history of SAD and reduce depressive episodes. SAD may also frequently be treated with other antidepressants.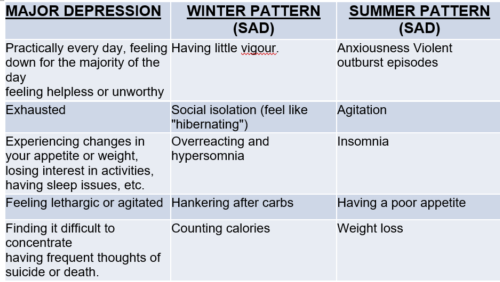 Life Style medications:
• Make your surroundings more luminous and sunny.
• Step outdoors.
• Physical Activity and frequent exercise can reduce stress and anxiety.
• Eat nutritious, balanced meals.
• Get vitamin D: Include foods like salmon, egg yolks, and mushrooms in your diet, as well as vitamin D supplements if you can't get enough sunlight.
• Maintain a healthy sleep-wake balance.
• Try to maintain patience and think of the perks.
• Let your loved ones and friends help you.