POONCH, FEBRUARY 28: Commissioner Secretary, Rural Development (RDD) and Panchayati Raj (Mentor Secretary), Mandeep Kaur, today chaired an online review meeting regarding progress on development works and related issues pertaining to Poonch district.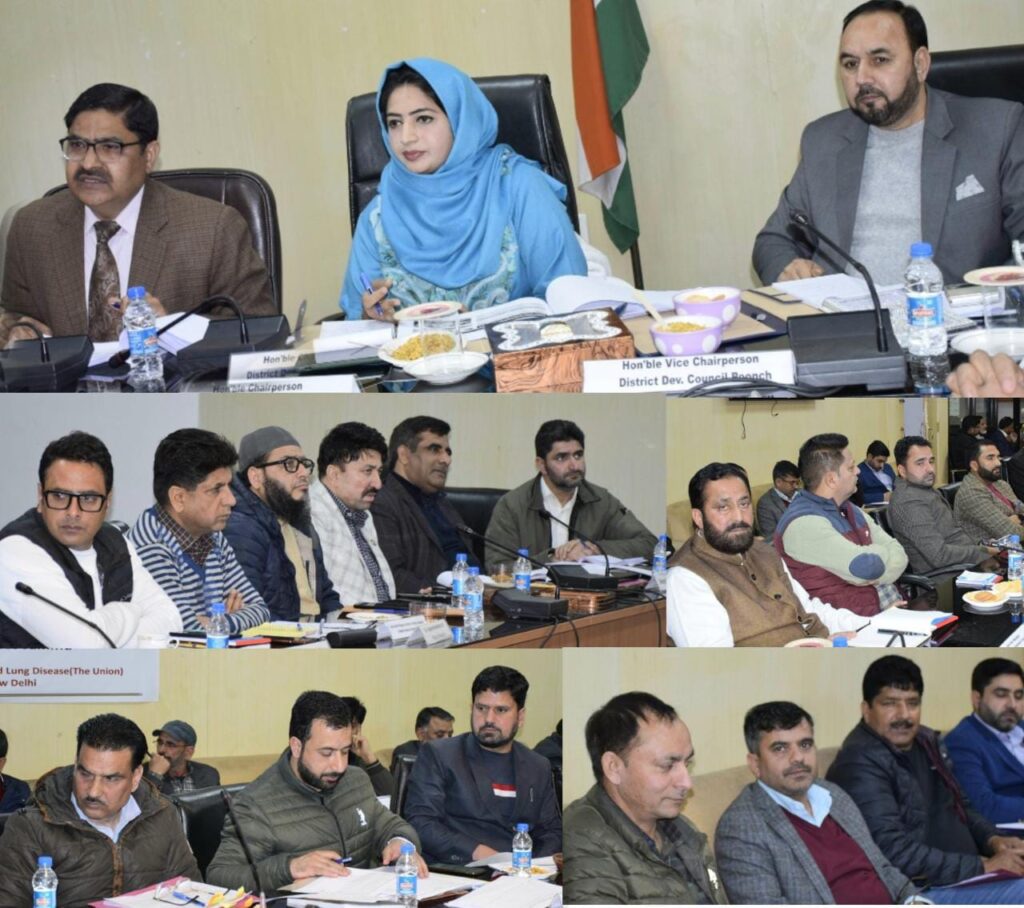 She had threadbare discussion on several important government interventions like MGNREGA, Amrit Sarovars, PMAY, AWAAS+, 14FC besides other development related issues concerning different departments of the district were also discussed.
Apart from RDD, Commission Secretary took a detailed department wise review of all development works being executed in the district.
It was informed in the meeting that 109 Amrit Sarovars have been completed against the target of 75. Besides, 9841 houses stand completed under PMAY (G) in the current Financial Year and 143 works have been completed under PMAY(U). About 46 ponds (NGT Water Bodies) have been completed in the FY 2021-22 while 25 ponds have been completed in the current FY. Besides, 3 Panchayat Ghars have been established in the FY 2021-22 and 229 Panchayat offices have been established in the district. Also, 4052 works have been completed under 14th FC and 714 works completed under B2V3 program.
It was further told that 84392 individual Household Toilets and 210 Community Sanitary Complexes have been constructed with an aim to create a neat and clean environment and to make the Halqa Panchayats open defecation free under Swachh Bharat Mission (Gramin). And, 183 villages have been declared open defecation free plus under SBM (G) Phase 2nd and rest of the villages are in the process of being declared as ODF Plus before March 2023.
The meeting was further informed that 22 roads and 8 bridges have been completed under Languishing scheme while 112 vehicles have been distributed among the unemployed youth generating employment for 180 persons under Mumkin Scheme. Under Ayushman Bharat AB-PMJAY and AB-PMJAY-SEHAT schemes, 82.19% beneficiaries have been registered in the district.
It was informed that 100% Aadhar Seeding at Ration Card Level and Beneficiary Level, 100% implementation of One Nation and One Ration Card and 100% distribution of Food Grain through POS machine have been achieved in the district.
Commissioner Secretary also reviewed working of other departments and directed the officers for timely completion of their respective projects while adhering to quality parameters.
The meeting was attended by DDC Chairperson Poonch, Tazeem Akhter and DDC members who held detailed discussion with the Commissioner Secretary about various development issues pertaining to their constituencies.
The meeting was attended by Deputy Commissioner, Poonch, Inder Jeet, Director RDD Jammu, Chaudhary Mumtaz Ali, Additional District Development Commissioner Poonch, Assistant Commissioner Development, Assistant Commissioner Panchayat, Chief Education Officer, Chief Medical Officer, Executive Engineers of different department besides other concerned officers.