A traditional Kashmir home incorporates the architectural heritage and learning of centuries, making it a place chiselled to beat the Valley's harsh climate. But tradition has fallen back in the race for modernity.
By Younus Rashid
The oldest house in Kulgam tehsil belongs to Muhammad Yusuf Parray, which still stands tall by the roadside in Chansar village of Kulgam. A majestic house with an impressive size that speaks of a prosperous past, the three floors of the house have ample spaced rooms. The small Ghats (rooms designated for solving community issues) speak of a past life of brotherhood and communal harmony.
Parray's father built this house in south Kashmir, a kilometre away from the main town, during the reign of Maharaja Hari Singh. The house has been preserved in its old avatar. The family says they are happy with its appearance, and they will like to preserve it for their lifetime.
The interiors of terraced roofs are designed in Khatamband, a Kashmiri art in which wooden panels are interlocked in geometric shapes. The art came to Kashmir from Persia in the 14-15th century. The panels are designed out of walnut or deodar wood, which are known for their invisible joinery. 
In traditional Kashmiri homes, refinements such as 'zoon-dub', and a canopied balcony were common for better views of the moon.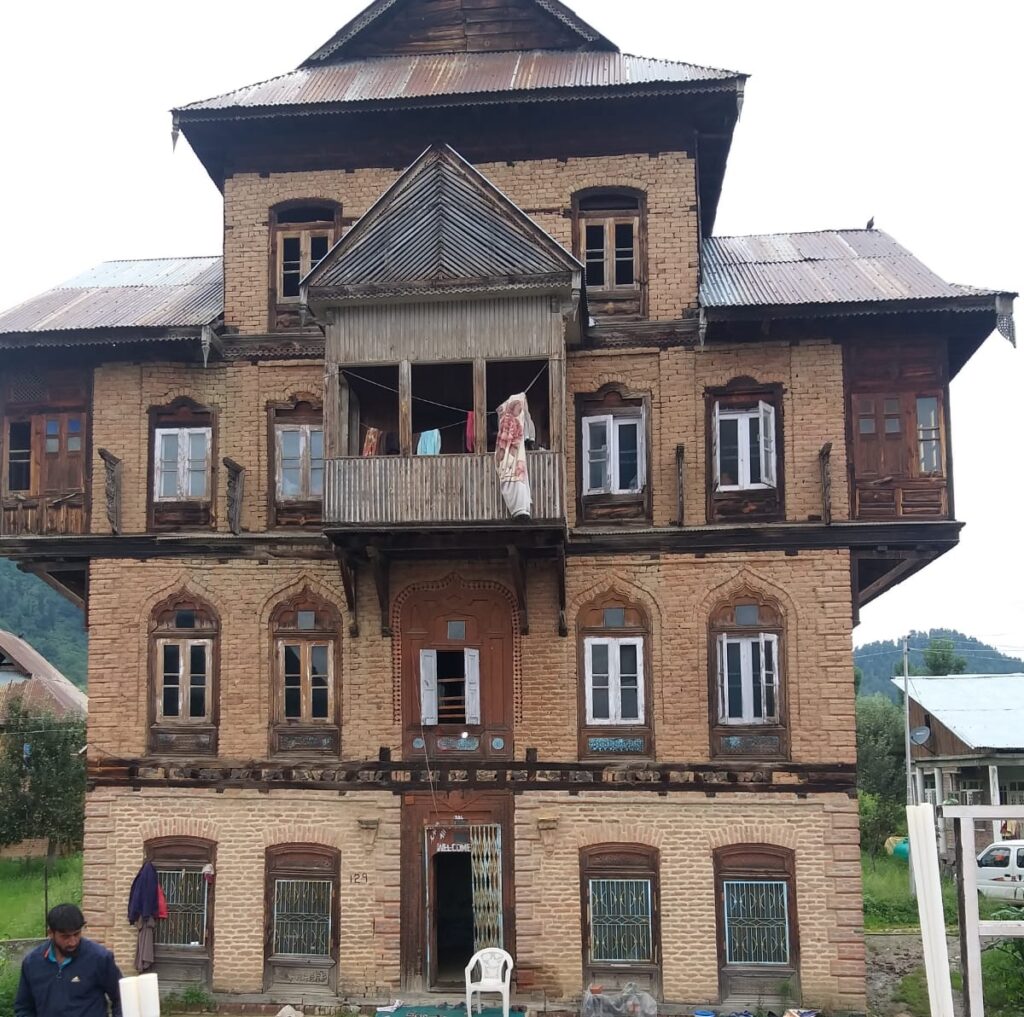 "This house is also unusual not only because of its ancient construction pattern but also in terms of preservation. We built this house on the ability of the finest examples of Kashmiri traditional architecture to withstand one of the greatest forces of nature – earthquakes," he said.
The scale of the building was not the only consideration in traditional Kashmiri homes. Buildings were shaped to fit the way of living. Considering the wooden daeb, which protruded from the front of traditional homes, in addition to expanding the size of the rooms and allowing more light and air to enter during summer, they also served as a beautiful aesthetic addition.
Kashmir's past is woven in layers of history which offer a diverse picture of architectural heritage. Due to their abundance and insulating properties against winter, wood and stone were used as primary building materials throughout Kashmir. 
Kashmiri traditional homes have a rich history with influences from many cultures and traditions. In the form of monasteries, stupas, and other stone structures, the Buddhist period beginning in the 3rd century AD left its mark on stone architecture. The Hindu rule began in the 4th century and continued until the 11th century, during which stone construction, mostly in the form of temples, was encouraged.
In later centuries, Turkish dominance left its mark on brick and wood architecture, which can be seen today in most mosques and shrines. Craftsmen from the Middle East introduced naqsh-wingar (painted on lacquer) and khatamband (multiple wooden components) to Kashmir. Afghan and Mughal rulers emphasized wood and stone construction. The abundance of art and architecture in the Valley is reflected in the robust Kashmiri house designs used in residences and houseboats.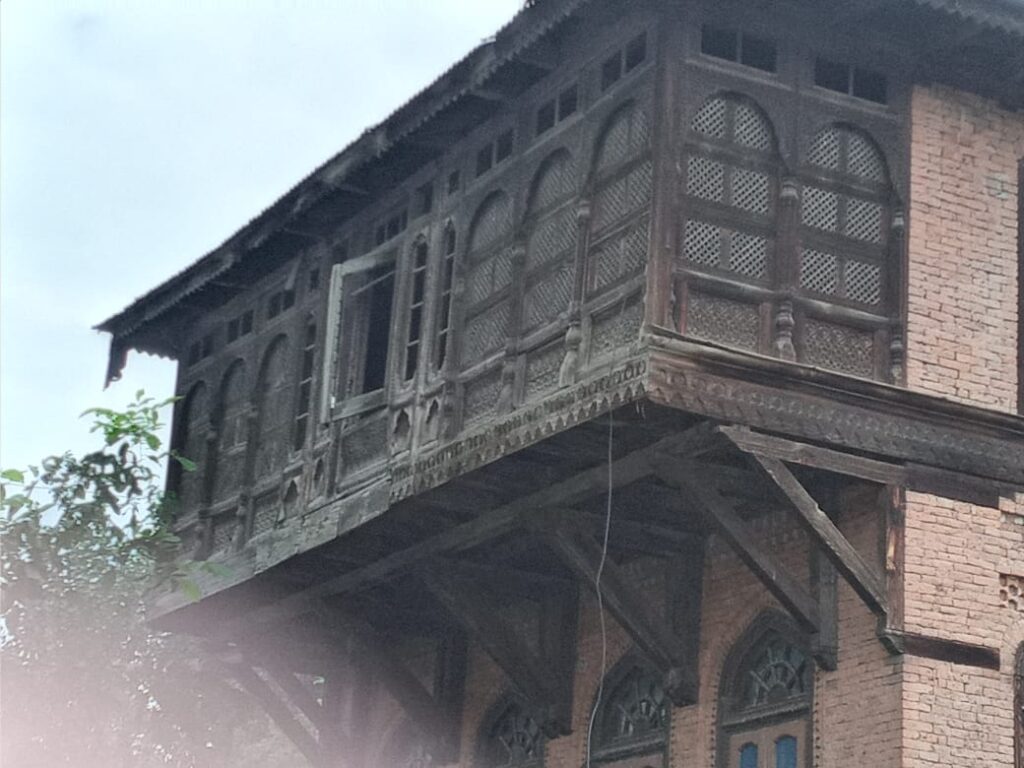 Traditional Kashmiri house designs can be seen in abundance in Srinagar, the summer capital of the state. The ancient architectural wonders of the city of Srinagar have existed for many years. Modern designs require more floor space and urban interiors but still include some historically significant Kashmiri house designs that suit the region's climate, topography, and inhabitants.
Traditionally, buildings, including Kashmiri houses, are divided into two categories based on their floor plans. These are square and linear plan houses, both of which include windows in all directions.
As per the Kashmiri home design, each residence is designed with a zoned, moon-gazing balcony. Stairs and eaves are decorated with exquisite latticework. Architectural elements such as khatamband panels, geometric motifs from Persian culture, and exposed woodwork can be seen on the interior ceilings of Kashmiri house designs. The designs are made of walnut or deodar wood.
Wooden framework and rafters are used to construct the Dhajji Dewari in a Kashmiri house. It is then coated with flat large stones or bricks and carefully packed into voids using clay or lime mortar while the remaining voids are filled with stone flakes.
The walls are covered with wire mesh to provide strength and prevent rocks from falling. The materials used in the design are more flexible than structural concrete, making them better suited to withstand earthquakes.
Similar to the residence in Chansar village, a majestic house has been built in Tangmarg area of Aharbal in Kulgam district by Late Khuda Baksh Chohan, son of Taj Chohan, a prominent personality, a Dogra property caretaker and a ruler of the area during the Dogra era.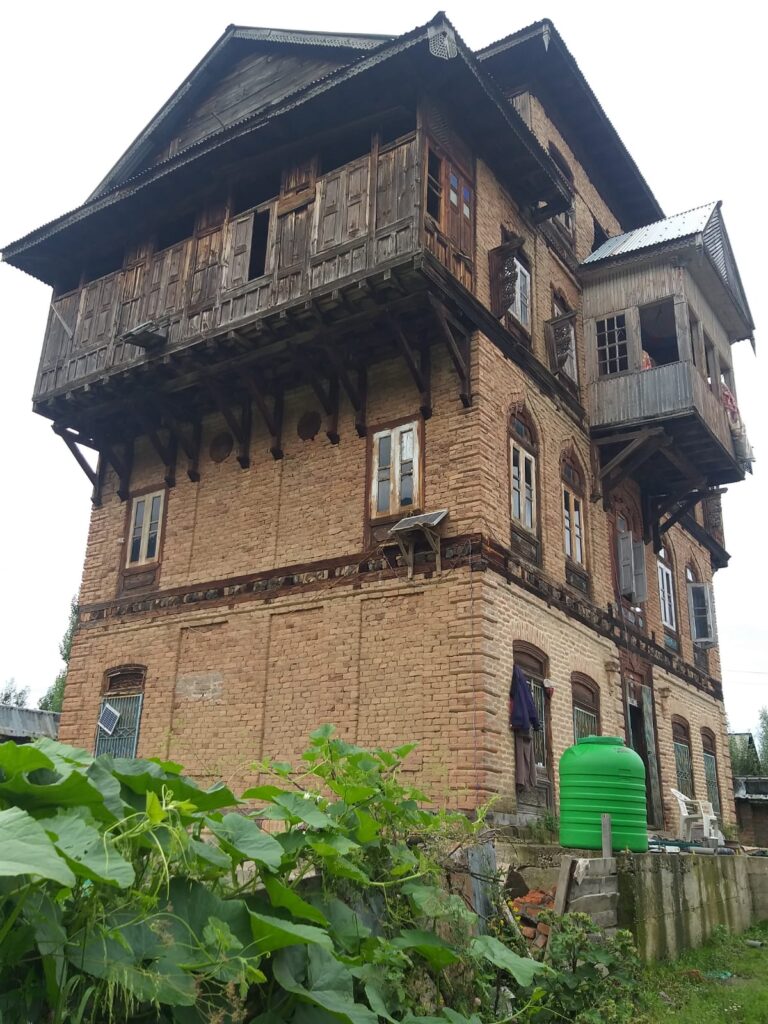 According to two eyewitnesses, Mr Lal Din Doi, aged around 100, and Gulia Khatana, 95, the house was constructed in 1931. While all the people lived in traditional kothas during that time, only two buildings were constructed as a masterpiece or specimens. The first one was constructed by the late Karim Baksh Chohan, elder brother of Shri Khuda Baksh, in 1930.
The construction pattern is a duplication of Mughal art which includes masterpiece woodwork and intricate designs of the era. One son of the house owner is constructing a new house just outside the old house, which is home to the joint family.
"As time passes, people move towards modernity, and that is what my family is also doing," says Gulzar Ahmad, one of the family members.
Kashmir's past is woven in layers of history that offer a diverse picture of architectural heritage. Due to their abundance and insulating properties against winter, wood and stone were used as primary building materials throughout Kashmir. 
Kiln bricks were not widely used until the late 19th century.
The combined use of these styles and traditions left its mark on the length and breadth of Kashmir. Ancient construction techniques produced buildings that were structurally strong to withstand frequent earthquakes. For maximum sunshine absorption, traditional Kashmiri homes faced south. Typically, they had a single entrance and numerous windows. Small glass panes were installed in the wooden window frames, and clay and straw were used for plastering the interiors of the thick brick walls as thermal insulation.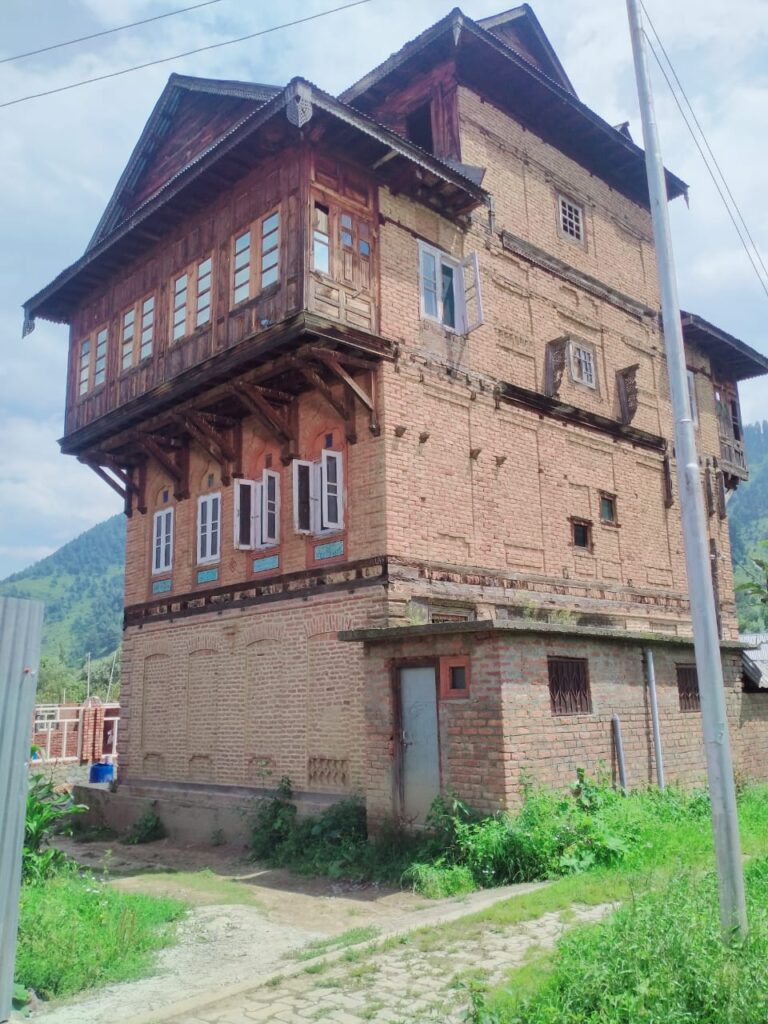 However, homes have become colder as the architectural preferences of the Valley evolved. The insulation needs are not catered to in new constructions. The Valley's newer homes have low insulation levels and loose-fitting doors and windows, consequently leading to large heat losses, which in turn raises the long-term expenses of heating during bitter winters.
Gulzar shared an interesting story which is an apt illustration of the victory of modernity over tradition: "I will share with you an interesting story; the mason who is building my new house likes my old house more than the one he is constructing," he said, adding that the mason has put the photo of their old house as the display picture on social media.