A Sopore-born artist's struggle to make it big in life has turned into an inspiration for budding art lovers in Kashmir.
By Daanish Bin Nabi
Qazi Ashiq Hussain has been one of the most prolific artists from north Kashmir's Sopore town. Born in November 1966, he developed a love for art from a very young age without any guidance or education in arts.
"I was in class 6. Our history book used to have portraits of the Mughal Emperors adoring ornaments. I was fascinated by these Mughal portraits, and I used to draw these Mughal portraits with a pencil. Without any guidance, I drew these portraits. This was the first time I put something on paper in the form of art," Ashiq Hussain told Kashmir Scan.
He says that it was his paternal uncle who noticed these Mughal drawings and was amazed by what he saw. "He thought that I had used carbon paper for these paintings, and he did not believe me when I tried my best to convince him of my drawings," he said.
Ashiq Hussain's first formal appreciation came in class 8th when his drawing teacher at Baba Yousuf Middle High School gave them a home assignment.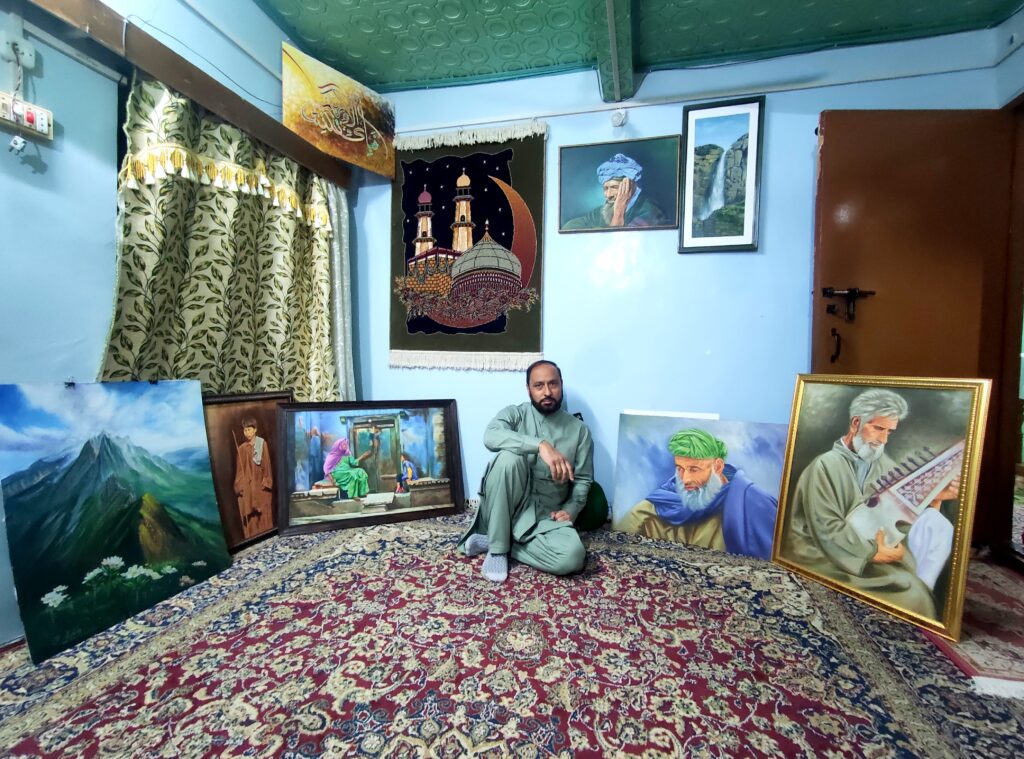 "In 8th class, I had my first and only formal drawing teacher in the form of Ghulam Nabi Bisati. He gave us some art assignments, and we drew them with the Ajanta pens. He was also astonished and showed my paintings to the entire class. This was my life's first appreciation for my work," he said.
A resident of Chankhan area of Sopore, Ashiq Hussain's first portrait drawing was of Bollywood actor Vinod Khanna. "His (Vinod Khanna) portrait had appeared in a magazine. This I remember clearly. I was in 9th class. This was my first portrait drawing," he said. 
By the time Ashiq Hussain reached his adult life and entered 12th standard, his ideology and world vision has started to take shape.
"In class 11th, I drew my first sketch. It was of the Iranian revolutionary Ayatollah Khomeini. When I entered 12th standard, something had changed in me. I started to look at my artwork very differently. I burnt down most of my artwork. I still don't understand why I did it, but I burnt it all down without realizing the consequences for my work."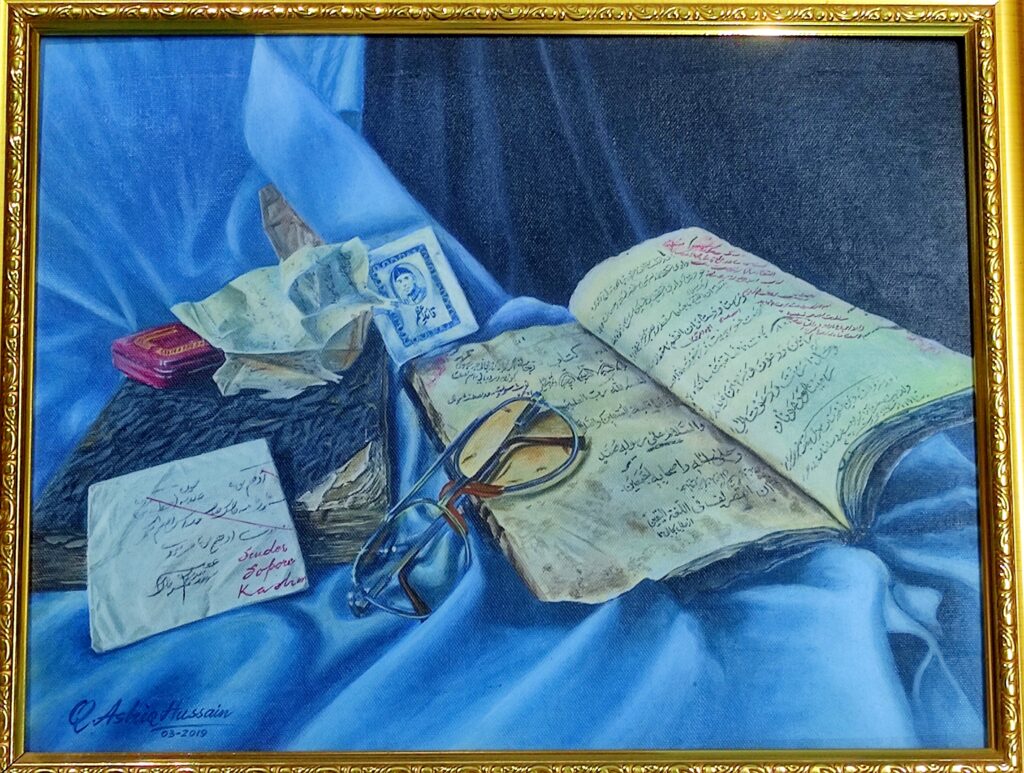 However, Ashiq Hussain was to realize soon what a terrible mistake he had made. This regret was one of the leading motivational drives behind Ashiq Hussain's interest towards learning the greatest artwork, calligraphy. 
"Yes, that regret I still have. It was one of the motivations why I learned calligraphy of my own, and I wanted to prove something to myself. I can easily say now that I succeeded in making and un-making my calligraphic work."
'Ashiq Hussain's first breakthrough came in 2002 when he, along with Muhammad Yousuf Bacha, held north Kashmir's first art exhibition at Welkin Educational Trust in Sopore'
Qazi Ashiq Hussain is an expert in oil color, acrylic, and watercolor paintings. He has drawn over thousands of paintings of all hue colors. After passing out from 12 standard Ashiq Hussain's life was not easy by any means but his passion for the art never diminished.
"In June 1985, I had started practicing calligraphy without any help. For making a drawing pen for practicing calligraphy, I used to cut oil steel cans. Life was tough, and I had no means to sustain myself or my art. So, I had this habit of innovating things to make my ends meet as far as the painting is concerned. I also used to make painting brushes by cutting branch trees."
By 1986, the litho printing press had reached north Kashmir. This was also the phase when Ashiq Hussain's life started to change. Ashiq Hussain's father, Qazi Zahoor-ul-Haq, who worked in the Agriculture Department, asked him to work at a printing press so that he could sustain his art.
"Journalist Muhammad Sideeq used to write calligraphic headings for Aftab newspaper. I used to sketch these headings to hone my own skills. When my father asked me to work at the printing press, it was a dream come true for me. I joined the local Gani printing press in Sopore."
The proprietor of 'Gani Printing Press' was Abdul Gani Peer. It was started in Sopore in the late 1980s, and the printing press is still existent and working at full capacity in Sopore.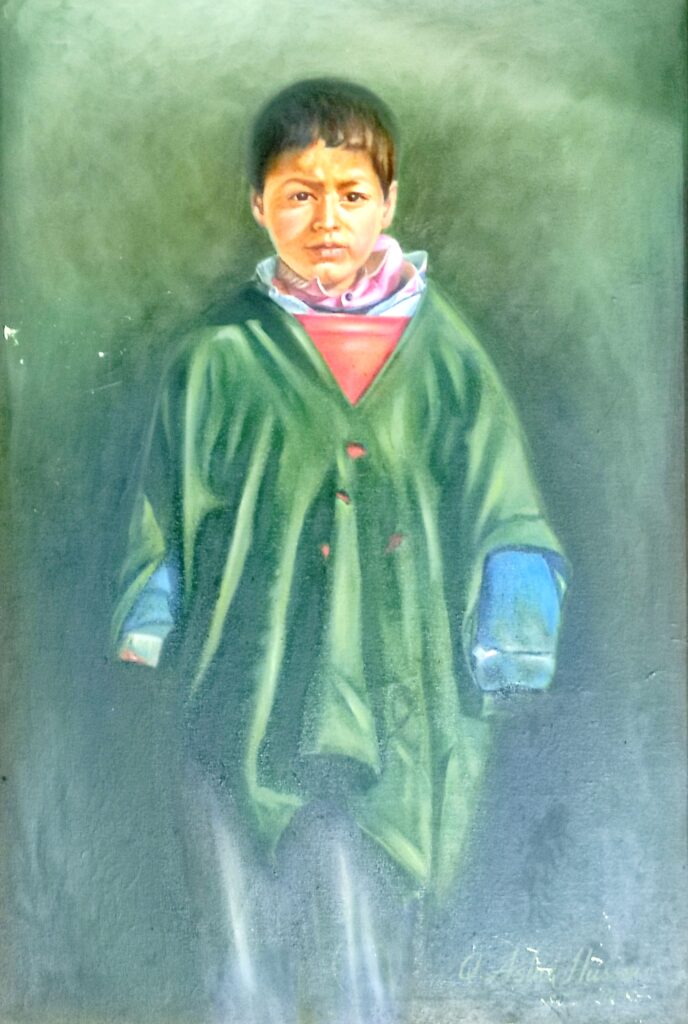 "At the printing press, they used to get out 8 Page Urdu weekly 'The Piler'. On the first, the editor Abdul Gani Peer asked me to write only a paragraph. Then he gave me a full and only after some time, and the entire magazine was hand-written by me. It was a dream come true for me."
Ashiq Hussain's first monthly salary was Rs. 50/- in the late 1980s, a nominal amount at that time.
"These litho presses were a headache for us. We had no expertise in press. It was a hard time, but with time I also learnt how to operate a printing press. During this era, there was also a time when I used to write cards, books, magazines, and posters for the entire north Kashmir."
In 1991, Kashmir, for the first time, witnessed the offset printing press. Within no time, Gani Printing Press installed the offset printing press. "I worked here too. This was a quite different experience than what I had gone through with the litho printing press."
The first book that Qazi Ashiq Hussain printed was 'Kashmir Aur Iqbal'. "I don't remember the name of the author. But the book is with me. This was the first book given by an author which I wrote about my career."
Ashiq Hussain has written over 200 books by various authors, which include the authors like Rafiq Raz; Muhammad Yosuuf Taing; Rafiq Masoodi; Shahnawaz Rashid; Bashir Chirag; Ali Muhammad Shahbaz; and Qazi Manzoor.
"I wrote all these works in the form of calligraphy. A book took me around over a month to get completed."
Ashiq Hussain also wrote books, pamphlets, and other reading material for Sahitya Akademi, National Book Trust, Jammu, and Kashmir Cultural Academy. He also wrote reading material for the University of Kashmir, and also he wrote 'Partan' and 'Prawa' magazines. All of this entire work has been in calligraphy.
He also wrote a book for the famed author Ghulam Mohiuddin Gowhar. This book was titled 'Rikhe' (meaning literally 'lines' in English).
In early 1990s, the author Nishat Ansari was the person who introduced Ashiq Hussain to the literally circles of Kashmir. This was also the time when Ashiq Hussain had started to work on signboards and wall paintings as well.
"After I got interested in calligraphy, my art was divided between many genres, from drawing to sketches to wall paintings to posters and from books to pamphlets to print press. I was in a mix of everything. Then it was Muhammad Yousuf Bacha who was after me for around two years and asked to focus on calligraphy completely."
Bacha was a government employee by profession but always had a knack for art. Due to his constant pressure, Ashiq Hussain was motivated and focused on the art of calligraphy.
"I started to give half time to others paintings while the other half I reserved for calligraphy. This is how I excelled in calligraphy."
Ashiq Hussain drew his first oil painting in 2001. "There are various forms of art in the painting. I mostly do the painting in realistic forms of art, which include portraits and landscapes. I also do Quranic calligraphy paintings."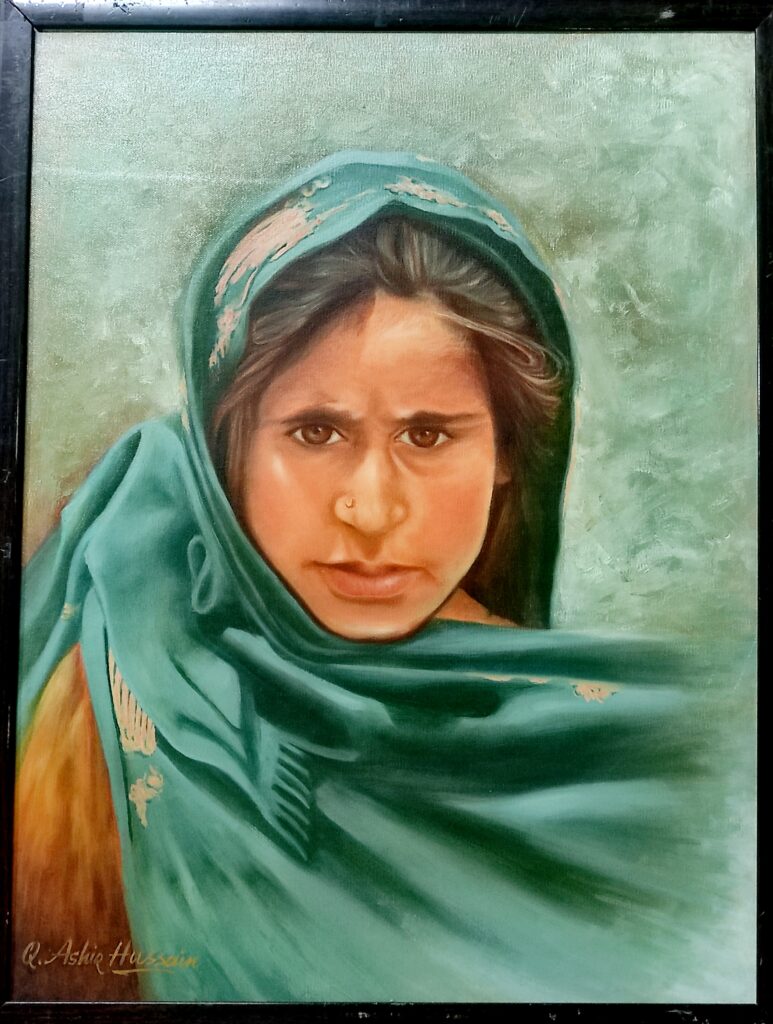 Ashiq Hussain's first breakthrough came in 2002 when he, along with Muhammad Yousuf Bacha, held north Kashmir's first art exhibition at Welkin Educational Trust in Sopore.
Then in 2004, the art lovers of Sopore founded 'The North Kashmir Arts Society,' which was headed by Muhammad Yousuf Bacha as President and Ashiq Hussain as General Secretary. This association was supported by the Jammu and Kashmir Cultural Academy.
"The purpose of both these (the first art exhibition and North Kashmir Arts Society) was to promote the art in north Kashmir among students and art lovers. We went to many colleges of north Kashmir and other educational institutions in north Kashmir to spread awareness about the art."
Interestingly, Ashiq Hussain's grandfather, Qazi Muhammad Ahsan, was a petitioner writer in Maharaja Hari Singh's court. During this era, everything was written in calligraphic form. However, Qazi Muhammad Ahsan died in 1945, aged only 60. "All his work is hand-written and in calligraphy. I think this is where I get my interest in art from. I think I got my skills from my grandfather only. That is why I have done all this work without any proper schooling, teaching, or guidance."
"My only regret is that he isn't around and has not seen my work. Had he been around when I needed him most, he would have taught me, appreciated me, and moved mountains for me in the world of arts."
Ashiq Hussain was married in 1996. "It was an arranged marriage which turned into a love marriage." Blessed with two sons, both are pursuing engineering.