Ahrabal (Harbal- place of Vishnu), a marvel of grace known for its dreamy waterfall, is a popular tourist spot on the right bank of river Vishew
By Syed Aamir Sharief Qadri
Kashmir, a global tourist destination, has the potential to endow the JK economy with a significant percentage. Unfortunately, its contribution to UT's GDP is less than 10% yearly. Doesn't this question arise in your mind that Kashmir, bestowed by nature with uncountable glossy picnic spots, generates such little revenue? Aabshar-e-Ahrabal: The Dreamy Waterfall of Kashmir
You don't need to be surprised by this! Despite the least spending in this sector every year government earns profit in crores from every tourist place in J&K. Though the administration is reluctant to spend on newly identified tourist places, it has small packages for the prominent sites. Today I will tell you about a well-liked place that has been ignored and slashed the budgetary support for infrastructure works by successive governments for a long time.
Ahrabal (Harbal- place of Vishnu), a marvel of grace known for its dreamy waterfall, is a popular tourist spot on the right bank of river Vishew. The wondrous sight of the deep gorge formed by the majestic waterway is nature's bliss. It is located in the Noorabad area, about 28 km west of Kulgam. Although it falls in Kulgam district, it is close to Shopian at most 14 km. The winding road passes through the pretty woodland of Sedov and meets the road from Kulgam near Gurwatan. This narrow but scenic road gives much more comfort to tourists than the safe and comprehensive Ahrabal-Kulgam route.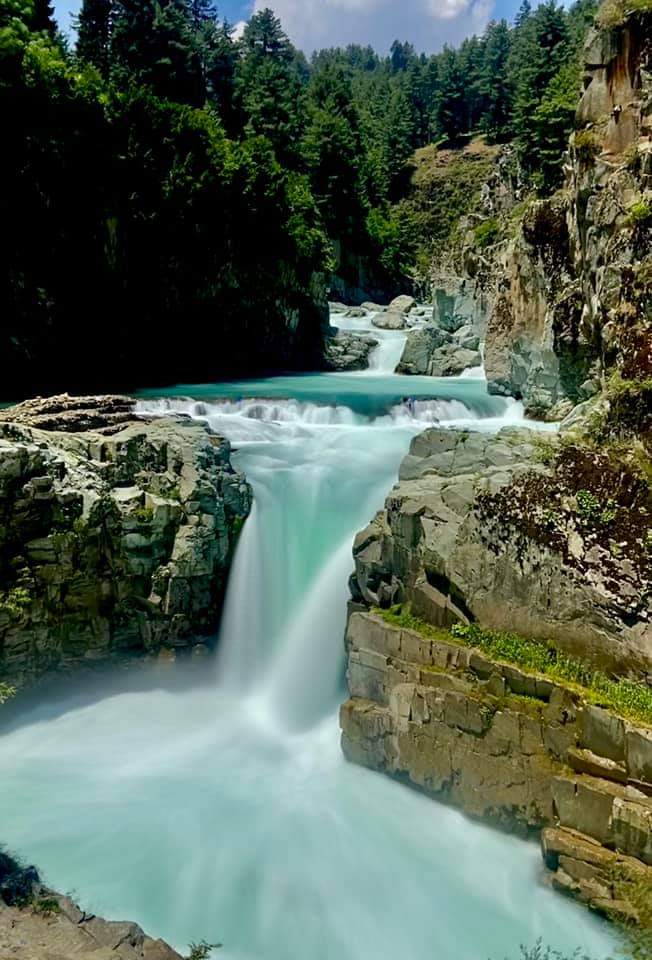 Kashmir is at par with Switzerland in ethereal charm. Still, we praise later' s loveliness overlooking the surreal beauty of our gorgeous paradise. The reason is a natural beauty, and there has been given artificial touch to present an astonishing view to visitors. It looks more attractive than Kashmir; otherwise, the artistic view and exquisiteness of the Kashmir mountains are invincible. The grand green terrain here is left untouched, which benefits the loggers. The same thing happened to Ahrabal. You can see a thin forest cover in its surrounding. The administrative negligence in the past encouraged the cruel woodchoppers to axe the green gold to make it look gloomy.
If we consider fifteen years, there was nothing here to entice tourists. The way down to the waterfall was a craggy slope challenging to proceed along. If one wanted to go down and see the waterfall, there was a risk of falling into the river below. That's why most people used to see it from above. By this, you will get an idea of how Ahrabal looked in the beginning. But today, for the first time, I am happy to see construction and development works going on in full swing. This should not stop here, and more work needs to be done. Ahrabal craves special attention from authority.
Recently a festival was organised by the district administration Kulgam at Ahrabal in collaboration with other departments, including the JK tourism. It is the second time in a year that such a lavish event has taken place. An earlier winter carnival was held in February to showcase its beauty and harness its adventure potential. Despite small gatherings and massive publicity, it does not attract tourists like in other places like Gulmarg, Pahalgam, etc. There are many reasons for that-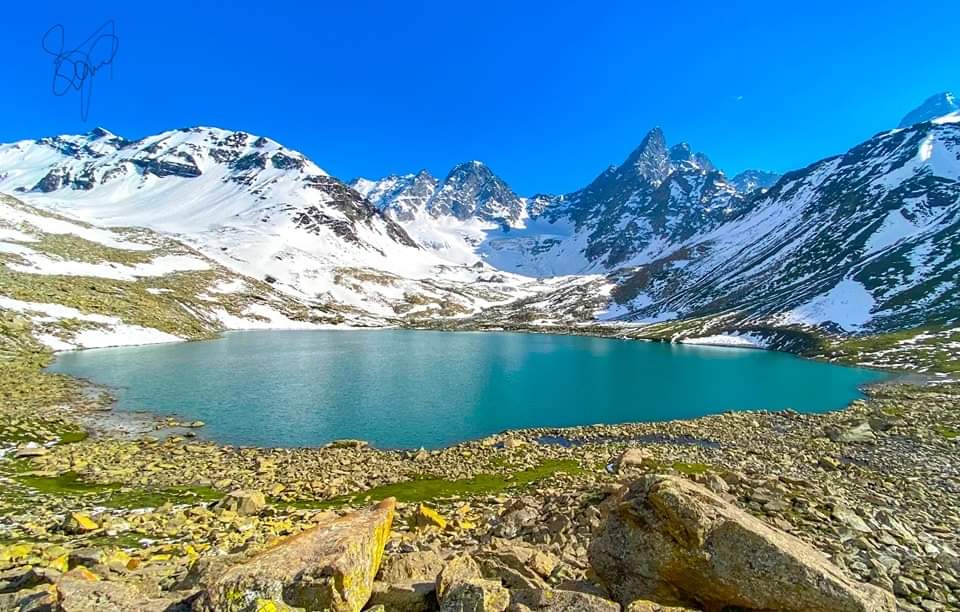 1. Instead of spending great riches on organising festivities, the government needs to invest money in providing basic facilities and services at such places to cater to tourist demand. The sightseers would like to go to a place with all the necessary installations and not to a deserted place like Ahrabal.
2. For a night stay, Ahrabal can't lodge more than a hundred visitors at a time. There are only a few buildings, including hotels, restaurants, and huts. Of which two hotels are functional, one is under construction and a VIP hut is reserved for official guests.
3. The area near the waterfall is prone to accidents and needs to be monitored properly by installing CCTV cameras. The youngsters deliberately cross the iron fence to click good shots near a waterfall.
Was Ahrabal a secluded place?
The clues we have received show that early man already inhabited Ahrabal. We need to work more on it to ensure it is true. Let's see what archaeology and history have to say about this.
Last year this place was in the news when a fossil site was discovered on way to Kongwatan meadow. It caught the attention of archaeologists, and they found traces on stones in a large area. They believe its history will take us back to some geological era of earth.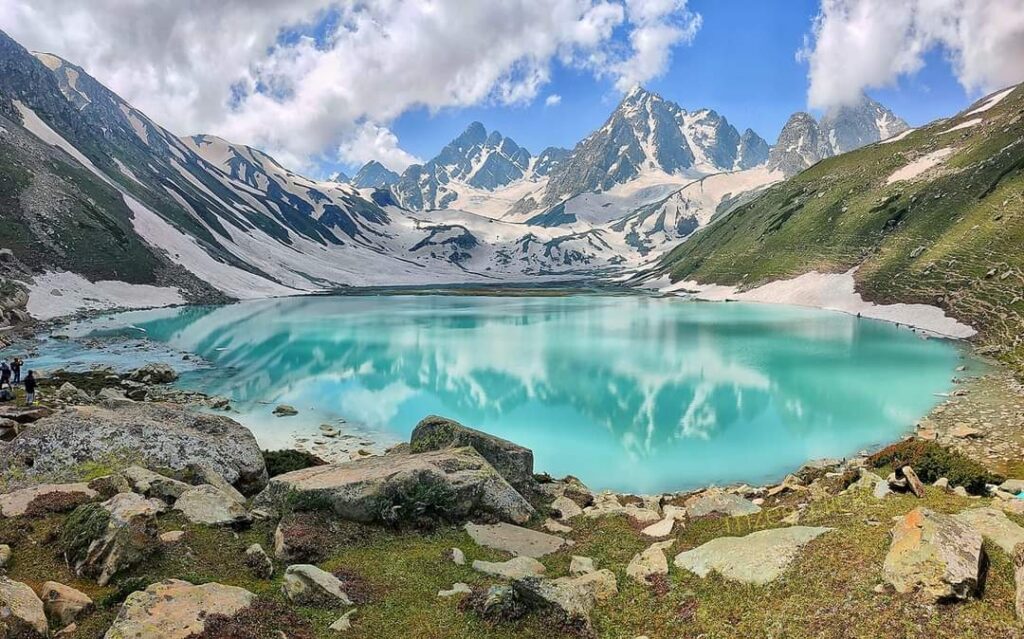 I heard from my mentor, the famed Naji Munawar, popularly known as The poet of Children that there was a place at Ahrabal, known as Khazanbal, where there were ancient ruins in large numbers. There is a flat carved stone in his museum, and maybe a temple remnant bought from the same place. Unfortunately, we don't find such traces there at present, but we have the historic 'Pandav Dul'- the cooking pot of Pandavas. It is a unique, memorable stone, already positioned upside down by natural forces, found near the Gurwatan bridge. Though Kashmir was never part of the ancient Pandava kingdom, everything is related to Pandavas here.
Did anyone come to see Ahrabal in the past?
Yes, it is true that everybody used to come here to make merry, from the ruling class to ordinary people. We have many references to kings and European travellers who visited the famous Kounsarnag lake. King Zain-ul-Aabdeen, historian Pir Hasan Shah, and many Sufi saints visited this place from time to time.
Zafar Khan Ahsan, the Mughal governor of Kashmir during the Shahjahan's time, acclaimed the beauty of Kashmir in his poetry. About Ahrabal waterfall, he said.
Ze Jannat Chand Gooi Aye Sukhanwar, Nadarad Aabshar-e- Ahrabal
G. T. Vigne, a European traveller visited Kounsarnag in early December in the year 1835. In his book 'Travels in Kashmir, Ladakh, Iskardo' he mentioned some striking grasslands in the surroundings of Kounsarnag like Astanmarg, Chiranbal, Zajimarg, etc.
The Britishers in Kashmir founded the Cashmir Climbing Club, now called Jammu & Kashmir Mountaineering & Adventure Club, headed by C. E. Tyndale Biscoe in the year 1934. In his book 'Kashmir In Sunlight & Shade', Tyndale Biscoe has kept a record of expeditions in Kashmir. In one such expedition, he led the way of a group of fourteen, including the notable Mr. Jacob and R. D. Thompson, to visit Kounsarnag lake. The adventurers also climbed nearby Bramshakri peak (4500 m), the highest in this area. They had bought a rubber canoe from Srinagar to go boating on the lake.
S. C. Koul, who was a part of this trip, cited in his book 'The beautiful valleys of Kashmir' that once an American professor tried to measure the depth of a lake, and while fixing the machine in the centre, the screws somehow became loose, and a part of his machine sank thus experiment was not successful.
Treks and Trails
My club, Glacial Trails, carried out about fifty expeditions in a decade-long exploration of the Noorabad area of Kulgam District.
The club toured almost three dozen alpine meadows. Along with Bramsar, Chirsar, and Indersar lakes, the club visited Kounsarnag lake two times from two different routes, first in 2008 and then again in 2020.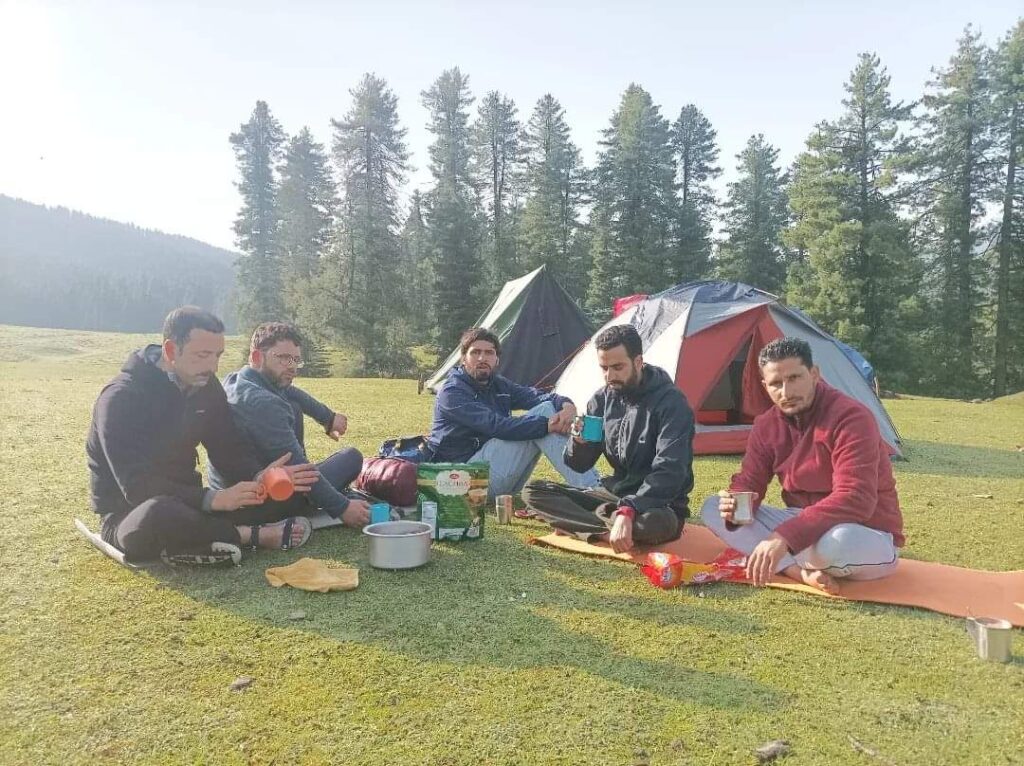 List of treks and trails that start from Ahrabal and pass through the dense forests and beautiful meadows to end at the least known alpine lakes of Kulgam.
1. Sangam Lake Trek
2. Kounsarnag Lake Trek
3. Indersar- Donthsar Lake Trek
4. Bramsar- Chirsar Lake Trek
5. Sarkant- Parinag Lake Trek
A narrow trail starts from Gurwatan and passes through the mountain slope covered by pine forests. Along the right bank of the river Vishew, it takes the trekkers to the vast charming meadow of Sangam. After crossing the river at the meadow end, there are two ways- the right turn leads to the unexplored Sangam Lake Trek, where one can see at least two alpine lakes, and taking the left turn brings us to the beautiful meadows of Kongwatan and Sekijan. These two lovely meadows are situated on the opposite banks of the Kounsarnag stream (nallah), parallel to one another.
The famous Kongwatan meadow and Mahinag serve as the two important campsites on the way to Kounsarnag Lake. Up to Mahinag, one can enjoy striding on a rough stony path with an easy trail. It becomes a bit difficult when a gradual ascend of 300 metres from Mahinag leads the track to the banks of the famous Kounsarnag Lake (3500 m). In antique books, the name of this lake is Kramasara/ Vishnu Pad.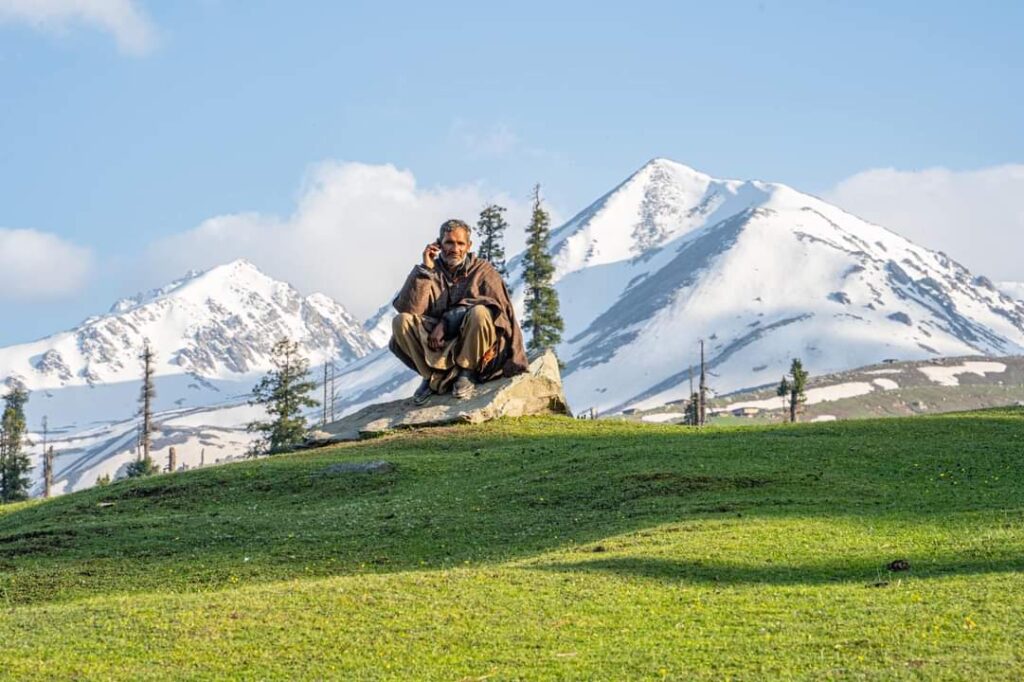 In the same row, up to ten lakes can be accessed from Kounsarnag Lake. However, casual trekkers should not go through this path. The rugged terrain is filled in with snow for most of the year. Only alpinists can take this route to accomplish tasks in a couple of days.
While moving towards the left at Kongwatan along the bank of Zajinad or Chiranbal river, three prized meadows serve as a base camp for these lakes. From Chiranbal, Hakwas, and Zajimarg all these lakes surrounded by delightful meadows can be easily visited. Before planning to go trekking, you should have a look at the detailed trekking map below.
Trek Route Map
*Sangam Lake Trek: Ahrabal> Gurwatan> Sangam> Lakes
*Kounsarnag Lake Trek: Ahrabal> Gurwatan> Sangam> Kongwatan/ Sekijan> Mahinag> Kounsarnag
*Indersar- Donthsar Lake Trek: Ahrabal> Gurwatan> Sangam> Kongwatan> Chiranbal> Sondirbug> Manzpal> Lahanpather> Astanmarg> Indersar> Donthsar (3 small lakes).
*Bramsar- Chirsar Lake Trek: Ahrabal> Gurwatan> Sangam> Kongwatan> Chiranbal> Kadlibal> Hakwas> Bramsar> Chirsar
(There are two unexplored lakes, one each above Bramsar and Chirsar. Therefore in total, there are four lakes on this trek)
*Sarkant- Parinag Lake Trek: Abrabal> Gurwatan> Sangam> Kongwatan> Chiranbal> Kadlibal> Hakwas> Zajimarg> Thanda Katha> Sarkant Lake> Parinag Lake.
Note:
There are so many alternate trek routes in Noorabad to reach these lakes. You can approach them too by five accessible passages like Manzgam, Avil, Khur, Yadikhah, and Nandimarg routes.