Human interaction amongst themselves and with the elements of this world is interesting and amazing. No doubt connecting with people or nature is crucial in everyday life but connecting to own self through the aid of these is something beyond. There are different ways through which humans connect with things and every way has its own charm. But it makes one wonder, can there be some connection between the forms of connections as well? And can these connections further enrich human experiences?
Poetry helps us to appreciate things around us, music helps in modulating emotions and math helps us to understand it all. These three are the strongest and most efficacious means of connections between anything. There are deeper connections between the three than what appears at the surface level. Despite their different disciplinary approaches, connections can be drawn by examining the expressions and how they build on one another.  Nevertheless, the fascinating relationship between the three is more promising.
Evidence that Proves Poetry, Music, and Mathematics are Interlinked
In order to show that in fact poetry, music, and math are interknitted, we shall be using a mathematical approach to prove apparent. Choosing a mathematical way means that the proof is going to be logically true and hence credible.
Let's look at the definitions of the three and consider our data from them.
Poetry: A piece of writing in which words are chosen for their beauty and sound and a careful arrangement is called a poem. Poetry is a collection of poems.
Music: Arrangement of sounds in time through the elements of melody, harmony, rhythm, and timbre.
Math: A field of study that deals with the logic of. shapes, quantity, and arrangement.
One can easily observe that the three are related to each other by the common word i.e., arrangement. So, we have established the relationship between them.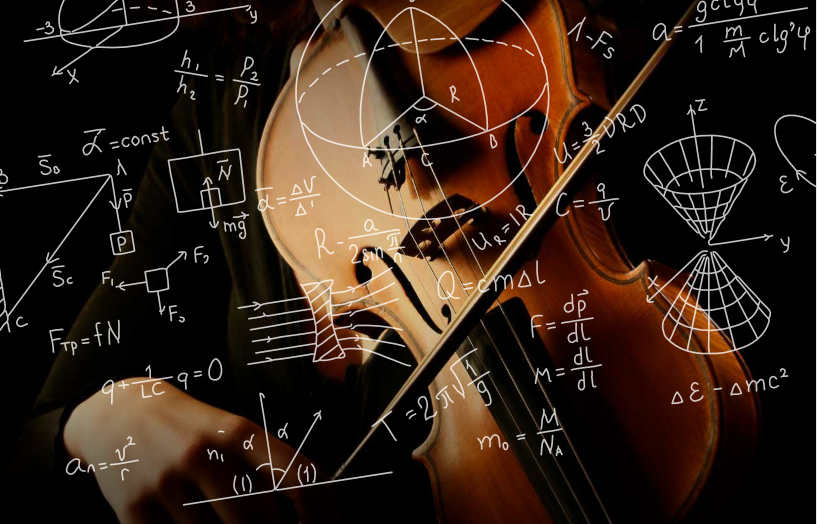 Poetry and Music [Claim]
Poetry and music have been related to each other from time immemorial. It is so strong that in spite of being challenged and questioned, their connection has survived the ages. Of course, they are two independent forms of art that have varieties of genres and can stand alone. But one cannot ignore how the two draw inspiration from one another and are closely connected when it comes to rhythmic patterns. Lyrics are the best example of the evidence of this claim. When poetry is accompanied by music, a masterwork is created like Greek rhapsodies, Japanese Tankas, or praise poetry in India and Pakistan.
Poetry and music are both performed art, have almost the same result on human emotions, are used to represent culture and history, and yet are still not seen as connected as they are in actuality. For example, rhythm is used to create both the flow of music and poetry. If poetry can be sung without music, music without words can also be poetry. This can be realized by the effect it produces on its audience. Poetry expresses just like instrumental music and has the same emotional captivation as music with words will have.
Rise of Spoken Word Poetry
This is particularly interesting to note in current times where spoken word poetry has gained popularity. Several poets have gained prominence performing poetry that evokes the relationship between music and poetry. Performance poetry has an aspect of musicality to it as poets deliver in a certain rhythmic manner. These performances are often accompanied by light music such as the gentle strumming of a guitar in the background.
The performance aspect of both music and poetry also ties them together creating similar effects of tonality and harmony. To quote Sarah Kay, a prominent spoken word artist, "Spoken word poetry is the art of performance poetry. I tell people it involves creating poetry that doesn't just want to sit on paper, that something about it demands it be heard out loud or witnessed in person".
Poetry and Math [Argument 1]
JoAnne Growney, a mathematician, and a poet say, "Mathematics and Poetry are both the formats that can convey multiple meanings". In math, we find different ways through which we can represent and demonstrate a concept, shapes, theorems and etc. For example, a system of equations can be understood both graphically or through traditional algebraic methodologies. Similarly, in poetry, poems have multiple interpretations, even a single line can have several meanings. The abstract nature of both fields of study leads to multiple interpretations and embodying various approaches.
Connection Between Poetry and Mathematics?
Poetry and mathematics are considered to be quite antithetical to each other. Founded in the 1960s by French mathematician Francois de Lionnais and writer Raymond Queneau, Ouvoir de Litterature Potentielle (workshop of potential literature) seeks to connect the two. They aim to find ways in which they can write verses of poems by using constraints or a form that follows a set of guidelines. Constraints work as both; a restrictive format as well as a freeing one. It is essential to note that the beauty of mathematics lies within its constraints. Furthermore, such constraints have also opened doors to newer mathematical and poetic possibilities.
As an example, we have "fib" or a Fibonacci poem. It is experimental Western poetry sharing similarities with haiku. The poem contains multiple line verses that are based on Fibonacci's sequence.
Fibonacci's sequence: 1,1,2,3,5,8, …
Here each term after the first two is the sum of the two terms before it. Similarly in the fib, a poem pattern is followed using the number of syllables per line as given below: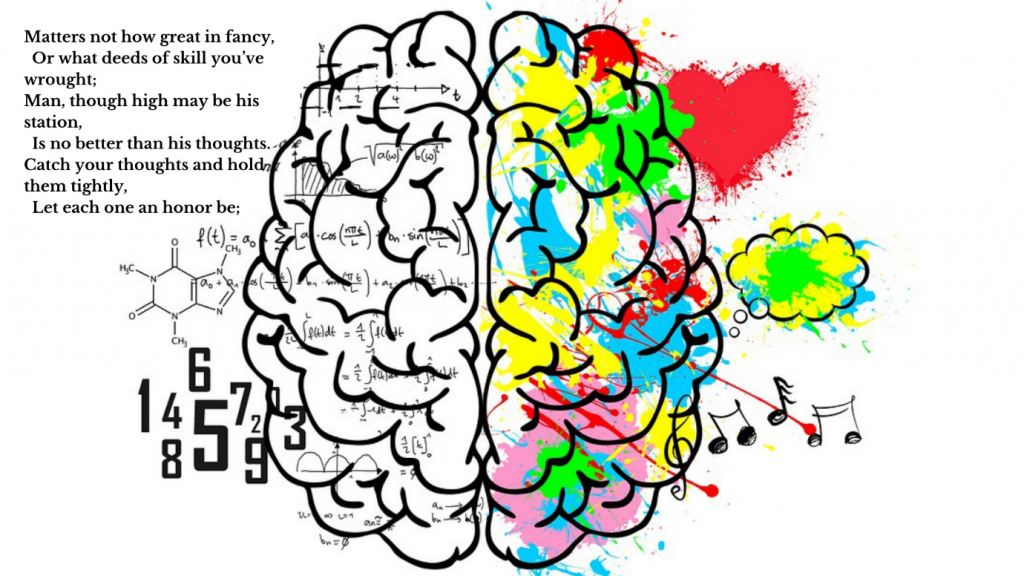 Math and Music [Argument 2]
Galileo Galilei, an astronomer observed that the entire universe is written in the language of mathematics and surprisingly the introduction of passion and emotion in music composition is also based on mathematical relations. If one tries to uncloak the elements of music such as chords, scales, octaves, keys, pitch, beats, tempo, meter, time signatures, and formulaic progressions, they all can be understood well using simple math and logic. The mathematical properties of sound are already known to us.
The regulation of pitch, vibration, frequency, and loudness in order to change the effects of sound all fall under the physics we study at the school level. Even the wave nature is taught to us while still in school. So, the effect of music; the melody, rhythm, and harmony have mathematics in it does not come across as a surprise. However, the fact that even the cause of music is mathematical is quite enthralling, since this is yet again a pair just like math and poetry, which many don't find compatible.
Music Complements Mathematics
While math makes music beautiful, music too reciprocates by complementing mathematics. In 2012, a study showed that music can enhance learning math skills. In fact, it was shown that during an examination of mathematics, listening to music could improve performance by 40%. Even though, listening to music has the ability to improve cognitive and mathematical skills, being able to perform music definitely serves added advantages. It is reported that when Einstein was stuck solving a math problem, he played music as we know he was also a pianist and a violinist.
It is because some researchers have found that music activates the hemisphere of the brain which is used in order to solve reasoning problems such as in mathematics. In fact, a recent study has shown that listening to music (theory of Mozart effect) activates certain portions of our brain. On the right side, classical music and minor tones, and on the left, we have upbeat and major tones. Complex mathematical problems or fine motor problems can become simple to deal with if you can play any musical instrument.
Power of the Three
We have established the relationship between Poetry, Music, and Math and shown how the three are interwound. The three are the most helpful tools that let us connect to our own self as well as the universe, to the abstract and concrete. An example to know how three are intertwined together to produce worthwhile results, let us talk briefly about Lateralus by Tool.
'Tool' is an American rock band from Los Angeles formed in 1990. In 2001, they released a song named'Lateralus' (Lateral thinking and viewing problems through a new light). Lateralus is a very famous and much-appreciated work of this band and is often considered to be a masterpiece of the 21st century at par with compositions by legendary Beethoven and Mozart. What is so special about it? It is the result of the three incorporated intelligently in this piece by Tool.
Modern-Day Approach towards Teaching
The poems written in different shapes can be used in several classes because it brings together visual imagery, words, and math together. The visual experience along with the written one enriches one's understanding of mathematics and poetry further. Also, it is interesting because a large number of students have typically been taught to think, write and read in a restrictive format. Musicality is also associated with visuality and encourages a comprehensive understanding of the different disciplines. Thus, this is a fresh approach, which opens up new conversations about visual representation.
In conclusion, this article has made an argument to prove the interconnected relationship between math, music, and poetry and has also gone to show how the three can be implemented together in a classroom setting. The three add to an enriched understanding of human experiences through means of entertainment, studying, or even thinking.