The 300-year-old craft involves entwining reed and rice straw together in perfect harmony to create a piece of flooring that provides warmth in winters and a cooling effect in summers.
By Ajaz Rashid
The wrinkled face, old brown eyes, white veil, puffing Hukkah, a septuagenarian woman, Azzee, is busy guiding her daughter-in-law to weave a Reed Mat locally known as Waguv at her home at Khojbagh locality of Maloora, Srinagar. She and her daughter-in-law Sakina have been busy since morning weaving Waguv, which is one of the primary means of earning their family's livelihood.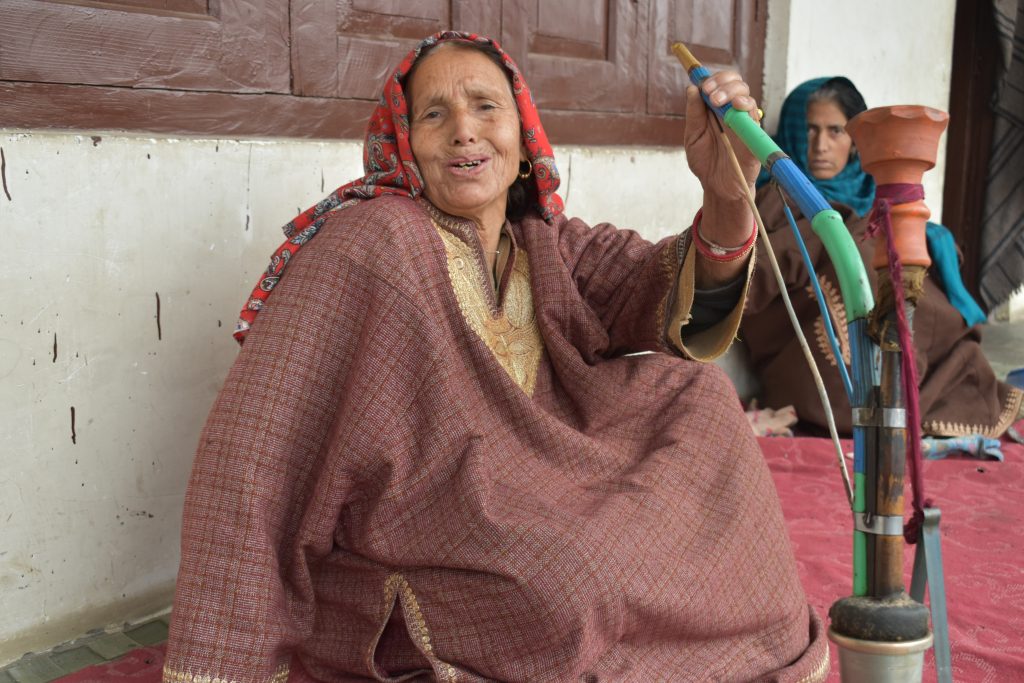 Azzee's sons have no other option than daily labouring, which is entirely weather dependent. The women of this house are the main breadwinners for the family, comprising 15 members. This was their second day of weaving this reed mat, and it will take one more day to complete. Out of their three days' work to weave a single reed mat, they can earn just Rs 250, and that is one of the biggest reasons that the people like Azze no more want to inherit their art to their children.
"The meagre earning for this hard work repels us to continue this business, and on top of that, we don't have many customers for last many years who purchases the Waguv," complains Azzee.
Azzee is the oldest woman in the family who has learned the art of reed mat weaving in her childhood. She is from the same community of Khojbagh where almost every household was in the same business. According to the locals of the area, every household in Khojbagh, mostly women were in the business of Waguv weaving which was the main source of their breadwinning. The menfolk would carry the fully completed reed mats on their shoulders and heads to sell them in various areas of Kashmir.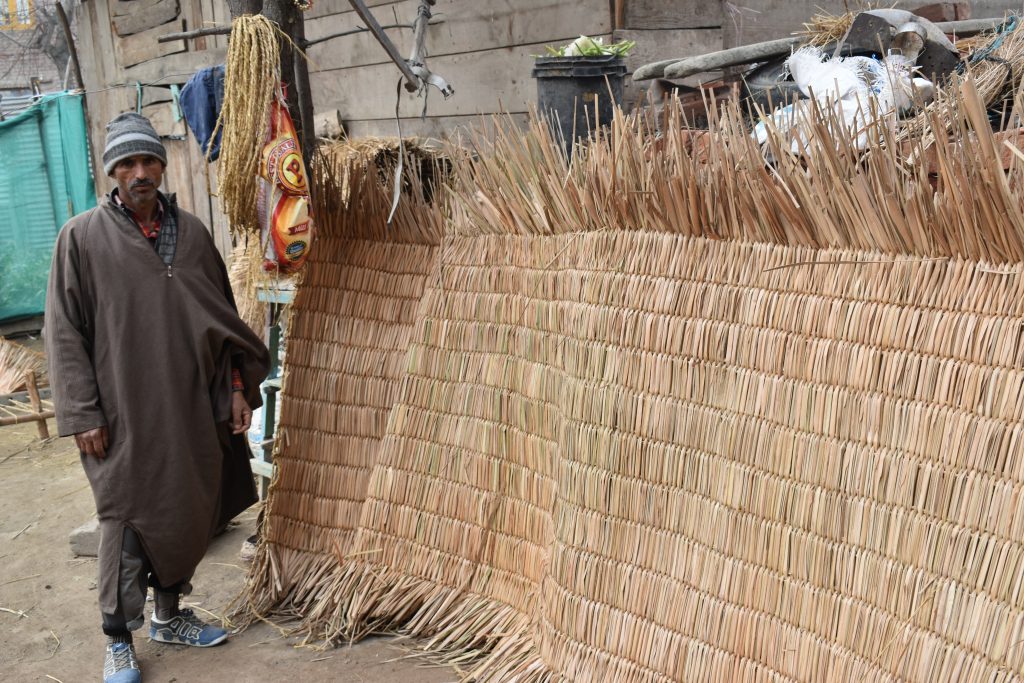 "Decades ago, we had a great demand for the reed mats because this was the primary matting which was common in entire Kashmir," recalls Rafiqa, another daughter in law of Azzee.
"With every passing year, the demand for reed mats receded, which forced most of the families like us to opt for other earning options," she added.
Rafeeqa said that there was a time when they were earning a handsome amount from Waguv Weaving, and people across Kashmir were fond of Waguv for their houses.
Khojbagh area in Maloora Srinagar comprises more than 300 households doing reed mat weaving. Their ancestors have settled this locality after shifting from their houseboats to the permanent settlements in the area. Most of the families have now opted for other jobs. Due to the fact that majority of the population in the area are illiterates, so labouring and other meagre jobs are the only options left for their earnings.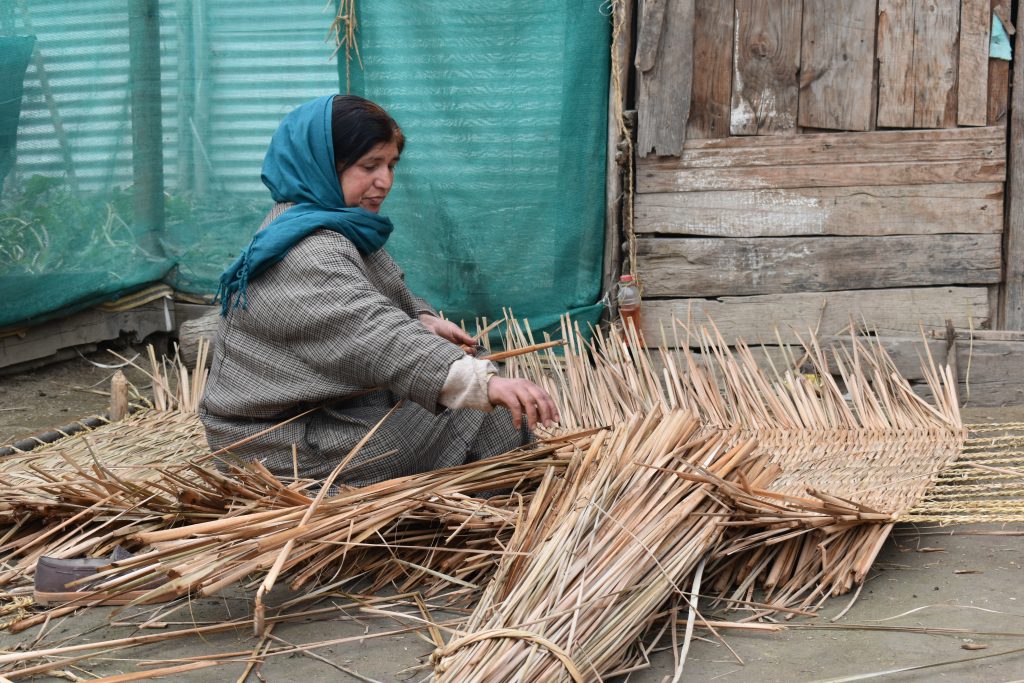 Abdul Khaliq Dar, who lives in the same area, narrated his hardships due to the vanishing art of Waguv. He complained that despite the government and concerned authorities taking various steps for the revival of handicrafts of Kashmir but Waguv weaving has never been revived. "Kashmir had an abundance of Waguv weavers in various areas, but with every passing year, the artisans of Waguv are leaving this profession," said Khaiq Dar and added, "Now a day only poor people are using Waguv because they cannot afford expensive modern floorings."
Out of hundreds of Waguv weaving families, only a few families continue the profession. "We don't see any option right now, and as soon we find any better option, we too will leave this profession forever," said Ms Nissaa, a reed mat weaver.
She said that 'Waguv', once adoring every house in the Valley, have completely gone out of fashion, leaving space for the modern, classy furnishings to fill.
Undoubtedly, modern matting has replaced the heritage craft Waguv, but there are still people who have not lost their love for this amazing craft. "I recently bought a few reed mats as I know the insulating quality of this amazing mat can prevent me from biting cold of winter in Kashmir," said Bashir Ahmad of Downtown Srinagar.
"I still remember the days when we at our old house were using Waguv only, and those days our family members were not complaining of any backache etc., which is common these days,' he said.
Waguv Weaving
Waguv, once adoring every household of Kashmir, had special artists to weave. A soft and spongy mat (Waguv) is a traditional grass mat of Kashmir Valley. The reed (Peich) is known as Typha Angustifolia. T. Angustifolia is a plant found in areas of temperate drainage and irrigation channels, reservoir, pond systems, natural freshwater and wetland systems (lakes, rivers, ponds, fens and other marsh systems. After reaching four to five to six feet in height, this typical grass can be harvested to make these mats. The waguv mat was widely used in Kashmir and is an important part of Kashmiri tradition. The mat is sustainable and has many health benefits.
After the men collect the Peich, the women of the house spring into action. Traditionally, the women would actually plaid reed into a Waguv. The womenfolk essentially dry the grass to perfection and tie the reed with small wooden poles parallel. Then entwine dried rice straw into the reed verticals and tighten them. After a thorough process of this plaiding, tightening, and cutting into desired shapes, the Waguv is finally ready to be sent and sold in the market. The craft involves an entire family where the males are responsible for gathering raw materials and selling in the marketplace. At the same time, the women are responsible for weaving the reed into mats. The Waguv rug can last up to six years and has health benefits.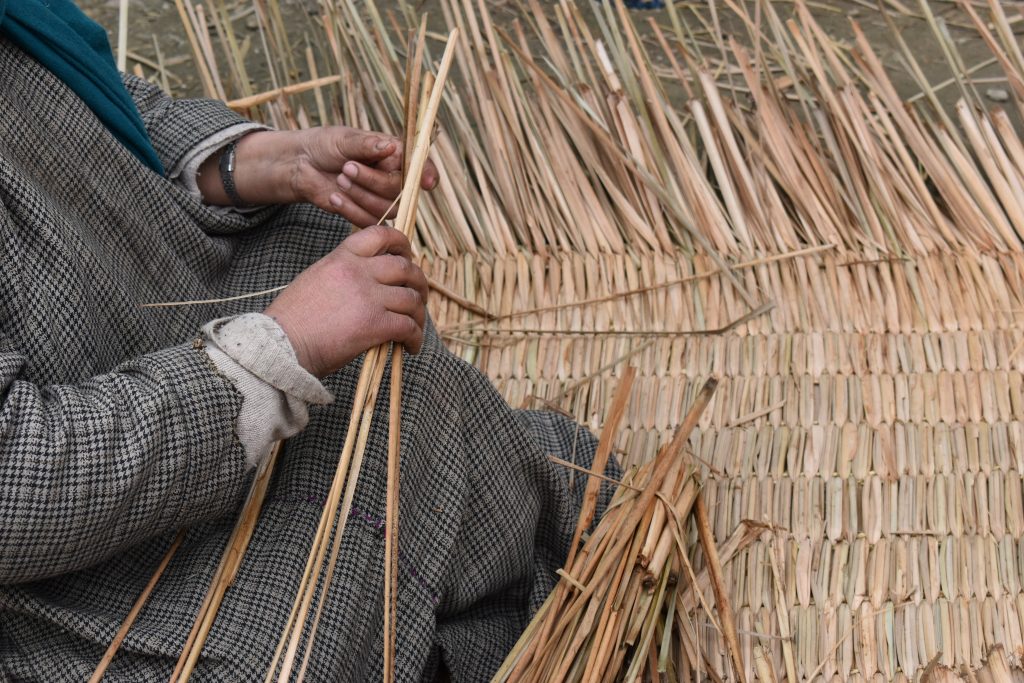 "It takes a lot of effort to get the Piech from far-flung areas. Earlier, we were fetching it from nearby lakes (Anchar and Dal, but there is not much availability now," said Abdul Rahim Goor, 80.
"Besides, our wetlands are vanishing day by day due to unabated landfilling of wetlands which have made it difficult to get material for reed mats," he added.
History
The reed mat, also known as waguv, is valued for its comfort, versatility, insulation properties, and biodegradability.
Waguv is an ancient Kashmiri craft of mat making which dates back to the 18th century. The 300-year-old craft involves entwining reed and rice straw together in perfect harmony to create a piece of flooring that provides warmth in winters and a cooling effect in summers.
Some authors and historians have mentioned that the origin of Waguv traces back to the 18th century, during Kashmir's Mughal Rule.
Walter R.Lawrence, in his book 'The Valley of Kashmir, tells about how Kashmiri put every plant and tree to use. He has mentioned that Kashmir has natural fiber-producing plants used to make ropes. Lawrence explains about Piech from which excellent matting (waguv) of Kashmir is made.
Waguv was not only confined to house matting. Those who live in houseboats have traditionally both made and used mats. Waguv mats were placed under the bedding and carpets to provide additional warmth. The poor all over Kashmir use these tough mats (Waguv).
Reason for dying of Waguv art
The prices of Waguv remained flat or less than what it had because people prefer thermos-cool floor covers. First, it vanished from the urban areas and is now vanishing fast from the rural areas of Kashmir.
Poor earnings are forcing weavers to abandon the skill, and in this expensive era, they are compelled to do other jobs for better earnings.
"Waguv mat weaving will die once we stop breathing because the new generation is not ready to take up the trade. And why would they when there is no future or returns from the craft," said old Mohammad Shamim, 50 of Khojbagh.
He added that people except poor ones have forbidden the Waguv, and they prefer synthetic floorings, so in coming years, we may see Waguv in museums only."
Geographical Location
The Geographical Location for Waguv Production is District Srinagar. The producers are mainly the local dwellers around the swampy areas of Chak Bagh, Aakhoon Mohalla, Dal Lake, Ganderbal, and Aanchar. The weavers near Dal usually belong to the Hanji community, but other communities also have mastered the art.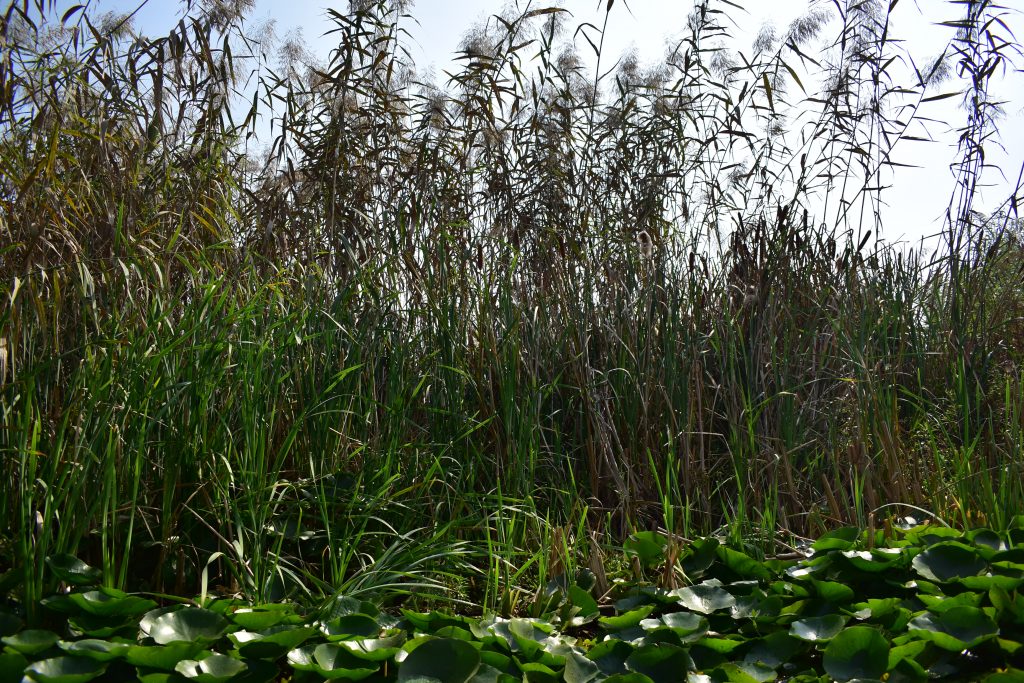 The mat is also woven in the Malura- Khwaja Bagh area, where the grass reed is outsourced from swampy areas of Dal.
Health Benefits
Waguv, a reed mat, is an ancient Kashmiri craft of mat making. Waguv used to act as an excellent insulation material for beating cold during harsh winters and gives a cooling effect in summers.
Many older people say that sleeping on Waguv can help cure backache, as it provides natural pain relief, increases blood flow, and releases muscle tension. These grass rugs are the least durable, and they have a rich texture and a natural tonal variation that is durable yet soft underfoot, which indirectly helps in blood circulation. Most historians claim that it can help in coming up with Insomnia.
"We in our days had very few complaints of backache, disc problem, and other ortho-related problems. The reason for that was the use of pure and natural things," said Ghulam Rasool Bhat, 76, of Handwara.
He said that they had negligible complaints of backaches until they were using Waguv, Namda (Woolen Carpet) etc., for bedding and flooring.
"Since the time Kashmiris, especially in urban areas, started using nylon and other artificial flooring products, there has been the ever-increasing back, shoulder, and other bone-related problems," Bhat added.
Box
We have taken various initiatives to revive the languishing art like Waguv: Dir H&HK
For the revival of handicrafts, a major decision was taken in 2020 in which the Department of Handicrafts J&K and Department of Handlooms J&K, which has now been merged as Directorate of Handicraft Handloom Kashmir and Department of Handicraft Handloom Jammu were given a policy by Union Territory administration. The policy is called Wool Handicraft and Handloom Policy 2020. According to the Director Handicraft Handloom Kashmir, Mehmood Shah, the new policy gave them a roadmap about what is to be done to revive Handicrafts.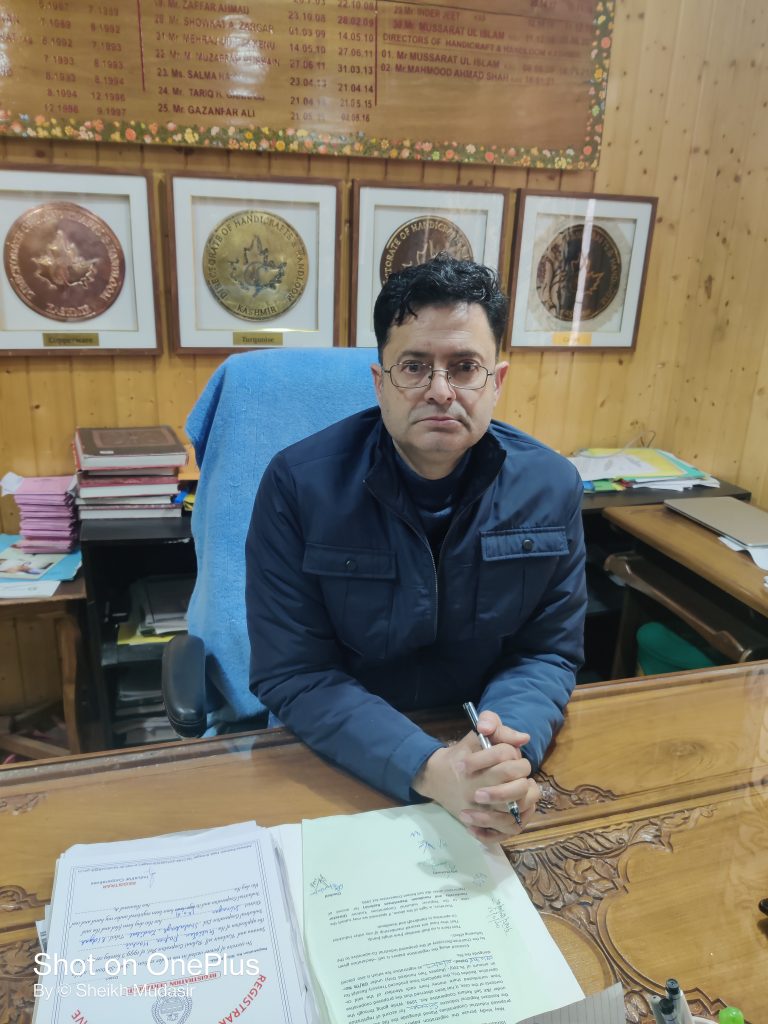 "Whatever is happening is happening under the new policy. We have taken various initiatives to revive the languishing crafts of Kashmir, including Waguv," said Mehmood Shah.
He said that they are in the process to register all the craftsmen and the craft units under the new policy. "The craft vendors were never registered in any department, and it is for the first time we have registered thousands of craft vendors so that they will regenerate the interests towards the craft and simultaneously can take the benefit of the various schemes," Mehmood said.
Giving details about the revival of reed mat (Waguv), Mehmood Shah said that they are providing various incentives to the Waguv artists under the Karkhandar Scheme so that this languishing art can be survived.