100% saturation achieved under KCC
SRINAGAR: The Deputy Commissioner (DC) Srinagar, Mohammad Aijaz Asad, Monday chaired a meeting of District Level Executive Committee (DLEC) in his Office chamber, here.
On the occasion, the DC, who is also the Chairman DLEC gave approval for setting up of the first-ever Village Level Soil Testing Laboratory(DLEC) in District Srinagar.
The case was put forth before the District Level Executive Committee after completion of all codal formalities as laid down under the scheme.
Speaking on the occasion, the DC asked the officers to give wide publicity to the Government-sponsored farmer-centric schemes so that they are benefitted.
While highlighting the objective of the Village Level Soil Testing Laboratory, the DC said It is the initiative of the Government through which farmers of the district will get the facility to set up a Soil Testing Laboratory at the Village level.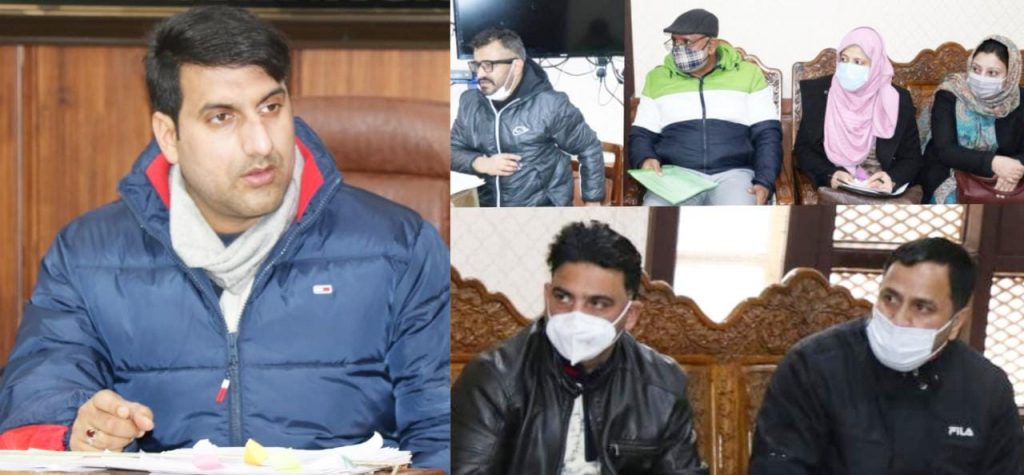 The DC further said under the scheme financial assistance of Rs 5 lakh is being provided to the desirous farmers for setting up the laboratory out of which 75 per cent i.e. Rs 3.75 lakh will be given by the Government as subsidy. In addition, the rural youth shall also get employment avenues.
Earlier, Chief Agriculture Officer apprised the chair that as per laid guidelines, the wide publicity of the scheme was given through publication of Advertisements in local leading Newspapers for inviting applications.
With regard to the progress achieved under the issuance of Kissan Credit Cards, the meeting was informed that all the farmers of Srinagar District have been registered with the Agriculture Department and 100 per cent saturation has been achieved by handing over Kissan Credit Cards to the Farmers of the District.
Besides, Chief Planning Officer, Mohammad Yaseen Lone, the meeting was attended by the members of the Committee including Chief Agriculture Officer, Srinagar, Mohammad Younis Chowdhary, District Agriculture Officer, District Horticulture Officer and Assistant Soil Chemist.