A renewed surge in targeted attacks on Kashmiri Pandits and migrant workers not only derails Valley's economy but also bruises the secular tradition and rich hospitality that Kashmir is known for.  
By Ajaz Rashid
Employed under the central rehabilitation scheme for Kashmiri Pandits, Rahul Bhat was working at his office in central Kashmir's Chadoora locality on May 12 when unknown gunmen, believed to be Lashkar-e-Toiba terrorists, shot him from point-blank range. He succumbed to injuries at Srinagar's SMHS hospital.
The killing sparked protests both within and outside Jammu and Kashmir, raising questions about the safety of Kashmiri Pandits who had slowly started returning to Kashmir. The central government was also criticised for failing to protect the lives and livelihood of the minority Hindu community who fled Kashmir at the onset of insurgency in early 1990. 
Rahul's killing was not the first of its kind attack on Kashmiri Pandits. On April 4 evening, two men stealthily disembarked from a motorcycle in the sleepy Choutigam village of south Kashmir's Shopian district. One of them indiscriminately fired gunshots at Bal Krishen Bhatt, a Kashmiri Pandit, who runs a pharmacy in the village.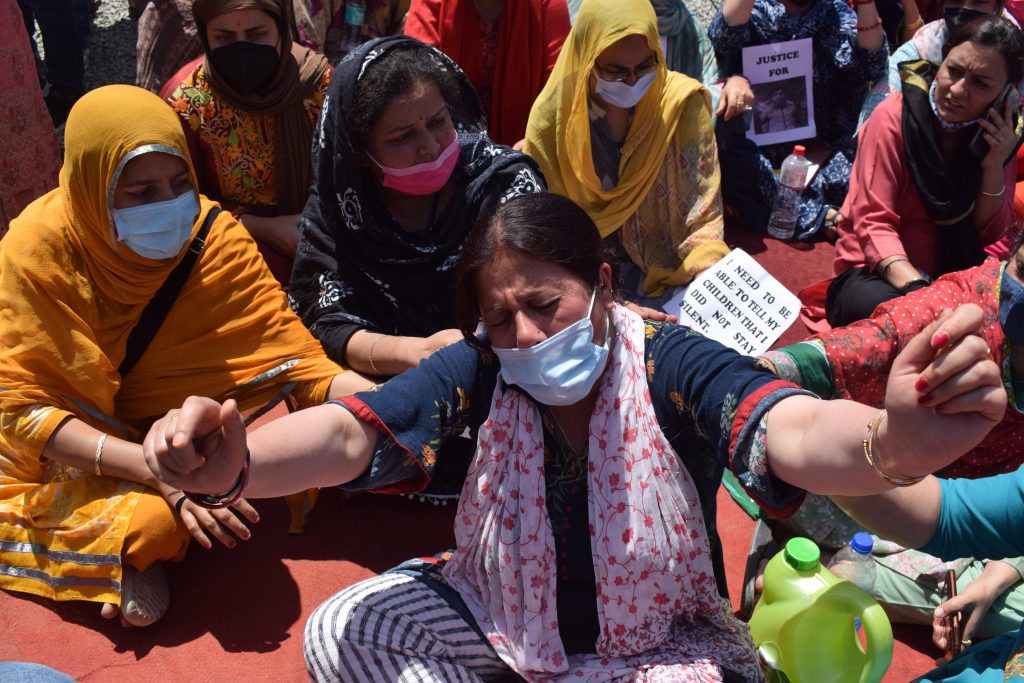 Within minutes, local Muslims rushed him to a nearby hospital, from where he was referred to the Army's Srinagar hospital. In the meantime, security forces cordoned the village in order to apprehend the perpetrators who had, however, managed to escape under cover of darkness.
Krishen suffered multiple bullet injuries in the attack. The perpetrators are believed to be affiliated with an offshoot of the Pakistan-based Lashkar-e-Toiba outfit. According to officials, Krishen is likely to survive, but the physical and emotional trauma dealt with by the attack will stay with him for a long time even after his wounds have healed.
Earlier that day, two labourers from Bihar – Patlashwar Kumar and Jakku Choudhary, were targeted in a similar attack in Lajoora village of the adjoining Pulwama district. While Krishen suffered critical injuries in Choutigam attack, the two migrant workers were shot in the limbs.
A senior police officer said the victims were deliberately attacked below the waist level to "send a message" to others. "These are desperate tactics by terrorists to spread fear in Kashmir. But we will not allow them to succeed," the officer said.
According to one estimate, nearly 11 lakh migrant workers are employed in different sectors of J&K, such as construction, agriculture, and service-allied sectors.
According to official data, at least six militant attacks have been reported across Kashmir over the past one month in which a Kashmiri Rajput was killed on Wednesday, April 13, while a Kashmiri Pandit, two other civilians, seven migrant workers, and a paramilitary trooper were injured.
This year, at least ten civilians have been killed in Kashmir, of whom nine were Kashmiri Muslims, two were migrant workers, and one was Kashmiri Pandit. In the month of March alone, 24 persons were killed in militancy-related incidents across Kashmir Valley, which includes two Sarpanchs and a Panch, four civilians, two J&K Police personnel, an army soldier, and a paramilitary trooper.
The attacks have revived the dark memories of the spate of targeted killings in October last year when 11 migrant workers and members of the minority community were gunned down by militants within two weeks, forcing many Kashmiri Pandits and migrant workers to flee the Valley.
Now, the vicious cycle of violence seems to have returned to haunt Kashmir once again. What has deepened the anxieties is that the militants seem to be again singling out Kashmir's minorities and migrant workers as their targets.
Before the onset of militancy in Kashmir in early 1990, more than dozen Kashmiri Pandit families lived in Choutigam, the native of Bal Krishen. However, barring two Pandit families, including Bal Krishen's, all of them fled to Jammu and other parts of the country when the insurgency-related violence fanned across Kashmir.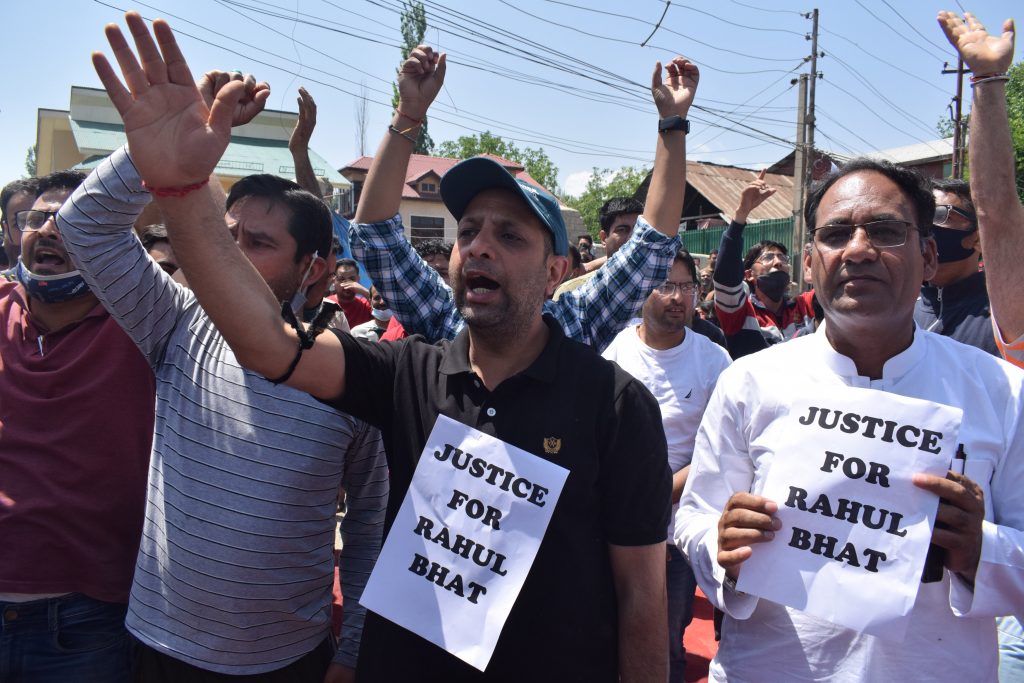 "Our Muslims neighbours took care of us in these years and ensured that no harm comes our way," said Anil Bhatt, brother of Bal Krishen.
But Anil feels that the decision to stay back in Kashmir has proved costly for his family. "While the migrant Pandits got government jobs, monthly cash, and free ration, we were deprived of these perks. Besides, every day has been a day of uncertainty and fear."
This sense of betrayal and loss of belonging is shared by migrant workers from Bihar, Uttar Pradesh, West Bengal, and other states, sometimes along with their families, and have integrated themselves into the economy of Kashmir.
According to one estimate, nearly 11 lakh migrant workers are employed in different sectors of J&K, such as construction, agriculture, and service-allied sectors. The volatility in the security situation has forced many migrant workers, especially in areas of Pulwama, where the latest attacks took place, to pack their bags and flee.
The attacks have revived the dark memory of the spate of targeted killings in October last year when militants gunned down 11 migrants workers and members of minority communities within two weeks
A day before Bal Krishen was targeted, militant gunned down a carpenter from Uttar Pradesh in Pulwama. He was head of a group of carpenters working at a local furniture unit. His killing has forced the others to flee as well, dealing a blow to the unit's owner. A similar story is being witnessed in the horticulture sector too.
"I suffered losses worth lakhs of rupees because our fruit couldn't be packaged and transported in time. The local labour market rates were very high, and some of the produce was rotten due to delay. If these attacks continue like this, agriculture and horticulture will be badly hit," said Mohammad Sultan Allia, a farmer in Oukhoo village of Pulwama.
Director General of Police has warned that the perpetrators behind the attacks will be brought to justice. "These attacks are a clear manifestation of savagery and insanity. Everyone, including civil society, has condemned them, and necessary action would be taken," he said, adding that 42 militants have been killed in encounters across J&K this year.
The J&K administration has now stepped up security in sensitive places across Kashmir where the migrant workers stay during the summer months. Security has also been beefed up in areas of south Kashmir where a minuscule population of Kashmiri Pandits continues to live, even though the majority fled Kashmir during the 1990s.
A small contingent of police personnel have been deployed at the house of Bal Krishen and another Pandit family in Choutigam to prevent more attacks, "They can guard our homes, but they can't prevent attacks on our community. Will they accompany us to our farms and markets?," asked Anil, brother of Bal Krishen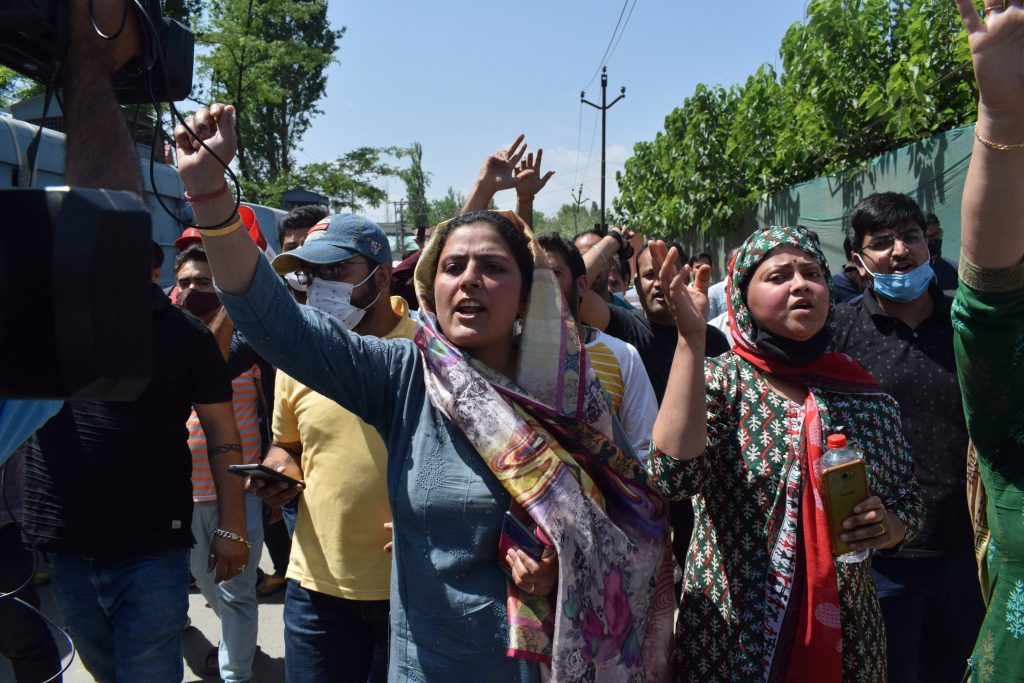 The family is waiting for the complete recovery of Bal Krishen, after which they will make a decision on whether to stay in Kashmir or migrate, like the majority Pandit community did in early 1990, to other parts of the country.
"We are not feeling secure anymore," he added.
For more than a decade now, Jitender Kumar, one of the hundreds of thousands of semi-skilled workers who join Kashmir's migrant workforce, has been arriving in south Kashmir's Pulwama at the onset of spring. A painter by profession, he believes that the migrant workers will continue to visit Kashmir despite the attacks.
"There is no work back home," Jitender, a resident of Bihar, said, "We get better wages and better food in Kashmir. Besides, people are hospitable and treat us with kindness. It is better to live a dignified life than perish like a dog. We all have to die one day," he said.