Prof. Dr. Majid Jehangir
It was in mid-2021, Zahida (name changed), a young female, noted a small lump in her breast. She was too shy to inform anyone. Finally, she informed her elder sister who convinced her to seek medical advice. However, due to the ongoing COVID-19 pandemic, she sought medical advice in January 2022. The doctor advised her a Mammogram (X-ray of the breast) which revealed an advanced stage breast cancer. She was inoperable by then, and it appeared that she had lost prime time to get operated on. It was hard to break this news to the family.
The diagnosis & management of cancer is time-sensitive and is substantially affected by COVID 19 pandemic, as is evident from Zahida's story.  The mere mention of the word "Cancer" sends shivers down the spine. It is not only a life-consuming disease but also pushes families to financial burdens, particularly in lower-income groups, an effect that has been exacerbated during COVID- 19 pandemic. The only way we can fight cancer is by early screening programs.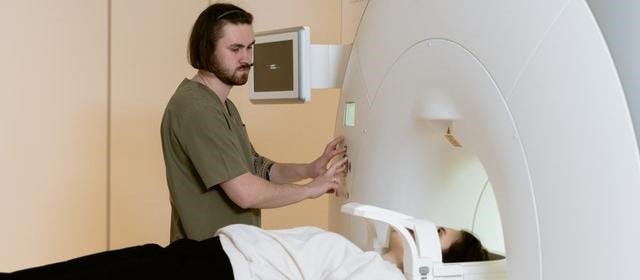 Cancer screening is looking for cancer before a person has symptoms. The goal is to detect cancer at an early stage when it is completely curable. For example, a Low-dose CT scan is a useful screening test for lung cancer, and Virtual Colonoscopy (CT-Colography) is a useful screening test for colorectal cancer.When detected early, cancer is curable.   In this context, it is relevant to mention that Radiology helps not only in the diagnosis of cancer but is also a useful screening modality for lung, colon & breast cancers.  

Mammography (X-ray of the breast) is the most commonly used screening test for breast cancer. The screening guidelines vary from country to country and from time to time, depending on how common cancer is and also on the availability of health care resources. The American Cancer Society recommends that women with an average risk of breast cancer should have regular annual screening mammograms starting at the age of 45 years. Imaging plays a pivotal role in the early detection of cancer, staging (finding out if it has spread beyond the site of origin), treatment, evaluation of response to therapy, and long-term follow-up of patients.   It will not be out of place to mention that Interventional Radiology has assumed a prominent role in the care of cancer patients.

From performing image-guided biopsies to the management of complications of cancer such as removing obstruction in the liver and kidney, refractory pain management, and chemo-embolization of tumors (chemotherapy drugs injected directly into a blood vessel that supplies the tumour), to name a few. In the future, Molecular imaging, Artificial intelligence, and Radio-genomics will play a very important role not only in diagnosis but also in personalised cancer treatment. Radio-genomics reflects a paradigm shift from anatomical diagnosis to genetic diagnosis of Cancer. World Cancer Day, observed on February 4 is to make people aware of cancer, and this year the theme is "Close the Care Gap." This theme is relevant, as it will take a long time for our health care system to come up to the ideal standards of care.  

To conclude, there are seven warning signs of cancer described in the literature, based on published reports and various studies. We need to be aware of all these so that timely interventions can save lives. 1. Changes in bowel or bladder habits 2. A sore that doesn't heal. 3. Unusual bleeding or discharge 4. Lumps or thickened areas in the breast, testicles, or elsewhere 5. Indigestion or difficulty in swallowing 6.A change in the size, colour, shape, or thickness of a wart, mole, or mouth sore 7. A cough or hoarseness that doesn't go away
Prof. Dr. Majid Jehangir, MD (PGI Chandigarh), DNB, GMC Srinagar can be reached at [email protected]