Rs 1,12,950 crore budget presented by Union minister Finance Minister Nirmala Sitharaman will accelerate growth, improve governance, facilitate investment and improve the quality of life in Jammu and Kashmir. 
By KS Correspondent
J&K Budget Inclusive Package: Stressing the Union government's commitment to the development of Jammu and Kashmir, Union Finance Minister Nirmala Sitharaman presented the Budget 2022-23 for the Union Territory in Parliament. 
Sitharaman said the total package of Rs 1,12,950 crore budget, which is 10 per cent higher than the Revised Estimates of 2021-22, shall focus on Good Governance, Deepening Grass-root Democracy, Accelerated Development & Inclusive Growth, Facilitating investment and industrial growth, Infrastructure Development for improving quality of life, and Employment, Youth Initiatives, & Women Empowerment and Broadening social inclusion. 
The Finance Minister said that the budget is more than Rs 1 lakh crore, again is an indicator of the Union government's commitment to making J&K a model of development. "This is an inclusive budget, and all the sectors will get focussed attention," she said.
She said the government of J&K shall endeavour to double the farmer's income. "The investment proposal under the new industrial policy shall be cleared on a fast track basis. The power generation capacity is being doubled in the next three years," she said.
"Tourism sector has huge potential in J&K. In this regard, 75 off-beat destinations have been identified across J&K and shall be developed with proper infrastructure and requisite facilities for tourists," she said.
The Finance Minister said improving road connectivity is high on the agenda, and the Government is moving fast in its ambition of providing roads to every village. "National Highway project between Jammu and Srinagar is being completed on a fast track basis, reducing travel time to 5 hrs. Execution of the Delhi-Amritsar-Katra Expressway is being taken up and it will take only 6 hrs to reach Shri Mata Vaishno Devi Shrine from Delhi with the completion of this project. 6000 kms of road length is being black-topped and 50 bridges completed during 2022-23," she said.
"Every household will be provided with a tapped water connection under Jal Jeevan Mission by August this year. Providing employment to youth in J&K is our prime concern, and it shall get focused attention during this year.  Union Territory of J&K is intending to achieve 100% coverage under all the individual beneficiary oriented schemes," she said.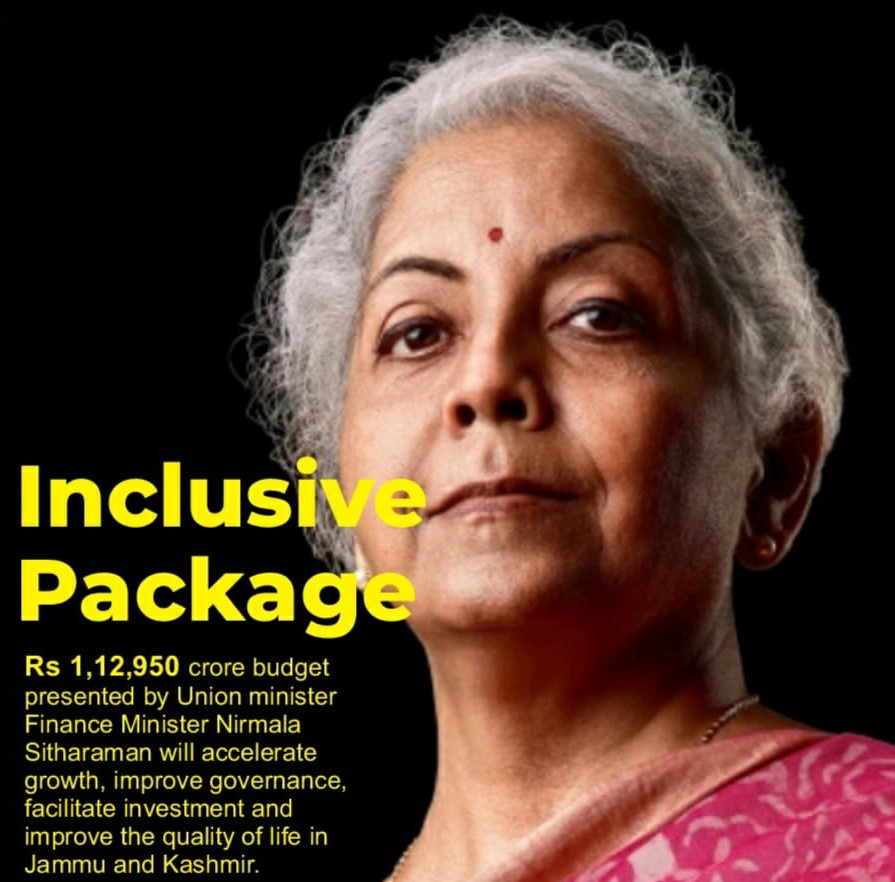 Accelerating development
The Finance Minister said the UT of J&K is moving on the path of progress in step with the rest of the country by virtue of the implementation of J&K Re-Organization Act 2019.
"All 890 Central Laws have now become applicable to J&K. Unjust and discriminatory laws have been removed. 250 state laws have been repealed and 130 state laws have been modified. Impediments in the way of industrial development have been removed, and the industrial promotion scheme of Govt. of India will open new doors of development in the UT of J&K," she said.
"As a result of a host of financial reforms initiated recently especially related to enhancing transparency and accountability in execution of works, the development in the UT of J&K is gaining momentum. 21943 works/projects were completed alone during 2021-22 as against 9229 in 2018-19," she added.
Sitharaman said the fact that the budget is more than Rs 1 lakh crore is an indicator of the Union government's commitment to make J&K a model of development.
Deepening Democracy
Sitharaman said the grass-root democracy has been strengthened, and the hopes and aspirations of the common citizens are being fulfilled. 
"By implementation of 73rd and 74th amendment act, an enabling environment has been created for the establishment of 3-tier Panchayats at the district level. 27 functions have been transferred to PRIs and 7 departments transferred to Urban Local Bodies (ULBs)," she said.
"About Rs. 1727 crores have been devolved under MGNREGA, 14th FC, MDM and ICSD to the Panchayats and Rs. 1456 crore to Urban Local Bodies (ULBs) in the last two years. Size of the District Plan has also doubled."
"Focus has been laid on infrastructure development of PRIs by way of providing computers, construction/renovation of panchayat buildings. Funds for MGNREGA, 14th FC, Mid-Day Meals and ICDS are now routed through Panchayats," the Finance Minister told the parliament.
Improved Connectivity
Sitharaman said the Government of India has provided liberal funding for improving the road infrastructure by way of the construction of mega highway road and tunnel projects. 
"Connectivity is high on the agenda. The work on Srinagar-Jammu National High Project (all sections) being completed within about 2 years. Qazigund- Banihal Tunnel has already been completed. Average layover for trucks on Srinagar-Jammu National Highway has been reduced to less than 12 hours from 24-72 hours. Passenger travelling time has reduced to 5 ½ hours from 7 to 12 hrs," she said.
"Four National Highway projects are being completed during 2022. Execution of Delhi-Amritsar-Katra Expressway is being taken up and 10 new road/tunnel projects have been agreed by MORTH under Bharatmalla. The world's highest 1315-meter long railway bridge over River Chenab is targeted for completion by September 2022," she said.
The UT of J&K ranks 4th in the country under the flagship PMGSY programme against 12th rank in 2019, the Finance Minister said.
"Total road length in the UT has increased from 39345 kms to 41141 Kms since 2019 and the percentage of Black-topped roads from 66% to 74%. Average road length macadamized per day enhanced from 6.54 kms in 2019 to 20.68 kms during the financial current year. 6000 Kms of road length are being black-topped during 2022-23 besides laying focus on completion of work on 50 bridges," she added.
Powering J&K
The Finance Minister said the Government of India is committed to strengthening power infrastructure with a view to making J&K power surplus, remove all supply constraints and providing 24X7 quality power. 
"The delay in execution of the hydropower projects has been eliminated and the pace of execution accelerated. MoU was signed with NHPC in Jan. 2021 for the development of three projects viz. Uri (stage-II), Dulhasti (stage-II) and Sawalkote HEP with a total installed capacity of 2894 MW on a BOOT basis," she said.
"Development of 930 MW Kirthai II Hydro Project has been entrusted to Chenab Valley Power Projects Ltd. (CVPPPL) through the Joint Venture. Award & Execution of other projects by CVPPPL is also being speeded-up. Similarly, Rattle Hydro Power Development Corporation Limited- a JV company has been created between NHPC and JKPDC for the development of 850 MW Rattle HEP," she said.
With these and other initiatives, in next about 05 years, 21 hydropower projects are being developed with an aggregate capacity of 5186 MW, as against 3505 MW hydropower developed in 70 years since independence," she said.
"Since 2019, the transmission capacity has increased from 8234 MVA to 10264 MVA and the length of 220 KV/132 KV lines from 2759 Circuit kms to 3485 Circuit Kms. Similarly, in the distribution sector, the capacity has increased from 12745 MVA to 16574 MVA and the total HT & LT line length from 1.21 lakh Circuit kms to 1.41 lakh Circuit kms," Sitharaman said.
"Monitoring Committee of Ministry of Power has recently approved projects worth Rs. 11767 Crores for UT of J&K under Revamped Distribution Sector Scheme (RDSS) which is a reforms-based and results-linked Scheme for a period of five years with the objective to improve the quality, reliability and affordability of power supply to consumers. The scheme will enable the UT of J&K to reduce the AT&C losses to pan-India levels of 12-15% and ACS-ARR gap to zero by 2024-25," she added.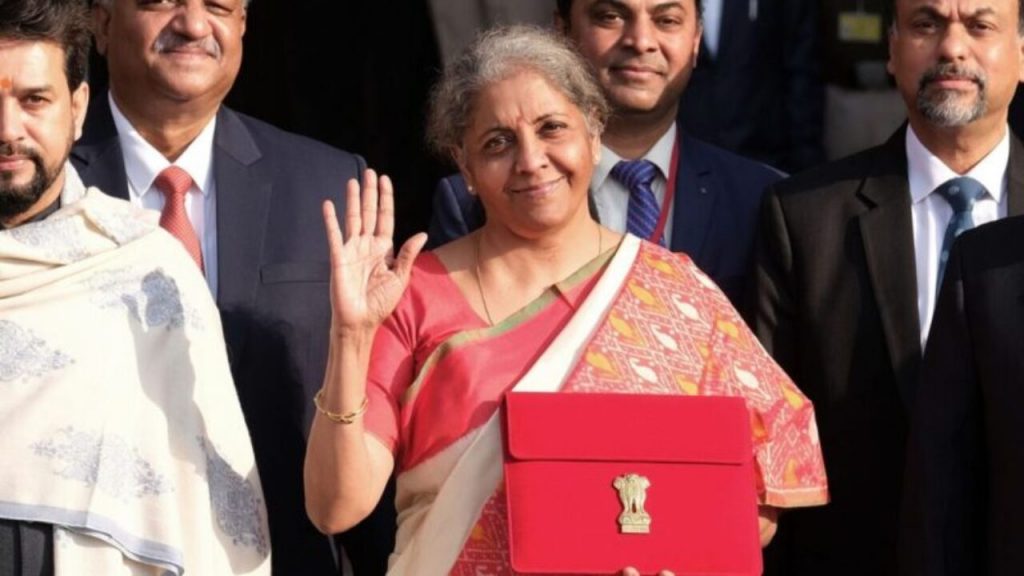 Improved Healthcare
The Finance Minister said two new AIIMS, seven New Medical Colleges, two State Cancer Institutes and 15 Nursing Colleges have been added over the years. Intake Capacity in MBBS and PG Courses was 1011 seats. 1897 seats were added, including 600 MBBS, 68 PG and 140 DNB seats, she said.
"Ayushman Bharat Pradhan Mantri Jan Arogya Yojana (AB-PMJAY) Sehat Scheme has been rolled out to provide free of cost Universal Health Coverage up to Rs. 5.00 lakhs per household per year to all residents of the UT of J&K," she said.
"Infant Mortality Rate (per 1000 live births) has reduced from 22 to 16.3. The neo-natal Mortality Rate has also improved from 17 to 9.8. A time-bound plan has been drawn for bringing down the infant mortality rate (IMR) to a single digit. Similarly, Total Fertility Rate (per woman) improved from 1.6 to 1.4 and Sex ratio at birth from 927 to 976," the Finance Minister said.
"102 and 108 ambulatory services introduced. 211 ambulances have been integrated, and 64 ambulances have been added during the current financial year. 100% covid vaccination of eligible population has been achieved. Two 500-bedded Covid hospitals one each at Jammu and Srinagar, have been established by DRDO," she said.
Water Supply and Flood control
Sitharaman said household tap water connections has increased from 5.75 lakh household (31%) to 10.55 lakh households (57%) while two districts (Srinagar and Ganderbal) have been made Har Ghar Jal Districts. She said all rural schools, Anganwari Centres and health Institutions are provided with tap water connections.
"Two major irrigation projects viz Main Ravi Canal (Rs. 62 crores) and 3rd stage of Tral Lift irrigation scheme (Rs. 45 crores) have been completed besides Comprehensive Flood Management Plan of River Jhelum & its Tributaries–Phase-I," she said.
"Ujh Multi-purpose project" has been considered by the Ministry of Jal Shakti in its 148th TAC meeting. The project costing Rs.11908 crores (revised) envisages providing irrigation potential of 91073 hectares and power generation of 89.50 MW, she said, adding that 28,000 hectares of irrigation potential is being created/stabilised during 2022-23.
Modernising Education
The Finance Minister said the number of Govt. Degree Colleges/Engineering Colleges has increased from 96 to 147 in J&K. She said three Professional Colleges were sanctioned, including an Engineering College at Poonch and an Architect College each at Jammu & Srinagar. She said Gross Enrolment Ratio (GER) increased from 30.9 to 32.4
"1260 conventional classrooms were converted into digital classrooms in various colleges. E-Content delivery through Intranet and Cloud mode is being provided with online assessment of student learning outcome monthly," she said.
"National Institute Ranking Framework (NIRF) for Kashmir and Jammu universities has improved from 53th to 48th and 74th to 66th respectively," she said, adding that 500 Kindergartens are being established in government schools besides 518 smart/virtual classrooms being established in higher secondary schools and 200 vocational labs.
The Finance Minister said improving road connectivity is high on agenda and the Government is moving fast in its ambition for providing roads to every village.
Housing & Urban Development
She said 100% door to door waste collection has been achieved to 1085 wards (100%) against 570 wards (52%) covered previously under Swachh Bharat Mission (Urban), while Scientific disposal/processing of waste has increased from 8.70% to 38%.
"Under flagship scheme of AMRUT Projects, 64 projects have been completed against 34 in 2019. Similarly, under Smart City Mission (Jammu/Srinagar), project completion increased from 47 to 94. 200 e-buses @ 100 for each Smart city of Jammu/Srinagar are being made operational under Phase-II," she said.
"Moreover, DPRs of elevated light rail mass rapid transit systems in the two capital cities of Jammu and Srinagar has been submitted to MoH&UA, GoI at the cost of (Jammu Rs 3591 Cr and Srinagar Rs 4352 Cr) for approval," she said, adding that interest-free loan of Rs. 2 lakhs per beneficiary under BLC component for a period of 10 years has been approved through Bank in order to pace-up the construction of houses under Prime Ministers Awas Yojna-Urban.
Industrial Development
The Finance Minister said clearance of investment proposal under new industrial policy with adequate provision for incentives has been fast-tracked. Central Scheme approved at Rs. 28400 Crore for promotion of industrial development is expected to generate employment for 4.50 lakh people. Proposal for Rs. 47441 crores received by the UT of J&K for land allotment. 
Prime Minister's Development Package (PMDP)
Sitharaman said 15 projects were completed in 2019 under PMDP. "The Execution of the projects has been accelerated, and at present, 25 projects have been completed, and 4 more projects shall be completed by the end of the current financial year. Similarly, the level of expenditure has increased from Rs. 20,197 Crore to 36,112 Crore," she said.
Languishing Projects
The Finance Minister said projects worth over Rs. 7000 crores were found languishing in July 2018 and incomplete for so many years. "J&K        Infrastructure Dev. Finance Corpn. (JKIDFC) has been created to complete such projects. So far, 2357 projects worth Rs. 7111 Crore have been approved for JKIDFC funding, and 1193 languishing projects completed at Rs. 1984 Cr," she said.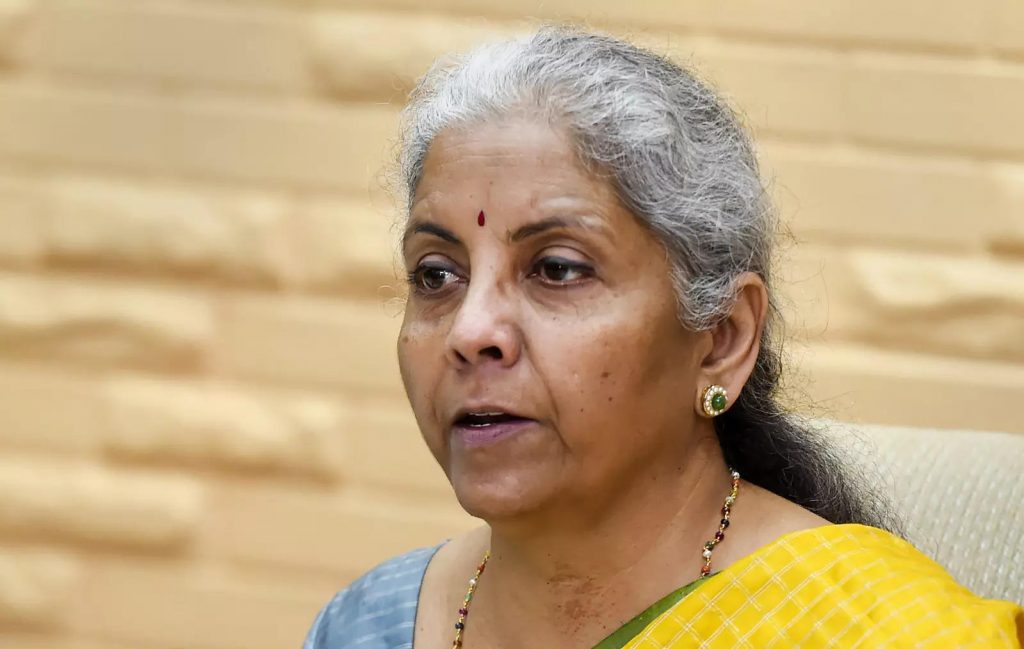 Modernising Agriculture
Sitharaman said the government is focused on cultivating high yielding/high-density crops, use of modern technology and other measures. "8.93 lakh farmers being benefitted by the distribution of HYV/Hybrid seeds. Trout fish production is being doubled from 1400 MT to 2800 MT," she said.
"Kashmir Saffron which is grown on Karewa of J&K, has been given GI tag, which has given more prominence to it in the export market and help farmers increase their income," Sitharaman said.
"400 hectares are being covered under high-density apple plantation and 1000 hectares under sub-tropical fruit plants during 2020-23. Controlled Atmospheric (CA) Storage will reach 5.00 lakh MTs in next 03 years. 50,000 MTs of CA storage is targeted for 2022-23. Moreover, 28,000 hectares of irrigation potential are targeted for creation/stabilization during 2022-23," she added.
Uplifting Tourism
Sitharaman said Winter Tourism witnessed a huge influx of tourists and was even better than many previous years. "The top-end hotels in prominent tourist destinations were fully occupied. During December 2021, 1.43 lakh tourists visited the Kashmir Valley, which was the highest in the last seven years," she said.
"Sharp focus is being laid on promotion of tourism by vibrant campaigning, and holding of national and international events, showcasing the tourism avenues available in J&K. Air Show (Give Wings to Your Dream) was held in October 2021 as a part of the celebration of 75 Week Azadi Ka Mahotsav," she said.
"75 offbeat destinations have been identified across J&K.  These destinations shall be developed under run-up to 75th Azadi Ka Amrut Mahotsav with proper infrastructure and requisite facilities for tourists," the Finance Minister added.
Empowering the Poor
Sitharaman said beneficiaries have been provided pension benefit @ Rs. 1000 per month under ISSS and NSAP, which has increased from 6.13 lakh in 2018-19 to 8.88 lakhs during the current year. "Transgenders have been for the first time, included for pension benefits under ISSS. 100% coverage under all individual beneficiary schemes is being ensured in 2022-23. Old Age Homes are being established in all the districts of UT of J&K," she said.
Mission Youth
Under the mission, she said over 17 lakh youth participated in diverse sports activities and 1.26 lakh youth received coaching in different sporting activities during the year 2021.
"Five lakh youth participated in Azadi ka Amrit Mohotsav and 1.5 lakh youth participated in Iconic Week Celebrations. A special programme is being initiated for the involvement of 7.50 lakh youth in different sports disciplines during 2022-23. 221 new playfields/ playgrounds are being established across the UT besides upgradation of 157 Sports Courts," she said.
Expanding Employment Avenues
The Finance Minister said 11000 appointments have been made in various government departments in a fair and transparent manner in the last one and a half year, which was unprecedented in the history of Jammu and Kashmir. 
"For the first time, children from disadvantaged and poor sections have secured jobs on the basis of merit, turning their dreams into reality. Further, 20,323 additional posts at various levels have been identified and referred to the Jammu and Kashmir Service Selection Board for recruitment. In addition to this, 1850 appointments have been made in J&K Bank at various levels in a fair and transparent manner," she said.
"As many as 1,37,870 youths have been provided assistance in their entrepreneurial ventures under various self-employment schemes and programmes," she added.