Disability doesn't mean inability. The wings of a "disabled person" might be clipped by a cruel twist of destiny, but it does not prevent them from flying high and conquering the sky. Kashmir Scan's

Khazran Khan

profiles some inspiring stories from Kashmir
Not Disabled, Just Differently Abled. Disability doesn't mean inability. For sure, the wings of a disabled person might be clipped by a cruel twist of destiny. But it does not prevent some disabled persons from flying high and conquering the sky. Rather than dwelling in the past, they look at the bright future awaiting them. 
Several differently-abled people across the globe have proved that physical well being is not a prerequisite for development. Stephen Hawkins, Albert Einstein, Helen Keller, George Washington, Rowan Atkinson, Muniba Mazari, Walt Disney and others are legendary names who have scaled great heights despite odds.
In Kashmir, we have a list of specially-abled people who, by not allowing their disabilities to become an impediment in their professional trajectory, have become an inspiration for many. We have compiled a list of these achievers. The list is not definitive, and we are aware that many more achievers will have managed to do what their healthy counterparts couldn't achieve.
Reyaz Ahmad Beigh (KAS)- Additional Mission Director JKRLM
In 1981, a four-year-old child came in contact with high voltage wires while retrieving a football. Reyaz Ahmad Beigh survived the mishap, but doctors amputated his both arms. For Reyaz, losing his arms marked the beginning of a new journey. The road was filled with obstacles, but he had a strong will to defeat the tragedy. Reyaz remembers how he needed people for doing his normal things. "My sisters used to feed me lunch in the school," he said, "I struggled to hold the pen in my right toe."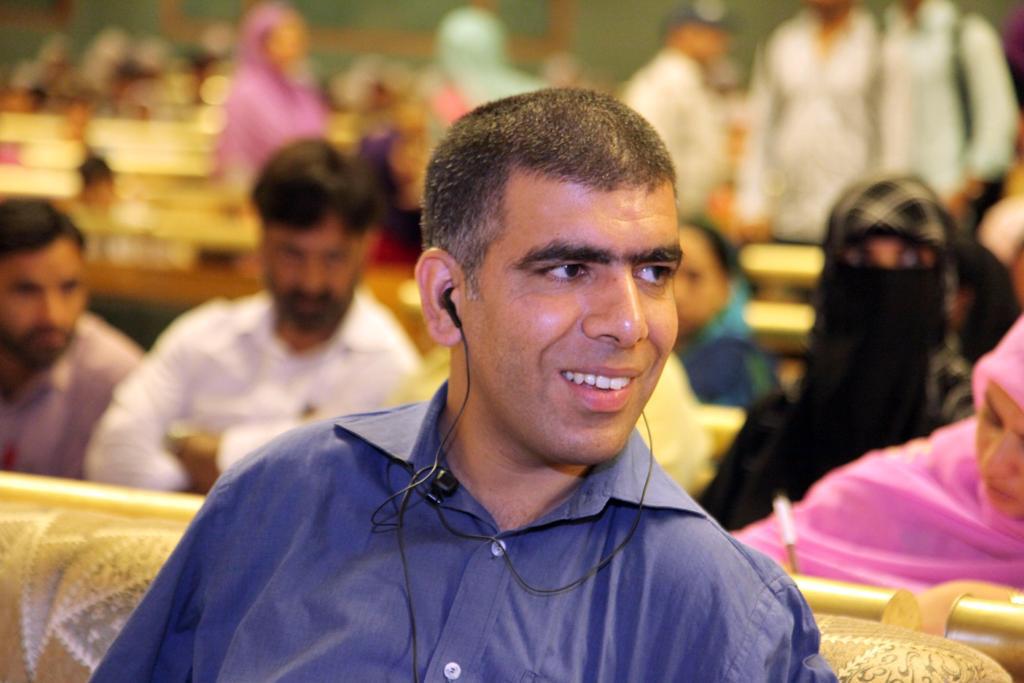 The disability didn't stop Reyaz, who is the Additional Mission Director of JKRLM, from pursuing education. After completing his schooling at Tyndale Biscoe and graduating from Bemina Degree College, Reyaz earned his MBA from Kashmir. He went on to qualify JKAS exam in 2004, after which he was appointed as Assistant Commissioner. 
His disability does not define Reyaz's Life, and there's a lot he believes he can do and has successfully done to date. Speaking of his early days, Reyaz said: "It was difficult for me to understand how to cope with things after losing my both arms. But I faced hardships with courage, and it helped me recuperate my strength. With time, I got used to my limitations."
"In 1981, a four-year-old child came in contact with high voltage wires while trying to retrieve a football. Reyaz Ahmad Beigh went on to qualify for the prestigious KAS."
Regarding the role of his family, Reyaz said: "It is because of my family that I've been able to achieve wonders in my life. If they would have pampered me as a specially-abled child, I won't believe that I would have achieved so much. They never stopped me from attending outdoor school activities because of which I took a keen interest in co-curricular activities and sports. Because of them, I have been able to do what I had never imagined.
Not only his parents but Reyaz also found immense help and support from his classmates and friends as well. "They always encouraged him and never bullied or treated him poorly," he said.
Reyaz's hobbies include playing football, swimming and jogging. "My biggest limitation is my biggest strength, and I always look at it positively. I am capable of doing all the things that I aspired to do. Whatever I dreamt of, by the grace of Almighty, I have accomplished them. My physical disability has given me a reason to achieve many things in my life."
Reyaz is returning the love and care shown by the society when he was going through the toughest period of his life, "I have closely worked with widows, old age people, civilians affected in militancy and others. I believe working for their betterment is a golden opportunity provided to me by Almighty. Indeed He might have chosen me as a source of changing the lives of the destitute. It is scarce when God designs a platform for you to serve His creation," he says.
Reyaz's perception of life is inspiring, "LifeLife is full of challenges which make your life worth living and fighting for. The trials and tests add flavour to life, and these are essential components to boost your willpower. Confidence and strong willpower are the parameters that define the quality of life," he said.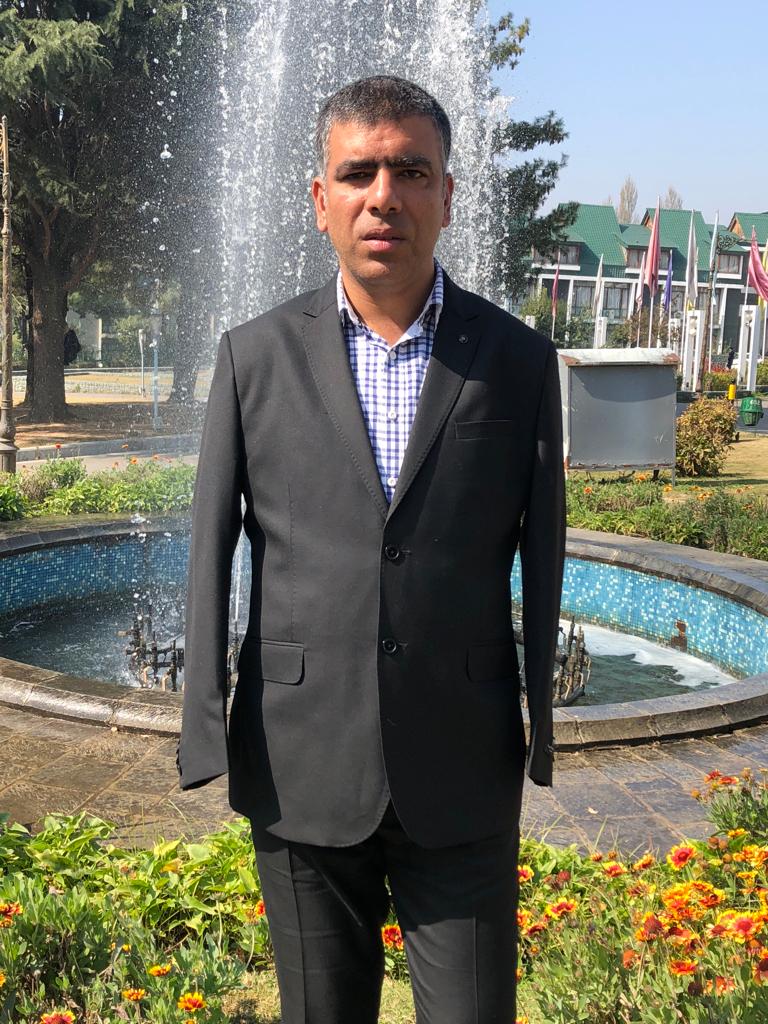 When people look down upon people with disabilities, Royal feels offended, "It annoys me when people tend to be sympathetic to physically challenged people, rather than being empathetic. They tend to show pity on our condition. That is when they look down on us as disabled, ignorant of the fact that we are actually differently-abled. People should not make us feel that we have some sort of limitations. I don't have the word "disabled" in my dictionary. I honestly believe that people who don't have the courage and determination to overcome hurdles and obstacles are the only one's disabled in the real sense," Reyaz said.
The J&K administration officer believes that education can remove this narrow-minded thinking from society. He also gives high preference to quality education, which he believes is important in shaping people's lives.
"Education is important that imparts a sense of betterment in humans and empowers people, especially the specially-abled. Government is not at all doing justice to people who are visually impaired or face other physical disabilities, and they should be provided with platforms bearing in mind their situation. You cannot make a person who uses a wheelchair compete with the one with a healthy body. Likewise, a visually impaired person cannot compete with normal vision. Education is the only weapon that can change lives," Reyaz said.
Javed Ahmad Tak, Social Activist, 2020 Padma Shri awardee
Javed hails from Bijbhera in Anantnag. He was born a normal child. However, in 1997, he suffered a bullet injury that impaired his spinal cord, leaving him half paralysed and wheelchair-bound. He was pursuing a bachelor's degree from Anantnag degree college when the life-changing incident happened. His life changed suddenly, and it took him six years to return to normal life. After being bedridden for around two years, he adapted to live in a wheelchair. He completed a Master's in Social Work from the University of Kashmir and also pursued B.Ed.
Javed has set up Humanity Welfare Organization which helps specially-abled people. He said the educational institutions are not accessible and friendly for the specially abled. "After struggling for years, I made my mind to volunteer for social work. I got a positive response from everyone at IGNOU, and many people were ready to help me. I learned a lot about difficulties faced by specially-abled people.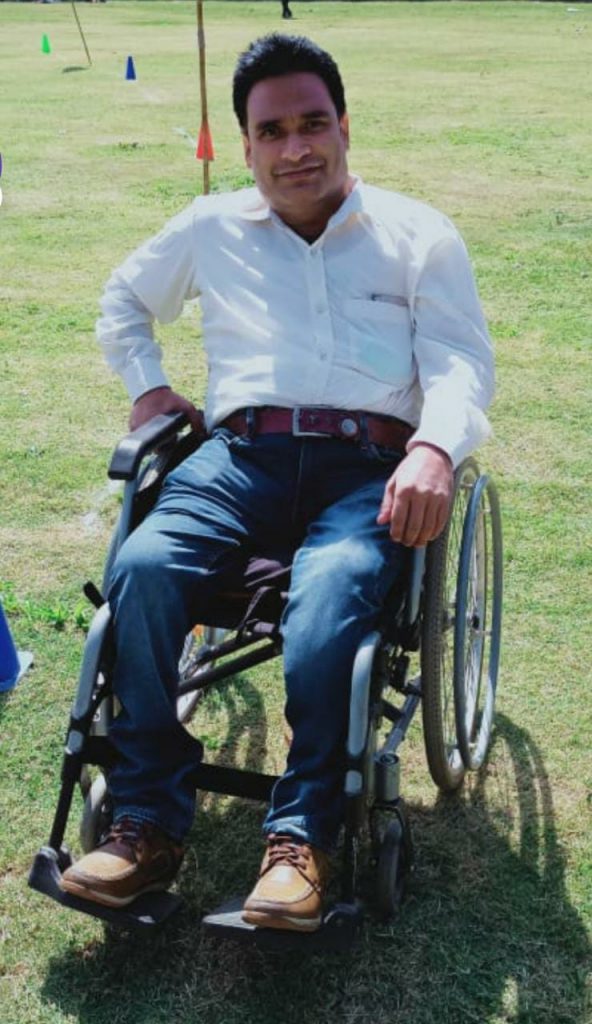 Along with some members of my community, we started to extend our work for the development of people across J&K. This led to the creation of the Humanity Welfare Organization in 2003. I started advocacy programs and searched for disabled people and my other team members. We realised that students with disability hesitated to go to school, felt more offended while going anywhere, dropped out of schools and colleges because of their disabilities. To boost their confidence, we also set up Zeba Aapa Institute for Inclusive Education in 2008, which helped many students continue their education.
The establishment of the Humanity Welfare Organization and Zeba Aapa School are the most significant achievements of Javed, "Helping students to continue with their dreams and providing free education to them makes me feel that I have achieved something. If I'm in this field, I believe that I have to work for my people. Many students have benefited because of this school and have earned a name in many fields, despite being specially-abled," he said.
Javed is grateful for the support provided to specially-abled friends. "They're always at my back to encourage me and help me keep going. I have taught many students in my locality, and I did not indulge in social activities after getting on a wheelchair. Back in my college days, I have been a volunteer in NSS for three years."
Javed believes that specially-abled people are facing a lot of issues. "Schools and colleges are not accessible and friendly for specially-abled students, and the number of schools established for them is less. Even if there are schools like Chottay Taray Foundation and Life Help crèche for mentally-disabled students and Abhinandan School for deaf and dumb, there are hardly any schools for the visually impaired. The J&K government took over these schools under the social welfare department, but the work and progress is nil," he said.
Javed said the teaching-learning materials should be made easily accessible. "Concept of Braille system, audiobooks, special tutors, etc., should be introduced in private and government schools. Change in infrastructure is a must. If a specially-abled student has to go to library or laboratories or playgrounds or anywhere in the school, they should get a friendly environment," he said.
"Javed is grateful for the support provided to him by his parents and friends. They're always at my back to encourage me and help me keep going."
Before his life took a turn, Javed wanted to become a judge. "But it's wonderful if I am an advocate. As long as I'm able to help others, I feel like my dream is fulfilled and my purpose of living has reached its target," he said.
"People should remember me as a human who lived his life for serving others. I strongly believe that it's our duty to help those in need. I don't want anyone to face the issues I have faced because of the unavailability of certain facilities. Above all, I want people to remember me as a good human being," he added.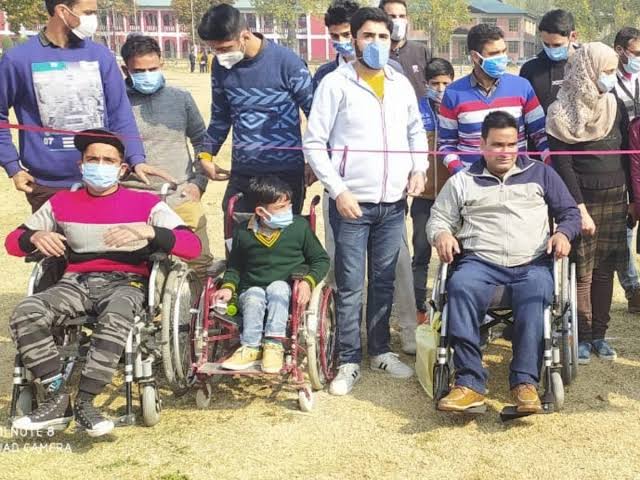 Javed believes that society has a vital role in helping specially-abled people overcome their challenges. "We accept that we are disabled, but we need handholding which will help us to reach our goals. I don't think specially-abled people are incapable. Provide them with platforms, and they will perform. We have great skills, and it's just society that needs to give us a chance to prove ourselves. Be kind. We need your care and empathy, not charity. We need your assistance and guidance," he said.
Shaheel Mohammad – Founder of Special Cell, Kashmir University
"Life is always a struggle. And when a person is specially-abled, the struggle worsens. The battles faced by disabled people are tougher than normal humans," said Shaheel Mohammad.
A resident of Anantnag, Shaheel was diagnosed with poliomyelitis at the age of three years. After two to three years of medicinal treatment, it only improved up to 30%. He was bedridden for a long time after the first level of medication. After recovering a bit, he was enrolled in a school by his father, who is a teacher.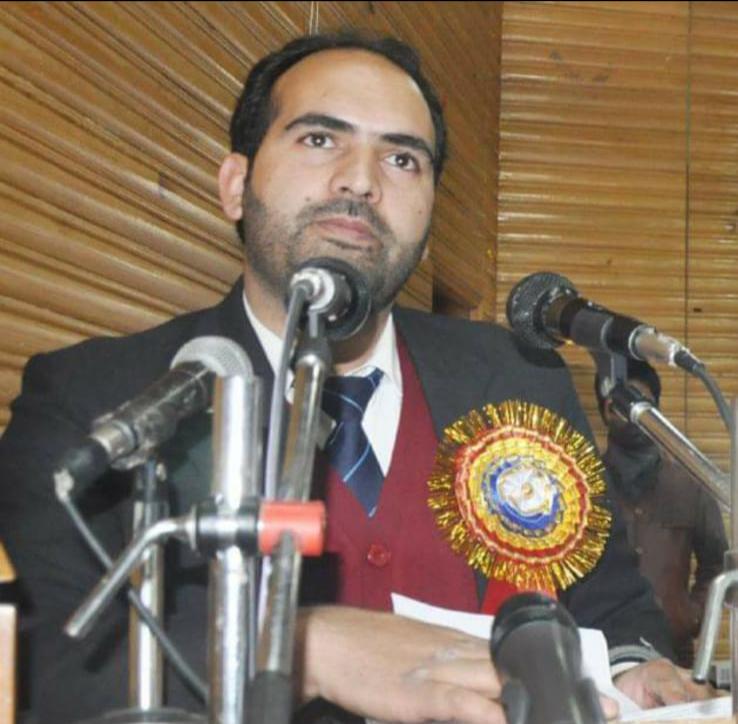 "I passed all my grades with flying colours. Initially, there was unawareness among the people of my village related to specially-abled children, and they often looked down on me. Even my school teachers were hesitant in assigning me different tasks that normal students do. But due to my outstanding performance, not only in academics but in extracurricular activities as well, they got highly impressed, and slowly they recognised the positive energy in me," he said.
Shaheel started participating in debates, quizzes, other co-curricular activities, which changed the perception of his teachers of a specially-abled child. "After completing schooling, I joined Kashmir University and enrolled in a Literature course. At this stage, I realised there was a lot of difference between school and college life," he said.
Shaheel said his life changed drastically at the University. He studied Law, due to which he got to know about his rights and responsibilities of the society towards the specially-abled. It made him "more civilised".
"I recognised the loopholes in the system around me, and it motivated me to do something for specially-abled people. Along with my other classmates, we established a unit for specially-abled students. We first installed a friendly atmosphere throughout the Kashmir University campus, like a sloping staircase at corners, ramps, etc. This change in infrastructure helped a lot and laid a foundation for specially-abled students to feel free and welcome on the campus," he said.
"After five years of hard work and determination, we finally succeeded in changing the infrastructure as per the needs of specially-abled students," said Shakeel. When his law course was complete, he approached higher authorities and brought these issues to their notice. After many serious considerations, a cell for the specially-abled was created in the University. Shaheel was the founder of this cell. Later, he was appointed as a coordinator of the cell in 2009, and to date, he continues to serve there.
Talking about the toughest situation in Life, Shaheel said that "accessibility" has always proved a challenge for him. Though his family was well educated and helped him cope with his challenging situation, it was difficult for him to travel from Anantnag to Srinagar.
Keeping this in view, he raised the issue with the university administration and battery cars were approved for the campus. J&K Bank donated three vehicles for specially-abled students, which helped them go from one department to another in less time and even provided pick and drop service to their respective hostels. But during Covid, the car service has been temporarily stopped.
"It is during the Covid times that I have understood the need to depend on myself. I started to drive my automatic car with a little bit of modification, and I am living independently. It doesn't matter whether good things come to us sooner or later, and the moment they arrive is the right time to cherish them," Shaheel added.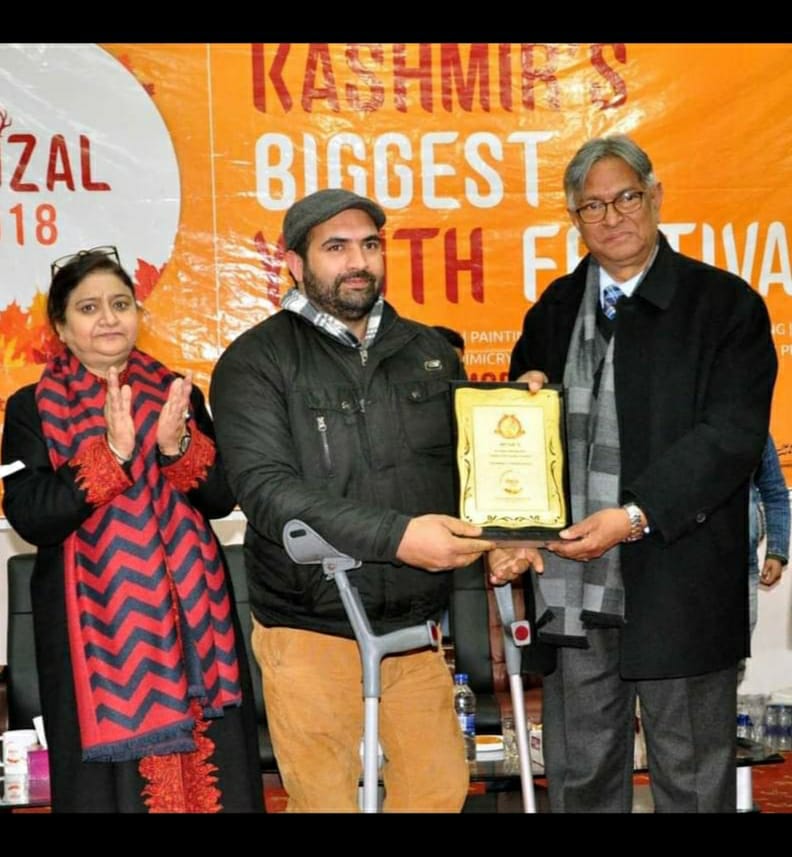 He considers the establishment of a specially-abled cell in the University of Kashmir as his most outstanding achievement. Since childhood, his aim in life has been to contribute back to society in one way or the other. He wanted to repay whatever good he has got from society. Shaheel feels blessed to help students that are in need. "I often feel that Allah has appointed me as a source of helping others. That is a real bliss for me! Sometimes I counsel students and more often provide them with scholarships that help them on and off.", he said.
Shaheel is disappointed with the government's approach towards specially-abled people. He says that the government offers a lot of schemes, but at the ground level, these schemes don't make much difference. "Those in power should work from the grassroots level to uplift the people of society. They should take along especially-, and the people. There are a lot of schemes and huge budgets but giving it to specially-abled people as a matter of charity and not as a right won't help," budgets. 
Shaheel is content with his life, and he considers his family as an important part of his life. Regarding the negativity and small-mindedness, Shaheel says he has stood on his own and handled the negativeness. "People with disability have a stigma related to what society thinks about them. But one should bear in mind that we make the society. So if we think positively, it will spread optimism around us," he said.
Zakiya Manzoor – A visually impaired school topper 
Zakiya Manzoor , a resident of Bijbhera, was visually impaired at birth. Till the age of eight, she didn't attend any school because of the non-availability of facilities for specially-abled students like her. There was no school in their locality or in the entire South Kashmir for children like her. After getting to know about the Zeba Institute of Inclusive Education, she enrolled and started directly from Grade 1. 
She was taught the Braille system, which helped her cope with her education. Zeba Institute was a middle school. For her secondary school education, she got admission to a government girl's school in Bijbehera.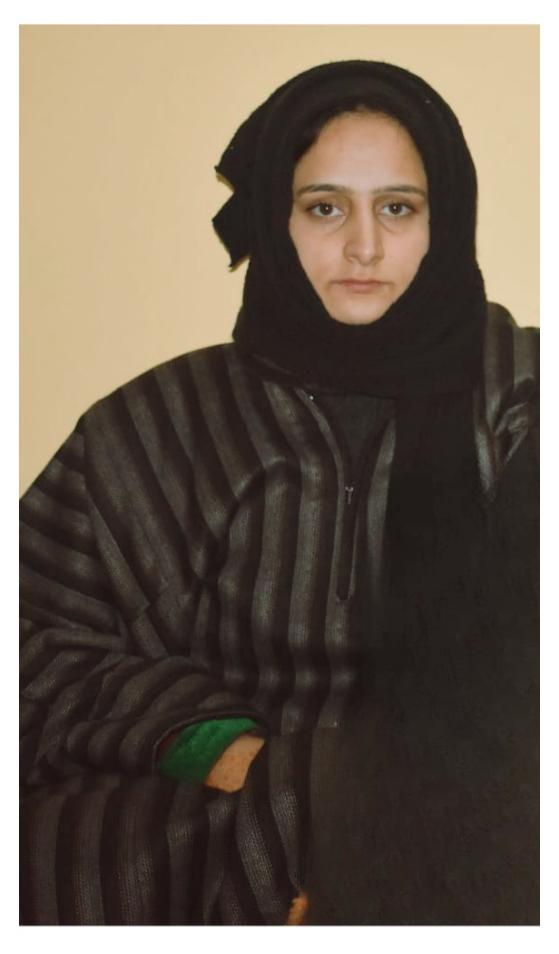 "It was a normal, mainstream school, and each student was physically as well as mentally fit. I was the odd one out. This made me depressed, and I started overthinking about my existence, and I questioned myself throughout the day. It was a dark phase of my life," she said.
In 2016, after Burhan Wani's killing resulted in the closure of all schools, it was easy going for her. While she was in class 10th, she had to go school daily which suffocated her. Her classmates and teachers played a negative role in her life. She said they were not friendly, and because of their ignorance about specially-abled students, they always made her feel left out.
"Students were always gossiping because they rarely knew what visually impaired means being. They used to talk behind my back by saying she comes from the home, sits on the bench and does nothing throughout the day. It always hurt me and made me suffer," said Zakiya.
One of her teachers suggested her complete her higher secondary education at Aligarh Muslim University. As he was alumnus of AMU, he briefed her about various facilities provided to specially-abled students there. It motivated Zakiya to continue working hard and pursue her goals. She scored 82% in her Class 10 exam and 89.5% in her Class 12 exams. After passing with high grades, Zakiya decided to pursue civil services. She believes that she has the potential to change many scenarios of the education system in Kashmir. 
"Being an IAS or KAS officer is my dream, and I will try my best to pursue it with utmost dedication and determination," she said. She is presently in her 2nd year of B. A Honors. For Zakiya, Aligarh Muslim University provided far better education as well as environment than Kashmir's educational institutions. She is influenced by her teachers, who encourage and support her.
"Life is a blessing from Allah. It's all up to Him to choose how to create us. We should be content with what Allah has provided us. Some people may find faults in His creation, but Allah loves us more than anyone else. He knows what's better for us, so He shapes us accordingly. I strongly believe that Allah gives His toughest battles to His strongest soldiers," Zakiya said.
In her childhood, she aspired to become a professor. But now, Zakiya has a strong will to do something for her nation. She loves cricket and listening to music, and Motivational speeches are what she loves to hear in her leisure time. While discussing her life's difficulties, Zakiya said: "My worst phase created a stronger version of myself. I felt difficulty dealing with teachers who did not know teaching specially-abled students. I was kept waiting for scribes during the examination. Not only this, schools forced us for two-class down exams. This seriously disappointed me at times." 
Her suggestion to other specially-abled people is to shun negative thinking. "You're more capable than you think you are. Many mouths are talking indifferent things about you but never heed such gossip. Allah has created you differently, so be different from others."
"Life is always a struggle. And when a person is specially-abled, the struggle worsens. The battles faced by disabled people are tougher than normal humans."
Zakiya wants people to remember her as a strong and stalwart girl who never gave up despite
the obstacles in her life. 
Only a few stories won't justify the dedication, determination and courage of those who, despite shortcomings, manage to make a change for themselves and their society. Society also has to provide them with a helping hand in every field. We will conclude with some wise thoughts of Muniba Mazari, the 'Iron Lady of Pakistan." 
"We are all perfectly imperfect, and that's perfectly alright."
"When you accept yourself, the way you are, the world recognises you."
"You are the hero of your own life story, and heroes never give up."
The author can be reached at [email protected]