By Dr.Shadman Pandit P.T
Coccydynia is pain in tailbone. Tailbone pain occurs in or around the bony structure at the bottom of the spine (coccyx) that can be caused by trauma to the coccyx during a fall, prolonged sitting on a hard or narrow surface, degenerative joint changes, or vaginal childbirth.
Tailbone pain can feel dull and achy but typically becomes sharp during certain activities, such as sitting, rising from a seated to a standing position or prolonged standing. Most cases will resolve within a few weeks to months, however, for some patients, the pain can become chronic, having negative impacts on quality of life.
The symptoms of coccydynia include:
Achy or piercing pain in the tailbone
More severe pain when changing from sitting to standing up
More severe pain when sitting for long periods of time
Pain during bowel movements
Pain during sex
A sudden increase in swelling or pain
Constipation that lasts a long time
Sudden numbness, weakness, or tingling in either or both legs
The inability to control your bowels or bladder
Other related symptoms that may occur with coccydynia include:
Depression.
Anxiety.
Poor sleep.
Painful buttocks.
Back pain.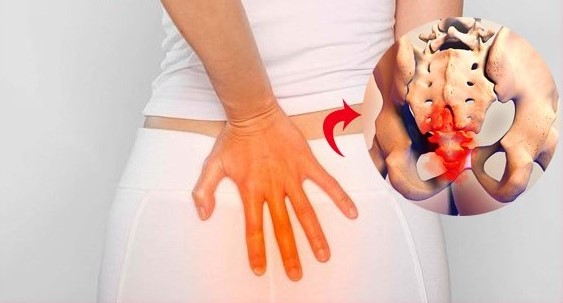 How is coccydynia (tailbone pain) treated?
Most people recover without undergoing any sort of treatment. Home remedies for tailbone pain (coccydynia) include:
Taking a NSAID like ibuprofen to reduce pain and swelling.(consult your doctor before taking medication)
Decreasing sitting time. Lean forward if you have to sit.
Taking a hot bath to relax muscles and ease pain.
Using a wedge-shaped gel cushion or coccygeal cushion (a "donut" pillow) when sitting.
Taking stool softeners to reduce pain during bowel movements.
Stretching and strengthening the muscles of your lower back and pelvis.
Applying hot or cold packs to your lower back. Apply for no longer than 20 to 30 minutes, several times a day.
Wearing loose-fitting clothing, avoid clothing such as tight jeans or trousers that may put pressure on your tailbone.
Do's and Don'ts:
• Feed the baby lying down.
• Don't drive.
 • Sit with the chair facing the wrong way, so that leaning on the back with bottom hanging off the edge. Or lean forward as the weight sits on thighs, not on the coccyx.
• If you feel pain instead of lying on the floor, go for a walk.
 • Coccyx is linked to the pelvic floor, so exercising the pelvic floor is good, but only if they don't hurt when performing them. Try doing them lying down.
• Get a U-shaped foam cushion or a ring or sit on two cushions, one under each thigh, with a gap in the middle.
Does walking help tailbone pain (coccydynia)?
Yes. Standing up and walking around decreases pressure on your coccyx and reduces pain.
How should I sleep with tailbone pain (coccydynia)?
Sitting, driving, bending and sleep are all affected by tailbone pain. In severe cases, it can vastly decrease your quality of life. Lie on your side to reduce tailbone pain.
How do I take care of myself?
Don't sit for long periods of time without standing up, take a short walk or do a couple of quick stretches. If you love to ride your bike, cut back for now. Lie on your side when you sleep. Spend more time on your feet. Use the home remedies and stay in contact with your doctor.
Physiotherapy:
If your pain has not started to improve after a few weeks, consult a physiotherapist.
A physiotherapist can:
give you advice about posture and movement to help reduce your pain
teach you some simple exercises to help relax the muscles around your tailbone
modalities can be used after assessment
Coccydynia can be tricky condition to diagnose since there are many disorders that mimic the symptoms and type of pain that is present with coccydynia. It is important to see your doctor if you notice any coccydynia symptoms to rule out other conditions.
Dr Shadman Pandit P.T (MPT(Neuro), MPT(Cardio) Sr.Consultant Physiotherapist. She can be reached at 9149965711, [email protected]