By Dr.Shadman Pandit P.T
URINARY INCONTINENCE: When you have incontinence, you have a lot of questions and may not know where to go for answers and advice. Working with your doctor is the first step. In this article, you'll know about incontinence, the treatments available, and lifestyle changes you can make so you can understand your condition.
What is urinary incontinence?
Incontinence is the involuntary loss of urine in inappropriate times and places. It is a common condition and happens because of problems with the muscles and nerves that help the bladder hold or release urine. You may leak urine when you cough or sneeze.
What are the different kinds of urinary incontinence?
Urge Incontinence (also known as Over active bladder(OAB), spastic bladder, reflex incontinence): Refers to strong urge to pass urine. It occurs when the urgency is so great that leakage of urine occurs before the person can reach the toilet. Urine can leak the instant you feel the urge to pass it. Even the sound of the running water can provide the stimulus. Most common in older people and women after menopause.
Causes : Poor bladder habits, hormonal changes, medicines such as diuretics, diseases affecting the nervous system, Urinary tract infection, irritation from bladder stones, interstitial cystitis, injury that occurs during surgery, tumour in the uterus or bladder, childbirth, menopause, caesarean section, other urological problems marked by the need to urinate more than seven times daily or more than twice nightly.
Overflow incontinence: This is more common in men, in which you are not able to empty bladder completely, so you may leak urine once your bladder is full.
Symptoms: Feel as bladder is never fully empty, Spend long periods of time in the bathroom because of unpleasant feeling, Some people do not feel bladder fullness but dribble and pass urine with little control, Retention of urine (not able to empty properly) resulting in dribbling, poor stream, hesitancy, nocturia and post-micturition dribble.
Causes: Physical obstruction (blocking or narrowing of urethra due to urinary stones, tumour, birth defect), Faecal impaction when there is full bowel pressing on bladder and stopping it from emptying properly, Neurological problems that leave the bladder partly full all the time, weakened bladder muscles as a result of nerve damage from diabetes or other diseases.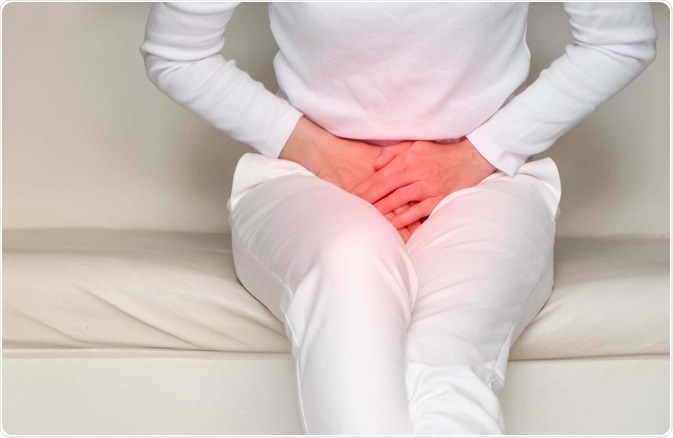 Mixed incontinence: Is when you have stress and urge incontinence at the same time. This is more common in women. Some people will experience more than one type, so called mixed incontinence.
Transient Incontinence (Temporary): It is trigged by Medication—diuretics, sleeping pills or muscle relaxants, narcotics such as morphine, antidepressants, anti-histamines, antipsychotic drugs or calcium channel blockers, Urinary tract infection, Vaginal infection, Mental impairment, Restricted mobility, Stool impaction (severe constipation)—push against the urinary tract and obstruct outflow.
Stress Incontinence: This is the most common type of incontinence in women occurs when the bladder is put under pressure, urine leakage occurs. The leakage of urine occurs on exertion or effort such as when coughing, laughing, sneezing, and exercising. In severe cases, urine might leak out when walking or getting up from the sitting position.
Causes: Pelvic floor weakness, traumatic childbirth injuries, low levels of estrogen (resulting in thinning and weakening of the pelvic floor muscles), Pelvic nerve damage, Weight gain, Pregnancy, Strenuous exercises, Damage to nerves controlling the bladder resulting from diseases such as diabetes, stroke, parkinsonism, and muscular sclerosis, Radiation or chemotherapy.
Functional Incontinence: A physical or mental impairment keeps you from making it to the toilet in time. For example, if you have severe arthritis, you may not be able to unbutton your pants quickly enough.
Which lifestyle changes can help you?
Drink plenty of water. You might think cutting back on water would make you have to go less, but not drinking enough can make the problem worse. Aim for 6-8 glasses a day.
Watch what you eat. Cutting back on alcohol, carbonated drinks, coffee, tea, and spicy and acidic foods may improve your symptoms.
Lose weight. Taking off extra pounds can make incontinence better.
Quit smoking. You'll raise your chances of leaking less if you stop smoking.
Pelvic Floor Exercises:
Tighten your pelvic floor muscles as if you are trying to stop the urine flow. Hold for specified seconds and relax.
Week 1: Tighten the pelvic floor muscles for 6 seconds and relax for 6 seconds. Perform 5 contractions for 1 minute. Continue for 5 minutes to produce 25 contractions. Repeat thrice daily. Perform 75 contractions per day.
Week 2: Exercise for 10 minutes. Repeat thrice daily. 150 contractions per day.
Week 3: Exercise for 15 minutes. Repeat thrice daily. 225 contractions per day.
Week 4: Exercise for 20 minutes. Repeat thrice daily. 300 contractions per day. After 4 Weeks Continue exercises for 10 minutes 3 times a day or for 15 minutes twice a day.
POINTS TO REMEMBER:
Empty your bladder before doing this exercise.
Never do this exercise when you are tired.
Tighten your pelvic floor muscles before coughing, sneezing or lifting. This can prevent pelvic muscle weakening.
Do not hold your breath while performing the exercise.
Exercise the pelvic floor muscles correctly. Do not contract your abdominals, buttock or leg muscles
Consult a Physiotherapist for more exercises and proper guidance. Kindly don't perform exercises without proper knowledge and guidance from the expert.
Dr Shadman Pandit P.T (MPT (Neuro), MPT (Cardio) & Consultant Physiotherapist) can be reached at Mobile No. 9149965711, Email ID [email protected]