The Initiative Is To Creat Awareness of Active Life Style: Saadat Wani
Srinagar: The Jammu and Kashmir Team Red under it's "Fit November" initiative held various sports activities here at Gindun Stadium, Joggers Park Raj Bagh.
The event was successfully conducted revealing the message of importance of Active Lifestyle in daily life and how Substance Abuse like a moth eats up the society.
The chief guest on the ocassion was SSP SDRF Mr. Haseeb Ur Rehman. The other prominent guests included Ahsan Pardesi, Salman Ali Sagar, Dr. Naveed Nazir Shah, Dr. Ashiq Rashid, Ms Chasfeeda Shah, Dy.SP Fayaz Geelani, Advocate Jehangir Wani.
The event was marked by various sports activities at sub junior, junior and senior level. Around 300 athletes participated in the Games to compete 8 different sports categories that includes Arm wrestling, Frog jumping, dead lifting, cross lifting, power lifting and push ups.
In the concluding ceremony the HOD TeamRed Health Wing Dr. Ashiq Rashid said that the reason behind organizing such sporting activities to develop social skills and the right attitudes in youth,who are mired by various phychological issues. "It is needless to say that the varied benefits of sports include reduced stress, enhanced family relations, and improved academic performance," he said.
In his adress Mr Haseeb Ur Rehman said Sports activities of different hues can greatly sub As such, sports can help in the prevention of drug abuse, especially among young people. It helps in equipping individuals with the skills they need to cope with different life situations, stress and avoid turning to drugs. Sports and games, teach children essential life skills that will help them to create better futures and drive lasting social change in their communities, "he said.
Chief Patron Team Red Nasir Aslam Wani , while delivering the note of thanks said " We have to know the youth power and bring them to sports culture, in order to prepare them for the future. Team Red has previously held such initiatives , motive behind such, events is to help youth adopt and maintain lifelong healthy behaviours and attitudes for Creating Positive & Sustainable Change in every sphere of life,"he said
Chairman Saadat Nasir Wani in his adress said," Our platform is open to all ; every one who wants to be a part of our initiative to foster sustainable change can be a part of our movement.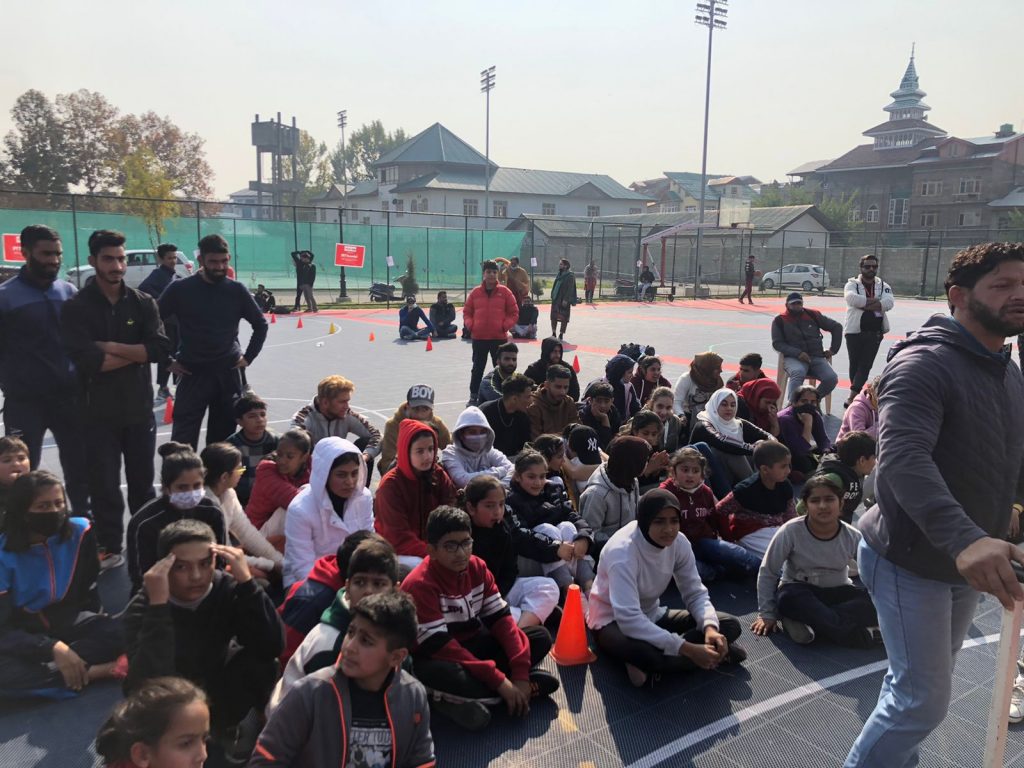 There are areas of the world today where children are not able to experience the benefits of play–this is the problem that we must tackle. Today's initiative like our previous initiatives , is aimed to help youth of various age groups exhibit their talent,"he said.
All the Guests made an adress to the players and appreciated their grit and passion for sports.
Later the prizes in the Sub Junior, Junior and Senior boys and girls categories were given away by the chief guest of the ocassion Mr Haseeb Ur Rehman. He also gave away momentos to the guests, organizers and various notables from the field of sports.
The patron in chief Team Red Nasir Aslam Wani felicitated the chief patron Haseeb Ur Rehman. He also expressed gratitude to the participants and organizers for their active involvement in the event.
The event was organized by the Chairman Team Red Saadat Nasir Wani, Trustee Dr. Bisma Mohi Ud din, General Secretary Sarmad Nasir Wani, Executive Secretary Shakir Shafi, Addl Executive Secretary Humaan Javed, Misbah Rather, Nissar Hussain, Aijaz Hassan, Mubashir Khawaja, Maqsood Rather, Basit Khan, Mushtaq Ahmad, Ubaid Syeed, Adnan Faried, Rameez Wani, Wariq Wani, Faiq Ahmad, Faraaz Qadri, Muzaffar Khan, Ronaq Dar, Shuaib Burjee, abbas Khursheed, Anwar Ali, Refat Wani, Unzer Bhat and other functionaries of Team Red.