Priority of government to provide more economic opportunities to people: Lt Governor
Srinagar: After inaugurating various developmental projects for the welfare of the people of Jammu and Kashmir, Lieutenant Governor of Jammu and Kashmir Manoj Sinha inaugurated the Craft Mela at Kashmir Haat on Saturday. With a 15-day long exhibition, this is an initiative to promote local artisans.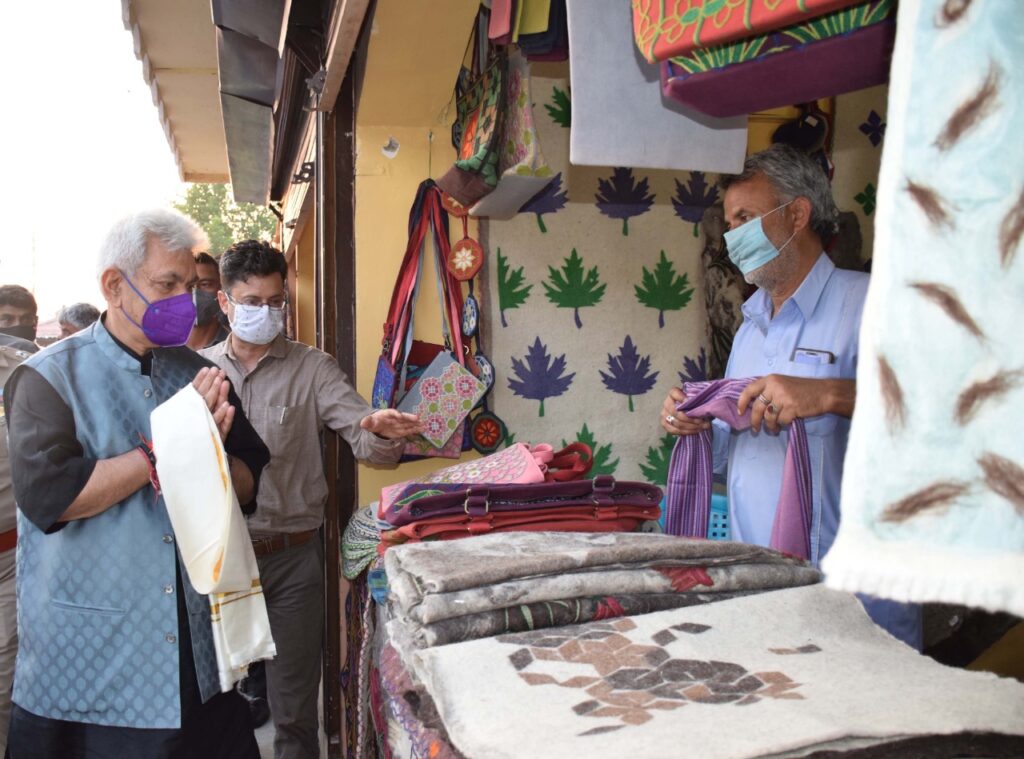 "Kashmir has always been known for its rich handicrafts tradition, and it's our responsibility to boost this industry which employs thousands," said Lieutenant Governor Manoj Sinha during his inaugural address at the inauguration ceremony.
LG Manoj Sinha also highlighted that it is an honour for Kashmiri artisans as they are getting where their work would be showcased. The lieutenant governor was seen among people at the Mela, asking questions about various things on display like woollen carpets, local handmade items etc.
A crowd of people walked arm-in-arm, making their way to the Craft Mela. The lights from various stalls illuminated their faces as they eagerly waited for something new and exciting. Some had in mind a particular item that they wanted to buy, while some were just excited about the thrill of exploring.
The Lt Governor said, "It is our priority to provide the people of Jammu and Kashmir with more economic opportunities. "We want to keep this region in a continuous state of development." He also spoke about the Government's plans to open up a similar Haat in Jammu that will showcase the region's rich, varied handicraft tradition.

The Lt Governor remarked that "the Government is determined for providing new markets, creating sustainable livelihood for local artisans besides preserving the rich cultural heritage of J&K".
Nighat Khan, a local visitor, felt like this was a time she could take her daughter out and have fun with her at the Craft Mela, which was enthralled by music programmes performed by local artists. "It is amazing to be here," she said and added, "It is a great initiative by the LG Administration for artists as well as the visitors."
There were hundreds of people who appreciated the initiative of Craft Mela and termed it a relief after being restricted to the homes because of the COVID-19 pandemic.