Guarded by majestic peaks, Kashmir Valley possesses stunning natural beauty dotted by hundreds of small and big alpine lakes and meadows. It is time to discover these hidden gems of our delightful paradise.
By Syed Aamir Sharief Qadri
Kashmir is a land of wonderful lakes and mesmerizing meadows. A lake in Kashmir is sometimes referred to as Naag or Sar. Both of these words are used interchangeably. Likewise, the meadow is known as Marg or Pather. The oval-shaped valley of Kashmir is situated between Lesser Himalayas (Pir Panjal range) on the southwest side, and the Greater Himalayas from the northeast side at an average height of 1850 meters above mean sea level. Kashmir is irrigated by the river Jhelum. Srinagar, the summer capital of J&K, is habituated on both banks of Jhelum.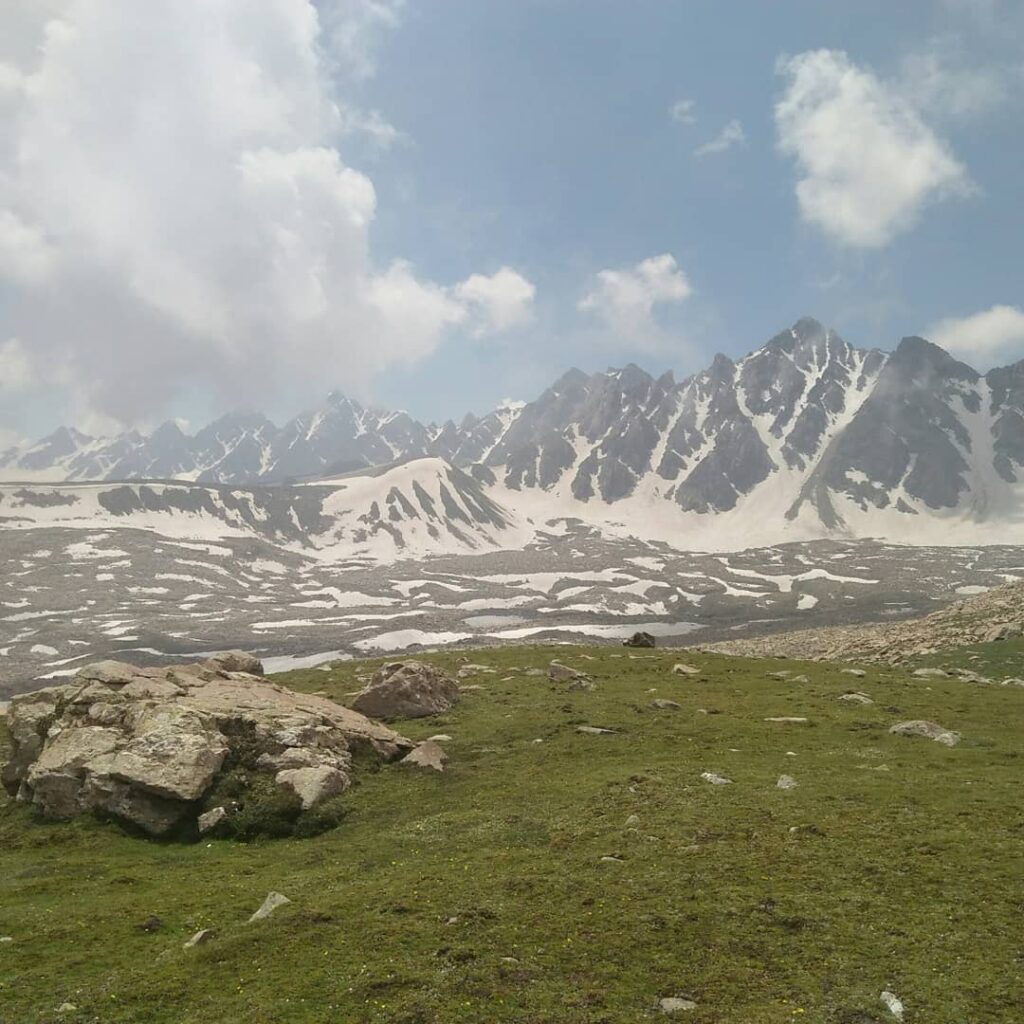 While Kashmir's plains are decorated by numerous gardens and beautiful tourist destinations hidden on the side valleys, the upper reaches are decorated by beautiful alpine lakes and meadows. Nature has bestowed Kashmir with long-lasting glaciers, lush green forests, majestic mountains, lofty peaks, boisterous rivers, hot and cold springs, burbling streams, serene meadows, magnificent side valleys, elegant waterfalls, etc. It is impossible to cite all of them.
But it becomes necessary to mention a few lakes and meadows that are of great importance from the tourism point of view.
Alpine Lakes
There are two types of lakes in Kashmir. First, those which are world famous such as Dal Lake, Nigeen Lake, Anchar Lake, Khushal Sar, Gil Sar, Mansbal Lake, Wular Lake, etc. The second group of lakes are found in the upper reaches, known as high altitude lakes or alpine lakes. Kashmir region is home to many Himalayan glaciers. Most of the alpine lakes are glacial lakes, also known as oligotrophic lakes. Due to low nutrient content, they don't support any plant and animal life. That is why they are natural freshwater lakes with high drinking quality. Some of the prominent alpine lakes are:
"The patron saint of Kashmir, Sheikh Noor-ud-Din (RA) is believed to have worshipped at Wali Naad for a long time. At Pari Top, locals claim to hear strange cries of fairies"
1. Tarsar, Marsar, Sundarsar, Sheshnag, Tulain lake, Sorasar, Chuharnag(four in number), Sarbal lake, Harbagwan Lake, Katarnag, etc. (Anantnag)
2. Gangbal (foothill of Harmukh mountain), Gadsar, Nundkol, Logulsar, Sarbalsar, Satsar, Kishensar, Vishensar, Royalsar, etc.(Ganderbal)
3. Alpather lake (at the foot of twin Afarwat peaks, Gulmarg, Baramullah)
4. Kounsarnag, Bramsar, Tchirsar, Donthsar, Indersar, etc. (Kulgam)
5. Nandansar (Shopian)
6. Trisur, Nilnag (Badgam)
Alpine Meadows
Alpather Lake overlooks Gulmarg, Kounsarnag to Kongwattan, Nandansar to Pir Ki Gali, Katarnag to Aru valley, etc. But there are some meadows that exist separately and thrive on river beds, between dense forests and in the foothills of glacial peaks. The famous meadows of Kashmir with moderate elevation include Gulmarg, Sonmarg, Yousmarg, Doodhpathri, Pahalgam, Lolab valley, Gurez valley, Gagangir, etc. But the most stunning meadows of the valley can be seen at the top of the Himalayan peaks. In these meadows, bright coloured flowering plants grow extensively. This type of meadow is commonly known as Posh Pather (land of flowers). Among the lesser-known alpine meadows include: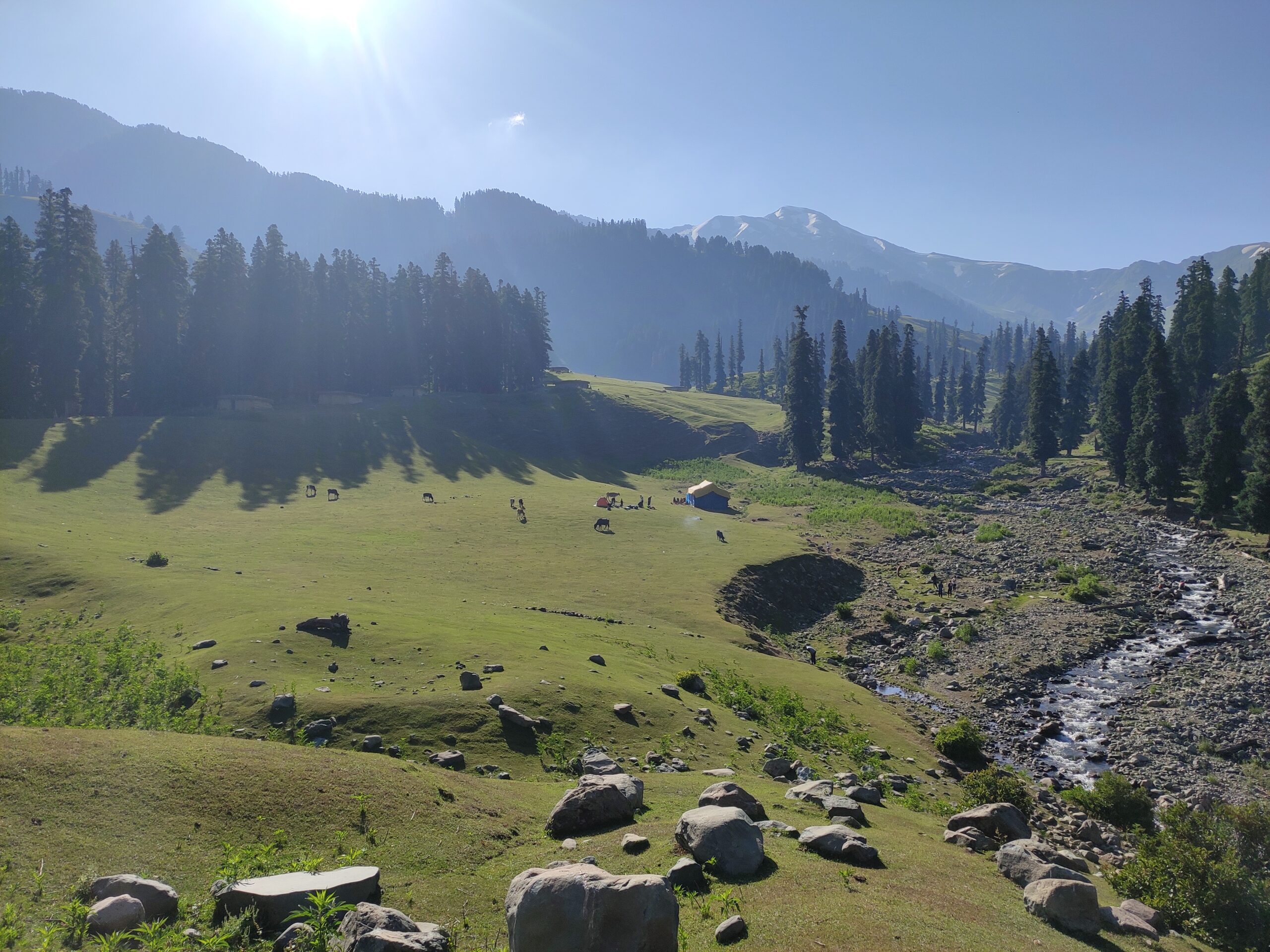 1. Kongwatan, Chiranbal, Mahinag, Lahan Pather, Hakwas, Zajmarg, etc. (Aharbal, Kulgam)
2. Baisaran, Aru, Kooth Pathri, Lidderwath, Shekhwas, Homwas, Gagdi Pathri, Aram Pathri, Danawath, Nafran valley, Baji Pathri, (Pahalgam, Anantnag)
3. Sinthan Top, Margan Top, Famber valley, Arsalan valley, Warsan valley (between Anantnag and Kashtiwar)
4. Tosa Maidan, Ropekaen Khag, Sang-e-Safed (at base of mount Tatta Kutti), Haigan, Liddermar (Budgam)
5. Dobjan, Pir ki Gali, Peer Marag (Shopian)
6. Nageen valley (Gulmarg, Baramulla)
7. Bangus valley, Sadna Top (Kupwara)
Newly Discovered Lakes and Meadows
The famous Jawahar tunnel/Banihal pass falls in the Pir Panjal range. To its side in Kulgam and Shopian, between Banihal road and Mughal road, are numerous unexplored lakes and meadows.
While Kashmir's plains are decorated by numerous gardens and beautiful tourist destinations hidden on the side valleys, the upper reaches are decorated by beautiful alpine lakes and meadows
Starting from Pir Panjal's Sondir Top/ Pari Top and Huen Heng towards Pir ki Gali, the landscape is full of numerous scenic spots.
1. On the foothills of Sondir Top, also known as Pari Top, are four beautiful meadows connected by a glacial stream named Wali Naad, Posh Pather, Badi Beh and Yadi Pather.
At Wali Naad, the patron saint of Kashmir, Sheikh Nur-ud-Din (RA), worshipped for a long time. While walking along the riverbank of the gushy stream by crossing these meadows, one can reach the top of a mountain known as Pari Top, where locals claim to hear strange cries of fairies
2. Moving straight along this range, one can reach the captivating meadows of Panch Pather, Nuss Pather and finally, on top of Mount Huen Heng.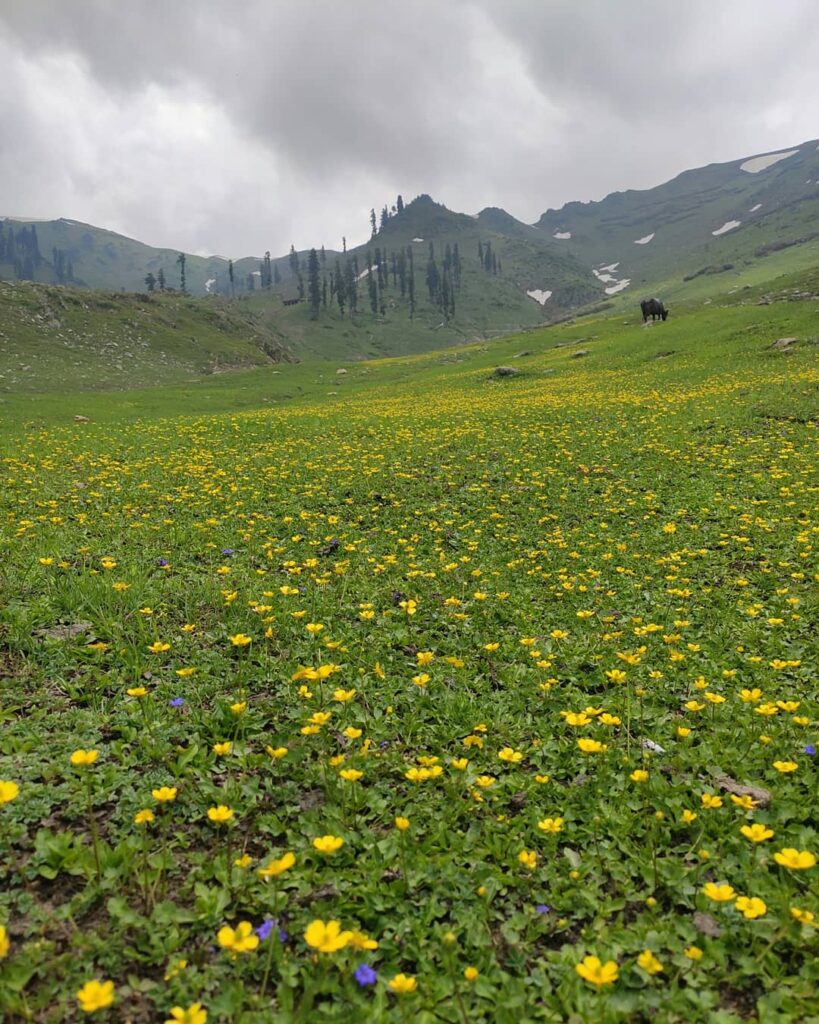 3. Just like two sides of a spectacle, Bram Sar and Tchir Sar are separated by a steep ridge difficult to cross. In the backdrop of these twin lakes, the two cliffs depict two horns, form a shape of bullhead and exhibit an amazing beauty. These two lakes are overlooking the most beautiful meadows of this area, namely Zajimarg and Hakwas.
4. The combination of the trio- Astanmarg, Indar Sar and the white peaks behind the lake with a thick layer of snow presents a unique view. I would love to call it Wonderland. After completing the most difficult trek of this area when you reach the lakeside, the lukewarm water of Indersar is a delight.
5. In the surroundings of Pir Ki Gali, there is a group of seven lakes together known as Sat Sar. These include- Nandan Sar, Gum Sar, Kal Dachni, Sukh Sar, Neel Sar, Katori Sar, and Sarota Sar. All these lakes are situated in the famous Girjan valley, between Shopian and Poonch boarders. Nandansar is the most beautiful and charming lake and also bigger in size. Other smaller and new lakes include Chandan Sar, Handu Sar, Kokar Sar, Bhag Sar, Ding Sar, Jang Wali Sar, Kagalna Sar, Smat Sar, Kala Sar, Chammar Sar, Akhil Darshani Sar, Diya Sar, Padyaran Sar, etc. The remarkable meadows hidden between these lakes are Shakar Marag, Peer Marag, Doodh wali Marag, Khari Marag, Chammar Marag, Rupri Marag and Ravi Wali Marag, Sheikh Marag, Jaddi Marag, Sarota Marag, etc. (between Shopian, Poonch and Rajouri)
Almost three to four of these lakes fall on one particular trail at a distance of few kilometres. Kashmir possesses stunning natural beauty with hundreds of small and big lakes and meadows protected by majestic peaks. It is time to discover these hidden gems of our delightful paradise.