Symptoms, Causes, Diagnosis, Treatment And Home Remedies
Back pain or lower back pain can happen for several problems with any part of the interconnected network of spinal nerves, muscles, bones, tendons, or discs in the lumber spine.
SYMPTOMS OF BACK PAIN
Major signs and symptoms of back pain are:
Dull, stabbing or shooting pain in the lower back
Painful sensation while walking, standing, bending, lifting or pulling
Decreased range of motion and flexibility
Pain radiating to the leg and foot
There are certain other symptoms that are indicative of a serious underlying medical condition. People with the below-mentioned symptoms should immediately contact their physician:
Weight loss
Fever
Swelling or inflammation in the back
Numbness in legs, buttocks, anus and around the genitals
Loss of control bowel movements
Urinary incontinence
Injury or trauma to the back
CAUSES OF BACK PAIN?
Back pain can result from multiple factors. Some of the most common causes include:
Strain
Disk problems
Scoliosis
Arthritis
Osteoporosis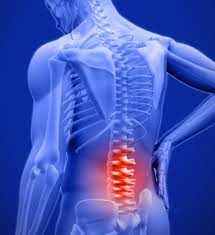 RISK FACTORS FOR BACK PAIN
Anyone can experience back pain. However, the following factors are believed to be associated with an increased risk of back pain:
Excess weight
Age
Lack of exercise
Medical conditions
HOW BACK PAIN IS DIAGNOSED ?
A physician will ask certain questions related to symptoms of the back pain. He will then carry out a physical exam to check your:
Reflexes
Ability to stand and walk
Range of motion of the spine
Strength of legs
Sensations in legs
In case a serious underlying condition is suspected to be causing back pain, one or more of the following tests might be ordered:
X-ray
MRI or CT Scan
Blood test
Bone scan
Electromyography (EMG)
HOW TO TREAT BACK PAIN?
Back Pain is a condition that usually resolves on its own. The most popular treatment for all kinds of back pains or lumber strains consists of resting the back to avoid subsequent injury. However, chronic back pain can sometimes require treatment. Some of the most common modes of treatment for back pain are:
Medications:

OTC pain relievers

Topical rubs and ointments

Muscle relaxants

Opioids (narcotics)

Antidepressants

Steroid injections

Therapy:

Cognitive Behavioural Therapy

9.AcupunctureShiatsu
Surgery: When all other modes of treatment fail to work, whether medications or injections, then surgery becomes the only remaining option. It is usually recommended only for people who are experiencing:
Persistent and severe back pain
Muscle weakness due to nerve compression
Pain caused by structural deformities (such as spinal stenosis)
Some of the surgical procedures that are used to treat the underlying condition causing back pain are:
Fusion
Artificial disk
Diskectomy
Partially removing a vertebra
How to prevent back pain?
Back pain caused by medical condition may not be prevented. However, back pain caused by poor physical health and lifestyle can be prevented. Some of the tips that may reduce the risk of back pain are:
Exercise regularly
Build muscle strength
Maintain a healthy weight
Quit smoking
Consume a diet rich in calcium and vitamin D
Wear flat shoes
Stretch often
Don't slouch while standing
Use back support while sitting
Avoid heavy lifting
BACK PAIN HOME REMEDIES:
There are a few things that an individual can do at home to get relief from back pain. Some of those things are:
Exercises to reduce back pain:

Stretching to improve muscle flexibility

Using proper technique while lifting

Strengthening the core muscles

Essential oils to reduce back pain:
Salt baths to reduce back pain:
Heat/ice therapy:
Yoga for back pain:
Downward Dog
Child's Pose
Plow Pose
Cat/Cow
Bow Pose
Seated Forward Fold