Jammu & Kashmir's journey towards sustainable tourism is illuminating unexplored dimensions. Through the strategic fusion of culture, nature, and economic empowerment, the region's homestay ventures are rewriting the rules of hospitality
BY TAUHEED AHMAD
With the increasing innovations in tourism across the globe, Jammu and Kashmir is adapting new approaches and policies to tap into its natural resources while keeping ecological considerations at the forefront. This transition is paving the way for the region to thrive in the tourism industry. The Department of Tourism's visionary mission not only uplifts stalwarts in the sector but also extends its benefits to economically constrained areas. Sustainable Hospitality
Central to this endeavor are homestay ventures, intertwining economic empowerment with ecological responsibility. The department, mindful of the region's fragile ecosystem, seamlessly integrates responsible custodianship. Homestays offer a sustainable lodging alternative that preserves the pristine environment.
Through diversifying accommodation options and highlighting hidden treasures such as the Gurez Valley, Keran, Uri, and other newly promoted tourist spots, the initiative collaborates with travel brands, underscoring the multifaceted nature of the department's vision. Strategic alliances, skills workshops, and cultural exchanges enrich lives and inaugurate a new era of tourism characterized by equity, sustainability, and cultural vibrancy.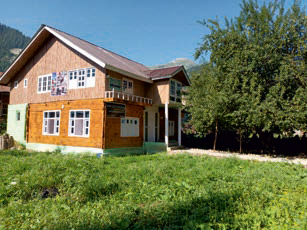 Family Guest House, a homestay with traditional Kashmiri architecture, nestled in the scenic Gurez Valley of Jammu and Kashmir
Empowering Economic Equity: Enriching Every Stratum of Society through Tourism
Showcasing the visionary mission of the Tourism Department, Deputy Director Tourism Kashmir said that the department holds a visionary perspective- to disseminate the economic fruits of tourism equally among all segments of society.
"This aspiration stems from a desire to uplift not just the well-entrenched players in the tourism industry, but also to extend the benefits to those hailing from regions with constrained earning potential. The pivotal avenue envisioned for this transformation is the flourishing realm of homestay ventures", he said.
In our pursuit to safeguard ecology while exploring new tourism horizons with responsibility, the official stated that the government is acutely aware of the delicate ecological balance inherent to Jammu and Kashmir.
"The Department of Tourism has undertaken the role of a responsible custodian, carefully treading the path of introducing fresh tourist destinations while upholding unwavering environmental preservation", he said.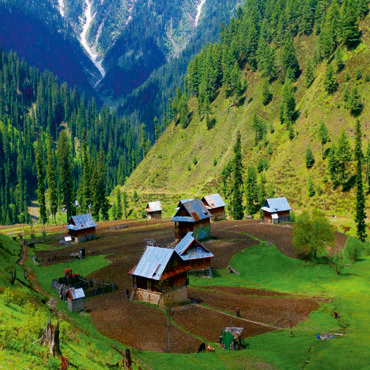 This approach aims to minimize any detrimental effects on the fragile ecosystem. Notably, homestay accommodations shine as a beacon of sustainability in this effort, providing a promising avenue that harmonizes human interaction with the pristine natural beauty of the region, he added.
Discussing environmental responsibility, homestay owner Haji Sheikh Abdul Rashid from Dawar Gurez underscored several crucial aspects within the context of the region's burgeoning tourism:
Haji emphasized the complete cessation of polythene bag and plastic item usage, signifying a determined effort to curtail plastic waste and maintain ecological well-being.
He highlighted the shift from traditional open defecation practices to modern closed toilets. This not only enhances hygiene but also minimizes the ecological impact and promotes public health.
"The conscious choice to use locally sourced fresh water instead of processed plastic bottled water addresses both water quality and plastic waste issues", Haji said.
Haji stressed the strategic placement and consistent use of dustbins to promote cleanliness and effective waste management, contributing to a sustainable environment.
The homestay concept, with its focus on limited new constructions, emerged as a guardian of natural landscapes and scenery, ensuring their preservation, he said.
Discussing the economic accessibility of the homestay concept offering households a chance to participate with minimal initial costs, Haji calls homestay a game-changer for Jammu and Kashmir, allowing households to engage in tourism with minimal upfront costs.
"This inclusivity paves the way for diverse segments of society to participate in the industry's growth, fostering economic advancement at various levels and contributing to a more equitable distribution of benefits", he said.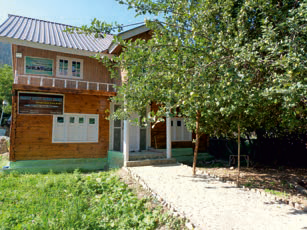 Family Guest House, a homestay with traditional Kashmiri architecture, nestled in the scenic Gurez Valley of Jammu and Kashmir.
Haji noted that interaction with high-end guests fosters an eco-friendly lifestyle shift. This exposure raises awareness about sustainable practices and cultivates alignment with global environmental standards.
In a striking emblem of the tourism revival, the landscape of accommodation offerings has undergone a profound diversification, with an unequivocal spotlight on homestays. Verified records underscore the meticulous registration of an impressive 1310 homestays by the Department of Tourism.
These establishments don the role of purveyors of genuine and immersive travel experiences, seamlessly intertwining voyagers with local culture, all while acting as conduits for substantial economic gains within the host communities.
Underscoring the strategic upscaling of homestay enterprises to forge a path towards enduring livelihoods, the official stated that as it stands, an intricate web of 5000 homestay rooms has been meticulously laid, serving as the cornerstone for an inclusive and dynamic tourism landscape in Jammu and Kashmir.
"Yet, this substantial infrastructure merely scratches the surface of the department's foresight, as it envisions a forthcoming epoch where these homestay endeavors surge forth, becoming the catalyst for prospective livelihoods spanning a multitude of vocations", he added.
Recognition of Hidden Gems:
One of the most remarkable achievements is the recognition bestowed upon the Gurez Valley, a true hidden treasure of the region. This offbeat destination secured the prestigious first rank as India's foremost offbeat travel destination. This accolade underscores the government's commitment to promoting lesser-explored locales that captivate the imagination of travelers and underscore the region's rich cultural tapestry.
Speaking about the economic impact, homestay owner Haji Sheikh Abdul Rashid from Dawar Gurez highlighted that unemployed educated youth have found a source of livelihood within the valley itself.
He noted that buyers now come to their doorsteps for local heritage items such as handicrafts and native organic products like Kaala zeera and local pulses. This convenience has provided easy market access and free-of-cost advertisement for these local products.
Haji further emphasized the productive interactions with guests, which have opened doors for various business opportunities for local youth.
"This exposure has not only led to the growth of local markets due to a rapid increase in customers but has also resulted in an elevation in the quality and variety of products available in the markets", Haji said.
Highlighting the pivotal role of homestay tourism in catalyzing cultural exchange in the idyllic settings of Jammu and Kashmir, the official said that the harmonious interplay of cultures assumes a pivotal role as the Department champions the realm of homestay tourism.
"This immersive odyssey through cross-cultural encounters not only revitalizes indigenous traditions but also acts as a crucible for melding artistic manifestations and innovative concepts", he said.
These dynamic interactions serve as a catalyst for a cultural renaissance, where external perspectives intermingle with local heritage, giving rise to a mosaic of spirited exchange, he maintained.
Waseem, a local hailing from Tulail Gurez, shed light on the remarkable impact of homestays on cultural exchange. He says that within the tribal population, there existed a certain hesitation towards embracing modern lifestyles and contemporary best practices of the world. However, the advent of homestays has ushered in a transformative shift in various dimensions.
He noted, "Homestays have been instrumental in encouraging our tribal community to engage with modernity. An unexpected positive outcome has been the emergence of local vloggers who are now showcasing our rich culture to the wider world. This was previously met with reluctance, but interactions with vloggers from other places have spurred our local boys into action."
Waseem went on to explain, "The interactions with guests have even spurred the inception of fast food restaurants in our valley – something we never had before. This cultural exchange has been impactful. Interestingly, some of the organic foods native to our valley have found favor with tourists, leading to their adoption in their daily diets."
Speaking about business growth in the context of homestays, Haji highlighted several key factors that have contributed to their success: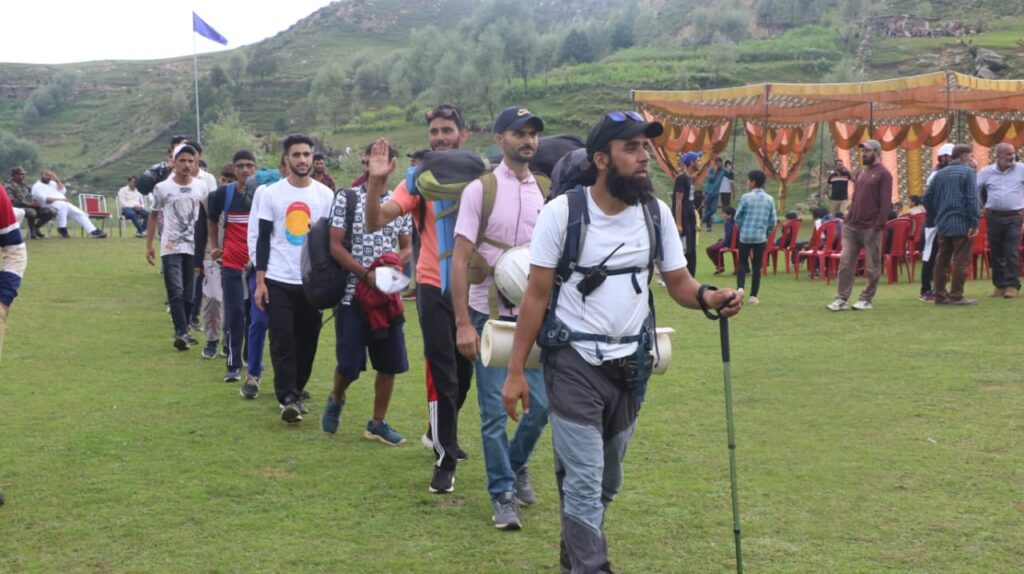 Pic; Dr. Syed Abid Rasheed Shah, Secretary to the Government, Tourism Department J&K, the Directorate of Tourism Jammu in collaboration with District Administration Ramban and Pogal Volunteer Association, organized a captivating 2-days Pogal Sargali Cultural Bonanza as part of the Off-Beat Destination promotional campaign.
"Firstly, ensuring the provision of immaculate and well-maintained rooms has been our priority. Secondly, we've fostered increased interaction with our guests, enhancing their overall experience. Offering top-notch quality local cuisine at affordable rates has been a cornerstone of our approach. Sharing insights about the valley's history and its unique attributes has further enriched our guests' understanding.
In addition, we go the extra mile by extending free access to kitchen items for guests who wish to prepare their own meals. Moreover, we facilitate our guests by connecting them with local guides for trekking adventures and ensuring they have the necessary safety equipment. These efforts collectively not only enhance our guests' stay but also contribute to the growth of our business, creating a truly comprehensive and immersive experience."
Forge of Collaborations: Strengthening Homestay Ventures through Alliances
In its quest to amplify the reach and influence of homestay initiatives, the Department of Tourism is fostering strategic partnerships with renowned travel brands and online portals. This collaborative synergy seeks to provide marketing support that propels the allure of Jammu and Kashmir's eco-tourist destinations to a wider audience, fostering a heightened influx of visitors.
Likewise the department is also nurturing skillful enterprise through capacity building for a flourishing homestay industry in Jammu and Kashmir, the official said.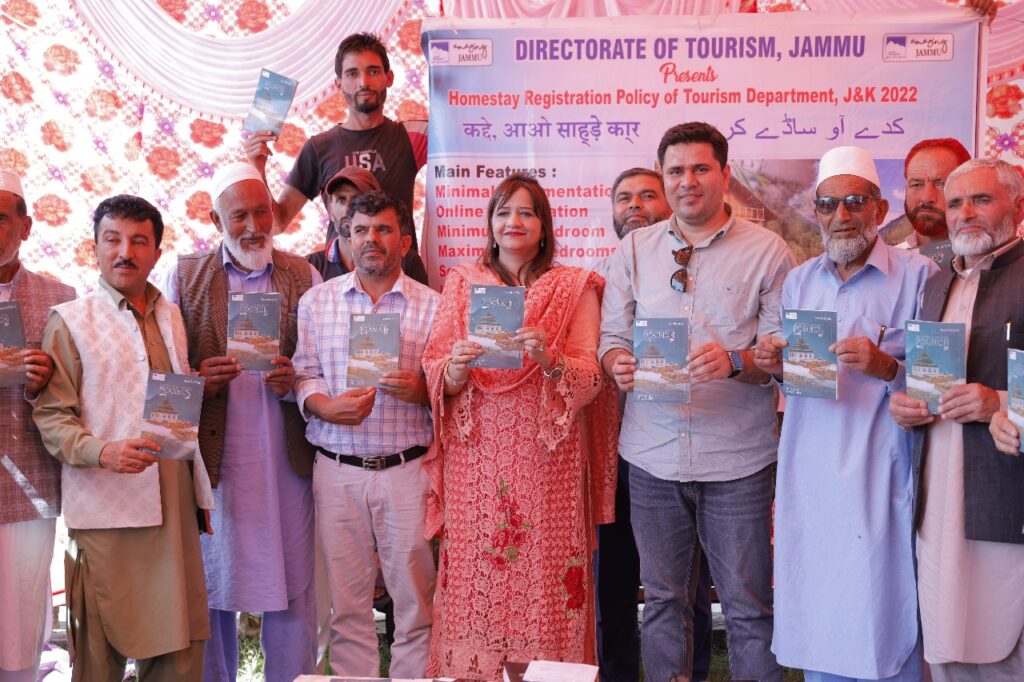 Pic: Joint Director Tourism Jammu leads 3-day Expedition to Poonch Promotes Homestays of Pir Panjal
Recognizing the pivotal role of skill development in homestay businesses, the department orchestrates a series of workshops across diverse sectors of the tourism industry.
"Whether nurturing tour guides or enriching various associated trades, these workshops pave the way for holistic growth by incorporating essential soft skills and specialized trade competencies", official said.
A Multifaceted Vision: Unveiling the Holistic Potential of Homestay Tourism
Underlining the intricate layers and the department's resolute dedication for a comprehensive vision for homestay tourism, the tourism official said "this multifaceted venture epitomizes our unwavering commitment at its very core. It's not solely about seeking economic gains; it's a deliberate journey to harmonize human ingenuity with the innate magnificence of Jammu and Kashmir.
"By uniting sustainable livelihoods with the captivating allure of the region, this initiative cultivates a mutually beneficial bond between visitors and hosts. Through this synergy, both parties experience enrichment in distinct and unparalleled manners, exemplifying our pursuit of holistic growth", official said.
Homestays, Government Initiatives, and Future Visions
As every visitor steps onto the enchanting land of Jammu and Kashmir, they become integral to the ongoing tale of cultural vibrancy and natural magnificence that defines the region. Amid the fruition of the government's strategic initiatives and community-led efforts, the golden age of Jammu and Kashmir's tourism has unquestionably dawned, its brilliance growing with every new guest embraced by its embrace.
In the heart of this transformative journey lies the resolute commitment of the Jammu and Kashmir government to nurture the concept of homestay tourism. This commitment, spurred by strategic policy adjustments and the sustainable ethos of the community, underscores the profound shift taking place in the tourism sector. The proliferation of homestays, the unveiling of hidden treasures, the expansion of tourist destinations, and the unwavering dedication to preserving the environment collectively form a vivid portrait of a region that has harnessed its intrinsic tourism potential.
Yet, amidst these commendable strides, a question lingers: Will the increasing prevalence of homestays truly manifest the envisioned alternative tourism landscape in Jammu and Kashmir? Can it genuinely provide travelers with authentic cultural experiences while empowering local communities? Or will the allure of government-backed flats and more conventional options dim the promise of homestays? As the region continues to welcome each new visitor, the future will ultimately unveil whether these endeavors will culminate in the realization of a more vibrant, inclusive, and sustainable era for Jammu and Kashmir's tourism sector.
Blurb
Amidst the awe-inspiring beauty of Jammu & Kashmir, a remarkable transformation is underway. The region's innovative homestay ventures are not just accommodations; they are gateways to sustainable living and cultural enrichment.