Under the dynamic leadership of Prime Minister Narendra Modi and the visionary Lieutenant Governor Manoj Sinha, Jammu and Kashmir has undergone an extraordinary transformation. The decision to revoke Article 370 in 2019 acted as a catalyst, propelling the region from a history marred by unrest to a future brimming with progress and promise
By Ajaz Rashid
In a remarkable transformation under the visionary leadership of Prime Minister Narendra Modi, the union territory of Jammu and Kashmir (J&K) has undergone a profound evolution from a land marred by turmoil to a region on the cusp of triumphant progress. The pivotal decision to revoke Article 370 in 2019 proved to be the turning point that set the stage for a new era of peace, prosperity, and advancement. J&K's 4-Year Journey
Under the watchful eye of Lieutenant Governor Manoj Sinha, a key architect of this transformation, J&K has witnessed an unprecedented surge in tourism. The tourism sector, once overshadowed by unrest, has experienced a renaissance, with 1.88 crore tourists flocking to the region in 2022 alone. This surge can be attributed to strategic policy changes and the introduction of 75 offbeat tourist destinations, offering a diverse range of experiences that cater to a wide spectrum of travelers.
Gurez Valley's ascension as India's premier offbeat destination highlights the region's unique allure. The addition of 300 new tourist destinations, including trekking routes and cinematic backdrops, has opened up new avenues for adventure and exploration, propelling J&K to global prominence as a travel hotspot.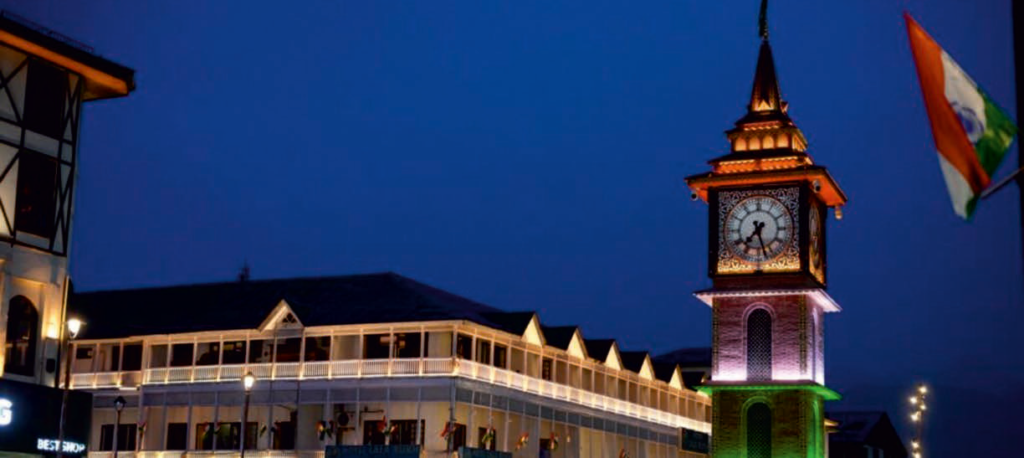 Connectivity has been a linchpin in J&K's resurgence, with massive road infrastructure development spearheading an era of transformation. A staggering investment of 1 lakh crore has revolutionized the transportation landscape, reducing travel times and facilitating the smooth movement of goods and services. This has translated into improved access to vital services such as healthcare and education, driving significant socio-economic progress.
The road macadamisation rate, a key indicator of road quality, has witnessed a substantial surge from 8.57 KM per day (2017-20) to an impressive 15.75 KM per day (2020-23), with a peak achievement of 20.84 KM per day (2021-22). J&K's engineering prowess has been showcased by monumental achievements like the construction of the world's tallest railway bridge over the Chenab River and the creation of nine tunnels across the region.
Agriculture has been revitalized through the Holistic Agriculture Development Plan (HADP), a transformative initiative focused on doubling farmer incomes and enhancing crop yield. High-density plantations, dairy development, and food processing have taken center stage, with modern technology and data-driven hubs fostering growth and prosperity.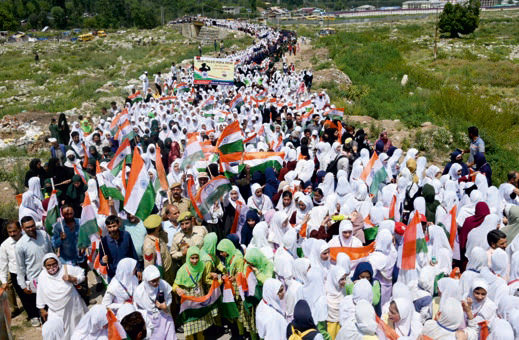 Jammu and Kashmir's commitment to women's empowerment and inclusive growth has shone through initiatives like the Jal Jeevan Mission. This mission has not only revolutionized water access but has also empowered women by involving them in managing water supply, ensuring quality, and undergoing training. The mission's success is exemplified by achieving 100% tap water connections in schools and Anganwadi centers ahead of schedule.
In a historic stride towards equality and inclusivity, J&K's issuance of domicile certificates has opened doors for historically marginalized communities, granting access to education, employment, and government schemes. Over 61 lakh domicile certificates have been issued, correcting historical injustices and promoting merit-based appointments.
J&K's commitment to digital transformation has led to the introduction of over 600 government services online, revolutionizing governance and citizen engagement. Land records registration has been streamlined through the establishment of an Independent Department of Registration and the implementation of E-Stamping rules, simplifying the process and enhancing transparency.
The journey of Jammu and Kashmir over the past four years is a testament to the power of visionary leadership and strategic planning. From the revival of religious traditions to the empowerment of youth and women through initiatives like the Startup Leadership Summit, the region is marching confidently towards a future marked by peace, prosperity, and progress. As Lieutenant Governor Manoj Sinha's participation in the Youm-e-Ashoora Procession symbolizes unity and cultural preservation, J&K stands as a shining example of transformation, inspiring other regions to follow suit and embrace a brighter tomorrow.