From pre-headache vasoconstrictor phenomena to vasodilator pain, delve into the physiology and challenges of managing this complex neurological condition
By DR. T. VISHNU MURTHY
Headache is man's common pain, and in one form or another it affects some 90 percent of the population. In any consideration of headache, two major points standout: one is that most headache from structures outside the skull, and the other is that increased intracranial pressure, as such, doesn't necessarily cause headache. The following in an outline of the principal types: From Migraines to Tumors: Understanding Headache Sources
A). Intracranial headache:
1. Traction headache. Headache resulting from traction on intracranial structures, mainly vascular by masses:
a) Primary or metastatic tumours meninges, vessels or brain.
b).Hematomas (epidural, subdural, or parenchymal )
c) Abscesses ( epidural, subdural, or parenchymal )
d) Headache following puncture ( leakage, headache )
         e) Pseudotumor cerebri and various causes of brain swelling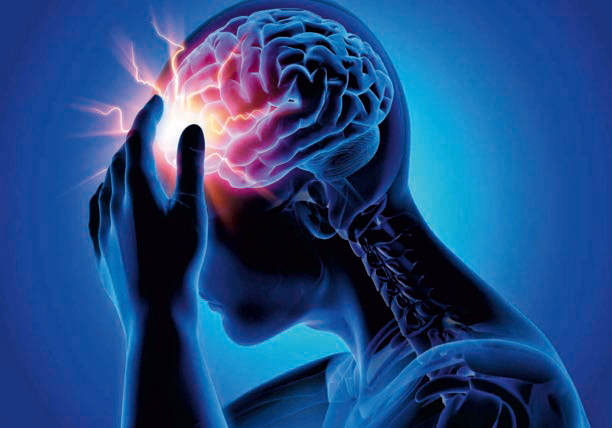 B). Extra Cranial headache:
1) Vascular headaches of the migraine type are recurrent and very widely in intensity, duration and frequency. The following subtypes are recognised
a) Classic migraine, with sharply defined. Transit visual, other sensory and motor prodromes
b) Hemiplegic or ophthalmoplegic migraine, featured by sensory and motor phenomena that priest during and after the headache.
c) Common migraine, without striking prodromes and less often unilateral than, that is (a) and (d), Synonyms are atypical migraine and sick headache.
d) Cluster headache, predominately unilateral associated with flushing sweating rhinorrhea, increased lacrimation and often. Horner's syndrome. The headache are usually brief in duration and occur in close packed groups separated by long remissions.
e) Lower half headache of possible vascular mechanism centered primarily in the lower face. In this group are some instances of atypical facial neuralgia, and vidian neuralgia
2) Muscle contraction headache
3) Combination of vascular headache
4) Anterior headache
5) Nonmigrainous vascular headache
6) Ocular headache
7) Aural headache
8) Dental headache
9) Extracranial arteries
C) Cranial neuralgias
D) Headaches of delusional.
HEADACHE FROM INTRACRANIAL SOURCES
Six basic mechanisms of headache from intracranial sources have been formulated:
1) Traction on and displacement of the great venous sinuses or of the veins that pass to them from the surface of the brain.
2) Traction on and displacement of the large arteries.
3) Traction on and displacement of the large arteries at the base of the brain and their main branches.
4) Dilatation and distension of intracranial arteries.
5) Inflammation in or about any of the pain-sensitive structures of the head and portions of the Pia and Dura at the base of the skull. And
6) Direct pressure by tumours on pain sensitive cranial and cervical nerves. Intracranial diseases commonly cause headaches through more than one mechanism and may also cause secondary extra cranial muscle-contraction headache, usually at the occiput, but often elsewhere.
The head pain associated with fever, bacteraemia, sepsis, nitrate and foreign protein administration, carbon monoxide inhalation, hypoxia, and asphyxia is due prinicipally to dilatation and distension of intracranial arterial structures. A similar vascular mechanism is the probable basis for the headaches that follow epileptic seizures and certain hangover headaches, and is a component of many migraine headaches and those associated with arterial hypertension and Ménière's disease. Painful distension of intracranial arteries is likewise responsible for the headaches that accompany sudden brisk rises in the arterial blood pressure, such as occurs with distension of the rectum or urinary bladder in paraplegics, rapid intravenous infusion of epinephrine, and the hypertensive crisis occurring with pheochromocytoma.
The headaches of meningitis is primarily related to the lowered pain threshold of inflamed tissues. The inflammatory changes are usually most noticeable in the basal dura and pia and adjacent blood vessels and nerves at the base of the brain. Under these circumstances, even the slight, usually painless arterial dilatation and distension during each cardiac systole become painful, hence the characteristic throbbing headache.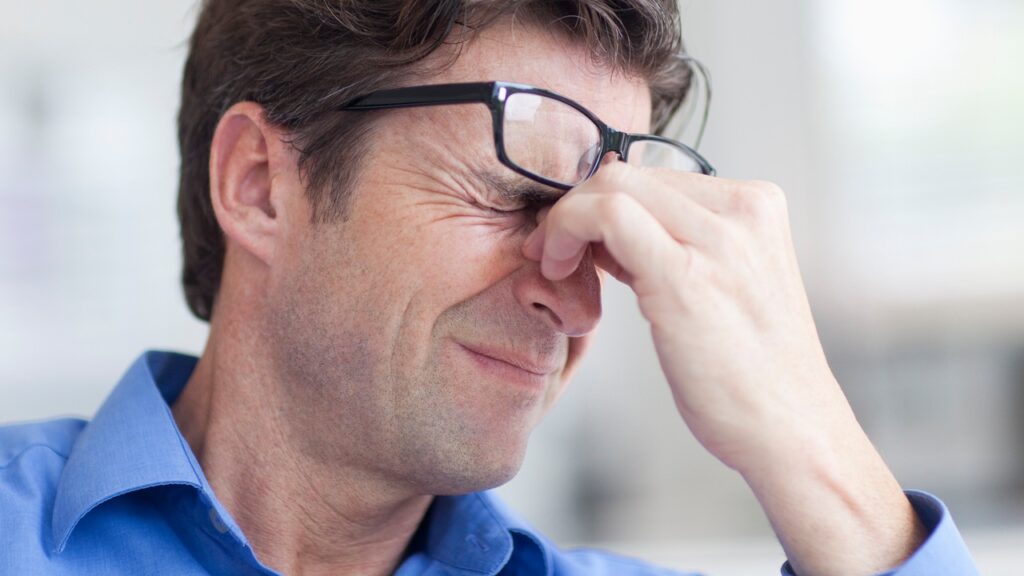 HEADACHE WITH BRAIN TUMOR
The headache with space-occupying lesions is deep, aching, steady, dull, and seldom rhythmic or throbbing. The pain is continuous in one tenth of the patients and is generally more intense in the morning. Aspirin, 0.3 gram, and local application of cold packs usually diminish the pain, and coughing or straining at stool may aggravate it. Some patients prefer the recumbent to the erect position. The headache is rarely as intensive as that associated with migraine, ruptured cerebral aneurysm, or meningitis, and seldom interferes with sleep. Even when the tumor directly compresses and displaces pain-sensitive cranial nerves, headache may be absent or slight, and rarely is it as intense as the pain of tic douloureux, unless the Tumor intermittently obstructs the cerebral ventricular system. In this instance, pain is excruciating and generalised, and may last 30 seconds to a half hour and then disappear as quickly as it commenced. During such an attack the sudden increases of intracranial pressure can be fatal.
Severe brain tumor headache is associated with nausea and vomiting. However
Vomiting caused by new growth may occur with neither nausea nor headache, and is then usually the result of medullary compression. Being unexpected, such vomiting may be projectile.
When the headache is occipital or sub occipital, it is often associated with stiffness is aching of the lesion.
MIGRAINE SYNDROME
The migraine syndrome is a pattern of dysfunction integrated within the central nervous system and manifested as widespread bodily disturbances, both non painful and painful. The outstanding feature is periodic headache, usually unilateral in onset but at times becoming bilateral or generalised. The attacks may vary in duration from a few minutes to several days and, in severity, from trifling symptoms to prolonged disabling illness. The headaches are associated with irritability, nausea, and often photophobia, vomiting, constipation, or diarrhea. Although most common in the temple, headaches may be experienced anywhere in the headache, face, and neck .The syndrome runs in families.
For a period of several hours to several days preceding the headache, the cranial arteries undergo a variable contractile state indicated by a facial flushing or pallor and by other transient cranial vasomotor phenomena such a vertigo. In the hour preceding the headache, a variety of visual and other neurologic abnormalities caused by transient local construction of cerebral or retinal arteries occur in about 10 to 15 percent of the instances. These prodromes mail take the form of scintillating scotomas, visual field defects such as unilateral or homonymous hemianopsia, and occasionally, hemiplegia. More sustained neurologic defects and even cerebral infraction have rarely occurred. As the vasoconstrictor phenomena recede, vasodilator headache commences, sometimes overlapping, sometimes beginning after a short symptom-free interval. The pain is throbbing and aching, is appreciably reduced by pressure on the common carotid and the affected superficial artery, and is characteristically eliminated or reduced by vasoconstrictor agents, particularly ergotamine tartrate. The walls of the dialated cranial arteries and the adjacent tissues become edematous and tender. With sustained vasodilation for several hours, the easily compressible arteries become rigid and relatively non compressible and pulsatile pain becomes a steady ache. Redness and swelling of the eye with excessive tearing, and redness and swelling of the nasal mucosa with or without epistaxis, may occur along with the headache. A secondary muscle contraction component of the headache may outlast vascular pain and will not be modified by vasoconstrictor agents.
One variety of headache closely related to migraine syndrome is the cluster headache, sometimes called histamine headache. This head pain is almost always unilateral, affects men much more than women, and usually begins between the third and sixth decades. Attacks come on abruptly with intense throbbing pain arising high in the nostril and spreading to involve the region behind the Homolateral eye and sometimes the forehead as well… During the attacks, which last up to two hours, seldom more, and eye water. The skin redness and a homolateral Horner's syndrome with pupillary constriction and ptosis may develop. The attacks tend to occur from once to several times daily, in clusters lasting weeks or less often months. Without apparent reason, the clutter subsides as suddenly as it began, and the patient commonly remains free of headache for weeks or months until another cluster begins. During a cluster period, but not between, alcohol is likely to induce attacks. When headaches recur in close succession, the Horner's syndrome may outlast the headache.
According to the Ayurvedic research seven types of herbal plants are there and these herbal ingredients will be used for the treatment and also for the preparation of medicine (basic formula). It means medicine (individual formula ) will be prepared according to the patient condition and serious ness of the pain.