BY KS NEWS DESK
Srinagar, August 20: A surprising startling disclosure emerged as Sajad Ahmad Bazaz, a senior staff member of Jammu and Kashmir Bank, was removed from his role due to accusations of his extended engagement with Pakistan's Inter-Services Intelligence (ISI) agency and terrorist groups. Investigation Unveils Deception: Senior J&K Bank Employee Exposed as Secret ISI Operative
The revelation of Sajad Ahmad Bazaz's covert role within Jammu & Kashmir Bank has unearthed a wicked tale of deception and infiltration. Bazaz, a seemingly dedicated employee, was revealed to be a secret operative working for Pakistan's ISI and terrorist networks. Balancing his position within the bank with his role as a writer for "Greater Kashmir," he propagated secessionist-terror narratives that aligned with Pakistan's interests.
"His writings and financial manipulations fueled extremism, amplifying anti-India rhetoric. The complex web of connections he cultivated within the terror ecosystem revealed his integral role. Bazaz's eventual sacking underscores the urgency of tightening security measures to prevent similar infiltrations within critical institutions. This exposé serves as a stark reminder of the threats posed by hostile elements exploiting vulnerable institutions for their agendas", investigators reveal.
Investigators reveal that at the zenith of his career, Sajad Ahmad Bazaz held a seemingly respectable position within Jammu & Kashmir Bank (J&K Bank), a prominent public sector entity under the J&K Government. A skilled writer, Bazaz's journey began as a Cashier-cum-Clerk in 1990. However, the truth concealed beneath his unassuming exterior was a shocking revelation – he was a pivotal asset of Pakistan's Inter-Services Intelligence (ISI), orchestrating covert operations within the bank and furthering the terror agenda.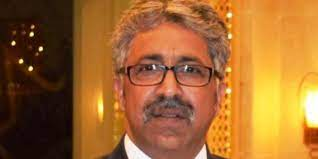 Investigations reveal that after the abrogation of Article 370, investigations into the depths of ISI's infiltration within the terror ecosystem took center stage. Bazaz's name emerged as a significant link. Months of rigorous investigation yielded astonishing results, exposing his intricate ties to ISI and his role as a double agent.
Sources privy to the investigation reveal that Pakistan's ISI had planted Sajad Ahmad Bazaz in J&K Bank in 1990 through Fayaz Kaloo, the owner and Editor of Greater Kashmir. Initially appointed as a Cashier-cum-Clerk, Bazaz's rise within the bank raised suspicions due to the pervasive subversion prevalent at the time.
"In 2004, Bazaz's elevation to the position of head of internal communication raised no alarms, indicative of the deeper subversion entrenched within the system. Investigators now assert that Bazaz wasn't just a bank employee – he was an embedded asset of terrorist-separatist networks working on ISI's behalf", the report reads.
The report further reads that Bazaz's association with Greater Kashmir, a newspaper notorious for propagating the terror narrative, is a key aspect of his covert activities. He operated as a correspondent-cum-columnist while simultaneously serving as a full-time employee at J&K Bank. The evidence collected by investigating agencies highlights his duplicity through his choice of pen names – initially 'Sajjad Ahmad' and later 'Sajjad Bazaz.'
Under these pseudonyms, Bazaz penned columns justifying and glorifying the secessionist-terrorist campaign in J&K. His influence extended through columns titled 'Off The Record' and 'What's Up,' published in Greater Kashmir. These pieces echoed Pakistan's stance, advocating UN intervention, tripartite talks, and highlighting alleged human rights violations, order reads.
"The intricacies of Bazaz's double life extended to his email address, underscoring his connection to Greater Kashmir. The newspaper provided him with an official email address – [email protected] – solidifying his dual role", order reads.
Moreover, the revelation of Sajad Ahmad Bazaz's duplicitous activities underscores the wider implications of insidious infiltration within key institutions. As investigations continue, the case serves as a stark reminder of the ongoing battle against covert operations and terror propagation. The need for enhanced vigilance and stringent countermeasures against such subversion has never been more pressing, sources said.
This exposé not only sheds light on the intricate web of deception spun by Bazaz but also serves as a warning against complacency in the face of continued threats to regional stability and security, sources said.
Conveying a Divisive Agenda
Investigators reveal that in his writings, Sajad Ahmad Bazaz conveyed viewpoints that aligned with the agendas of separatist groups and Pakistan. His columns, which appeared in various publications, exhibited three distinct and concerning themes.
Call for UN Intervention: Bazaz's writings ardently called for the intervention of the United Nations in the Kashmir issue. This stance echoed Pakistan's consistent demand for international mediation in the region. By advocating for UN involvement, Bazaz reinforced the narrative of external interference, potentially destabilizing the delicate diplomatic balance.
Depicting Kashmir's Independence Narrative: Bazaz depicted Kashmir as an independent nation, albeit one facing vulnerability. This portrayal mirrored Pakistan's strategy of undermining India's sovereignty over the region. His writings perpetuated the idea of an independent Kashmir on the global stage, contributing to the broader narrative propagated by Pakistan.
Rejecting the Shimla Agreement: In a bold departure from official diplomatic frameworks, Bazaz openly rejected the Shimla Agreement – a bilateral understanding between India and Pakistan emphasizing direct negotiations for conflict resolution. His rejection of this agreement aligned with the stance of separatist entities and Pakistan, advocating for tripartite talks involving India, Pakistan, and Kashmiri representatives.
What sets Bazaz's positions apart is his affiliation with J&K Bank, a government-owned entity. Advocating for secessionist views and openly supporting divisive ideologies while being associated with a government-funded institution raises significant ethical and security concerns, sources said.
Sources further said that his endorsement of UN intervention, promotion of Kashmir's independent status, and rejection of the Shimla Agreement are not in line with India's official diplomatic efforts. Such positions can potentially hinder peaceful solutions and encourage destabilization. For someone linked to a public institution like J&K Bank, these positions are problematic, highlighting the need to address infiltration of subversive ideologies into critical sectors.
Citing some of his write-ups investigators said that Bazaz's alignment with Pakistan's narrative and his divergence from India's official stance underscores the urgency of countering such divisive infiltration within vital institutions. His writings suggest a deliberate attempt to further a subversive agenda, prompting the necessity for a thorough investigation into his role in propagating anti-India sentiments.
"Sajad Ahmad Bazaz, writing for Greater Kashmir, consistently propagated narratives aligned with Pakistan's ISI and terror outfits. His "What's Up" column often cast doubt on the authenticity of counter-terror operations, sowing seeds of mistrust in the security forces and distorting reality to further subversive agendas. His deliberate misrepresentation of isolated incidents as systemic issues aimed to erode public confidence and challenge security efforts. Bazaz's manipulation of facts underscores the ongoing battle against misinformation and the need to safeguard public perception from misleading narratives", investigators said.
Unmarked Graves and the Weaponization of False Narratives
"Investigators said that the Pakistani state and ISI have consistently employed the tactic of 'mass and unmarked graves' to tarnish the reputation of Indian security forces and the Indian state both domestically and on the global stage. This strategy involves presenting the graves of Pakistani-origin terrorists affiliated with groups like Jaish-e-Mohammad, Lashkar-e-Toiba, Harkat-ul-Mujahideen, and Al-Badar as evidence of alleged human rights violations. These terrorists, who met their demise in numerous encounters along the Line of Control and within the region, were interred in various graveyards. However, their covert identities and code names have made it impossible to identify their resting places. This narrative has been actively propagated by Pakistan with the support of proxies such as Sajad Ahmad Bazaz, who plays a prominent role in this campaign.
The trajectory of Sajad Ahmad Bazaz's career shift from a humble clerk to the position of Editor within J&K Bank raises significant questions about subversive intent. Sources privy to the investigation said:
'Preemptive Communication: Even before the Board of Directors' approval on October 20, 2003, a communication on October 16, 2003, invited applications from Cashier-cum-Clerks for the newly proposed Editor position.'
'Manipulated Eligibility: The eligibility criteria were adjusted to favor Sajad Ahmad Bazaz. The need for a written test was waived, and the applicant pool was restricted to the cashier-cum-clerk cadre, providing Sajad an undue advantage. This deliberate manipulation bypassed the opportunity for public competition, a serious breach of procedure.'
'Selective Exclusions: Despite attempts to tailor the process in Sajad's favor, certain footprints remained visible. The original requirement specified that candidates should have publications related to banking and finance. Sajad lacked such credentials at the time of selection. Moreover, candidates with qualifications in mass communication and journalism, deemed superior, were excluded from the competition.'
'Rule Violations: The bank's Officers Recruitment, Discipline, Conduct, and Appeal Rules-2000 (Rule No.323) stipulated that officers recruited directly outside the normal cadre in the junior management grade should pass the CAIIB examination if absorbed into the normal cadre. Sajad Ahmad Bazaz blatantly violated this rule by not passing the examination, yet he was incorporated into the general officers' cadre and subsequently received promotions.'
'Interview Selection: The interview board, comprising prominent bank figures such as Chairman M.Y Khan and Director Haseeb Drabu, selected Sajad despite his open affiliation with Greater Kashmir and his secessionist stance against the Indian state. This selection process raises concerns about the bank's vulnerability to external influence and penetration.'
Sources privy to the investigation further disclosed that Sajad Ahmad Bazaz's ascent to the Editor position and his subsequent actions point to a larger pattern of subversion. His involvement in advancing the false narrative of unmarked graves and his connections within Greater Kashmir underscore his role as a vital cog in the machinery of disinformation orchestrated by Pakistan and its proxies. This revelation highlights the urgency of a comprehensive investigation to untangle the threads of infiltration and manipulation within institutions and organizations.
Exploitation of Position: Conspiracy and Enrichment
According to sources privy to the investigation, Sajad Ahmad Bazaz's elevation to the role of 'Editor,' a position tailor-made for him within J&K Bank, unveils a web of conspiracy and subversion. Armed with his new authority, he wielded influence to financially benefit select local newspapers and news magazines through substantial payments drawn from the bank's funds. Notably, his placement as Editor was orchestrated by a clique and coterie that had infiltrated the government system to advance the secessionist-terrorist campaign at the behest of Pakistan's ISI.
Disturbingly, sources further disclosed that Sajad also capitalized on the situation for personal enrichment, despite clear conflicts of interest. As an employee of both Greater Kashmir and J&K Bank, he approved advertisement funds benefiting Greater Kashmir, thereby disregarding blatant ethical conflicts.
A critical analysis of advertisement expenditure data from the financial years 2015 to 2023 reveals disproportionate and favorable allotments to Greater Kashmir compared to other newspapers of similar reach and circulation. This anomaly coincides with a surge in rabidly pro-Pakistan news magazines and newspapers, beyond Greater Kashmir, during 2010-2012. Discreet investigations trace this phenomenon to Sajad Ahmad Bazaz's involvement. He was directed from across the border to establish additional media platforms that would amplify the jihadist and Pakistani narrative already propagated by Greater Kashmir in an even more vehement and aggressive manner.
Sources further revealed that projects like 'Kashmir Reader,' 'Kashmir Conveyor,' 'Kashmir Narrator,' and 'Honour' were strategically bolstered through financial support from Sajad Bazaz via J&K Bank. These endeavors, with a clear slant towards propaganda, were provided seed money from Pakistan.
Hayat Bhat, the man behind 'Kashmir Reader' and 'Kashmir Conveyor,' received a significant sum of Rs. 2 crores from the ISI station head based in the Pakistani High Commission in New Delhi. Sajad Bazaz played a role in facilitating the transfer of this money through J&K Bank's channels. Notably, the initial offer of Rs. 2 crores was intended for Rashid Ahmad, a JeI ideologue and former publicity chief of Hizbul Mujahideen. Rashid Ahmad, however, declined this offer at that time, sources said.
The investigators highlighted an alarming breach of rules and norms when investigating the financial support provided to these media platforms. Typically, such support is contingent upon clearance from DIPR empanelment. Astonishingly, the news magazines and newspapers mentioned earlier received backing from J&K Bank without DIPR empanelment, suggesting a glaring departure from standard procedure. Sajad Ahmad Bazaz's manipulation of J&K Bank's resources played a pivotal role in this aberration.
Investigators also disclosed that jealousy and rivalry within the terror ecosystem fueled conflicts over allegiance to Pakistan and a share of the businesses amassed during the terrorist-secessionist campaign. Fayaz Kaloo's dispute with Hayat Bhat over advertisement hoarding and billboard business exemplifies this dynamic. The intervention of Abu Qasim, a Pakistani LeT terrorist, further illustrates the complex interplay of interests within this ecosystem.
Sources privy to the investigation further highlighted Sajad Ahmad Bazaz's intimate involvement with elements such as Sheikh Mukhtar Ahmad, Lateef Bhat, and Zaheer-ud-Din underscores his active role in propagating a pro-Pakistan narrative. These connections, aligned with subversive agendas, highlight the intricate network at play.
According to sources, his extensive ownership of 68 accounts within J&K Bank raises additional concerns about financial operations. The entry of another figure, Shabir Bukhari, linked to ISI and terrorism, further compounds the intricacy. This individual maintains communication with terror elements and remains a significant point of contact for Sajad Bazaz, showcasing the interwoven nature of their collaboration.
Sources privy to the investigation concluded that Sajad Ahmad Bazaz's pivotal role within the terror ecosystem, intertwined with his connections and communications, underscores his critical contribution to the narrative propagation and logistics of these networks. This symbiotic relationship between him and others exemplifies the elaborate layers that shield gun-wielding terrorists and those who sustain their activities, creating an environment of deliberate misinformation, obstruction of justice, and strategic support."