In a move to empower farmers & elevate agricultural exports, LG administration in J&K has launched comprehensive Holistic Agriculture Development Plan
BY AJAZ RASHID
Under the leadership of Lieutenant Governor's administration, the Jammu and Kashmir government is resolutely committed to enriching the lives of its farmers, empowering its youth, and elevating its agricultural exports. With a steadfast focus on these goals, the government is spearheading a transformative agenda through the comprehensive Holistic Agriculture Development Plan (HADP). Doubling Farmer Incomes: J&K Govt's Transformative HADP
Rooted in the vision of doubling farmer incomes, generating employment opportunities for youth, reducing labor costs and cultivation expenses, and enhancing cropping intensity, the HADP is poised to reshape the agricultural landscape of the Union territory.
In a steadfast pursuit of these objectives, the Jammu and Kashmir agricultural department has orchestrated an array of programs and initiatives under the HADP.
"These multifaceted endeavors encompass a wide spectrum of agricultural activities, from High-Density Plantation and Orchards Rejuvenation to Dairy Development, Food Processing, Poultry Expansion, Fish Seed Production, Wool Processing, and beyond", official said.
The execution of these 29 projects as part of HADP is poised to significantly amplify the results in agriculture and related domains. Moreover, it is expected to enhance exports from Jammu Kashmir not only to different regions within the nation but also to international markets, LG said while addressing the Kisan Sampark Abhiyan at Hardaapanzoo village of the Budgam district.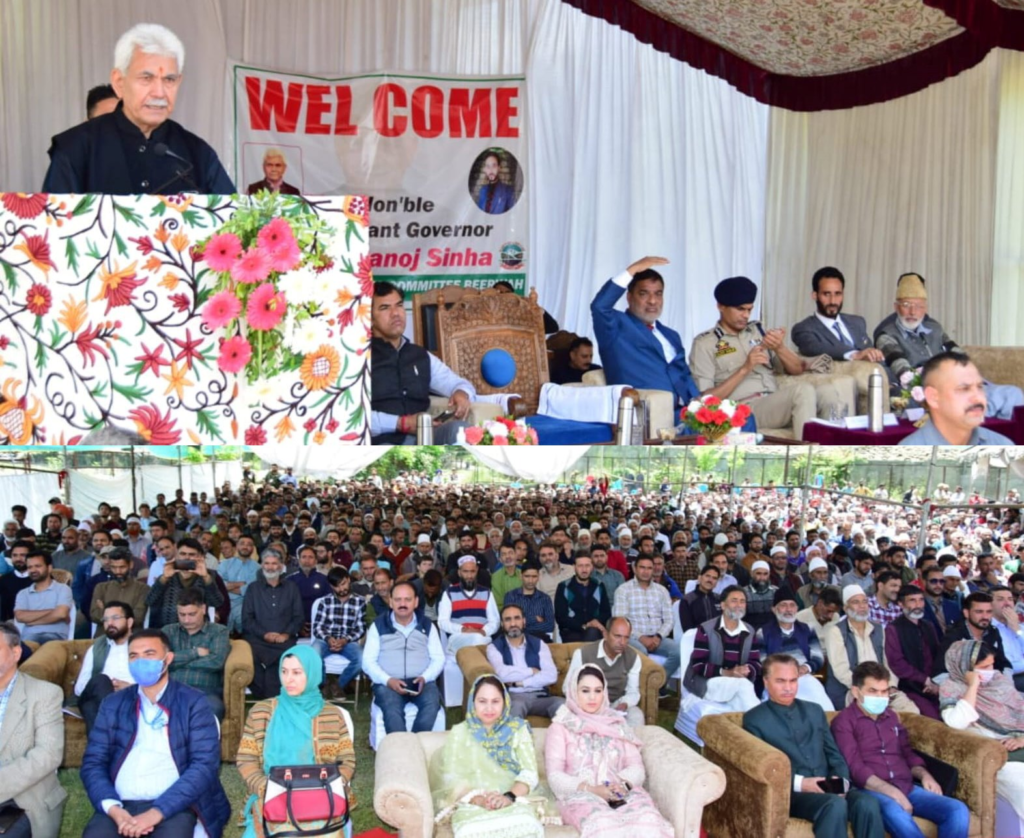 "We have accorded higher priority than ever before increasing the sustainability of farm livelihoods. The 29 projects being implemented under HADP will ensure each one of our villages are seen as a centre of rural prosperity," he said.
While sharing vision of the government, LG said that under the guidance of Prime Minister Narendra Modi, the UT administration is creating a strong ecosystem for the growth of the agriculture sector in J&K.
"The fast pace of progress in reviving the agriculture & allied sector in the last three years gives us hope that more and more youth will be inspired to take up farming and we will be able to build a better future for our young generations," the Governor said.
To create fresh high-density orchards covering an area of over 5500 hectares and rejuvenate an additional 2000 hectares, an official of the department said that Intricacies of sub-projects have been examined and the department is planning to establish new high-density orchards spanning over 5500 hectares, revive 2000 hectares of existing orchards, and set up cutting-edge facilities for Tissue Culture, Plant Testing, and Virus Testing.
Likewise, measures are being taken to create new semen stations, enhance AI centers, and establish additional AI and A HELP workers. Furthermore, plans were charted for the establishment of 500 new milk FPOs/SHGs, import of elite stud animals, establishment of commercial sheep farms, breed-based farms, and other transformative initiatives, official informed.
In connection to HADP, Lieutenant governor, Manoj Sinha in a meeting directed the bank officials to appoint Nodal Officer for both Jammu and Kashmir divisions to monitor the cases received by banks under HADP and other Schemes of Agriculture and Allied Sector.
"Small and Marginal Farmers should be top priority in implementation of HADP. Deputy Commissioners must ensure FPOs are transformed into engines of growth and districts must compete to script success stories of such organisations", LG said.
As an integral facet of the HADP, a paradigm-shifting project has been sanctioned to revitalize agriculture through innovative extension approaches, an official from said that with a budget of Rs 463 crore, this five-year initiative is designed to harness the potential of technology-driven and inclusive agri-extension services.

"The project envisages the establishment of 2000 Kissan Khidmat Ghars, serving as comprehensive hubs for farmer-oriented services. By leveraging IoT-enabled real-time big data, the project aims to develop a dynamic agri-extension system, driving farm-centric planning and resource allocation", official said.
He further said that HADP projects and innovative extension approaches are collectively aimed at revolutionizing the agricultural landscape of Jammu and Kashmir. Our goal is not only to enhance agricultural output and exports but also to ensure farmer prosperity, youth empowerment, and sustainable practices.
In a bid to actively engage with farmers and raise awareness about these transformative initiatives, the 'Kisan Sampark Abhiyan' was launched. This pioneering endeavor has reached out to 1.78 lakh farmers across 1,626 panchayats through six rounds of orientation programs.
Official said that the endeavor is a testament to the government's commitment to establish a strong foundation for the comprehensive HADP strategy. Utilizing advanced IT tools, specially trained resource persons have captured data from around 1.67 lakh farmers, which will inform prospective planning in the agriculture sector.
"With a calendar tailored to each district, officials from various agricultural departments, including agriculture, animal sheep husbandry, horticulture, sericulture, and fisheries, are spearheading the orientation program," official stated.
Leveraging media platforms to amplify our message and educate the public about projects like HADP, the official noted, "Utilizing short films and videos to explain the HADP initiatives has introduced an innovative outreach approach."
Presently, 49 engaging short films and videos are being featured across multiple sites in Jammu and Kashmir, ensuring widespread and thorough information dissemination, he added.
As these dynamic projects gain momentum, the agricultural trajectory of Jammu and Kashmir is set to experience a profound shift. The HADP's multi-pronged approach, aligned with the objectives of doubling farmer incomes, fostering youth employment, and promoting sustainable practices, is poised to not only enhance agricultural productivity and exports but also redefine the socio-economic landscape of the Union territory.