BY KS NEWS DESK
Srinagar, July 13: Jammu and Kashmir Entrepreneurship Development Institute (JKEDI) is set
to organize a transformative two-day Startup Leadership Summit for entrepreneurs of
J&K on July 17th and 18th in collaboration with the India Network. This initiative
aims to cultivate a robust ecosystem for entrepreneurship and innovation within the
Union Territory. Director JKEDI, Ajaz Ahmad Bhat (IAS) today chaired a preparatory
meeting in this regard in which senior faculty members and officers of the Institute
participated. JKEDI & The India Network unite for startup leadership summit, igniting innovation & economic advancement
"The workshop will serve as a platform for aspiring and existing entrepreneurs to gain
valuable insights, knowledge, and skills necessary for building successful businesses in
today's dynamic and competitive landscape. It will feature a diverse range of sessions,
including interactive discussions, expert presentations, case studies, and practical
exercises, all designed to equip participants with the tools and resources needed to
excel in their entrepreneurial journeys," said Director JKEDI.
The event will include sessions from Rahul Narvekar, the Founder and CEO of The
India Network, who brings extensive experience as a seasoned investor, guiding and
supporting entrepreneurial ventures across various industries. Joining him is Himani
Bhagat, the Chief Operating Officer of The India Network, who contributes her
strategic expertise and operational acumen to foster entrepreneurship and
innovation. Additionally, Sonia Khurana, the Founder and CEO of Wyn Studio, adds her
entrepreneurial insights and industry knowledge to the mix. Dinesh Singh and Amit
Mishra, Co-founders of Alpha Consultants, bring their valuable expertise in business
consulting and financial management, offering invaluable guidance to aspiring
entrepreneurs.
The summit will also feature pitching sessions, providing entrepreneurs with the
opportunity to present their business ideas and proposals to a panel of Angel Investors
hailing from various parts of the country. These esteemed investors will lend their
ears to the pitches, offering valuable feedback, guidance, and potential investment
opportunities to promising entrepreneurs. Participants will also engage with seasoned
industry professionals, successful entrepreneurs, and subject matter experts who will
share their experiences, provide mentorship, and offer guidance on various aspects of
entrepreneurship. The summit will cover essential topics such as business ideation,
market research, financial planning, marketing strategies, legal and regulatory
frameworks, and access to funding opportunities.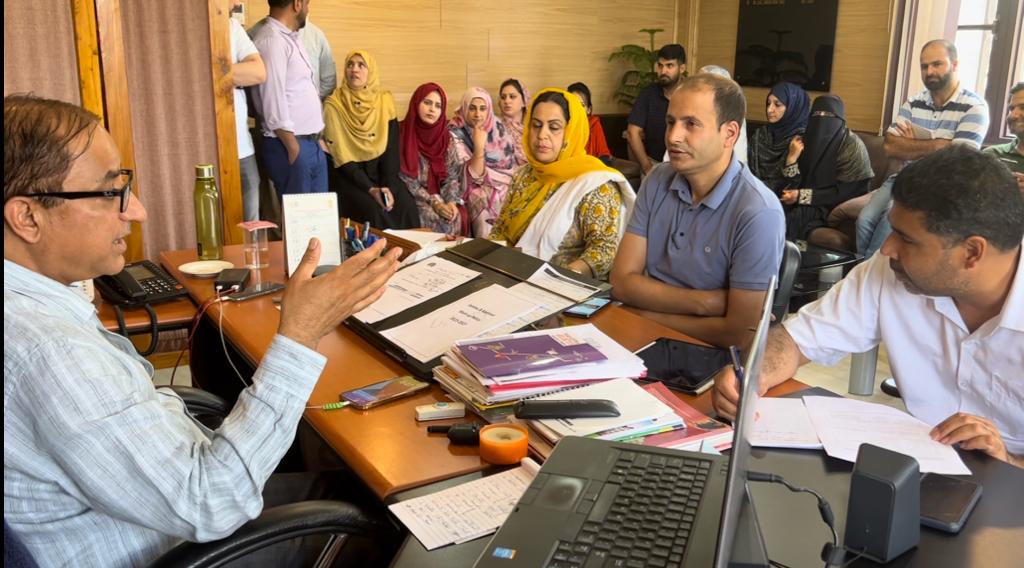 Moreover, the event will emphasize the significance of innovation and the utilization
of emerging technologies in driving business growth. Participants will have the
opportunity to explore cutting-edge concepts such as digital transformation, artificial
intelligence, blockchain, and sustainable practices, empowering them to stay ahead
of the curve in an ever-evolving business landscape.
The JKEDI remains committed to creating a conducive environment for aspiring
entrepreneurs in Jammu and Kashmir. By providing a comprehensive and engaging
platform for knowledge sharing and networking, this summit aims to nurture
entrepreneurial talent, spur economic development, and contribute to the overall
prosperity of the Union Territory.
Entrepreneurs, business enthusiasts, and those registered with DPIIT/JKEDI are
encouraged to participate in this unique event and can contact Imtiyaz Ahad,
Associate Project Manager, JKEDI on 8825014846 and 01933-222267 or on email at
[email protected] or [email protected]. They can also register on the
Institute's website www.jkedi.org.