LG Mark's Turning Point in Kashmir History by Joining Youm-E-Ashoora
By Tauheed Ahmad
Srinagar,July 29: In a remarkable display of unity and resilience, mourners in the valley of Kashmir successfully took a historic journey of faith – the Muharram processions on historical routes. After a hiatus of 34 years, the sacred tradition was restored after the relentless efforts of the government and the overwhelming support from the mourners, amidst a prevailing atmosphere of peace in the region. Historic Recall of Muharram Procession
The revival of the Muharram processions held immense significance for the mourners of Kashmir, who had long yearned to peacefully practice their religious traditions without any obstructions or political interference. In the past, the processions were marred by tensions and divisive agendas, which hindered the spirit of unity and respect for cultural heritage.
Amidst this backdrop, the community leaders gathered to request the government's support in ensuring a peaceful environment during the procession. Asif Ali a mourner from Srinagar says, "Let us request the government to see beyond assumptions, for no political party should exploit this situation for mileage. Our peaceful procession aims to highlight the importance of preserving our religious activities."
The government, recognizing the genuine intent of the mourners and the significance of the occasion, assured its full cooperation to facilitate the revival of the Muharram processions.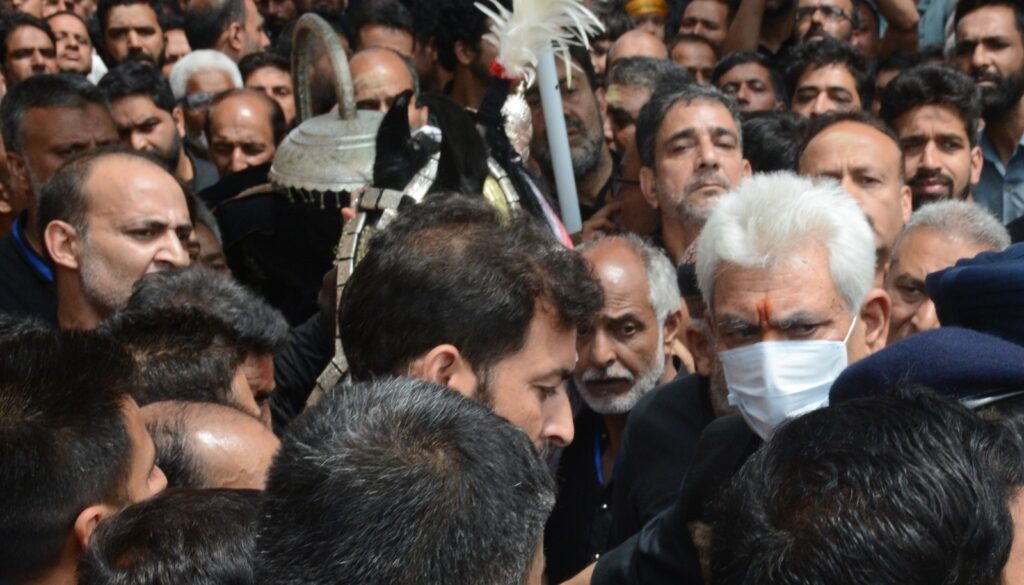 In a momentous event, Lieutenant Governor Sinha's participation in the Muharram procession served as a reminder of the power of constructive dialogue and the importance of embracing diversity. It underscored the government's dedication to fostering an environment of peace and coexistence, where the traditions and rights of all communities are safeguarded.
The successful revival of the Muharram processions, with the active involvement of Lieutenant Governor Manoj Sinha, marked a turning point in the history of Kashmir.
Joining mourners on Ashura, LG Manoj Sinha paid tributes to Imam Hussain (AS) and distributed refreshments among mourners in Srinagar's Bota Kadal. He joined the Zuljiinah procession, earning praise from the Shia community for his support and empathy towards their traditions.
"Seeing LG Manoj Sinha on Ashura was uplifting. His involvement in the Zuljiinah procession and distributing refreshments reflected his support for our traditions. We felt valued and acknowledged", Shehriyar said.
The LG reached Bota Kadal area of Srinagar amid tight security cover at around 11 AM. Accompanied by ADGP Kashmir Vijay Kumar, Divisional Commisioner Vijay Kumar Bhiduri, DC Srinagar M Ajaz Assad and other officials.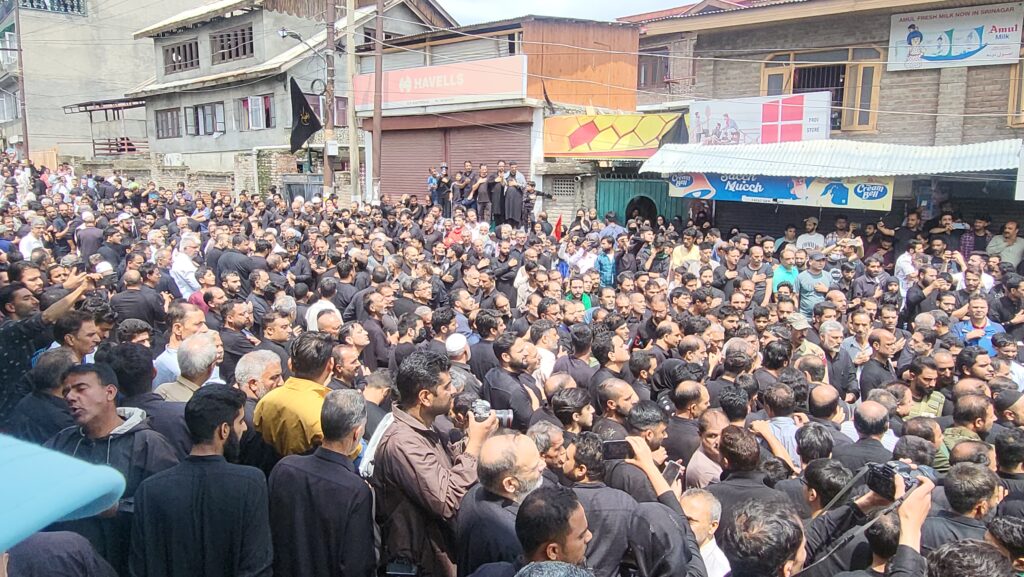 "The active involvement of Lieutenant Governor Manoj Sinha in the Muharram procession sent a powerful message of solidarity and respect. It reminds us that our cultural heritage is valued, and our religious freedom is protected. This historic event will be a guiding light for generations to come, encouraging us to embrace diversity and work together for a more united Kashmir", Shah Hyder said.
"As a mourner, witnessing Lieutenant Governor Sinha's participation in the Muharram procession was truly a momentous event. It reflects a government's commitment to inclusivity and unity, and it instills hope in our hearts for a brighter future. This historic revival marks a turning point in our history", Shabir Ahmad, another participant said.
It signifies a turning point in Kashmir's history, where peace and coexistence are at the forefront. This revival is not just about our religious practices; it's about creating a harmonious future, where everyone's rights are safeguarded, he added.
Pertinently, on the day of the procession on 8th Muharram, the city's lal chowk bustled with anticipation and excitement. Mourners from various corners of the valley came together, to partake in the historic journey of faith. Dressed in traditional attire, they carried banners and placards adorned with messages of peace and religious inclusivity, symbolizing their shared devotion to the cause.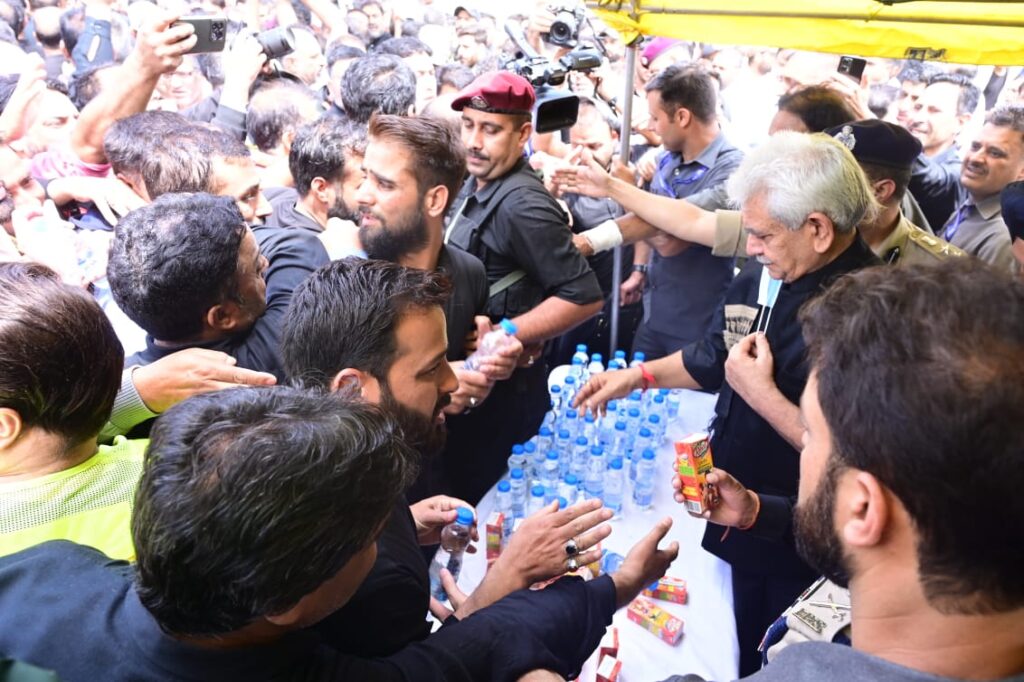 "The reinstatement of Muharram processions on historical routes in Srinagar fills our hearts with joy," beamed Akhter Abass.
"This positive step embodies the spirit of communal harmony, and we warmly welcome it as a symbol of progress and religious inclusivity", he added.
As the mourners marched through the historical routes of Kashmir, the air resounded with the soul-stirring sounds of prayers, evoking a sense of spiritual renewal among the participants. The atmosphere was filled with positivity, a renewed hope that their voices would be heard, and their rights respected.
"Experiencing the Muharram procession through these streets for the first time in my life is profoundly emotional for all of us" Shahib ul Hassan said.
"Today it is a moment of celebration for us all; it demonstrates the power of constructive dialogue, as we find solutions that respect the rights and values of everyone involved", he said.
"The historic reinstatement of Muharram processions after 34 years brings hope and unity to the heart of Srinagar city," proclaimed another mourner Ishtyaq Sibtain.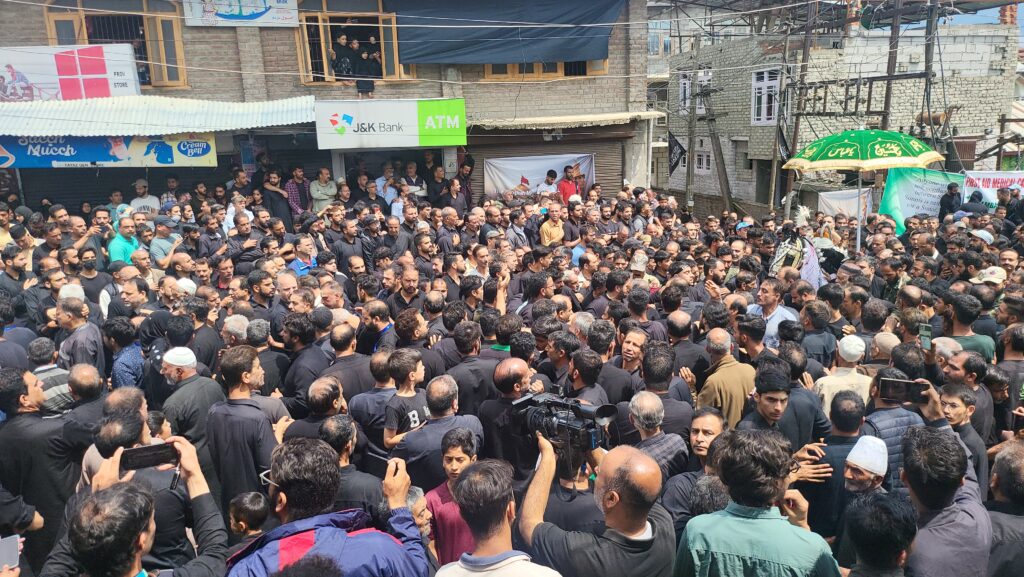 "Let us cherish this positive step as a testament to our commitment to religious expression and coexistence. We urge all to embrace the significance of this moment and thwart any attempts to politicize or disrupt the sanctity of our peaceful procession", he added.
While discussing the security measures, ADGP Kashmir said that a comprehensive security arrangement has been put in place to ensure the smooth and safe conduct of the Ashoora procession, maintaining law and order. Besides, authorities urged all participants to follow guidelines and cooperate with security personnel for a peaceful event, he added.
According to him, the procession, which commenced from Bota Kadal area, will conclude at ImamBara Zadibal, Srinagar.
"Nothing is possible without people's cooperation, and the credit truly goes to them. Their active involvement and support make every endeavor successful and impactful", he added.